It started with a photo of a guy with subtitles that read "Hindi naman porket sinabing tiga Tondo salbahe." The post was, of course, referencing how Tondo is infamous for being one of the most dangerous neighborhoods in Manila. It's an observation that has been around for who knows when. Tripadvisor even warned foreigners from wandering "into squatter areas and places such as Smokey Mountain in Tondo, Manila." It's most definitely not a tourist spot, said the Personal Security advisory. Tondo was further described as a town with "the highest crime rates in the country with usually at least one murder a week." A 2010 report by ABS-CBN did confirm the high crime rates but specifically noted that it was mostly snatching and pick-pocketing.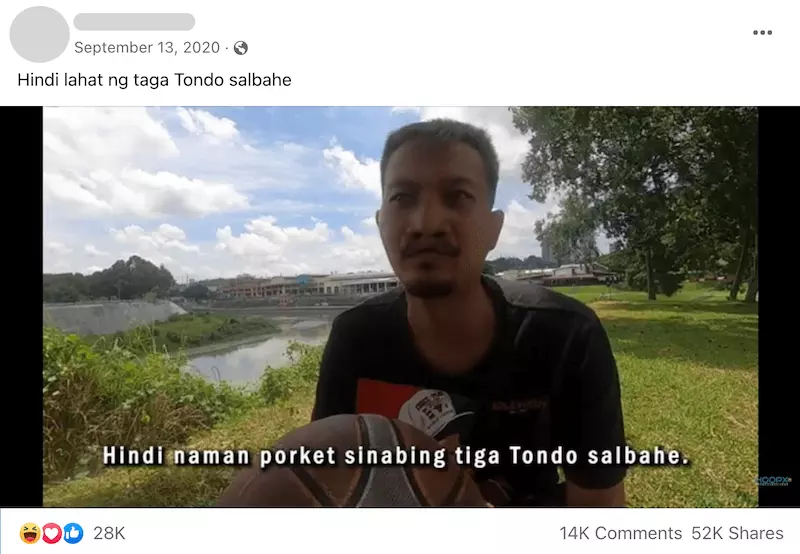 For Filipinos living in the area itself, the high crime rate and bad reputation have somehow turned from something sinister into a modern joke. Yes, Tondo could be dangerous. If you're out late, no one will recommend you walk the streets alone (and unarmed). But guess what — the rest of Manila doesn't look too safe either. And since Pinoys are experts at making things light and funny, the comments under that viral Facebook post will make you laugh despite yourself.
Are the people living in Tondo as nefarious as their reputation? Let's see what netizens have to say.
The jaw-dropping anecdotes

Plot twist!

Miracle in the streets!

Glad this person survived. #CountYourBlessings

The more the many-er.
Mabait nga.
Protect your tagiliran

Even the first aid response is scary.

Don't forget your armor. 

Not the gripo!
Their own brand of bonding
Must be tough love.

Ikaw na nasaksak, ikaw pa nasabihan ng pangit kabonding.
Saksak puso

It's a stabbing spree out there.
Weapon of choice: Ice pick (+1)

It's a blunt tool after all.

There's a Bring Your Own Ice Pick (BYOIP) policy here.
Missing items

Ulyanin ka lang, ghorl.

Amazing how humans twist reality to explain things.
It's a prank

Eto naman, di mabiro?

Hunger Games but there's no prize.
In conclusion, just don't look people in the eye

Keep your head down and walk fast!
Check us out on Facebook, Instagram, Twitter, and YouTube, and be the first to know about the latest news and coolest trends!