This New Viber Feature Separates Your Brand Ad Messages in Your Inbox
Feb 1, 2023 &nbsp • &nbsp Meryl Medel
Is your Viber inbox filled with advertising messages from stores and businesses? There's a deal from that restaurant for lunch. Or a promotional sale for the weekend at the shoe store. Or your bank is reminding you to never share your OTP. While these types of messages can be useful, they could also create clutter in your inbox, especially when you need to find important messages for work. Now, Viber has added a new feature that can separate those ads from your personal messages.
Business Inbox

Viber recently launched the Business Inbox feature, which is a new tab or folder that separates your personal chat threads with your contacts from the message threads you receive from various brands like banks, restaurants, department stores, and other similar establishments.
Where can you find the Viber Business Inbox?
The Business Inbox is pinned at the top of the Chat tab. It will appear once you update your app. You need to have version 18.0 or higher to see the Business Inbox feature.
Can you message brands that aren't in your Business Inbox?

Yes, you just need to search for the name of the business you want to connect with via the search bar and simply send them a message. The search allows you to find the business' information like their address and contact details, as well as a chat thread.
Don't want to receive business messages?
If you don't want to receive these brand messages, we get you. Here's how you can opt out of such messages:
Go to the "More" tab.
Select "Calls and Messages".
Turn off "Receive Business Messages".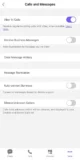 Folders next, please?
To those who thought this was a feature to separate work messages from personal chat threads (like I initially did), this is one step closer to getting that much-needed folder-like feature. We need to separate our work and personal messages next, please!
Follow us on Facebook, Twitter, Instagram, Tiktok, and Youtube for the l8est entertaining, useful, and informative lists!