Dinner in the Sky, the Belgium-based novelty dining service, has come to our shores to offer Filipinos a truly unique dining experience. Brought to us by MMI Live (the powerhouse production company that brought Coldplay, John Mayer, Madonna, among others to the Philippines) and co-organized by DITS Asia, Dinner in the Sky PH is at the grounds of Solaire Resort and Casino. We were fortunate enough to experience the thrill of dining overlooking Manila Bay and Makati skyline, and here is our account of the whole thing:
Your Cutleries Won't Fall Off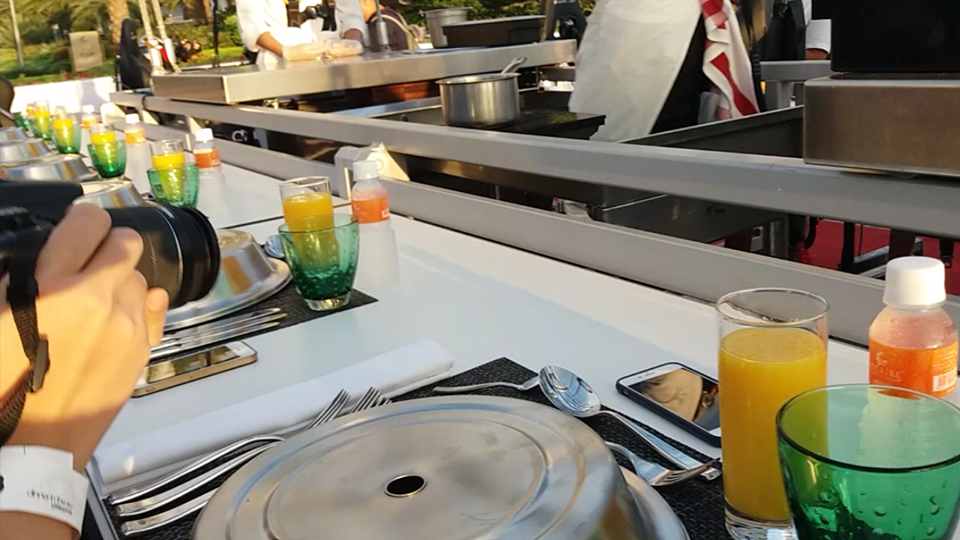 We did not know quite what to expect going in. Naturally, we wondered how we'd be able to eat. But as soon as we saw guests putting their phones down at the table, we realized it's going to be much safer having it there than in our pockets. Essentially, gravity will be holding everything down at the table even as the platform is raised. So, unless you're really clumsy with utensils, there's a very slim chance of having flying plates and cutleries.
You Have Two Dining Sessions to Choose From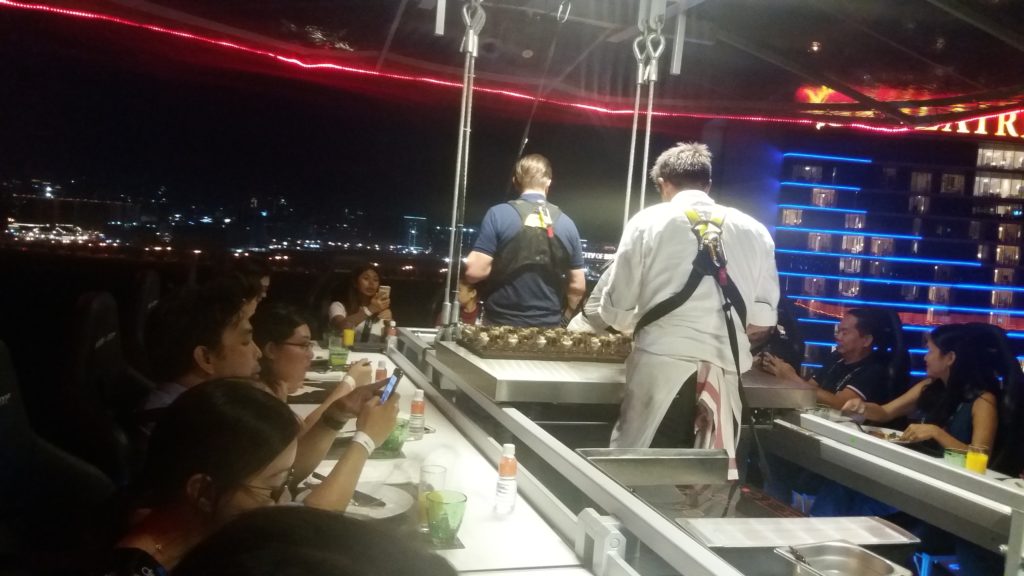 Your experience with Dinner in the Sky is highly customizable, and you have the option of going on the 5:30PM dinner (view of the sunset) or the 7:00PM dinner (view of the skyline). It was a bit cloudy when we went up for the 5:30PM session, but the view was as breathtaking as it would have been seeing the sun set.
In Case of Emergency…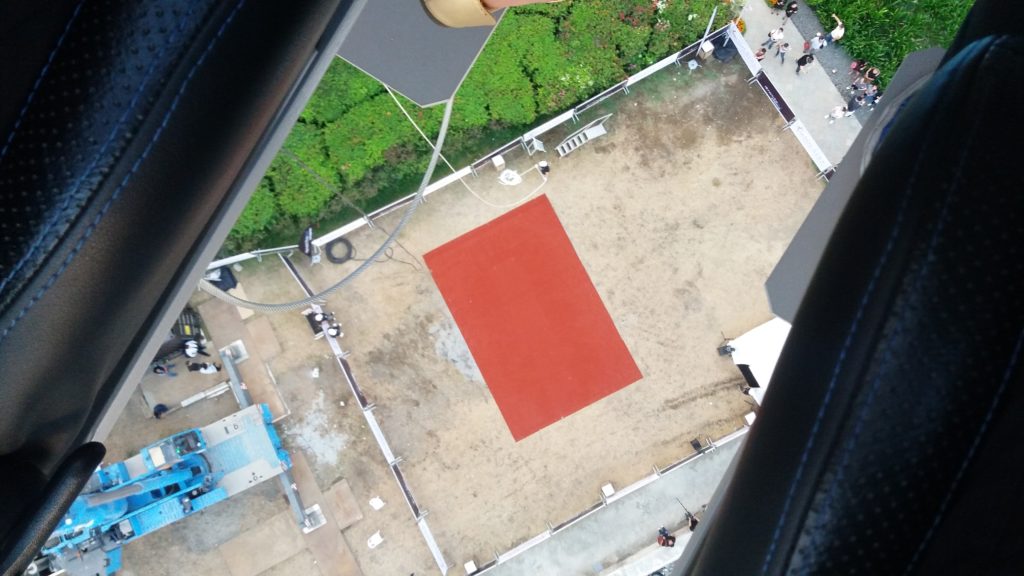 One of the more frequently asked questions regarding Dinner in the Sky was "What if you have to use the restroom?" We were informed beforehand to use the lavatory before we strap ourselves in. If in case anyone would feel the need to use the restroom while everyone else is enjoying their dinner with a view 150 ft up in the air, the platform would be lowered to accommodate that person's need to relieve him/herself. But no one wants to be that person.
The View
This would be the whole point of booking a seat here. Needless to say, you will be surrounded with spectacular views, no matter where you are seated. We're told it can be a bit windy at night, so you might want to wear a jacket if you plan on going on the 7:00PM dinner.
Food Experience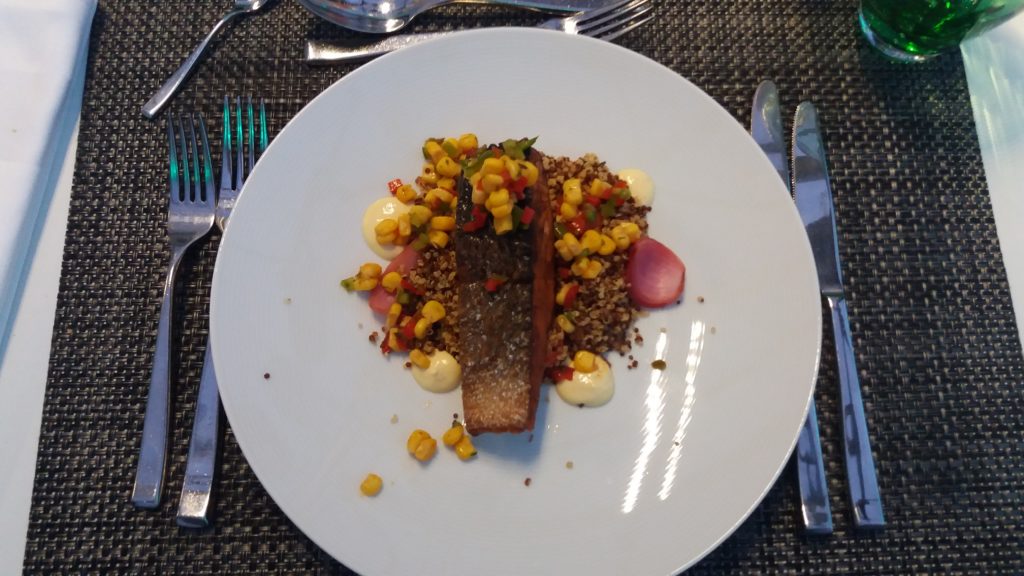 Of course none of this would matter if the food is anything short of spectacular, and we're happy to report that you won't be disappointed. We were treated to a sumptuous 4-course dinner prepared by Chef Hylton Le Roux of Solaire's Waterside restaurant. We had the Mexican adobo spice Atlantic salmon served with red quinoa, edamame, Huancaina cream, and chili corn salsa for our main course. But you'd be forgiven if you salivate upon your seatmate's Cuban-style slow cooked pork belly (the other option). As we did.
World-Class Cuisine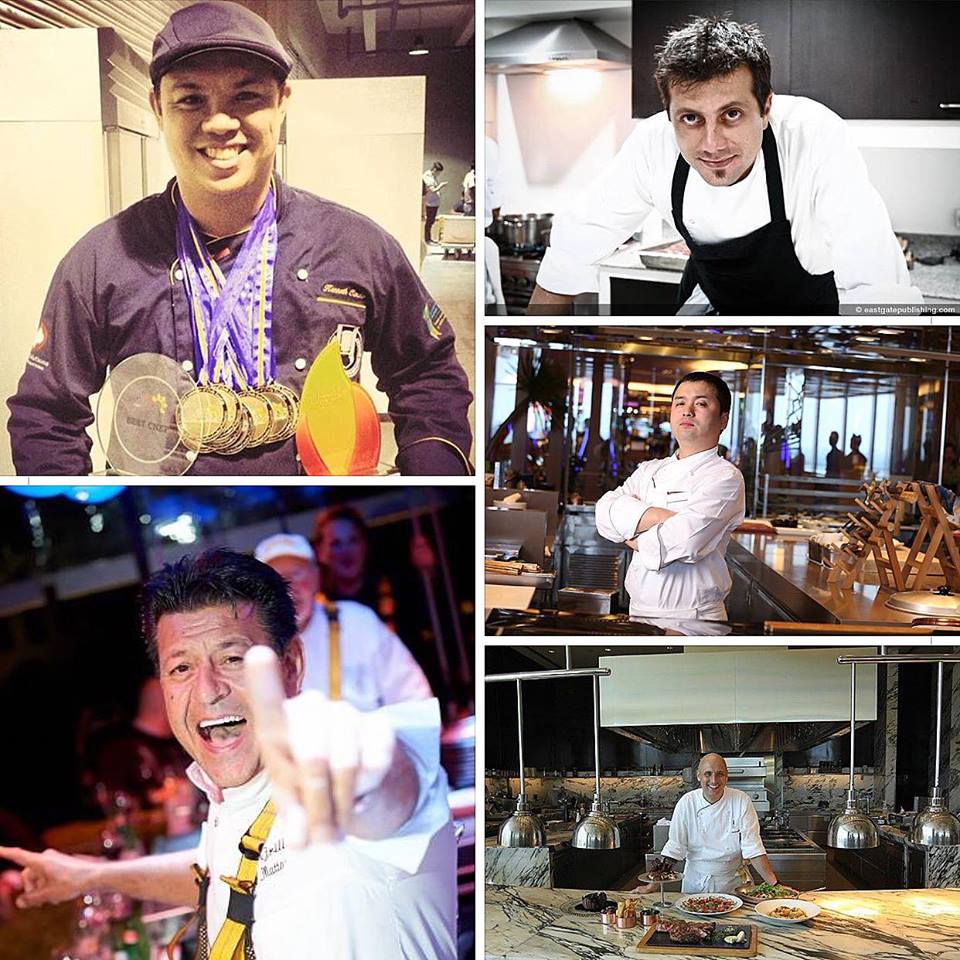 We were able to speak with MMI Live's Rhiza Pascua, and she said—living up to the sterling reputation of MMI in bringing world-class artists to our shores—they thought of having a rotation of excellent chefs in the course of Dinner in the Sky's stay in the country. In addition to Chef Hylton, Solaire's Chef Alan Marchetti (Finestra) and Chef Norimasa Kosaka (Yakumi) will also be lending their skills to the experience. Joining them are Chef Kenneth Cacho, Director for Culinary Arts of the International School for Culinary Arts and Hotel Management (ISCAHM) and Michelin-star Chef Yves Mattagne of Sea Grill in Brussels, Belgium.
It's Completely Safe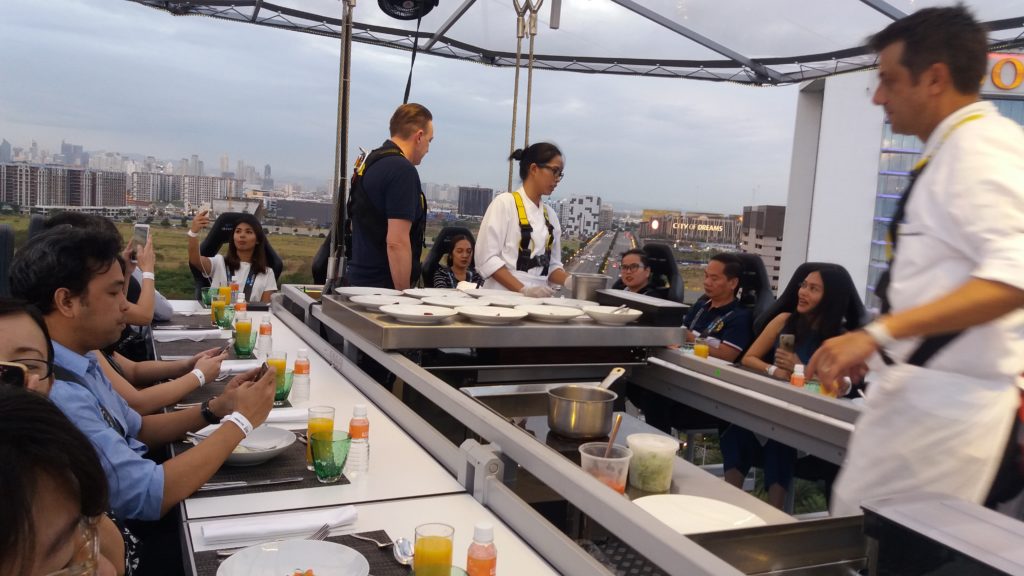 If Dinner in the Sky's 12 years of bringing this experience to diners in over 45 cities around the world and 5,000 events under their belt aren't enough to assure you, know this: the crane that carries the platform off the ground is so heavy that it can be likened to you lifting a fork off your table. Besides, between the cheerful chatter of happy diners, the chef's entertaining description of the dish you're served, and the amusing choice of music as your background, you'll forget your dangling up in the air. Just don't look down.
The Thrill of it All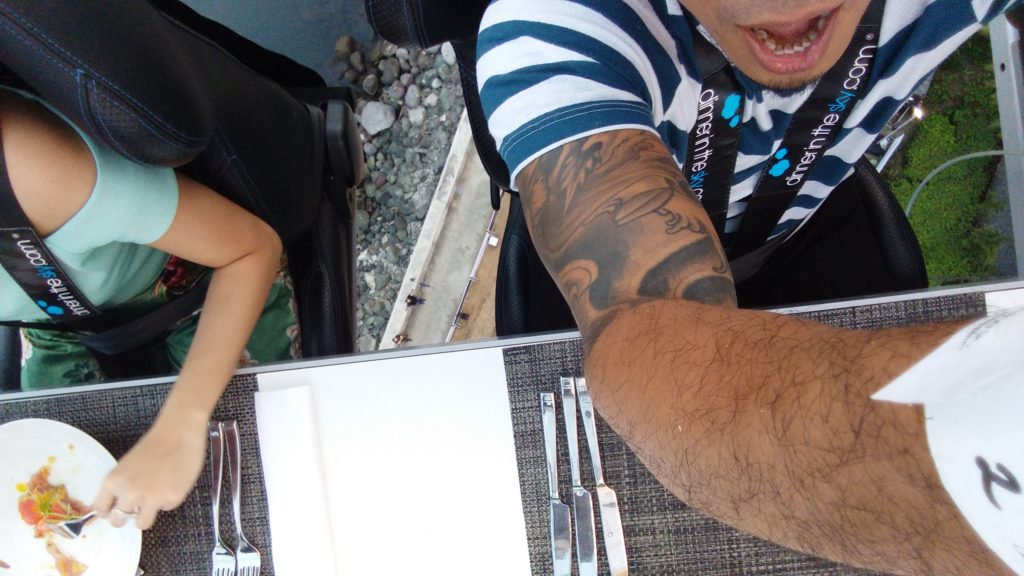 If the thrill of dining 150 ft up in the air is not enough for you, you can recline your seat to up the adrenaline level. Or you can swing your seat around and let your feet dangle. All in all, Dinner in the Sky provides you with a truly once-in-a-lifetime dining experience; one we would not mind doing again. And again.
Dinner in the Sky will only be here until May 21, 2018. To know more, visit dinnerinthesky.ph and Solaire Resort and Casino.