Stemming from J.J. Abrams' blockbuster reboot films and Star Trek: Discovery winning fans on the small screen, a number of upcoming live action and animated projects for the storied sci-fi franchise have been announced. One of the projects getting the most buzz is Star Trek: Picard, with none other than Sir Patrick Stewart (X-Men, Charlie's Angels) returning to the role that made him famous.
Across Star Trek: The Next Generation's seven seasons and four subsequent feature films, Stewart's turn as Picard elevated the franchise to mainstream popularity (a status it wouldn't again enjoy until 2009's big-screen reboot of The Original Series). With Stewart in the lead, the show earned a nomination for a Best Drama Emmy, generated a slew of spin-offs (Deep Space Nine, Voyager, and Enterprise), and kicked off a wave of merchandise and fandom that continues to this day.
Set to take place 20 years after Stewart's last appearance (in 2002's Star Trek: Nemesis), Star Trek: Picard marks a return to the 24th century where The Next Generation (and most of the spin-offs) is set. The now-retired Admiral Picard will face off against the Borg, but he won't be alone; thus far, confirmed franchise alumni making appearances include Star Trek: Voyager's Jeri Ryan (as fan-favorite Seven of Nine), along with The Next Generation's Jonathan Frakes (Commander William Riker), Marina Sirtis (Counselor Deanna Troi), and Brent Spiner (Lieutenant Commander Data).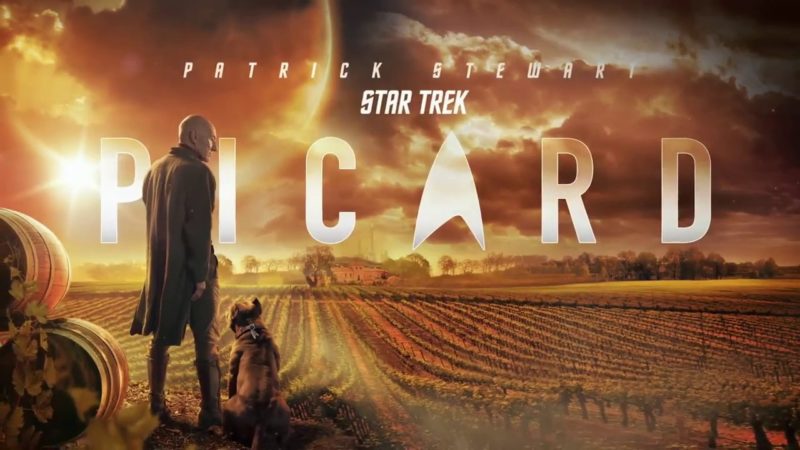 With the series apparently drawing from all corners of Star Trek lore (currently consisting of 13 films, 6 live-action series, and 1 animated series), we've put together a list of 8 essential adventures you can binge on Netflix to get all caught up before Picard's January 23 premiere on Amazon Prime Video.
"The Best of Both Worlds (Parts 1 & 2)"
Star Trek: The Next Generation, Season 3, Episode 26 – Season 4 Episode 1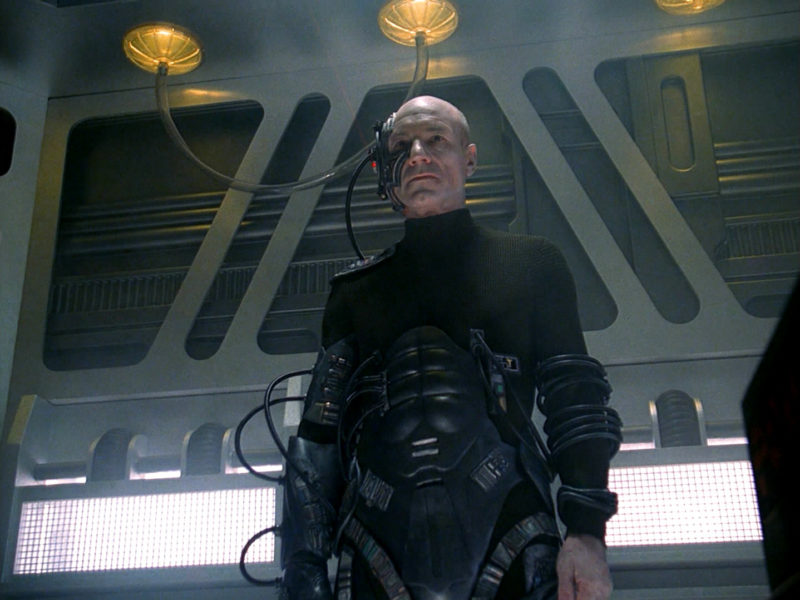 With the Borg being shown to play a major role in Star Trek: Picard, it makes sense to catch up on their most infamous encounter with Starfleet's finest.
The gist: After being teased in the previous season, the Borg make their intentions of invasion clear in this tense two-parter. Part of their plan involves kidnapping Captain Picard and assimilating him into their cybernetic ranks, before decimating the bulk of Earth's defensive fleet. Part 1 ends with one of the most famous cliffhangers in TV history, as the transformed Picard is revealed, and Commander Riker (Frakes), now in command of the Enterprise, gives the order to open fire on his former captain. Without an internet to leak spoilers in 1990, fans had to wait an agonizing three months to find out whether or not Stewart would ever return as the captain they knew and loved.
While we don't need to wait anywhere near as long to watch the second half of the story, the cliffhanger still manages to raise goosebumps all these years later. Furthermore, the consequences of these episodes would go on to directly affect The Next Generation crew's blockbuster film, Star Trek: First Contact (1996).
"Family"
Star Trek: The Next Generation, Season 4, Episode 2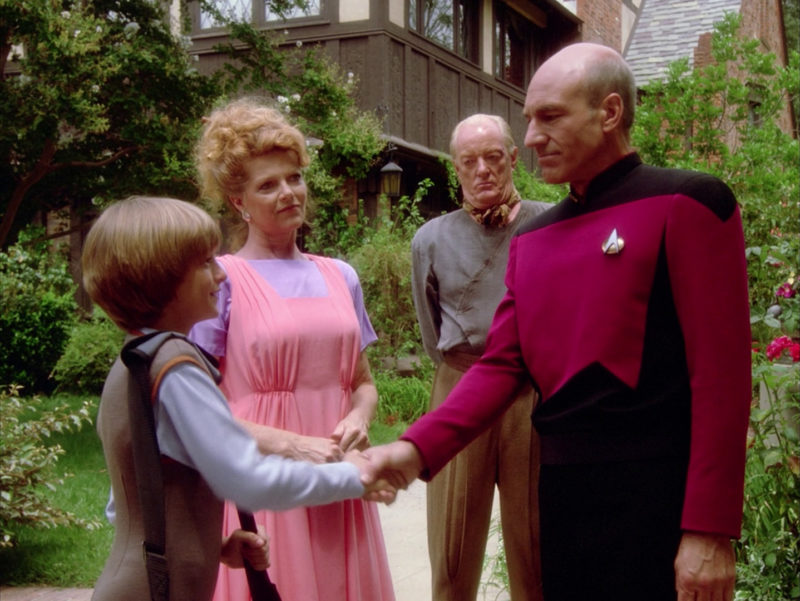 "Family" does something quite remarkable for '90s TV in that it not only acknowledges the events that happened in "The Best of Both Worlds", but it takes the time to actually deal with those episodes' emotional fallout in a wholly believable manner.
Penned by longtime Trek scribe Ronald D. Moore (Outlander, Battlestar Galactica), the episode has Picard returning to his family's vineyard in France, where he struggles to come to terms with the physical and mental violations that he suffered at the hands of the Borg. In contrast to the action-packed episodes that preceded it, "Family"'s conscious decision to slow things down and flesh out the very real human frailties of its main character is part of why The Next Generation is still remembered and celebrated to this day.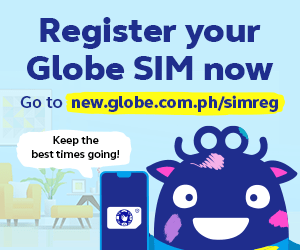 "The Measure of a Man"
Star Trek: The Next Generation, Season 2, Episode 9

One of The Next Generation's highlights was Data, the android officer longing to be more human. Data's mix of curiosity and objectivity often provided the basis for some of the series' most intriguing episodes. While the character's death in 2002's Star Trek: Nemesis was largely forgettable, Data's presence in the Picard publicity materials indicates that he will be appearing in some capacity.
"The Measure of a Man" doesn't just represent a rare bright spot from The Next Generation's awkward (i.e. terrible) first two seasons (the show wouldn't be consistently good until Season 3), it also stands proudly as one of the franchise's all-time greats. If you can get past the execrable pre-Season 3 uniforms (in a word: spandex), the episode is a thoughtful, well-executed treatise on what it really means to be human. In the episode, Picard fights to prove, legally, that Data is a sentient being entitled to all the same rights as any biological member of his crew, an argument that apparently continues in the new show, albeit with regard to former Borg drones.
"The Drumhead"
Star Trek: The Next Generation, Season 4, Episode 21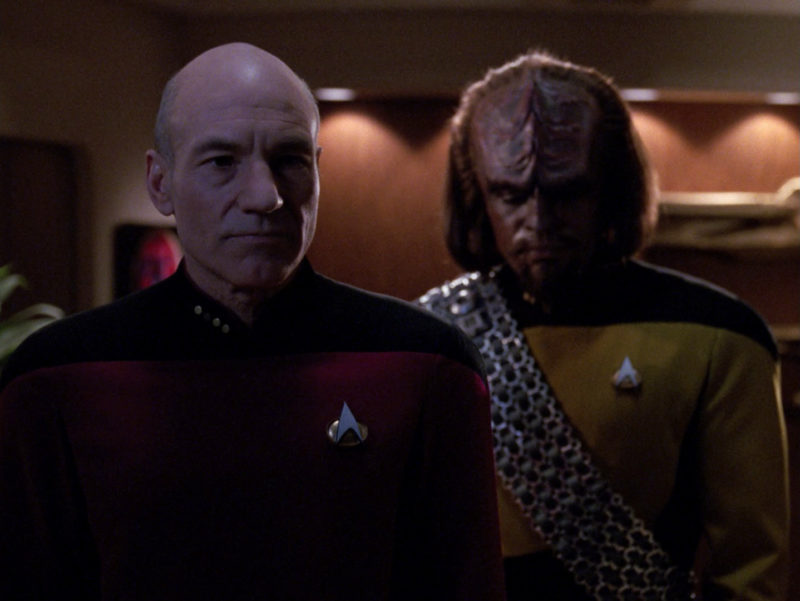 For insight into why Captain Picard is often cited as one of the genre's most credible leaders, one need look no further than "The Drumhead", an episode that presented, in no uncertain terms, the rock-solid moral center that informs the character and his actions. When an inquiry into suspected sabotage onboard the Enterprise devolves into a full-on xenophobic witch-hunt, it falls to Picard to stand up for the principles of civil liberties and tolerance that the Federation was supposedly founded on. Presciently relevant, the episode speaks to the validity of truth versus the racial and moral indignation of those seeking retribution for perceived wrongs.
Apparently, the new series, much like the criminally underrated Star Trek: Deep Space Nine (1992-1999) before it, will delve into the cracks of the Federation's idealized society, and how Picard, once the flag-bearer of Starfleet and its values, reacts to the rot that can set in from decades of complacency. We can't wait!
"I, Borg"
Star Trek: The Next Generation, Season 5, Episode 23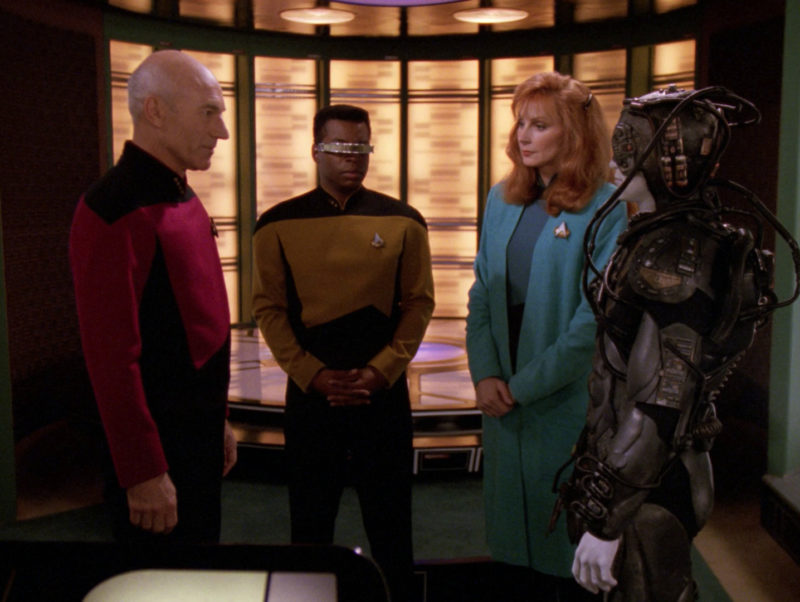 When a Borg drone is rescued and taken aboard the Enterprise, his disconnection from his species' hive mind causes him to show signs of autonomy. With the former drone now calling himself "Hugh", the crew begins to second guess their plan to use him as a Trojan horse against his cybernetic overlords. With the Borg's status as an emotionless force of cybernetic horror having already been well-established by this point, more than a few eyebrows were raised when this episode took the time to humanize one of them. Flipping perceptions on their head, the episode goes a long way to illustrate the ways in which we tend to demonize our enemies.
While appearances from The Next Generation mainstays were somewhat expected from the upcoming series, the title character of "I, Borg", as played by Jonathan Del Arco, came as something of a surprise. But seeing as Hugh, Seven, and Picard himself are all survivors of Borg assimilation, we can't wait to see what directions the new show will take them.
"All Good Things"
Star Trek: The Next Generation, Season 7, Episodes 25-26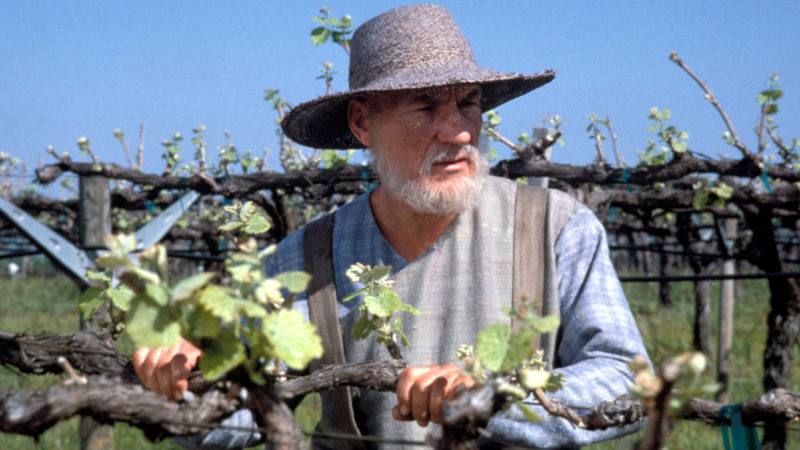 The first Picard teaser may have shown the erstwhile starship captain reflecting on his old age in his family's ancestral vineyard, but the concept was first introduced in The Next Generation's now-classic finale, which saw the character hurtling through time via the involvement of omnipotent trickster Q (John De Lancie, My Little Pony: Friendship is Magic). While the character has always been depicted as having joined Starfleet to fulfill his dreams away from the family wine business, "All Good Things" presented us with a retired Picard dutifully tending to his vines, much like what the teaser showed us.
A rousing tale of time travel gymnastics that would make Doctor Who proud, with no less than humanity's (what else?) very existence hanging in the balance, "All Good Things" is a rousing tale of camaraderie and introspection that honored the series' past, present, and future in grand style, while laying the groundwork for the big screen adventures (then) to come.
"The Gift"
Star Trek: Voyager, Season 4, Episode 2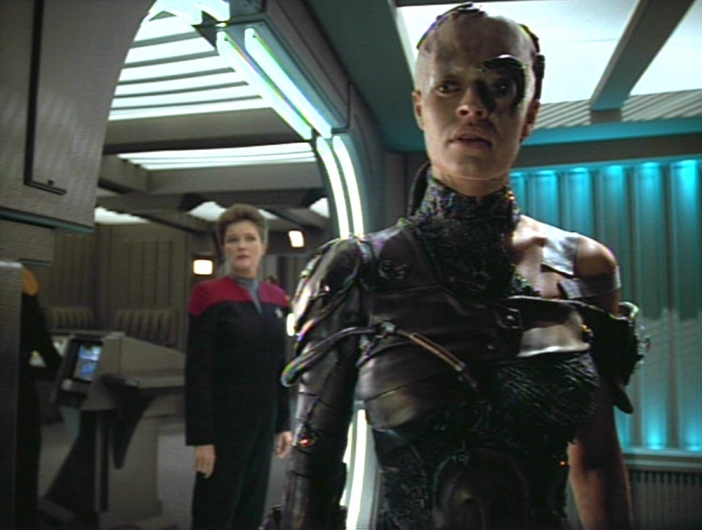 With her flowing blonde locks, sassy attitude, and ability to fire phaser rifles from both hands simultaneously, former Borg Seven of Nine's (Jeri Ryan, Boston Public) reveal in last year's Comic Con trailers was unexpected, showing just how far the former Borg drone had come in the years since the end of Star Trek: Voyager in 2001.
Initially introduced in that series' fourth season to serve as a Spock-like counterpoint to Captain Kathryn Janeway (Kate Mulgrew, Orange is the New Black), the catsuit-clad character was initially criticized as the producers' shameless attempt to attract male viewers. Over time, a combination of smart writing and an intelligent, layered performance by Ryan were able to overcome such perceptions, producing a character whose arrival many point to as the moment when Voyager's storytelling began to improve.
"The Gift" shows Seven immediately after her disconnection from the Borg's hive consciousness, as she is forced to confront her all-too-human thoughts and emotions for the first time since being assimilated as a child. The seeds for four seasons' worth of storylines are planted here, as Janeway must find a way to relate to her new crewmember, while Seven attempts to reconcile her Borg and human halves onboard a vessel that had, up until very recently, considered her an enemy.
"One"
Star Trek: Voyager, Season 4, Episode 25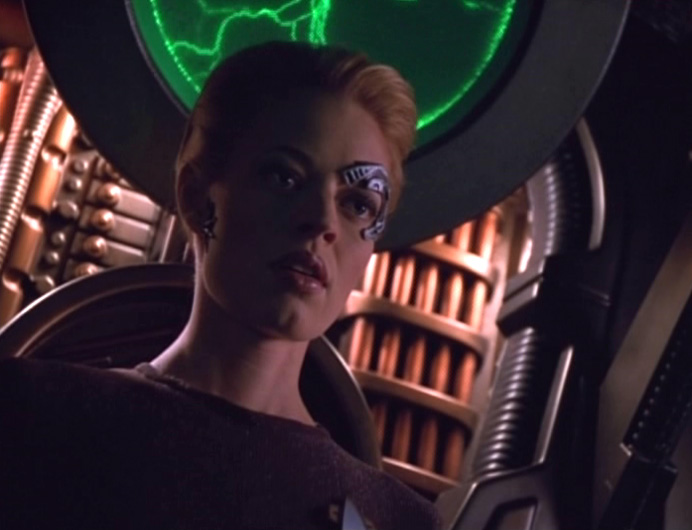 In "One", Seven of Nine's recovered individuality is put to the extreme test, as she must spend a week in isolation to steer the ship through a nebula whilst the crew slumbers in suspended animation. Of course, things don't go entirely to plan, as the routine Seven adopts is interrupted by a series of hallucinations that bring her inner demons to surreal life.
With Seven of Nine essentially carrying the episode on her own, "One" is a prime example of the magic that Jeri Ryan and her character brought to Star Trek: Voyager, ultimately powering it through to its finale in Season 7. Prior to Star Trek: Picard, Seven of Nine had not appeared in any live action media following Voyager's 2001 end; between Ryan's proven abilities and her character's ongoing popularity with fans, one hopes that her role in the new series will be more than a glorified cameo.
Are you excited to watch Picard? Tell us what you think below!