This September, there are two things you're allowed to be excited for: one is the countdown for the Christmas season, and the other is Pista ng Pelikulang Pilipino. Now proudly on its third year, PPP will be held from September 13 to 19, 2019 in a nationwide week-long celebration which will exclusively screen Filipino films in all theatres. This year, the films are a mixture of action, comedy, and romance and tackle themes on friendship, family, love, and exclusivity. And as we're approaching the 100th Anniversary of Philippine Cinema (September 12), PPP has added three films, on top of the seven feature films, as part of the PPP Sandaan Showcase.
I'm Ellenya L. (dir. Boy 2 Quizon)
I'M ELLENYA L. – Official Trailer

Sa panahon na lahat influencers… Lahat na sila vloggers…Sino ang magvi-viral? Sino ang magiging instant "peymus"?Sino ang #LEGIT?#ImEllenyaL AN OFFICIAL ENTRY TO THE PISTA NG PELIKULANG PILIPINO. In cinemas September 13, 2019! #PPP2019

Posted by Spring Films on Thursday, August 1, 2019
Mirroring today's youth and culture, the eponymous Ellenya lives a life revolving around social media. Her self-worth and validation is based on likes, comments, and online interactions. Seizing the opportunity to become an influencer and a vlogger, she creates an online persona with the help of her family and friends. The film stars Maris Racal and Inigo Pacual and is produced by Spring Films, N2 Productions, and Cobalt Entertainment.
G! (Dir. Dondon Santos)
Here's one for the barkadas out there.
G!
 revolves around the lives of a group of friends (McCoy de Leon, Jameson Blake, Paulo Angeles, and Mark Oblea) and their shared good times, bad times, and bonding moments. Along the way they all realize the value of love, friendship, family, and life. Better bring your barkada to watch this one!
G!
is under CINEKO Productions.
Panti Sisters (Dir. Jun Robles Lana)
https://www.facebook.com/cinemabravo/videos/482570832510964/
If you enjoyed Die Beautiful (2016, Dir. Jun Robles Lana) and Born Beautiful (2019, Dir. Perci Intalan), you're in for a taste of the same feeling, except it's multiplied by three in Panti Sisters. Three gay siblings (Paolo Ballesteros, Martin del Rosario, and Christian Bables) are called by their terminally ill father and are given an offer they can't refuse: the family's wealth in exchange for a grandchild. This film is produced by The Ideafirst Company, Blacksheep, and ALV Films.
Open (Dir. Andoy Ranay)
Long-time couple Rome and Ethan (Arci Munoz and JC Santos) have been together for 14 years and what was once an exciting and comfortable relationship has gone boring and stale. They explore Ethan's idea of being in an open relationship: they're allowed to sleep with other strangers but not to fall in love.
Open
is produced by T-Rex Entertainment and Blacksheep.
LSS (Dir. Jade Castro)
Pangarap at pag-ibig — minsan siya'y para sa iyo, pero minsa'y siya'y paasa.Sama-sama tayo sa kilig at lungkot.#LSSTheMovie, showing this Sept. 13-19 sa Pista ng Pelikulang Pilipino! #PPP2019

Posted by LSS on Friday, August 9, 2019
Zak (Khalil Ramos) encourages aspiring musician Sara (Gabbi Garcia) to pursue her dreams anyway even if other people doesn't believe in it. The two struggling dreamers in their 20s follow the up and coming indie band, Ben&Ben, and find themselves in a series of romantic encounters. What makes it all the more kilig is the fact that Gabbi and Khalil are a couple in real life! LSS is produced by Globe Studios in association with Dokimos Media Studios Inc. and Ben&Ben.
Watch Me Kill (Dir. Tyrone Acierto)
FIRST OFFICIAL TRAILER OF "Watch Me Kill"Here we go! Please like and share!! Witness Ms. Jean Garcia as you've never seen her before. Watch her unleash and breath life to the dark side of the titular character "Luciana" on the big screen SOON.Watch Me Kill: A story of a contract-killer who finds solace and redemption after saving her own victim.Also starring: Junyka M. Santarin, Jay Manalo, Rodolfo Muyuela and Althea Vega Directed by T.A.Acierto Cinematography by Marcin SkiFilm Edited by Colorado RutledgeFrom CineBandits Entertainment:

Posted by Watch Me Kill on Saturday, June 2, 2018
In the midst of romance and comedy themed films for this year's roster, Watch Me Kill is a breath of (suspenseful) fresh air. A ruthless assassin portrayed by Jean Garcia has her life changed and her morals questioned when the man she's tasked to assassinate is in the company of a little girl which she later on decides to save and take care of. This film is produced by CineBandits Entertainment.
Cuddle Weather (Dir. Rod Marmol)
Two prostitutes played by Sue Ramirez and RK Bagatsing form a mentor-mentee relationship in order to climb the ranks of hustler sex workers. They become each other's tutors, spending most of their nights in bed and most of the early mornings cuddled and sleeping. But what seemed like a no-strings-attached plan becomes something more and both start to feel that they could go beyond cuddle buddies into something more serious. Cuddle Weather is produced by Project 8 corner San Joaquin and Regal Entertainment.
PPP's Sandaan Showcase films: Circa, Lola Igna, and Pagbalik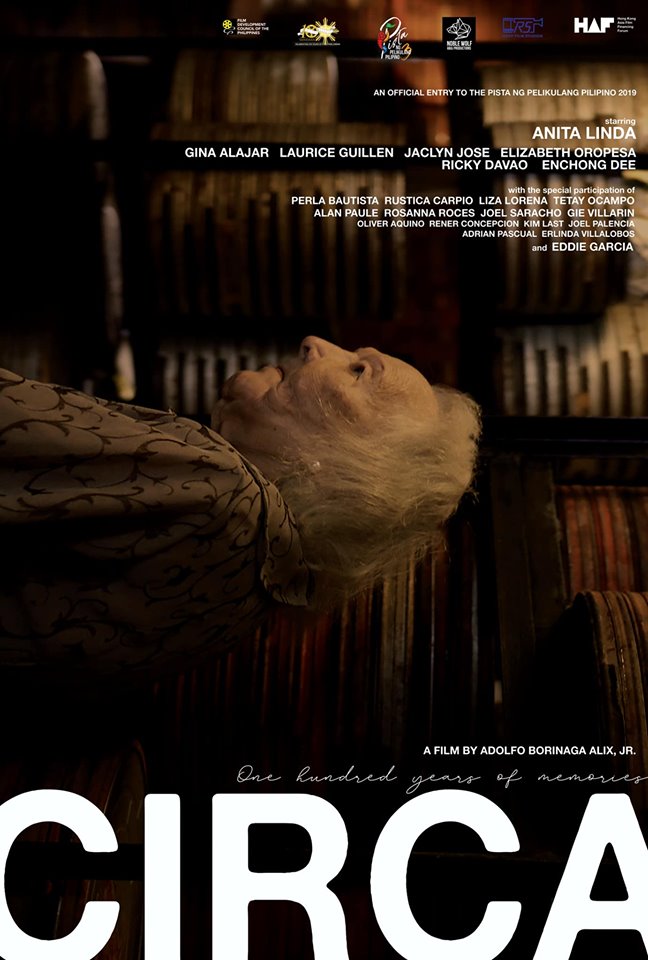 Circa, directed by Adolf Alix Jr., will take viewers on a trip down memory lane, back to the glorious years of Philippine cinema. It centers on the life of Dona Atang, a celebrated film producer whose only wish for her 100th birthday is to have a reunion with all the actors and staff she has worked with in the past. Her grandson also helps her look for an unfinished film from one of her directors. The cast for this film include renown Pinoy actors and actresses including Anita Linda, Gina Alajar, Laurice Guillen, Jacklyn Jose, and a special participation of Eddie Garcia.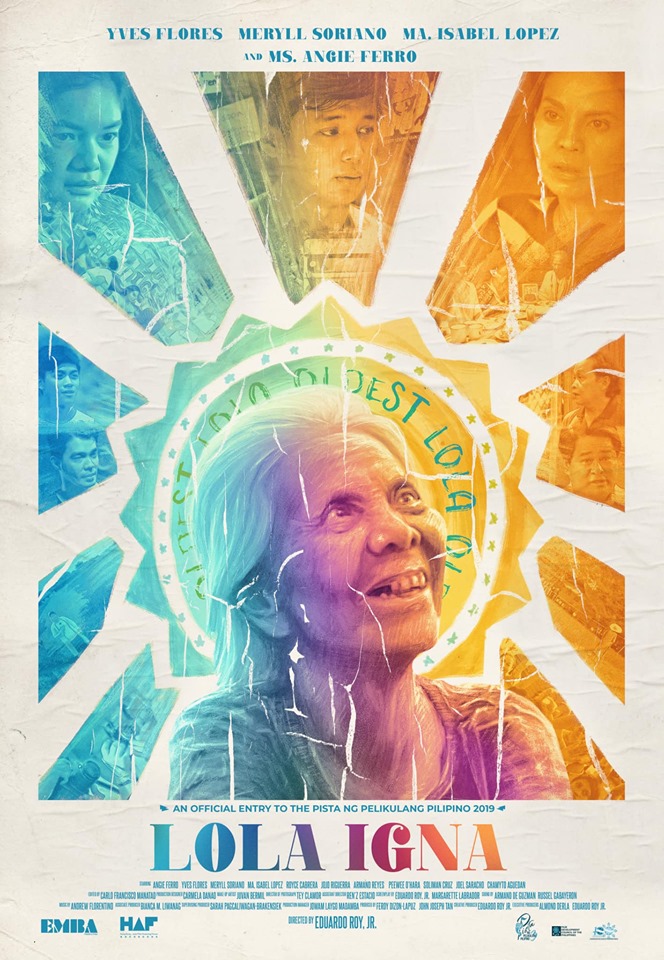 Lola Igna is directed by Eduardo Roy Jr. and stars Yves Flores, Meryll Soriano, and Ma. Isabel Lopez. Despite wanting to pass away peacefully, Lola Igna's friends and neighbors want her to live so she can claim the title of 'the oldest grandmother in the world.' Her great-great-grandson, Tim, a vlogger, pays her a visit for the first time and in him, she finds a new reason to live.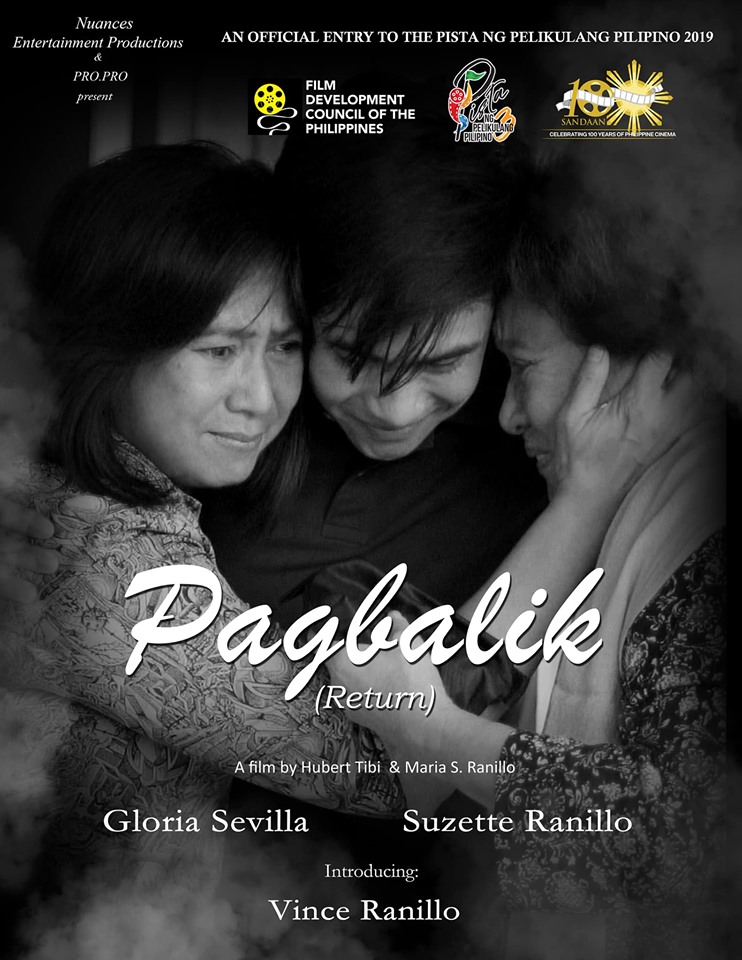 Pagbalik, co-directed by Hubert Tibi and Maria S. Ranillo and produced by Nuances Entertainment Productions & PRO tells the story of an overseas Filipino worker forced to return home and comes to terms with the family she left behind.
Which of these are you excited to watch? Tell us below!