Minimalist jewelry is all about that subtle elegance. It begs everyone else to lean closer to get all those details. To the wearer, minimalist jewelry such as earrings perfects and even elevates a clean look. You can always reach for these on days when you're down to your white tees and jeans or never take them off even at home. If you're expanding your earring collection with tiny pieces that are worth every peso, check out these stores where you can buy dainty earrings online.
Penny Pairs Mushroom Gold Studs (P1,699)
View this post on Instagram
Who says studs have to be boring? These teeny tiny Mushroom Gold Studs from Penny Pairs are a great addition to your budding collection. It's made with 14k gold vermeil over brass and looks so enchanting it turns your look into something magical.
Visit Penny Pairs' official website to get yours.
Nami Arc Stud (P5,590)
View this post on Instagram
Nami's dainty creation contains five natural diamonds resting on an arc bed of 14k solid gold. The Arc Stud (sold as a single earring) can be placed on your lobe piercings or your helix. Each stud is also carefully handmade to ensure you get a quality piece.
Visit Nami's official website to get yours.
Wear Cari CZ Solara Set (P375)
View this post on Instagram
Ladies will fall in love with this dainty set from Wear Cari. It comes with two stud earring pairs and one hoop, all sparkly and minimalist. Have fun mixing and matching this set or browsing the shop's catalog for more similar sets to purchase.
Visit Wear Cari's official website to get yours.
Flecked with Gold Tiny Pave Evil Eye Earrings (P1,299)
View this post on Instagram
Feeling a bit adventurous? Get this cute pair of Evil Eye Earrings from Flecked with Gold. They're made of 14kt gold vermeil with high-grade micro zircon and sapphire stones — a fun and minimalist addition to your everyday ear stack.
Visit Flecked with Gold's official website to get yours.
Omii PH Nakiya Threaders (P1,220)
View this post on Instagram
This beautiful pair is light as a feather and cast in gold vermeil. The Nakiya Threaders has a single freshwater pearl for that minimalist look. It's the perfect choice to adorn your ears for formal events, a lovely evening on a date, or even just a regular day at the office.
Visit Omii PH's official website to get yours.
Auric and Ice Crescent Flatback Stud (P9,800)
View this post on Instagram
Local brand Auric and Ice create timeless pieces built to last. Their bestselling Crescent Flatback Stud has dainty real natural diamonds and is set in 14k solid gold, solid yellow gold, or white gold. It can sit snug on your lobes, helix, or auricle. If you take good care of them, you can even hand these earrings down to your kids!
Visit Auric and Ice on Instagram to get yours.
Modern Myth Chain Hoop Earrings (P1,850)
View this post on Instagram
These Chain Hoop Earrings are the perfect pair for casual everyday wear. The thin chain makes for barely-there second-skin jewelry you can add to your earrings capsule collection. It's also available in 18k solid gold for P5,420.
Visit Modern Myth's website to get yours.
Suki Jewelry Threaded Stud Diamond Bezel (P7,800)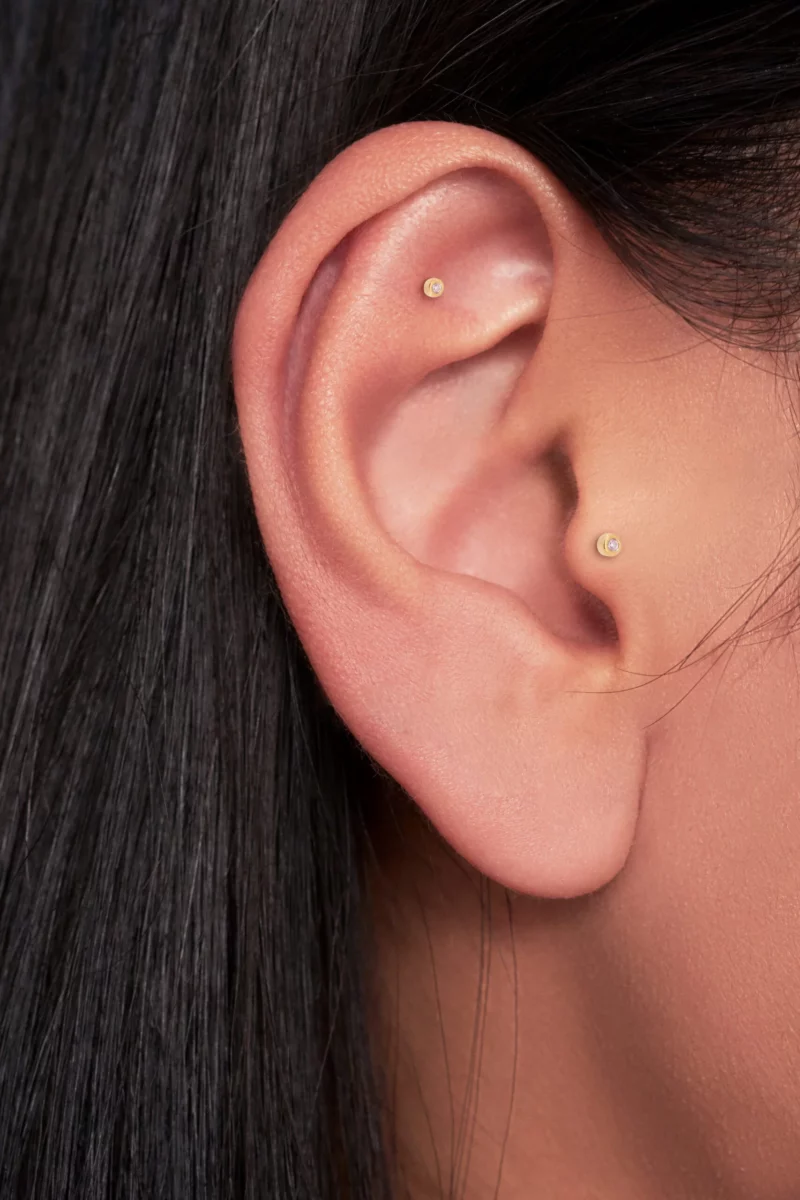 This pair is all about subtle elegance. The Threaded Stud Diamond Bezel gives its wearer that ultimate clean, minimalist look that tempts everyone to look into the details. You can wear this high-class piece alone or add more dainty earrings with it.
Visit Suki Jewelry's official website to get yours.
Check us out on Facebook, Instagram, Twitter, TikTok, and YouTube, to be the first to know about the latest news and coolest trends!