Winter is Here: A Dissection of GoT S8, Episode 1
Apr 16, 2019 &nbsp • &nbsp Mikhail Lecaros
After 595 excruciating days, Game of Thrones' (GoT) final season has arrived, rendering social media a veritable minefield of reactions ("Did that just happen?!"), attention-starved contrarians ("I don't watch GoT #sorrynotsorry"), and of course, spoilers ("UNFRIEND!"). With dozens of characters, multiple ongoing storylines, and only six episodes comprising the final season, producers D.B. Weiss and David Benoiff certainly had their work cut out for them. Of course, given that the last episode aired in 2017, among the most important of questions was also the simplest: was the wait worth it?
THE STORY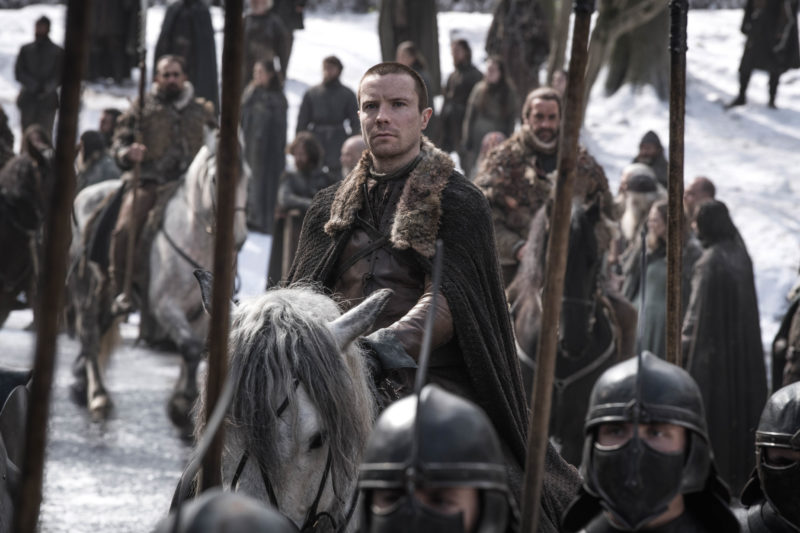 The episode begins with the newly-coupled Jon Snow (Kit Harrington, Pompeii) and Daenerys (Emilia Clarke, Me Before You) arriving at Winterfell, their combined Unsullied and Dothraki forces drawing wary suspicion from the citizens of the North. Welcoming them with no shortage of side eye is Sansa (Sophie Turner, X-Men: Dark Phoenix), who has concerns on the logistics of feeding her own citizens, in addition to the largest army the world has ever known, to say nothing of Daenerys' infamous dragons. As Winterfell prepares for the war to come, bonds of family and fealty are tested.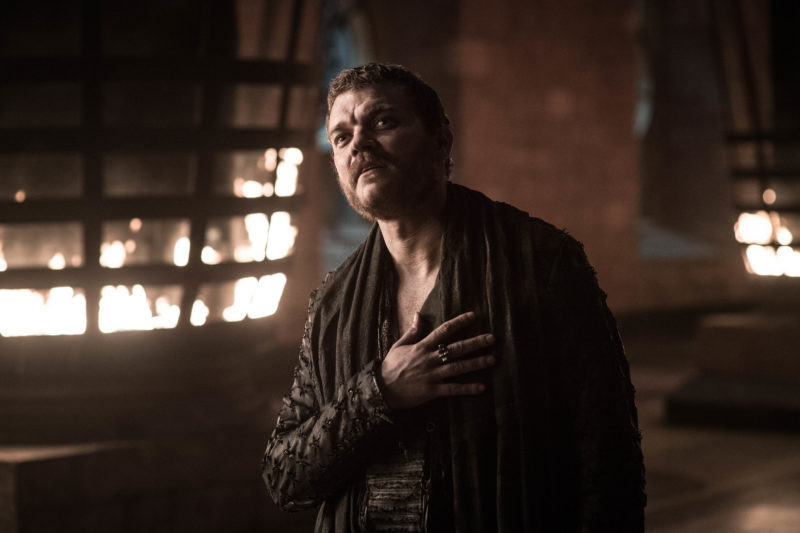 At King's Landing, Queen Cersei (Lena Headey, 300) is receiving guests of her own, in the form of Euron Greyjoy (Pilou Asbæk, Ghost in the Shell) and his Iron Fleet. Greyjoy has brought with him the mercenary might of the Golden Company, which Cersei plans to use to crush what's left of her enemies once the undead have defeated them. At the same time, the scheming Queen has made arrangements to rid herself of her traitorous brothers, Tyrion (Peter Dinklage, Three Billboards Outside Ebbing, Missouri) and Jamie (Nikolaj Coster-Waldau, Gods of Egypt).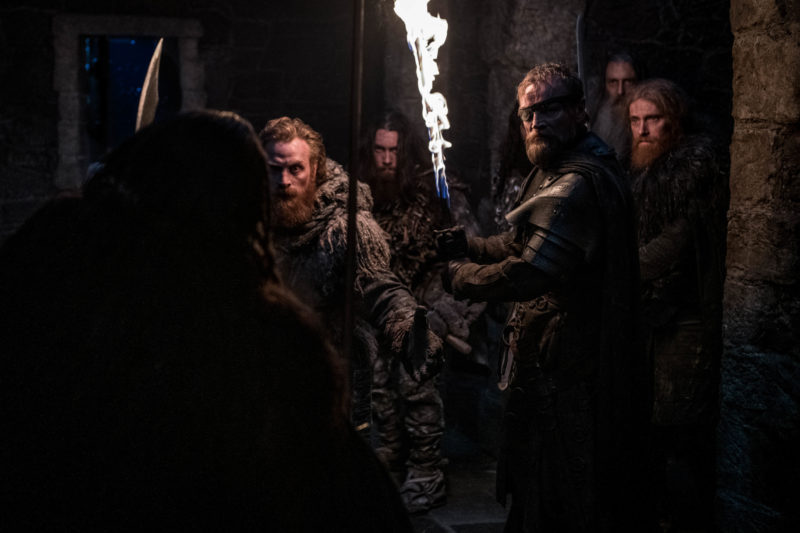 Meanwhile, at the ruins of a castle just south of the now-destroyed Wall, a group of Wildlings led by Tormund (Kristofer Hivju, The Fate of the Furious) is investigating the fallout from a White Walker Attack. There, along with members of the Night Watch, they discover the remains of a young lord, arranged in a grotesque tableau of limbs and undead theatricality to send a message: the Undead are on their way, and they're closer than you think.
CALM BEFORE THE STORM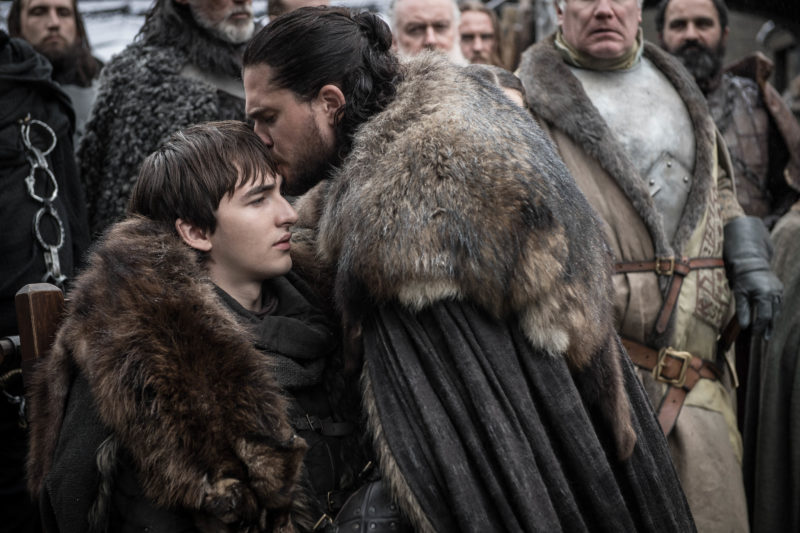 Under the direction of veteran GoT director David Nutter ("Rains of Castamere"), season premiere "Winterfell" was the quintessential calm before the storm, serving to refresh the audience on who everyone is, while putting them all in place for battles ahead. While the oncoming threat of the White Walkers and their Night King was always on the periphery, the episode's focus was on character.
The episode has a lot of juggling to do to get its pieces in place, but the team behind GoT never lets the pacing overtake the characters here, giving them (and the audience) just the right amount of time to get suitably reacquainted with each other.
REUNIONS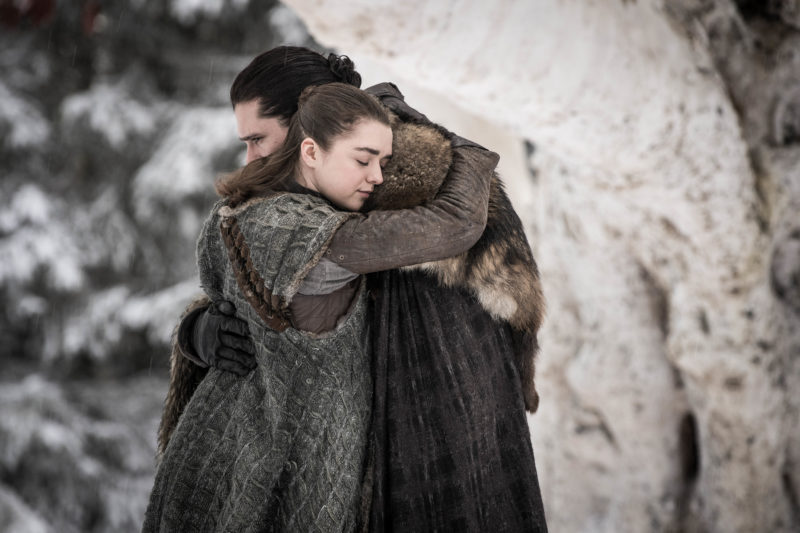 As the remaining older brother, Jon's reunions with Bran (Isaac Hempstead Wright, Closed Circuit) and Arya (Maisie Williams, Then Came You) are highlights, with the now battle-weary Snow marveling at how much they've grown over the years since he last saw them. It is a testament, both to the cast's performances and the quality of the show's writing over the years, that we care about these characters as much as we do. Of course, maybe it's just because we haven't seen them in so long, but I'd be lying if I said it wasn't somehow fun to see someone as ostensibly loathsome as Theon Greyjoy (Alfie Allen) manning up for once in his miserable life.
Secondary characters aren't forgotten, as the likes of Varys (Conleth Hill), Bronn (Jerome Flynn, Loving Vincent), Davos (Liam Cunningham, War horse), and Jorah (Iain Glen, Resident Evil, Downton Abbey) all get some facetime in, courtesy of some well-written dialogue. We didn't see Mellisandei as events come to a head, it's good to know that so many of the people we've met over the years will be playing a role, however small.

By this point, the cast is all comfortable in their roles, but it is Williams' Arya who continues to be the show's MVP, her interactions with Gendry (Joe Dempsie, TV's Skins) and the Hound (Rory McCann's, Hot Fuzz) reminding us just how far her character's come to have survived this long. Inasmuch as Jon is a people pleaser, Bran is emotionally distant, and Sansa has become tempered by her experiences, Arya may be hardened, but she hasn't lost the spark of the little girl she once was.
REFLECTIONS AND REVISITATIONS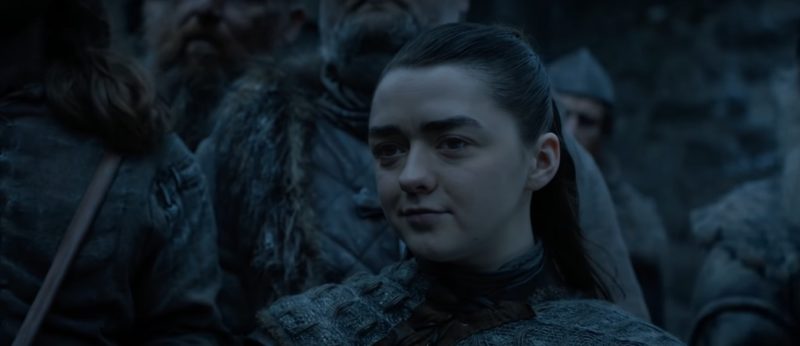 "Winterfell" opens with a small child rushing to see the arrival of Jon and Dany's army, causing Arya to smile at the memory of herself doing much the same thing, once upon a time. The episode is full of such callbacks, from members of House Stark greeting a foreign party as unknown terrors threaten to invade from the North, to scenes set at Winterfell's weirdwood tree and the Stark family catacombs. With the evacuation of the castles along the Wall to reinforce Winterfell, it is here, where many of our heroes last knew happiness and innocence, that the final line in the sand has been drawn.
UNEASY LIES THE HEAD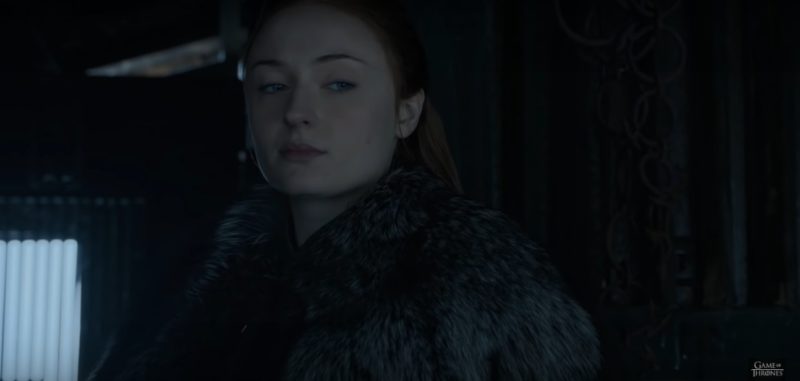 Lacking any actual battles, the bulk of the episode's conflicts stem from the interpersonal dramas and politics that GoT has become renowned for. Imminent White Walker onslaught notwithstanding, "Winterfell" derives its tension from diving into the different leadership styles of the titular Game's major remaining players, with particular focus on Jon, Dany, Cersei, and Sansa.
Cersei remains resolute as ever to destroy anyone who gets in her way, yet Headey never lets her performance veer into cartoonish territory; her Cersei may be cold and scheming, and everyone around her has a knack for either dying or defecting, but it can't be denied that, whenever she's onscreen, she's impossible to ignore.
At the opposite end of the spectrum, Sansa retains the resolve and strength of character that made her a standout last season, genuinely caring for the wellbeing of those under her. Given the circumstances, she seems to be the only one with an eye on the big picture, namely, the self-delusion that the men around her are either unable or unwilling to see, whether it's Tyrion's misguided belief that Cersei will keep her word, or that Jon's motivations for allying with Dany are truly altruistic.
LOVE AND DRAGONS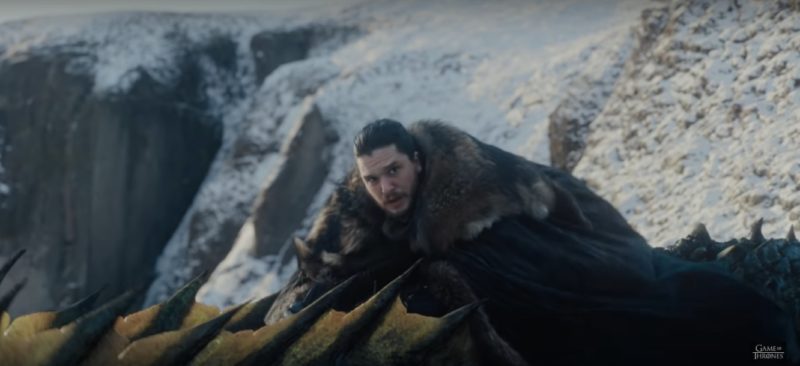 For a show that's never been shy about incest, the relationship between Jon and Dany is notable for the fact that the two don't know they're related. In between all the talk of alliances and war, the plot-packed episode takes a narrative break in the form of a mid-day dragon flight wherein Jon discovers what he's been missing from riding horses all these years. In concept, the sequence is tonally similar to Harry Potter and the Deathly Hallows' Part 1's much-maligned dance scene in that it grants the characters some much-needed levity in a time of crisis, but while the former was an act of catharsis, this one just seems irresponsible.
Sure, Cersei's engaging in extracurricular activities of her own, but her whole deal is being simultaneously aloof and selfish, so that's no surprise. Throughout the episode, Jon repeatedly reminds anyone who'll listen that he's no king, and that's fine, but this scene showed that he's someone who seriously needs to get his priorities in order. Don't get us wrong, it looks fantastic, with top-notch CGI and whimsy to spare, but when all is said and done? Sansa was right.
REVELATIONS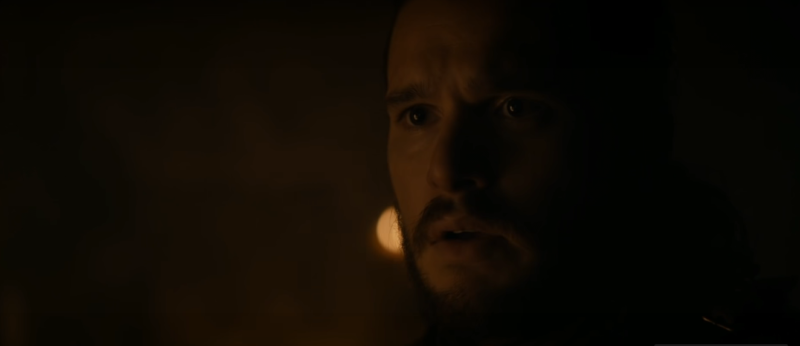 While the big reveal of the episode is one Samwell (John Bradley, Grimsby) and Bran have been sitting on since Season 7's finale, the episode's most emotional moment is one that takes place minutes before, as Sam learns the fate of his father and brother. Bradley sells the moment with his reactions as a clearly uncomfortable Dany and Jorah look on, face to face with the consequences of their actions. Knowing his place, Sam seeks permission to leave, and pours his heart out to his friend, Jon, before finally letting the erstwhile bastard in on his true lineage. Harrington was never the show's strongest performer, but he manages to convey the confusion at learning that, not only was his entire life a lie designed to protect him, but now he may have to rethink the whole "I'm not a king" thing.
THE BOTTOM LINE
The last seven seasons have led us to this point, and as we count down to the series' final curtain call, it is somewhat bittersweet to reconnect with faces old and new when we know for sure that not all of them will make it to the finale. At any rate, "Winterfell" was a fine reintroduction to the world of the Seven Kingdoms.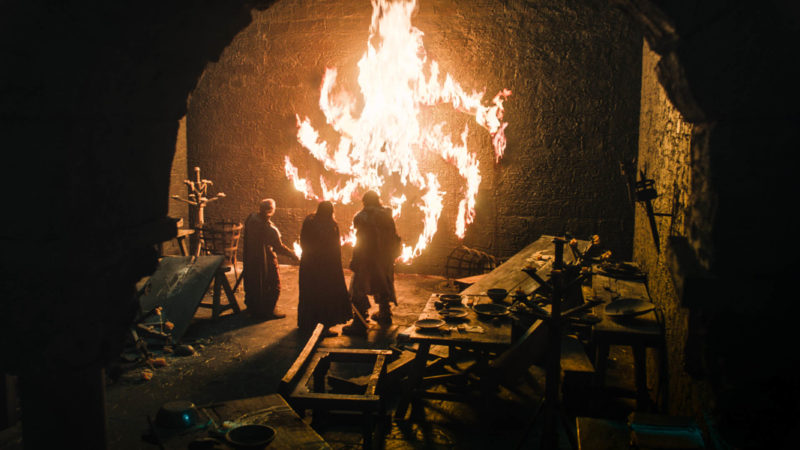 And now that the stage is set, bring on the White Walkers!
All photos courtesy of HBO Asia and SKY.
What are your thoughts on episode 1? Tell us below!