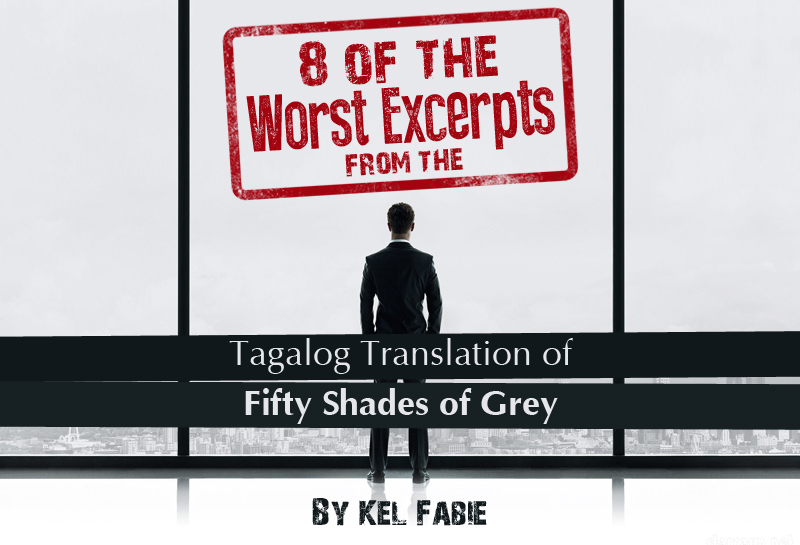 Sometimes, I wonder if the powers that be who tell me what 8Lists I should totally write about genuinely hate me. After all, it's bad enough that they asked me to read "Fifty Shades Of Grey" to bring you this: they didn't have to make me read the Tagalog version alongside it just to drive home the point of how much I can't stand E.L. James's writing.
Here's the irony: the Tagalog version, while a bit more cringeworthy in places, actually reads better than the original prose because a lot of the cumbersome metaphors and descriptions the original author just loves abusing, such as "I can almost hear his sphinxlike smile through the phone." Huh?!
Let's take a look at some of the most egregious passages from the book, and compare the two versions side by side. Because I'm apparently even more masochistic than Anastasia Steele herself.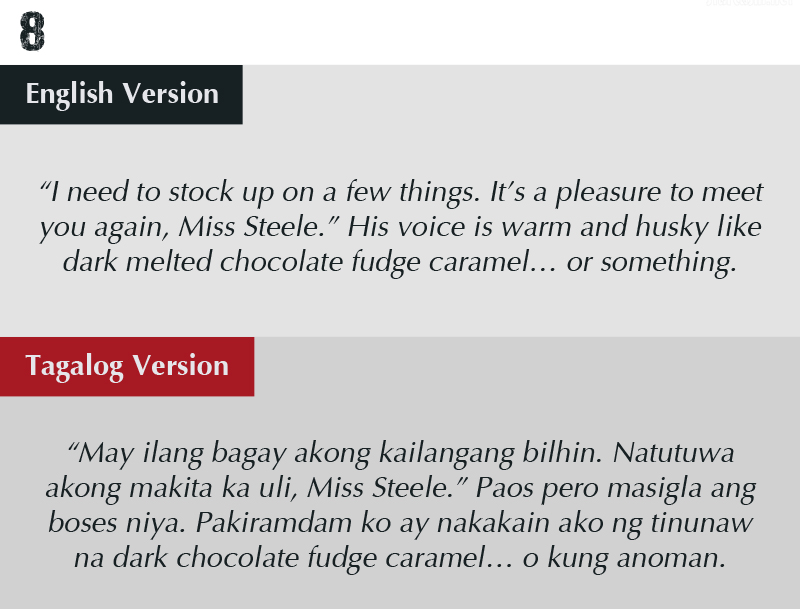 This passage is really worsened by the fact that "husky" isn't quite well-captured by the Filipino words "paos pero masigla." The creme de la creme, though, is that in both versions, you can't help but wonder aloud if a teenager wrote this when Anastasia clearly gives up on her metaphor midway through her internal dialogue… or something.
If there's something the movie-watchers have to be grateful for, it's the fact they don't have to go through this kind of torture. Mr. Grey's crop rider seems much less painful in contrast.

First of all, why even bother with a translation if you're going to keep pretty much every single key phrase as exactly the same in English? It defies all explanation why this translation keeps insisting on using E.L. James's words verbatim during a ton of key moments when it's practically doing better ignoring the original text.
There's also the fact that this chapter depicts Anastasia's first attempt at fellatio ever, after losing her virginity merely one chapter ago. Somehow, our perfect heroine whose "only" flaw is that she's "clumsy" (unless the writer completely forgets this and lets Anastasiaeffortlessly wear a pair of high heels) manages to deliver an A-worthy performance, according to Mr. Grey. Riiiight. Mary Sue much?
And what is up with that stupid inner goddess? Has anyone bothered asking what the hell her deal is, dancing around in Ms. Steele's head like some Ally McBeal internal dialogue skit? Doesn't this inner goddess ever get tired? Maybe she should go lie down for a while and just shut the hell up.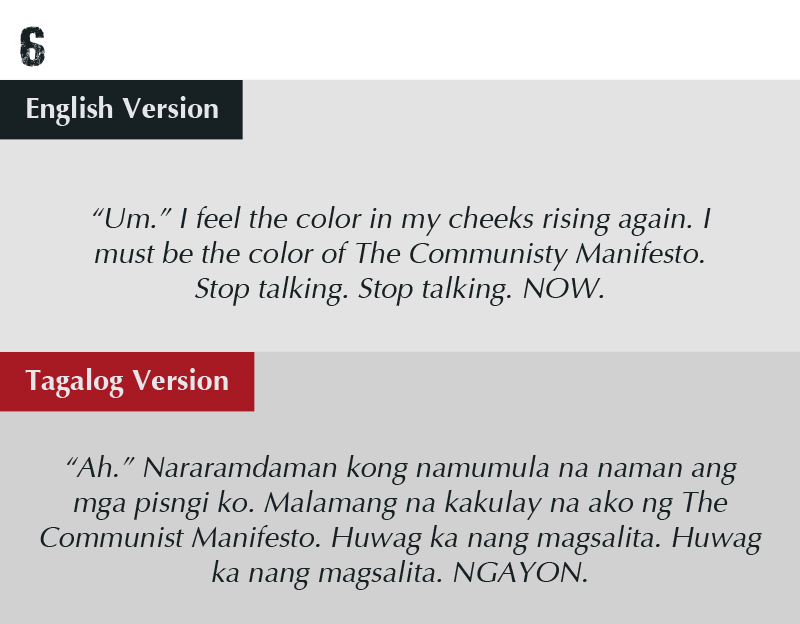 Holy cow! Somehow, blushing has never seemed more like communist propaganda than ever, before E.L. James decided to use this metaphor. Stop writing. Stop writing. NOW.
Too late.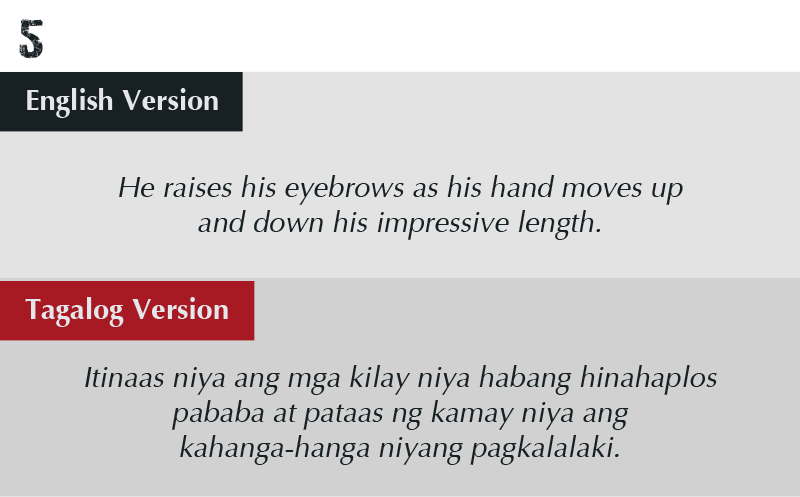 Here's one of those few examples where the Tagalog translation does make things worse. And this is pretty much the most benign example I could muster up, because anything more graphic than this might make #ManyakTatay come running in this direction.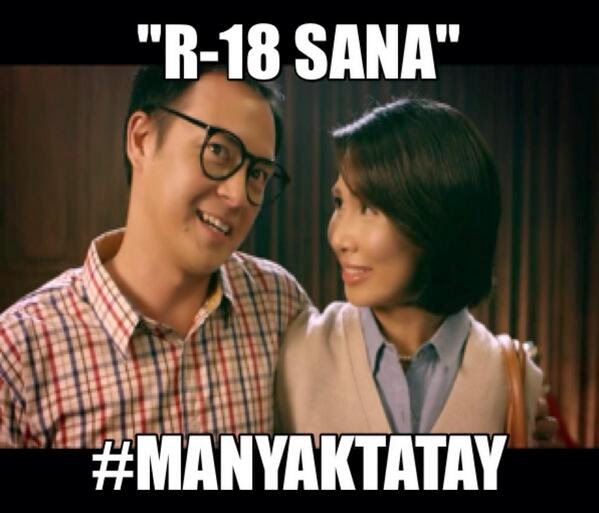 Why did you bring your kids with you, then?!?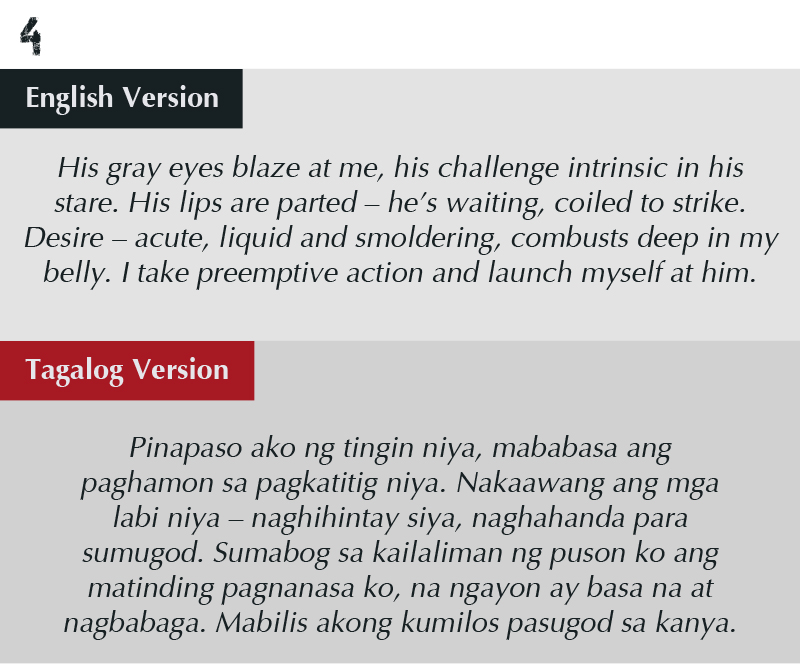 Does anyone seriously find this sexy? This whole excerpt is about as erotic as running play-by-play commentary in a pro wrestling match. All that's lacking would be good ol' JR screaming "Stonecold! Stonecold! Stonecold!!!" at the top of his lungs.
I don't know if this was a #BoomPanes moment or an #EhDiWow moment. So let's go with…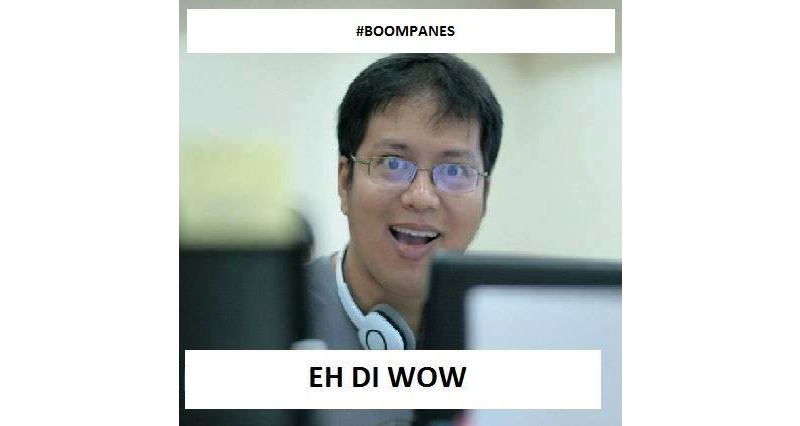 He will haunt you in your dreams.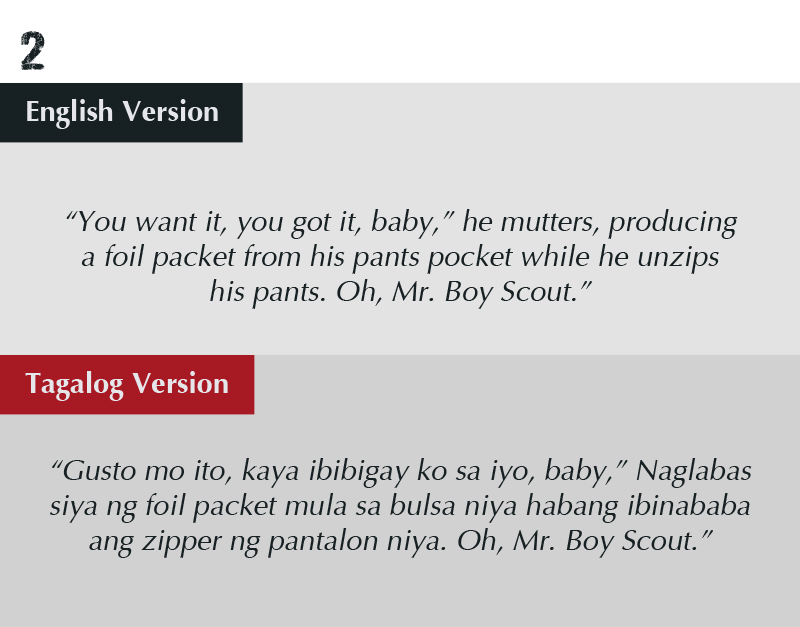 Nothing gets the blood going like making references to Boy Scout, assuming you're a member of NAMBLA. Otherwise, you can add that and Mr. Grey's overuse of the word "baby" to the litany of decidedly un-sexy things you can find in the supposedly sexy book, "Fifty Shades Of Grey." Christian abuses "baby" so much, you would think it had its own safeword.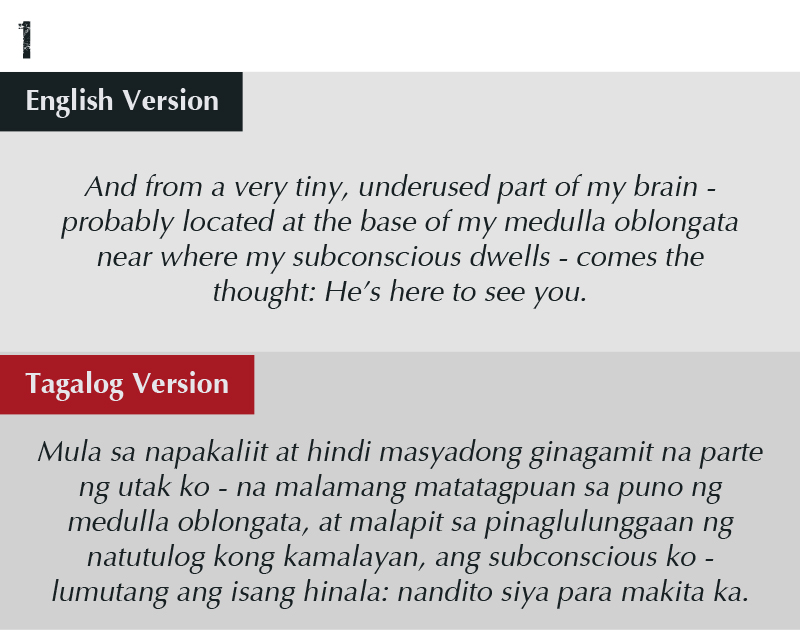 And people tell me I use too many fancy words! There is nothing about that passage in English that couldn't have been said in seven words: he was here to see me. Inconcenceivable!
If you wanted it in Filipino, here's my try in 8 words: Nandito siya para makita ka: ikaw na, teh!
I have never seen anything more needlessly complicated since people invented the "M.U." relationship status.

Have you read this book? English or Tagalog version? What do you think of the translation? Share in the Comments Section below.