Korean girl group BLACKPINK has legions of fans all around the world, and all of them definitely want to meet them. But this guy just took things a step over the line by asking a BLACKPINK member Jennie out on a date — through a billboard in the middle of Seoul, South Korea. Yikes.
Who even is Xian Gaza?
Xian Gaza is a self proclaimed scammer. Stay away from Jennie, you should've already learned your lesson with Erich. Just so creepy and 🤮 pic.twitter.com/KogpX4RUh8

— Jisoo 지수 ❄️ (@JisooAkira) October 31, 2021


If you haven't heard of him, then we're sorry to be the ones changing that. Christian "Xian" Gaza rose to infamy in 2017 after he asked actress Erich Gonzales to go on a coffee date with him — also via a billboard. He is also notorious for being a self-confessed scammer, and he was thrown into jail for violating the Bouncing Check Law.
He has a long history with these public pronouncements
In addition to Erich Gonzales, Gaza also publicly "wooed" actresses Nadine Lustre, Barbie Imperial, Ella Cruz, and Tiktoker Yuki Takahashi. Now it seems that Gaza is taking his so-called 'wooing' to an international scale.
xian gaza's valentine date proposal to nadine lustre

kabahan ka na james reid lol pic.twitter.com/o2u2CmXAT2

— xᴀɴᴅʀᴀ. (@alekzandruhh) February 10, 2020
His post


Gaza posted a photo of the billboard and captioned it with his letter to the K-pop singer printed on the billboard, along with its location address. "I don't know how to contact her kaya pina-billboard ko nalang sa puso ng South Korea, a few kilometers away from BLACKPINK's YG headquarters," he said with the hashtag #JennieChristianDinnerDate. In a separate post, Gaza said the billboard cost him PHP 1.5 million.
A closer look at the billboard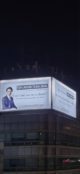 The billboard had Jennie's whole name, along with the message: "You are my ultimate crush. Can I take you out to dinner and make me the happiest man alive?" Yes, it really read like that. The billboard also featured a photo of Gaza in a suit.
But Jennie isn't even in Korea
[Instagram] 211102

@.taviabonetti IG story update with #JENNIE dressed as Gogo Yubari for Halloween at Kendall Jenner's party

😮😍🔥#제니 #JENNIE pic.twitter.com/FZ6Md57QB6

— . (@lyle0_0) November 2, 2021

The singer is currently in Los Angeles, USA. She was recently seen dressed as Gogo Yubari at Kendall Jenner's Halloween party.
Most people ain't happy
Xian Gaza trying to buy women like 🥴🤮🤮🤮🤮🤮🤮🤮

— Cedie (@ceedddiiiieeeee) October 30, 2021
that xian gaza just wasted his money for that billboard lol jennie is in LA 🤪 pic.twitter.com/5hxTC6aiUf

— Eros (@soooyeah_) October 30, 2021
This Xian Gaza really don't know what's offensive sa pina billboard nya ano?

"Make me the happiest man alive?"

Tunog manyakis amputa.

— PENPEN (@akosip3n) October 31, 2021
Xian Gaza, you're creepy & annoying af. 😬

— The Saranghe Oppa (@TheSarangheOppa) October 31, 2021

Gaza's comment section is filled with netizens berating Gaza for yet another public wooing attempt. Fans of Jennie and BLACKPINK also took to social media to express their frustration.
But a few people are missing the point
Krazzyyy pic.twitter.com/V66gOojkf8

— WINS WRU👀 (@bigwinscityxx) October 31, 2021
Uh?? Are you supporting xian gaza because of his money? Kidding, if he's really a fan of Jennie, he will respect her boundaries. Umabot na siya sa point na gagawin ang lahat para lang manotice ni jennie, he's really a delulu. pic.twitter.com/Pn7iZCWFmB

— Ylaijah #LetLeniLead (@YlaijahOnSW) October 31, 2021

Amid the berating happening in the comments section of Gaza's post, a few people seem to be throwing support for him. Of course, they've got tons of netizens after them telling them how wrong this is.
One thing's for sure
Boys and girls, if you're paying attention to this guy, take note of what he's doing and do the EXACT OPPOSITE. He's doing 'wooing' all wrong. Putting a girl in the spotlight just to score a date is creepy, inappropriate, and manipulative. A billboard is NOT the way to a girl's heart.
Can we all pool our money and put up a billboard on EDSA that reads, "Xian Gaza is a creep"?

— Marguerite Alcazaren de Leon (@margie_deleon) November 1, 2021
What do you think of this?