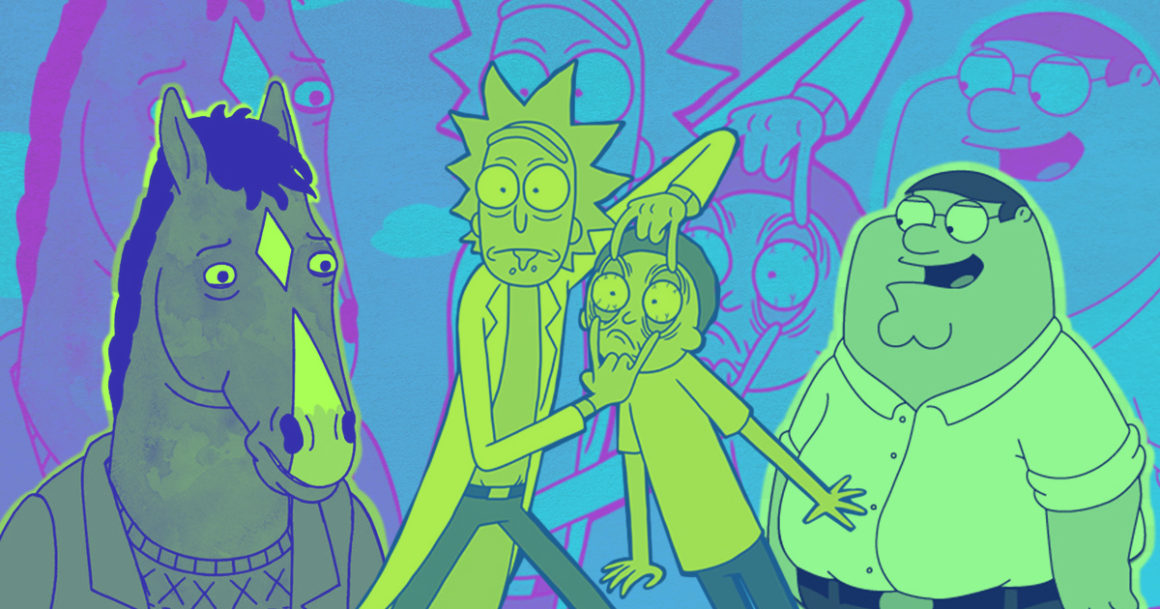 Who says we have to leave our love for cartoons in our childhood years? It's a good thing people invented animated series geared specifically toward adults and which children should never venture even 10 feet close to. If you're looking for more series like The Simpsons to pass your time, there's a variety of cartoons you can enjoy, ranging from Hollywood horsemen, super-secret spy agents, and even one about exploring puberty.
BoJack Horseman (2014 – present)
Netflix Original BoJack Horseman is about to release its 5th season on September 5, 2018 and this alone should attest to the brilliance of this oddball of a show. Bojack, an anthromorph, is a washed up celebrity who used to be famous for his role in a '90s sitcom. While he financially benefits greatly from his celebrity days, he struggles from self-loathing, depression, and being an alcoholic. Complete with satirical view on issues and experiences eerily similar to real life, this series will leave you laughing, crying, or staring into the sunset and rethinking your life.
Rick and Morty (2013 – present)
Adult Swim's Rick and Morty revolve around the lives of the titular characters and their literal out-of-this-world experience. Rick is a grandfather slash narcissistic super-smart scientist who is also an alcoholic and Morty is his simple nervously disposed grandson. Together they embark on sci-fi adventures many of which endanger Morty's life.  Aside from giving laughs, the show also has unexpected life lessons you might be surprised at.
South Park (1997 – present)
South Park has spanned over two decades following the adventures and misadventures of Stan, Kyle, Cartman, and Kenny. South Park by creators Matt Parker and Trey Stone is an animated show filled with satire towards modern and controversial topics including celebrities, politicians, and the like. Although the characters are foul-mouthed, we have to say we enjoyed their unique and sometimes eye-opening view on things.
Daria (1997 – 2001)
Daria Morgendorffer is a character from another animated show Beavis and Butthead that got her own spin-off show which eventually became popular. Titular character Daria is an intellectual and pessimist on top of being cynical and sarcastic. The show follows her life as she goes through the cliché of high school drama and dealing with suburban living, often adding satirical comments and dark comedy.
Family Guy (1998 – present)
What's a more iconic animated laugh than Peter's? Or the most annoying way of calling 'Mum' than Stewie's? Family Guy is a classic American animated sitcom revolving around the life of the Griffin family and their anthropomorphic pet dog Brian. Watch this dysfunctional family cope with the everyday things life throws at them.
Archer (2009 – present)
The American adult animated sitcom focuses on the life of suave spy Sterling Archer (narcissistic, womanizer, the epitome of a male spy agent) and his dysfunctional group of fellow secret agents. The mid-century comic art animation is filled with vulgar, filthy, and outrageously funny scenes with references to modern pop-culture. If you love spy movies, this one's right up your alley.
Futurama (1999 – 2013)
Futurama gave us a glimpse into what the future might look like for humanity albeit animated. When Fry accidentally freezes himself in 1999, he wakes up 1,000 years later. He finds work at a futuristic delivery service and companions including the delivery ship's captain, Leela, and Bender, a robot. Fans of The Simpsons will be glad to find familiar looking characters in this one!
Big Mouth (2017 – present)
No animated show in this list is probably the most vulgar and uncensored as Netflix Original Big Mouth. Created by Nick Kroll and Andrew Goldberg based from their own teenage experiences, this show portrays growing through puberty and all the gross details and horrors it entails. It's complete with hormone monsters, body parts, and eventually hormonal characters. But although full of sexual teenage tension, the show also portrays what it's like to grow as an adult and navigate the awkward waters of tweenage years.
Which of these is your favorite? Share your thoughts with us below!