8 Destinations this Holy Week
Apr 10, 2017 &nbsp • &nbsp Camille Bacsa
Holy Week is one of the few surefire long weekends we get in the year during summer, so it's crucial to plan ahead lest we find ourselves feeling regretfully woeful when 9 pm on Easter Sunday comes around. While it is a Catholic tradition to spend the weekend in quiet prayer with our families, Visita Iglesia need not be a replay of last year's destinations. So while you fight off your ungodly temptations to head to the beach and leisurely stretch on the shore instead (because nanay will certainly disapprove), we've compiled for you 8 religious road trips with a view you can bring the familia to for a spiritually enriching journey, set against the wonders of nature or Philippine history.
Marian Orchard, Balete, Batangas
Take a (2-3 hour road) trip to Europe and feast your eyes on Marian Orchard's (hyperlink to site: http://marian-orchard.ph) white-and-blue Roman architecture, beautifully interspersed with colorful flowers, willowy green trees, and a stunning replica of Rio de Janeiro's iconic Christ the redeemer statue. Set against the windy weather and view of Taal Lake, the 5 hectare hillside property is lined with sculptures of saints, a chapel with skilfully painted interiors, garden-paved Stations of the Cross, and the Virgin Mary Grotto. You can also extend your pilgrimage at the nearby Hermitage of our Mother, a solemn retreat/prayer house with a viewing deck poised to give a picturesque view of Batangas.
Regina RICA, Tanay, Rizal
The Regina Rosary Institute for Contemplation in Asia, or Regina RICA (hyperlink to site: http://reginarica.org/rica/) for short, is a serene site for prayer hidden away at the foot of the Sierra Madre Mountains. The 300+ steps leading to the 71-foot Virgin Mary statue pays homage to Mama Mary as the Queen of the Holy Rosary. Even the laziest among us will be inspired to take the long walk as the sight is rich in greenery, with small waterfalls and a tranquil creek meandering the 13.5 hectare site. Make sure to dress appropriately, as the Dominican Sisters who manage Regina RICA abide by a strict dress code.
Banal na Bunduk Dalan Ning Krus, Mt. Arayat, Magalang, Pampanga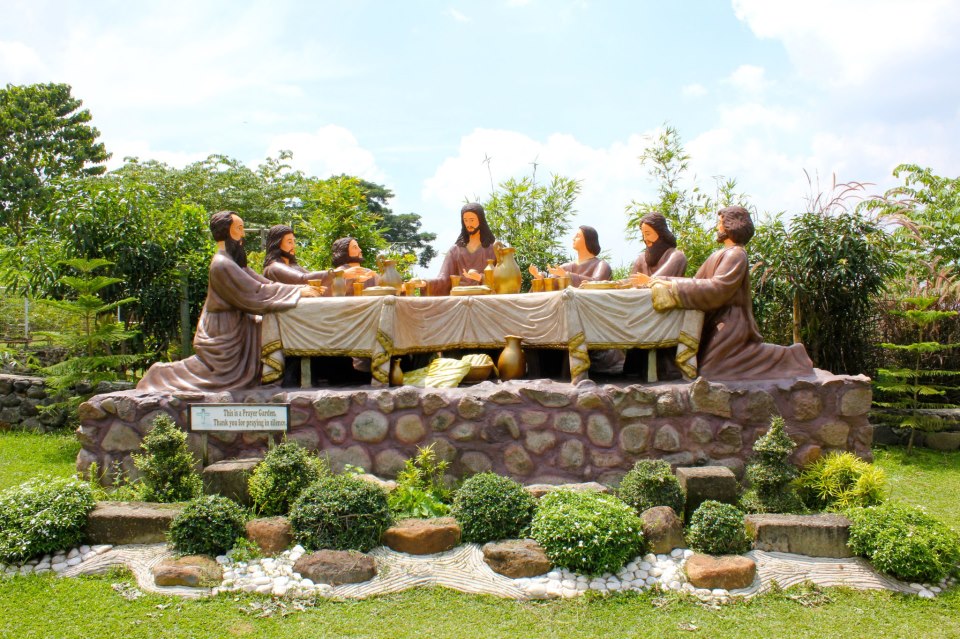 If you'd like to apply a little more physical endurance during your meditative prayer, head over to Banal na Bundok Dalan Ning Krus (Holy Mountain Way of the Cross) for a little contemplation with altitude. The pilgrimage site is unique as it is adorned with life-sized Stations of the Cross that begin at the base of Mt. Arayat, moving progressively upwards until you go beyond the 14th station to the summit.
Kamay ni Hesus, Lucban, Quezon
Kamay ni Hesus Healing Church (hyperlink to site: http://kamaynihesus.ph/facilities/) is a 5-hectare shrine in the heart of Lucban, Quezon that boasts of the world's 3rd tallest 50-foot Ascending Christ statue atop a hill. The Way of the Cross is worth every bit of your 300+ steps uphill walk (or limp, but hey that's the point of pilgrimage) as it is a sight to behold overlooking the Via Dolorosa Grotto, Healing Church, Noah's Ark, Sea of Galilie, and Holy Family Park.
Calvary Hills, Iguig, Cagayan Valley
Calvary Hills is patterned closely from the site at which Jesus was crucified and the sequence of events is artfully represented by life sized statues built and maintained since the 1980s. While that sounds like eons ago (sorry, no offense Generation X), the oldest attraction at Calvary Hills – the San Antonio de Galicia Church, or colloquially known as Iguig Church – actually dates back to 1765, featuring Gothic architecture and an old brick stairway leading to the river formerly used by Spanish merchants for trade. Today, the 11 hectare attraction is a favourite amongst devotees, as it peacefully overlooks the river and plains of Cagayan, with a little colonial history to boot.
Caleruega Chapel, Nasugbu, Batangas
While non-historical, the Caleruega Transfiguration Chapel is a work of wonder that has captured the imagination of would-be brides (and bridezillas) for its hilly garden setting. At night, the brick walkways are adorned with string lights that charmingly accentuate the Stations of the Cross, hanging bridge, and Koi pond, the entire compound overlooking the not-so-distant Mt. Batulao.
 Pink Sisters, Tagaytay, Cavite
Known for its miraculous prayer intercessions and devout nuns in pink habits, the Pink Sisters convent is open to the public for a solemn stop for spirituality amidst Tagaytay's pine trees and cold weather. While you are only able to see a glimpse of the Pink Sisters in silent prayer at the front of the chapel inaccessible to guests, the compound also offers a green atmosphere conducive for quiet contemplation in its garden Way of the Cross. In case you get hungry, don't break the silence with your growling tummy and drop by their souvenir shop for some delicious Cloister Cookies (derived from trimmings of the Holy Communion host), which are lovingly prepared by the nuns themselves.
Our Lady of Lourdes Grotto, San Jose Del Monte City, Bulacan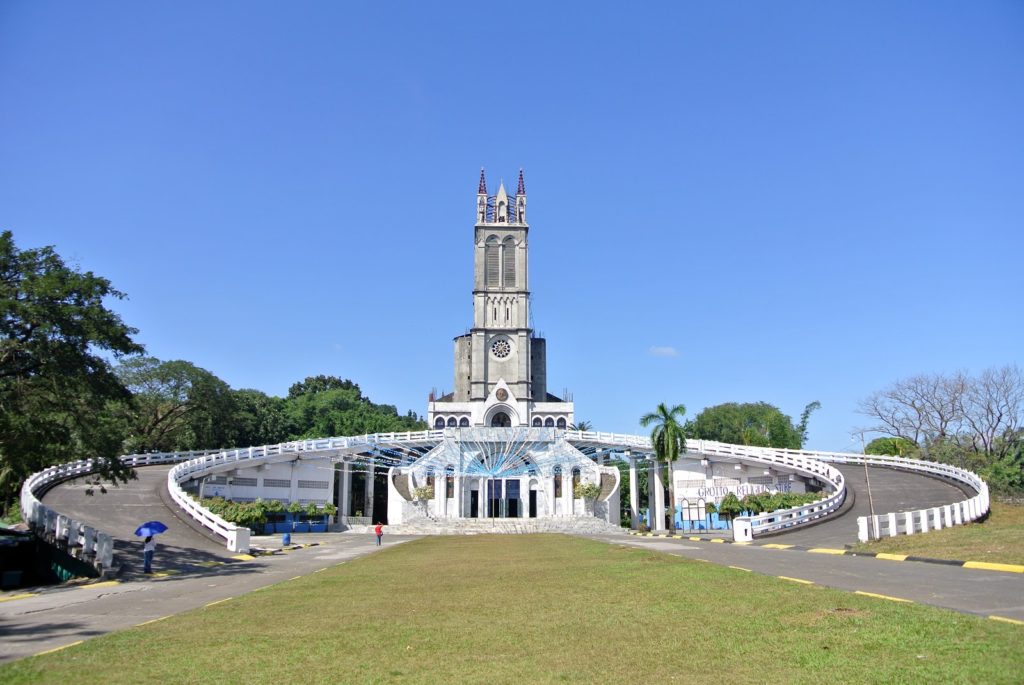 Patterned from the miraculous Church of Lourdes in France, the 6 hectare religious site was built in gratitude in the 1960s by a cancer patient healed during her pilgrimage in France. The majestic basilica is annually visited by numerous devotees seeking good health from the miraculous spring waters, offering prayers at the grotto of Our Lady of Lourdes and Christ's statue in a cave. Life sized depictions of the Stations of the Cross can also be found onsite for visitors to dwell upon and pray faithfully with.
Being a largely devout Catholic country, there are many other nature-inspired pilgrim sites being developed across the Philippines, in addition to numerous 400+ year old colonial era churches that can be curiously visited in bustling town centres in both the metro and the provinces.
Got any suggestions? Sound off in the comments below