Photos courtesy of Walt Disney Pictures

Episode VIII is here and geeks around the world are rejoicing in what looks like the best installment of the Star Wars franchise, yet.

We've seen the movie and can confirm that new director Rian Johnson has steered this ship squarely into the squall, balancing meat-and-potatoes good storytelling, requisite fan service moments, and a clear vision of where to go and then executing that game plan, moving the mythos and universe of the post-Galactic Empire forward.

Without going into any spoilers and assuming you've seen the trailers, here are some of the most awesome moments, locations, creatures, and sequences we can confirm made it to the final cut. This is an epic ride in the vein of The Empire Strikes Back, and you should not miss it.

[/whole] [/row]
Jedi Kata and Light Side Powers
TLJ opens up where we left off in The Force Awakens. Rey (Daisy Ridley) has traveled to the forgotten Jedi Island of Ahch-To in a remote sector of the galaxy and actually found Luke Skywalker, living in self-imposed exile. While Ren is having a hard enough time convincing Skywalker to train her and/or even leave his provincial hut long enough to have a few decent words, Luke is meanwhile having traumatic flashbacks at Rey's arrival.
As Skywalker ruminates on his failures, mistakes, and whether the cute little furry Porgs of the planet are inded just a form of cute vermin, Rey takes it upon herself to do some Force exercises and throw in some lightsaber kata into the mix.
Do the .gifs here confirm that Luke does give in to Rey's request to train her? "It's time for the Jedi to die," exclaims Luke in the trailer. So it's not likely, but maybe he had a change of heart?
Space Dogfights and Explosions Galore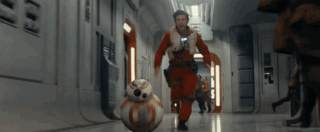 While Rey and Luke are having arguments about getting off the Jedi's proverbial Force-style lawn, we find the last remnants of the rebels in space, trying to shake off the pursuing First Order fleet led by the bumbling and vicious General Hux (Domhnall Gleson).
Gen. Leia Organa Carrie Fisher (RIP) is doing her darn best to be the decisive and strong woman everybody needs but she needs all the help she can get in guerilla tactics and unexpected bright ideas in the form of a headstrong and often bullish Poe Dameron (Oscar Isaac), as well as the purple-haired and wily Vice Admiral Amilyn Holdo (Laura Dern).
As exciting dogfights, bomb runs, and suicide flights against nigh impossible odds make the stakes astronomical, even the Millennium Falcon is drafted into the mix. And the last remaining rebels are faced with a genuinely daunting problem: should they face the threat head on and attack or continue trying to outrun the First Order fleet and possibly run out of gas very soon?
Intense Kylo Ren Lightsaberism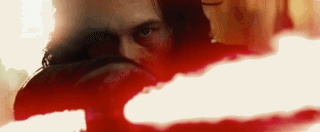 Adam Driver as the mask and grandfather fetishist Kylo Ren seemed like an emo kid caricature in The Force Awakens, prone to bouts of impetuous action and even rampaging tantrums fueled by deadly Dark Side powers.
This time, Driver is able to sink his teeth into the role and revelations from Luke and Ren's past expose a very wicked, very intimate relationship between the two that brings to light and explains much of his villainous actions as a very human, very relatable kind of trauma. This makes him one of the most expansive, layered characters in the movie.
All the more kindling for his further descent into the Dark Side, made even more savage by a marauding and aggressive lightsaber style that he, yes, does get to use to full effect in the movie.
Canto Bight and the Gorgeous Gambling Planet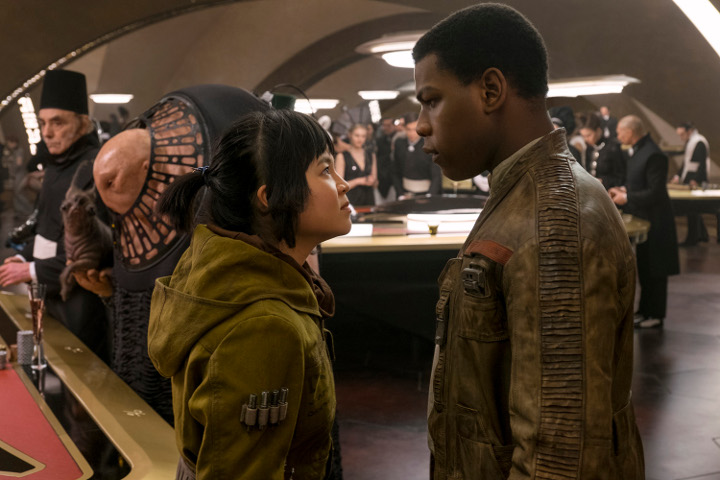 It's easy to forget the little people when put up against the big canvass of Light and Dark Side practitioners, but a most entertaining thread concerns the misadventures of Finn (John Boyega), and the wily and gritty on-ship Asian mechanic Rose Tico (Kelly Marie Tran).
They travel to the upscale and gorgeous gambling planet Cantonica that will remind you of a futuristic Monaco.  The scenes at the Canto Bight Casino, where the medieval city of Dubrovnik stood in for parts of the scenes, are some of the richest and lushest in sci-fi movies.
Just the costumes of the aliens and the humanoids of the casino scenes were a huge endeavor for costume designer Michael Kaplan and his team where they made hundreds of tailored costumes, each one completely unique. The casino set was so large it took 16 weeks to build and had to be split across two stages.
Capt. Phasma Versus Finn
Yes, Finn will finally get a chance for payback against the towering and shiny Captain Phasma. Will he emerge triumphant? You can't count the gritty Finn out, but my money is on the battle-hardened Phasma.
Snoke's Throne Room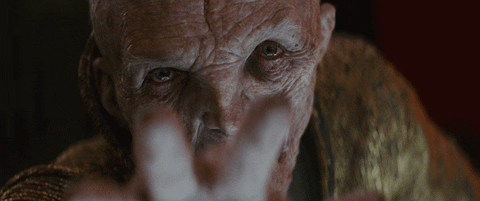 Supreme Leader Snoke (Andy Serkis) isn't quite the caliber of Sith Lord that Palpatine/Darth Sidious was but he does cut a very sinister throne room. Is he, is he not Darth Plaugeis, as some fan theories posit? Only one thing is for sure, if you plan to assassinate the guy, you need to get past these badass Elite Praeitorian Guard first. Never knew shiny red could be so slimming!
Adorable Porgs
Humor and cute creatures abound in TLJ and first among them are the Porgs, native creatures of Luke's lonely exile planet Ahch-To. They're a weird and fluffy of a puffin, an owl, and a baby seal. So fluffy and with emotive eyes, your kid will be screaming to take one home and put beside his BB-8.
Fleet Crystal Foxes
If little furry Porgs aren't your thing then these crystal-covered foxes, we see here dashing toward a resistance base on the planet Crait, will be your "aww, shucks" fave in the movie—go away, Tauntaun! They're sleek, dextrous, and seem clever enough to get out of the way of a First Order attack. If I ever get one I shall name him George and bathe him in icy water every day.
"Star Wars Episode VIII: The Last Jedi" is now showing in 3D, 3D IMAX, and regular theaters.