With 2018 recently welcoming even more Filipino words to the Oxford English Dictionary, it begs the question: why is there a need to functionally add these words to the English language, and what does it say about both languages as a whole?
Well, maybe we can understand how these things come to be better if we took a look at just 8 of these Filipino words that have ended up in the Oxford dictionary over the last few years…
Bongga

ADJECTIVE
SE Asian
informal
Extravagant or flamboyant.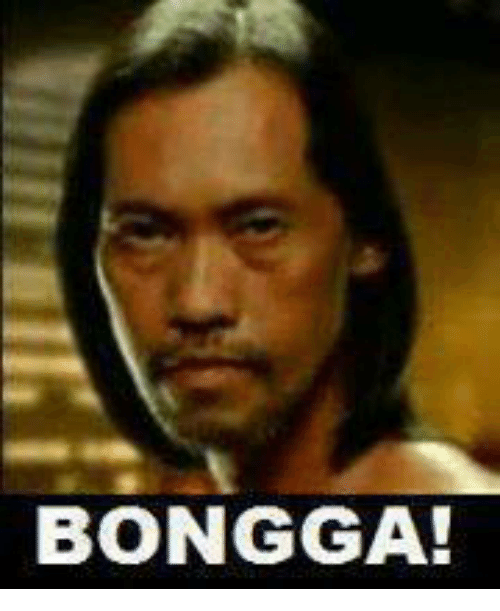 While "Bongga" really got its popularity through the Hotdogs song "Bongga Ka 'Day" in the '70s, it's easy to see that the word is also a nod to a particular dialect in the Filipino language: Swardspeak, or Bekispeak, depending on which era of Filipino gay lingo you're referring to.
How to use in a sentence: I wanted a more bongga gift for Christmas, but we couldn't afford it.
How NOT to use in a sentence: The car was running so fast, I got bongga by accident.
Suki
NOUN
Philippine English
A buyer or seller involved in an arrangement whereby a customer regularly purchases products or services from the same provider in exchange for favourable treatment.
It speaks volumes of the culture of patronage in the Philippines that even in a purely transactional relationship such as buyer and seller, we have managed to create affinity via the term "suki." Loyalty and "utang na loob" are some of the best and worst features of any Filipino relationship, and being a "suki" highlights this in spades.
How to use in a sentence: Because I've been going to the same stall for years, I became her suki, and she would always offer me discounts without me asking for them.
How NOT to use in a sentence: Manny has a really difficult time getting past Mayweather's defenses, su-ki here is to frustrate Floyd by jabbing frequently.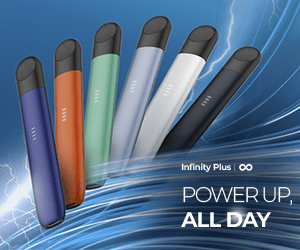 Bahala na
EXCLAMATION
Philippine English
Expressing an attitude of optimistic acceptance or fatalistic resignation, especially in acknowledging that the outcome of an uncertain or difficult situation is beyond one's control or is preordained; 'que sera sera'. Hence also as noun: an approach to life characterized by this attitude.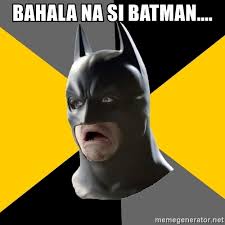 "Bahala na" has often been characterized as hailing from "Bathala na," but it would appear that the etymology of the word, according to Oxford, is simply "Bahala na ang Diyos," which pretty much means the same thing, anyways. This only reinforces the belief that Batman is the most powerful superhero in the entire comics universe, DC or Marvel, when we Filipinos have ended up changing the expression to "Bahala na si Batman."
How to use in a sentence: I'm tired, and I don't know if I can pass tomorrow's exams – bahala na!
How NOT to use in a sentence: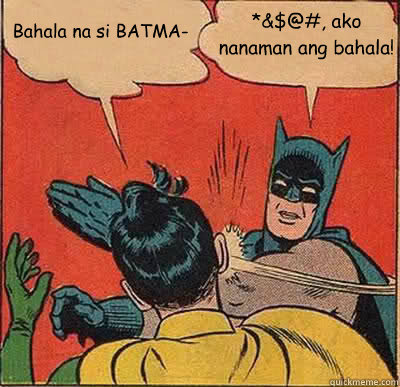 Despedida
NOUN
Philippine English
More fully "despedida party". A social event honouring someone who is about to depart on a journey or leave an organization; a going-away party.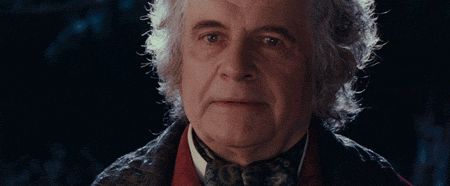 Owing to its Spanish origins, despedida as a send-off party is often in vogue with our culture.
How to use in a sentence: Did you attend Mike's despedida? He's headed to the United States by tomorrow!
How NOT to use in a sentence: Despedida, quiero respirar tu cuello despedida, deja que te diga cosas al oido, para que te acuerdes si no estas conmigo…
High Blood
ADJECTIVE
Philippine English angry, agitated.[/quote]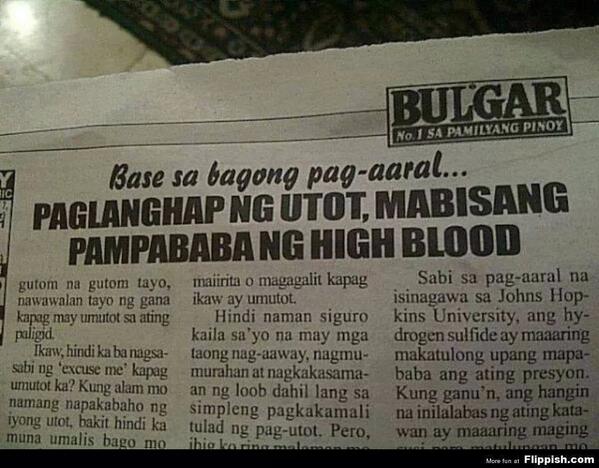 Where the rest of the world know it as hypertension or high blood pressure, we use the words "high blood" to refer to anyone who is angry or agitated, regardless of their actual blood pressure.
How to use in a sentence: She was so high blood, she decided to walk out of the classroom without handing out the test results.
How NOT to use in a sentence: See headline photo above.
Pasalubong
NOUN
Philippine English
A gift or souvenir given to a friend or relative by a person who has returned from a trip or arrived for a visit.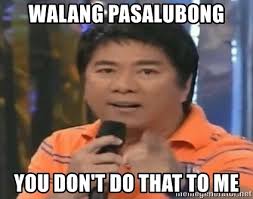 Man, we Filipinos really love being the givers of presents, huh? While most other countries would treat the birthday celebrant on their special day, we're the type who expects the birthday boy or girl to be the sponsor of the celebration.
How to use in a sentence: Did you get your uncle's pasalubong from when he last visited?
How NOT to use in a sentence: Senator Revilla, catch this, please – pasalu-Bong!
Kilig
ADJECTIVE
SE Asian
1

(in the Philippines) causing or characterized by a feeling of exhilaration or elation.

'the fans went wild with the kilig moments they shared on stage'

'it's their most kilig movie to date'

1.1

(of a person) exhilarated or elated by an exciting or romantic experience.

'I get kilig every time I hear this song'
NOUN
mass noun
SE Asian
A feeling of exhilaration or elation caused by an exciting or romantic experience.

'she could not contain her smiles and kilig, especially when he brought a bouquet of flowers just for her'

'that feeling that the kilig is gone isn't reason to give up on your relationship'[/quote]
"Kilig" is really a difficult concept to explain in English, and this entry proves it.
How to use in a sentence: There's so much kilig to go around in that Carlo Aquino-Angelica Panganiban film!
How NOT to use in a sentence: The only kilig I have in my life is after I take a leak in the bathroom. #foreveralone
Trapo
NOUN
SE Asian
derogatory
A politician perceived as belonging to a conventional and corrupt ruling class.

'we need to replace trapos with real lawmakers'

as modifier

'it smacks of trapo politics and crass opportunism'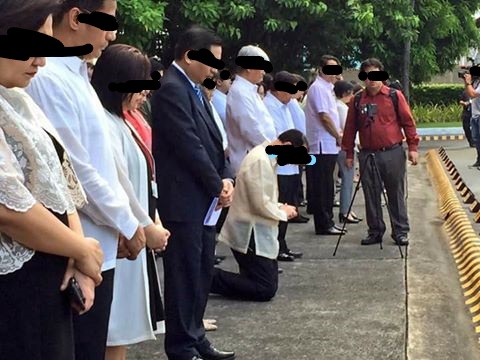 "Trapo" is a brilliant nod to the code-switching Filipinos are notorious for, as a mostly bilingual country. While the word "trapo" refers to a rag, based on its Spanish origins, it's also become a contraction for "traditional politician," which thus likens the oligarchy to a dirty rag, as they tend to end up acting like.
How to use in a sentence: Did you see that trapo make a fool of himself in the news again?
How NOT to use in a sentence: Did you see that trapo make a fool of himself in the news again! I'm voting him!
Do you have a list of Pinoy words you'd like to see in the Oxford Dictionary? Share them with us below!