8 Must-See TV Shows for 2019
Jan 14, 2019 &nbsp • &nbsp Mikhail Lecaros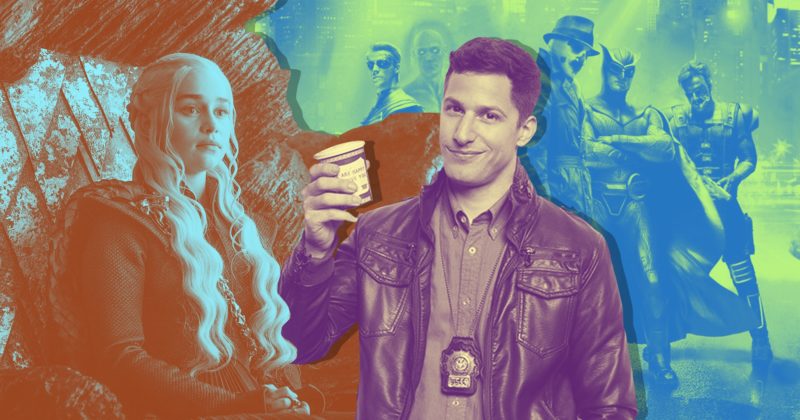 Now that 2019 is in full swing, here's our list of shows you'll be sure to binge in the coming year! Comedies, musicals, dramas and superheroes are here in a big way, and the only question you should be asking yourself is where to find the time to take it all in. Now, we know we couldn't accommodate everyone's favorites, so let us know in the comments what shows you're looking forward to!
BROOKLYN NINE-NINE
https://www.youtube.com/watch?v=GnD_WQmWp3Y
(NBC)
Unkillable
What started as one of TV's most-beloved (if criminally underseen) sitcoms set-off a tidal wave of support when it was announced that Fox would be cancelling Brooklyn Nine-Nine following the fifth season. But a mere 31 hours after Nine Nine had been relegated to the bin of gone-before-their-time fan favorites, the impossible happened: it was picked up by another channel (NBC) and a new season was announced. Now, Jake (Andy Samberg, SNL), Amy (Melissa Fumero), and the rest of the beloved misfits of Brooklyn's most dysfunctional police precint are back in action, and that's cool, cool, cool, cool, cool (no doubt), in our book.
THE TWILIGHT ZONE
https://www.youtube.com/watch?v=dlHnIRu2wcs
(CBS)
Once More Through the Spooky Door
Rod Serling's (1968'sPlanet of the Apes, The Night Gallery) masterwork and one of the greatest TV shows of all time returns in its latest incarnation, following a four season attempt in 1985 and a one-off season in 2002.  This time around, Get Out's Jordan Peele (Key and Peele) steps into Serling's shoes as writer-host-producer. Hopefully, with Peele at the helm, this third remake attempt manages to capture some of the magic that made the original show a legend. If Get Out's sharp writing, social commentary, and twisted sense of irony are any indications, we are in for some good TV ahead.
RENT: LIVE
https://www.youtube.com/watch?v=6MWPlBJpmkY
(Fox)
No Day But Today
Jonathan Larson's Pulitzer-Prize and Tony-Award-winning Broadway smash is the latest beloved musical to get the "Live" treatment, following the NBC network's previous productions of The Sound of Music (2015), Hairspray (2016), and Grease (2017). A rock opera take on La Boheme set in New York's East Village at the height of the HIV/AIDs epidemic, Rent is a story of life, love, friendship, and art in the face of mortality. Previously adapted into film form by Chris Columbus (Home Alone, Harry Potter) with the OBC,  NBC's "Live" version stars and Jordan Fisher (Hamilton), Brandon Victor Dixon (Jesus Christ Superstar), Valentina (RuPaul's Drag Race), and Vanessa Hudgens (High School Musical) as Maureen.
STRANGER THINGS
(Netflix)
Back to the Upside Down
Powered by strong characters, creepy atmosphere, and indelible imagery, what could have easily been a quick cash-in on 80's nostalgia quickly became many viewers' gateway drug to the wonders of Netflix original programing. Inspired by the early works of Steven Spielberg, Stephen King, and John Carpenter, audiences the world over were captivated by the adventures of Eleven, Mike, Lucas, Dustin, and Will. Precious little information has been released about Season 3 other than a teaser poster and episode titles, so it remains to be seen whether the adults (Winona Ryder as Will's mom and David Harbour as Chief Hopper) will ever truly understand what's going on, but we can't wait for July 4th to binge the living daylights out of this show.
TRUE DETECTIVE
https://www.youtube.com/watch?v=btoZfxs0pE0
(HBO)
A shot at redemption
True Detective is one of those shows that started off with an amazing, star-powered (Matthew McConaughey and Woody Harrelson) first season that fans and critics hailed as one of the best things on TV. And then HBO followed up it up with a second season that wasn't quite a garbage fire, but definitely divided critics on the show's overall quality. At any rate, Season 3 is almost here, and all signs indicate that the anthology series is once again firing on all cylinders, with creator Nic Pizzolatto fully hands-on and even directing some episodes. Early buzz is already praising Mahershala Ali's (Luke Cage villain Cottonmouth!) turn as detective Wayne Hays, who, along with his partner (Blade's Stephen Dorff, back from the dead) , is assigned to investigate the disappearance of two children.
WATCHMEN
(Courtesy of HBO)
Who's Watching Whom?
Zack Snyder's (300, Man of Steel) Watchmen (2009) may not have been to everyone's liking, but we'll be damned if it wasn't an amazing-looking piece of work that adhered to the spirit of author Alan Moore's (V for Vendetta) seminal superhero work (as opposed to the actual word, but that's another topic for another time). Rather than try and retread ground that many comic book fans consider sacred, HBO's upcoming series is set years after the original story's events. Masterminded by Damon Lindelof (Lost, Star Trek Into Darkness), the new series features veteran names such as Jeremy Irons (The Lion King, Die Hard with a Veangeance), Louis Gosset, Jr. (Iron Eagle) and Don Johnson (Miami Vice), alongside the likes of recent Golden Globe Winner Regina King (If Beale Street Could Talk If Beale Street Could Talk), and Yahya Abdul-Mateen II (Aquaman). While it's a safe bet that Moore will hate it, we remain cautiously optimistic for this one!
GOOD OMENS
(Amazon Prime Video)
Of Gods and Men
Take two fan-favorite names, throw them together in impossibly perfect circumstances, sit back, and watch the magic happen. Such was the case when authors Neil Gaiman (Stardust, The Graveyard Book) and Terry Pratchet (Discworld) got together to create Good Omens, and the same looks to be the case for said book's upcoming TV adaptation. Featuring the impeccable acting talents of David Tennant (Doctor Who, Jessica Jones) and Michael Sheen (Frost/Nixon, Underworld), Good Omens tells the tale of Aziraphale (Sheen), an angel and his demon frienemy Crowley (Tennant) trying to work around the birth of Satan's son. Trust us, it's more fun than it sounds, and when all is said and done, we can pretty much guarantee that 2019 probably won't yield a funnier or more whimsical take on the end times as this one.
GAME OF THRONES
(HBO)
#ForTheThrone
If you're not onboard the Game of Thrones train yet, you've got three and a half months left to catch up on this HBO epic before it ends in April with eight movie-sized episodes. The sprawling story of the fight for control of the Seven Kingdoms of Westeros, Game of Thrones has held audiences by the throat across seven seasons, as audiences tuned in to see who would live (some) or die (most) in their quest for power. To paraphrase series protagonist Jon Snow, we know pretty much nothing about the upcoming season, to the point that a four-second clip of Sansa welcoming Daeynerys to Winterfell from a recent HBO sizzle reel was enough to drive fans wild a few days ago (us included). C'mon, HBO! Give us a full trailer already!
Which of these are you looking forward to the most? Tell us below!