For putting Filipino visual arts on the map and leaving a legacy that will continue to influence and inspire generations of artists and individuals alike, these are just a few of the legends we proudly call our National Artists:
Fernando Amorsolo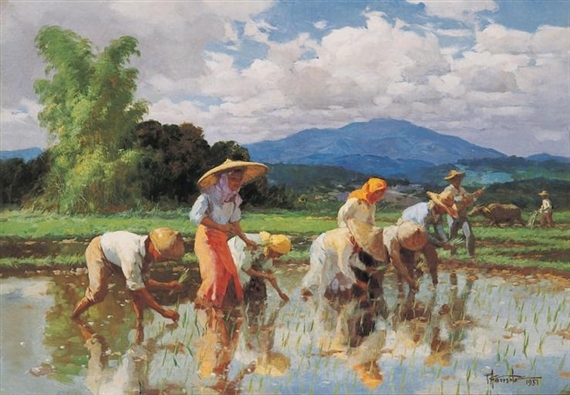 Our first ever National Artist is known for his paintings of Philippine landscapes and his mastery in the use of the Chiaroscuro backlighting technique, which became his trademark. It is believed that he has painted rainy day scenery only once. Maiden in a Stream, Dalagang Bukid, The Mestiza, Planting Rice, and Sunday Morning Going to Town are a few of his famous works.
Botong Francisco
Hailed the "greatest muralist of our country", Francisco's popular works include Blood Compact, First Mass at Limasawa, and The Martyrdom of Rizal. One of his greatest works ever, Filipino Struggles Through History, has recently been unveiled for public viewing, after four years of restoration. The said mural is believed to have been completed by Francisco only months before his passing.
Napoleon Abueva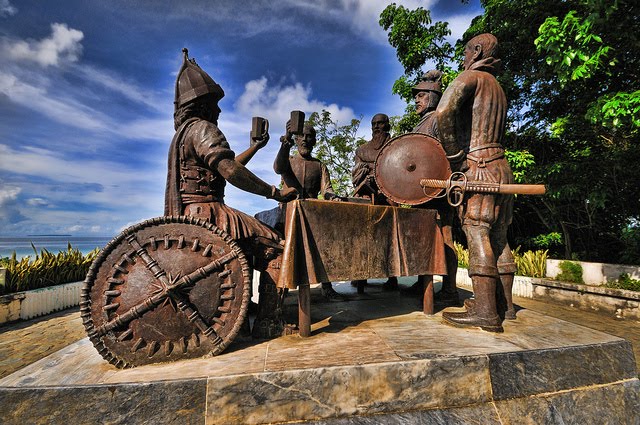 The country's Father of Philippine Sculpture and the youngest National Artist awardee has mastered the use of various materials including hard wood, adobe, metal, stainless steel, cement, marble, alabaster, and more. His popular works include Kaganapan, Kiss of Judas, and Nine Muses, currently installed in front of the UP Faculty Center.
Hernando Ruiz Ocampo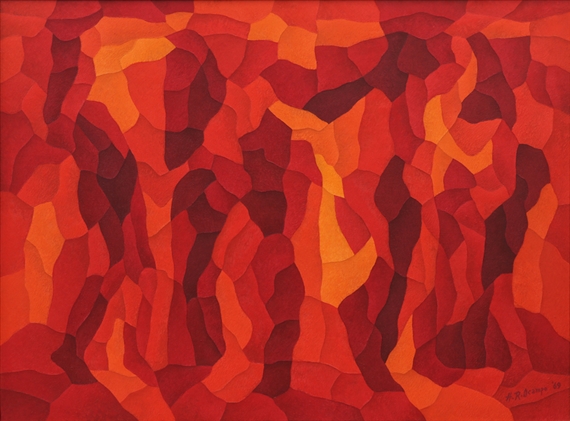 Ocampo was a self-taught painter who ignited the nationalist spirit during the post-war era through his works. His abstract paintings would depict landscapes of the Philippines, its rich flora and fauna, and the stars, sun, and rain. Before teaching himself visual arts, he studied law and commerce, and worked as a writer. His popular works include Genesis, Ina ng Balon, and Slum Dwellers.
Ang Kiukok
Kiukok was a Filipino painter of Chinese descent from Davao. His style is a merge of influences from cubism, surrealism, and expressionism. Many of his works which were painted during the Marcos regime would often feature fighting cocks, dogs, and people in chains. Some of his best works include Geometric Landscape, Pieta, and Seated Figure.
Vicente Manansala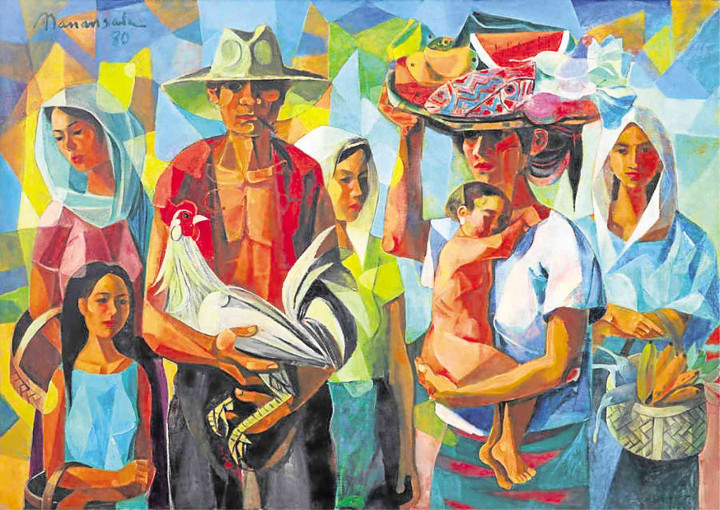 A cubist painter and illustrator, Manansala's popular works include Madonna of the Slums, Jeepneys, and San Francisco Del Monte. He was also an illustrator for the Philippine Herald. A neo-realist, he became known for uniquely depicting together cultures of the barrio and the city in his artworks.
Francisco Coching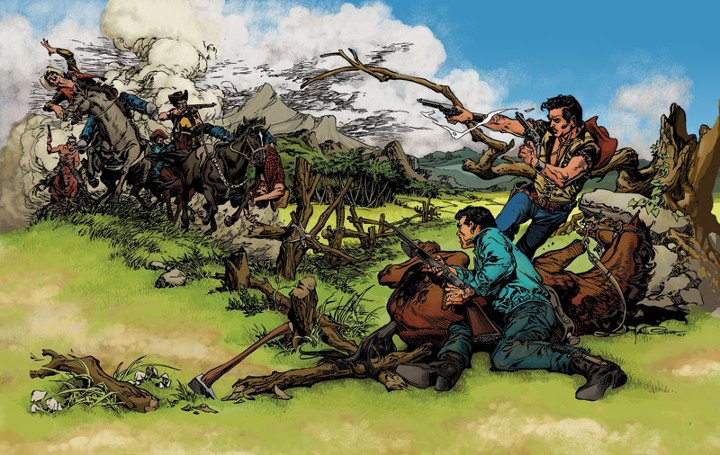 Filipino comic books illustrator Coching was a key figure during the Golden Age of Philippine Comics during the 50s and 60s. He is hailed the Dean of Philippine Comics, King of Komiks, and a "master storyteller in images and print". Majority of his works have been translated into film, such as Pedro Penduko and El Negro.
Abdulmari Imao
Imao is the first ever Moro to receive a National Artist recognition. Born to a family of boat-makers, he showed interest in arts at an early age, wrote a request to then President Magsaysay for a study grant, and was given scholarships to study abroad. He is known for his okir, sarimanok, and the naga sculptures, and is considered the brass making consultant of the U.N.
Who are on your list? Tell us below!