How to Get a Brand to Notice You, by Nico Bolzico
Apr 25, 2018 &nbsp • &nbsp 8List
Nico Bolzico is quite a character. His hilarious posts has endeared himself to Pinoys–and brands took notice of his rising popularity and started getting him as an endorser. But Nico being Nico, he doesn't just endorse any brand. A quick scan of his social media accounts will show you how he picks brands that would fit his personality. This makes Nico one of the few celebs out there who goes after brands, and not the other way around. And because he is a go-getter (we're talking about the guy who snagged Solenn Heussaff, after all), he will do whatever it takes to get a brand he wants to endorse to notice him.
Here we break down Nico's tactics on how to get the attention of brands and convincing them to make him an endorser:
Show Your Love for the Brand
Place the brand you plan on becoming an endorser of in a seemingly random post. Be subtle about it. Don't sell yourself too hard.
Lay Down the Gauntlet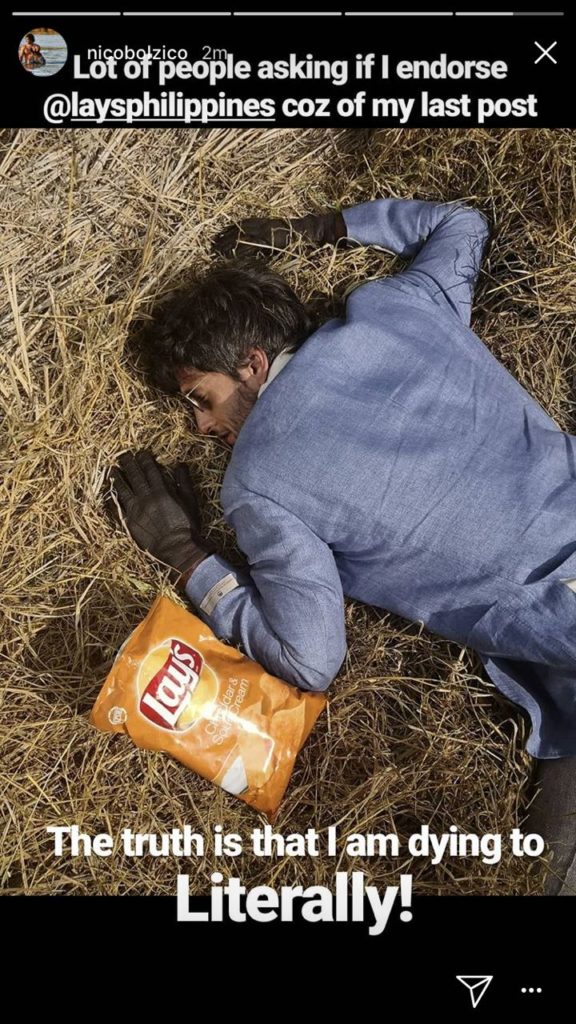 Here, Nico shows us the kind of personality it takes to get brands to notice him; he's not going off-brand, personality-wise, in screaming for the attention of a brand he wants to endorse. It's actually cute.
Bring in the Big Guns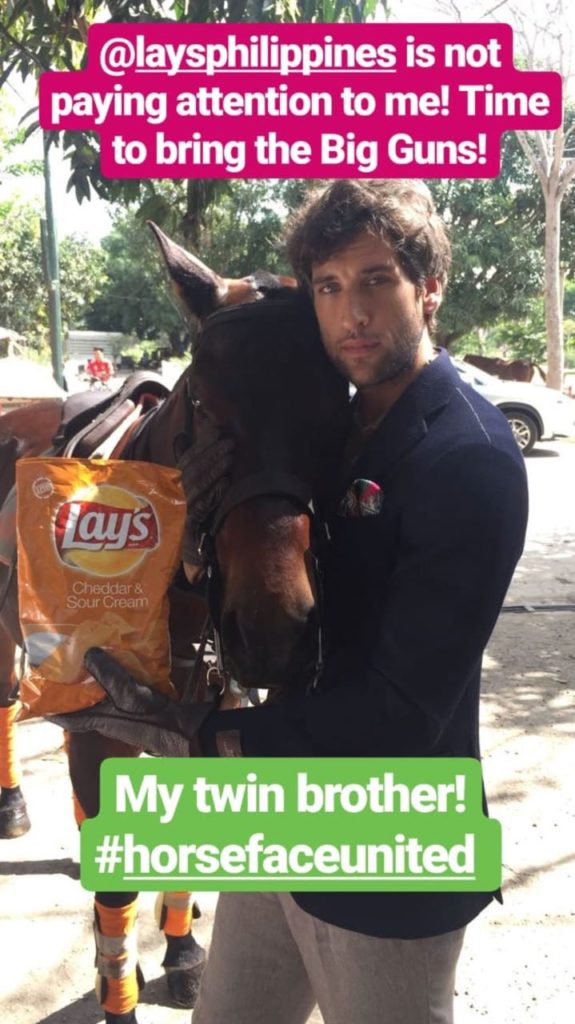 In this case, a   horse ? Well, why not? Wouldn't a handsome man with a horse not get your attention? Because it surely caught ours.
Get Help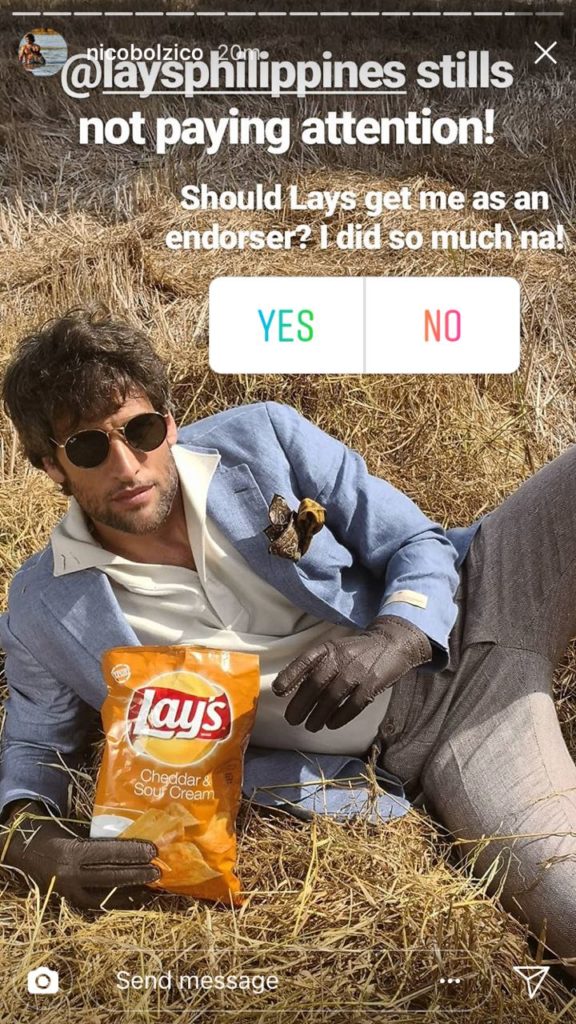 Nico has an insane amount of followers on his social media account, and if you got that in your arsenal, it would be a waste not to engage them to help you out on your cause. That's a smart man right there.
Pay Attention to the Details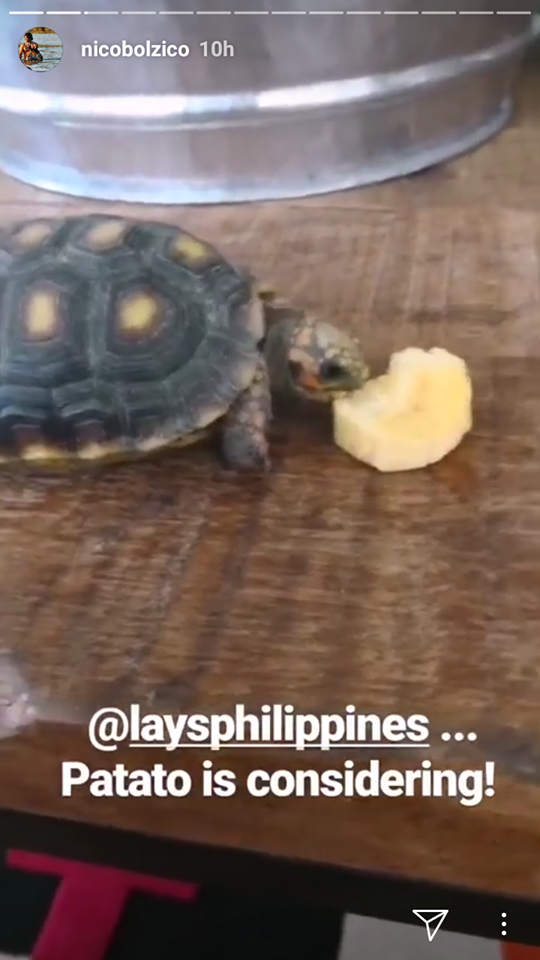 Anyone following Nico's accounts surely know of his beloved pet turtle, Patato. Patato is definitely a part of Nico's marketing campaign to Lay's. In this case, he is even considering changing Patato's name to  Potato. He could have it changed to Donatello, or Pong Pagong. But that's not where Nico's heart is at. Now, that's hardcore love.
Be Prepared When They Do Notice You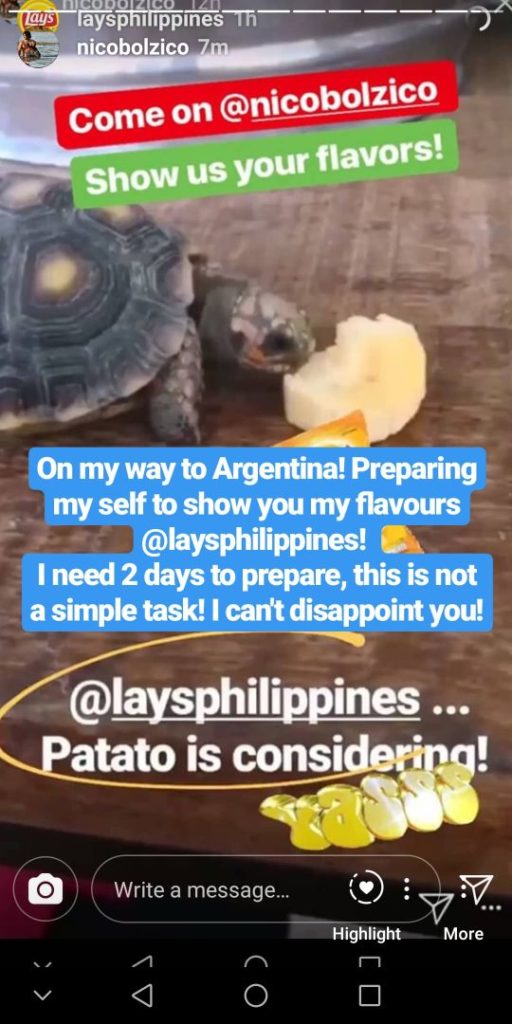 Because of his persistence and unusual antics, Nico has caught the attention of Lay's Philippines. In fact, they are seriously considering his pitch. Considering the brand's current campaign #LaysLifeNeedsFlavor, Nico would be a fitting   flavorful endorser for the world-loved potato chips. Lay's Philippines offered him the challenge; it's now up to him to meet it.
Plan Carefully Your Next Move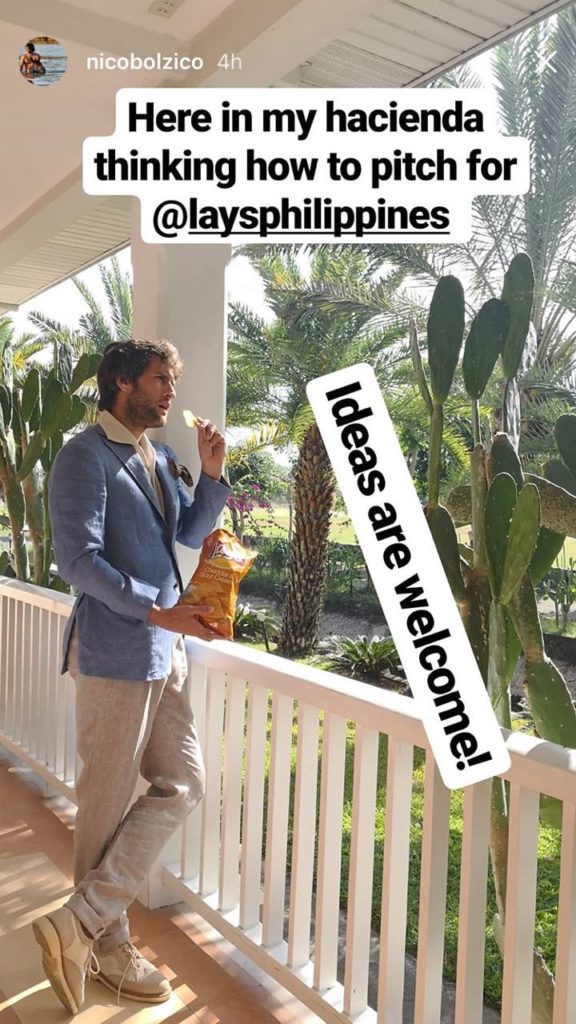 Chalk up a win, but do not rest on your laurels. Lay's is interested, but Nico does not have it in a bag just yet. The next steps will be crucial. Do not drop the ball.
Represent All the Flavors…with Your Own
Lay's    latest campaign is all about flavors, hence the hashtag   #LaysLifeNeedsFlavor.  Nico, quite a flavorful character himself, is surrounded by equally flavorful people. Here he enlisted the help of friends and family to represent and champion the brand's campaign.
And finally after all the pitches and support from thousands of his followers, his hard work paid off and he managed to sweep  Lay's  off their feet! It's official, Nico is now the newest endorser for Lay's Philippines!
Nico, who must now be over the moon with the announcement, has already done a humorous shoot with the brand and has given us a taste of what him being part of  Lay's Philippines would look like:
#ElBolzico impressed us with his pitch! Now that he finally got his hands on Lay's, what do you think of his perfect shot?
#LaysLifeNeedsFlavor #ElBolzicoForLays

Posted by Lay's Philippines on Thursday, May 3, 2018
Seeing how flavorful and entertaining #ElBolzico's pitches were, we're sure his real endorsement will entertain us even more and make us laugh even louder. What else will he do? Where else will he pose with Lay's products? And will Patato also become an endorser? All we can say is, we can't wait to see what happens next!
Stay tuned for further happenings on #ElBolzicoForLays, follow Lay's Philippines  and Nico on their Instagram accounts!