Not all of us will agree on some of tonight's Academy Award winners especially when a few are rather debatable (we're looking at you, "Suicide Squad"), but there are moments during the renowned event that undoubtedly deserve to make headlines. Here are just a few of them that are worthy enough to get their own Oscar!
8. Justin Timberlake's Opening Performance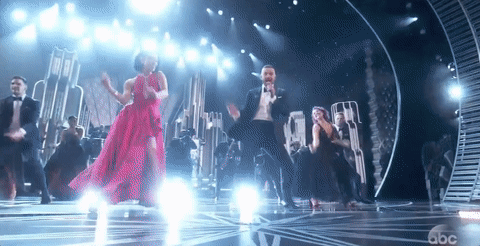 JT kicked off the night perfectly with a dazzling "Can't Stop the Feeling" and Bill Withers' "Lovely Day" mashup to celebrate his first Oscar performance and first ever Oscar nomination for Best Original Song!
One of the real-life subjects of Oscar nominated film "Hidden Figures," Katherine Johnson, a NASA research mathematician for over 30 years, was brought to the Oscars stage and received a standing ovation for her contribution to history as one of the first black women to fight for representation in the space race. The 98-year-old physicist thanked the welcoming crowd for the support.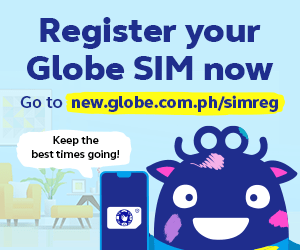 6. Treats being sent down via parachutes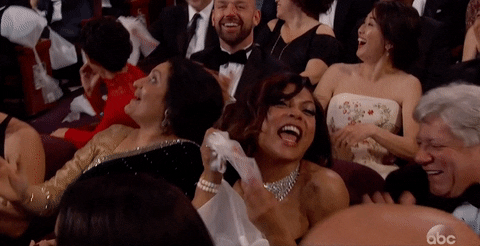 After Ellen DeGeneres gave the star-studded audience pizza in 2014 and Chris Rock sold his daughter's Girl Scout Cookies in 2016, Jimmy Kimmel decided to make his own contribution in delighting the guests first with a tiny goodie bag of Red Vines and Junior Mints, then later cookies and doughnuts sent down via parachutes from the ceiling. And judging from the wide smiles, they absolutely loved it! Nice save after all those flat jokes while hosting, Kimmel.
5. Iranian Director taking a stand against racism
.
Asghar Farhadi, an Iranian and the Director of "The Salesman" which won Best Foreign Film made a statement by boycotting the event. In his acceptance speech read by Iranian American engineer Anousheh Ansari, he condemned the "inhumane law that bans entry of immigrants to the U.S." He called on fellow filmmakers to fight against the spread of fear by creating stories that break stereotypes. "[C]reate empathy between us and others. An empathy we need today more than ever."
4. Tourists getting pranked (poorly)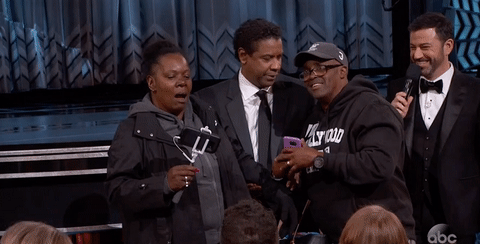 This moment deserves an Oscar for being the Most Awkward Moment of the Night. Kimmel decided to prank a group of tourists who unsuspectingly entered the Dolby Theater in the hopes of catching their shocked faces, but it didn't go according to Kimmel's plan. Instead, the tourists whipped out their phones as they shook hands with the stars that soon became uneasy and awkward by the entire spectacle.
One tourist got in a few laughs though when Kimmel told him "I feel like you're ignoring all the white celebrities," to which he responded "Yes I am" before taking a selfie with Denzel Washington and Mahershala Ali.
3. Oscars Edition of Mean Tweets
Tilda Swinton, Emma Stone, Robert DeNiro, Natalie Portman, and other celebrities read mean tweets about themselves and talked back at their haters in funny ways. Meanwhile, we're still wondering how Ryan Gosling's "perfect bone structure and kind eyes" were meant to be an insult to him.
2. The Kimmel-Damon "feud" we've been waiting for
For years, Kimmel and Matt Damon have never missed an opportunity to rile each other up. Obviously, they took the faux feud to the Oscars. Armed with quips against Damon, Kimmel made jabs in every instance he could, like silencing Damon by conducting the Orchestra just as Damon was about to present the award for Best Original Screenplay. At least they were funny.
1. The "Steve Harvey" Moment of the Oscars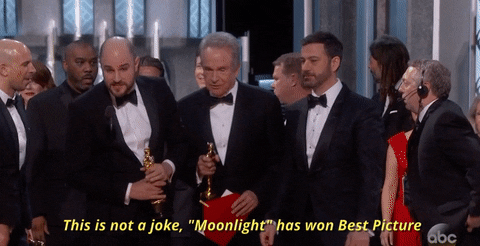 Who knew it would happen again? Apparently, "La La Land" was mistakenly announced the winner for Best Picture but was quickly retracted to correctly honor "Moonlight." According to Warren Beatty, "I opened the envelope and it said Emma Stone, La La Land – that's why I took such a long look at you and Faye [Dunaway]." Yikes! That's an Oscar Moment we'll never forget!
Which was your favorite Oscar 2017 moment? Tell us below!
All GIFS courtesy of oscars.org