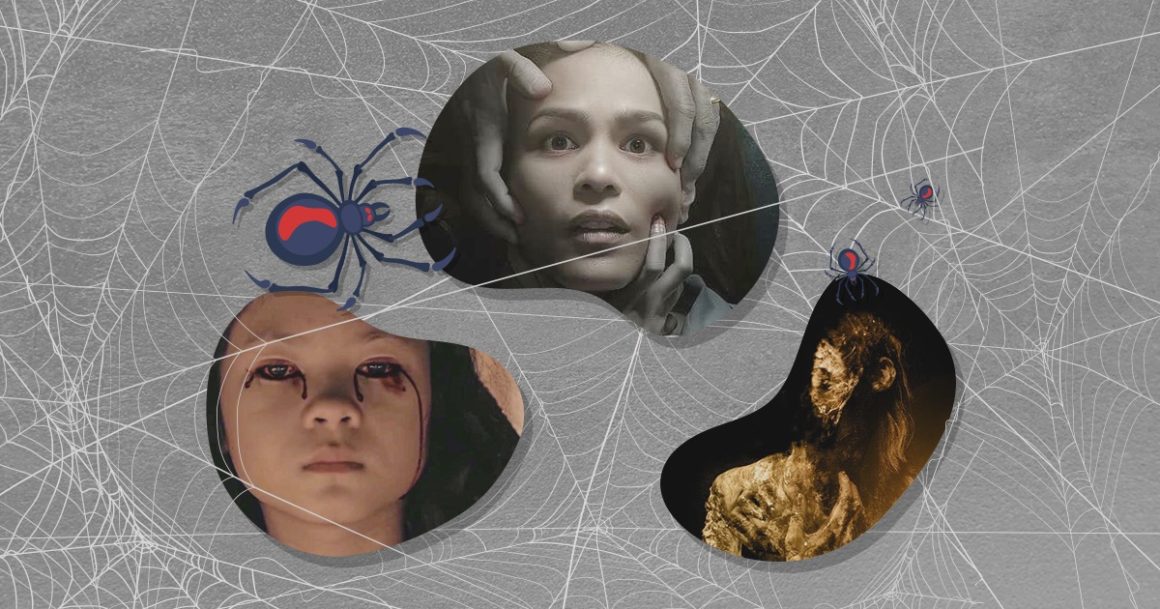 We Filipinos aren't as big on Halloween as we are with Christmas, but we still like to celebrate it in our own simple way. There's the traditional marathon of horror movies for example, but we beg you to give Shake, Rattle and Roll (and it's 40 other franchises) a rest and instead watch these movies for your scare pleasures.
Bliss (2017)

This masterpiece by Jerrold Tarog explores a film within a film narrative, where Iza Calzado plays Jane Ciego, the protagonist in both worlds. Jane decides to produce her own film to gain respect, but an unfortunate accident left her disabled and confined to her home. She is given care by her husband (TJ Trinidad) and Lilibeth (Adrienne Vergara), her unusual, messed up nurse. Bliss has received an X-rating from MTRCB but was later changed to an R-18. Perhaps this will get you curious enough to watch.
The Road (2011)
This psychological horror crime drama is directed by Yam Laranas and stars Carmina Villaroel, TJ Trinidad, Louise delos Reyes, and Rhian Ramos. An investigator (Trinidad) opens  a 12-year-old cold case of the kidnapping and murder of two sisters. The film is split into three parts with a deliciously built up twist at the end. The horror in this film lies not in ghosts of the past, but in the capacity of humans to do evil.
Seklusyon (2016)
In 1947, those who aspire to be priests are sent to a secluded convent during their last days of training to avoid temptations from the devil. A little girl named Anghela interrupts their solitude and they question whether she is sent by God or by the devil. Seklusyon is an official entry to the 2016 Metro Manila Film Festival and has won 9 categories including the Best Director award for Erik Matti.
Corazon: Ang Unang Aswang (2012)
Richard Somes' psychological thriller stars Erich Gonzales (Corazon) and Derek Ramsay, a couple living during the Japanese occupation. Desperate to have a child, Corazon undergoes traditional rituals and consults a shaman who advised her to perform various rituals and incantations. Her prayers were answered, but when she gave birth, the child was dead. Corazon slowly spiraled into insanity afterwards.
Feng Shui (2004)
A lot of Pinoys would argue that Feng Shui is the best Filipino horror movie there is. Directed by Chito Roño and starred Kris Aquino, this 2004 film tells the tale of Joy Ramirez who acquires a Bagua mirror which she believes would bring her luck. But everyone who sees themselves in the mirror suffer grisly deaths connected to their own Chinese zodiac signs. More than a decade later, we still get chills whenever we see Lotus Feet– and that's saying something.
Honor Thy Father (2015)
Veering away from the usual thriller plots, Erik Matti's entry to the 2015 Metro Manila Film Festival tackles thrill in crime. Honor Thy Father sees John Lloyd Cruz and Meryll Soriano as a couple whose world unravels after being involved in an investment scheme that took everything from them. Now they must face hordes of angry and greedy church-goers who demand for the return of their money. Eventually John Lloyd enlists the help of his brothers to perform an even more daring crime to get the money.
Sukob (2006)
Another Chito Roño film, Sukob tackles Filipino superstition of not getting married in the same year an immediate relative passes away.  Sandy (Kris Aquino) and Diana (Claudine Barretto) had their respective weddings, only to  deal with the consecutive deaths of their loved ones and wedding guests in the aftermath. In their search for the truth, they uncover dark secrets from their family's past. Sukob has been the highest-grossing Filipino movie of all time, with a worldwide box office of Php 203 million. Well, until it was surpassed in 2009 by You Changed My Life.
Dementia (2014)
Nora Aunor plays Mara, a woman suffering from dementia. She is brought to her remote hometown in Batanes to help her deal better with her illness. Pretty soon Mara sees ghosts of the past; faces, familiar places that haunt her. Memories become alive and Mara's niece, Rachel, begins to wonder if the ghosts she sees are caused by her illness or there's really something haunting her from the past. This movie was Perci Intalan's directoral debut and has garnered a box office of Php 5 million.
What's your favorite Pinoy horror movie? Share it with us in the comments section!