There's always a place where you can escape the gloom of the city brought about by the rainy season. This bed weather makes even the most workaholic of us feel lethargic! Take a break from the city life and spend time in the most beautiful places in the country, after all, it must be summer somewhere. Vacations are just boat rides away, and the best part is that they won't hurt your pockets!
Coron, Palawan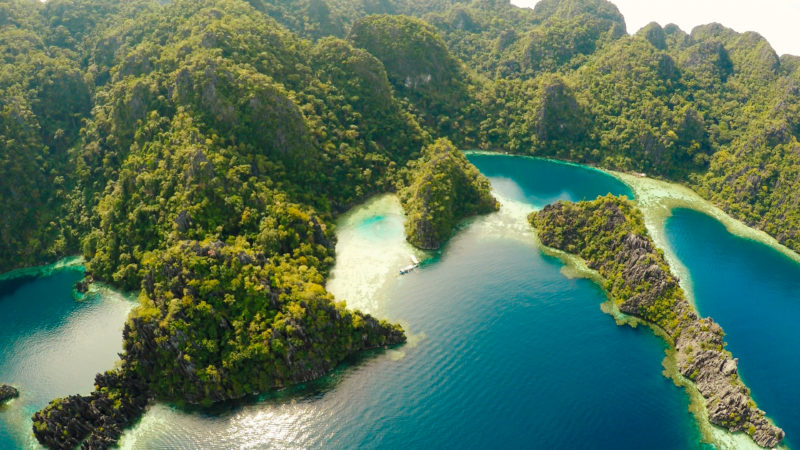 Palawan is one of the most beautiful islands in the Philippines and the epitome of summer in the country. The island's famed white sand beaches have always been greatly appreciated by not only the locals but also foreigners alike, it has even been hailed as one of the best islands in the world!
Coron, Palawan's charm lies in its being smaller and quieter than El Nido, another favorite tourist spot. Here you can visit the cleanest lake in Asia, Kayangan Lake, swim in Twin Lagoons also known as 'hidden lagoons', dive underwater mountains in Barracuda Lake, relax in Maquinit Hot Springs, or even go wreck diving in shipwrecks!
Cebu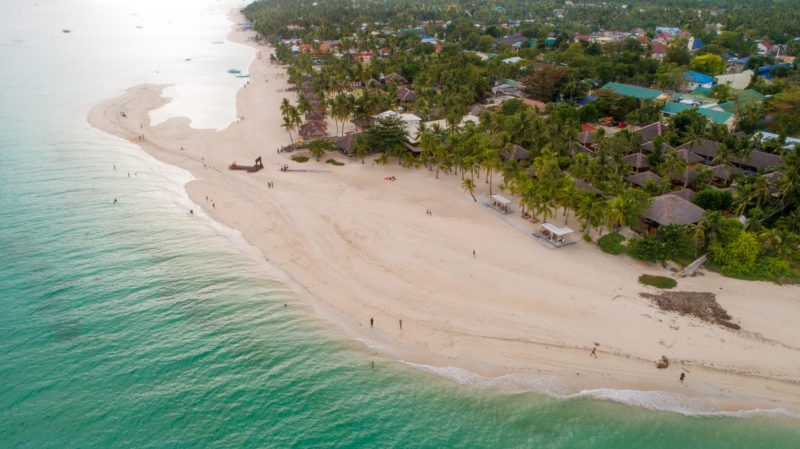 Cebu Island isn't called 'The Queen City of the South' for nothing. The island has its fair share of dazzling beaches where you can even swim with a turtle or two, waterfalls to explore, and mountains to climb. And even if you won't have time for a full blown vacation by the beach, you can still spend time in the city and have your fill of the delicacies Cebu has to offer – the best of lechon, and even dried mangoes!
Zamboanga Pink Sand Beach
Great Sta. Cruz Island in Zamboanga, famously known as the Pink Sand Beach, has been hailed by the National Geographic as one of the 21 most beautiful beaches in the world. The beach gets its pink hues from billions of crushed red organ-pipe corals, and it gets even more brilliantly pink when the weather is sunny! This combined with the blue of the ocean and the sky makes for a picturesque getaway.
Although overnight camping is not allowed, the island has spacious cottages, shower areas, and comfort room for guests.
Romblon
Romblon Province is a group of islands and islets not only known for being the marble capital of the Philippines but also as home to three beautiful islands: Romblon Island, Sibuyan Island, and Tablas Island. You can explore numerous unspoiled dive sites, walk on famous beaches like Bonbon Beach and Aglicay Beach, and hike Mt. Guiting-guiting. If you love sand bars, the best one in Romblon is found in Bonbon Beach!
Dumaguete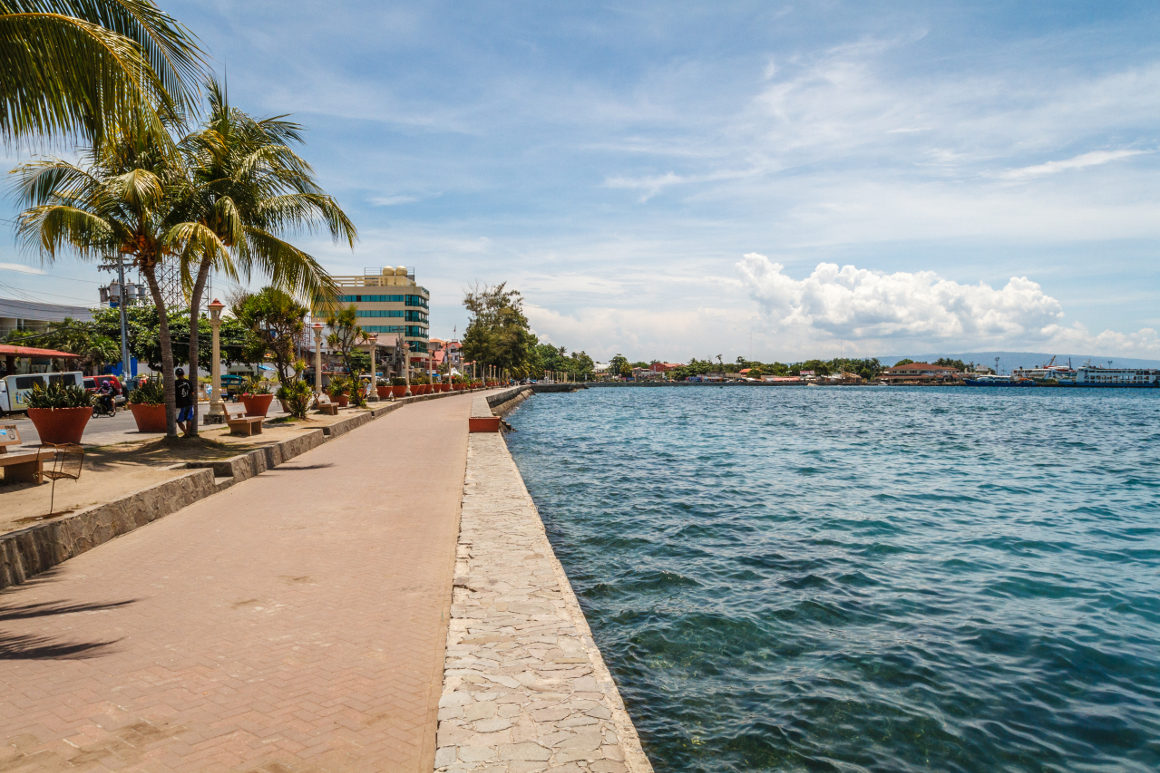 Dubbed as the 'City of Gentle People,' Dumaguete is known to be a bustling university town home to the scenic Silliman University, one of the oldest American universities in Asia. Quite a large percentage of the town are students other universities and colleges making it a relatively safe and friendly place.
Although there are a number of things to do and places to visit in the small city, Dumaguete serves as a jump-off point where tourists can further explore Negros Oriental. From here you can go to the island of Siquijor, the famous Manjuyod Sandbar, visit Twin Lakes Balinsasayo and Lake Balanan, or hike to get to Casaroro Falls.
Bacolod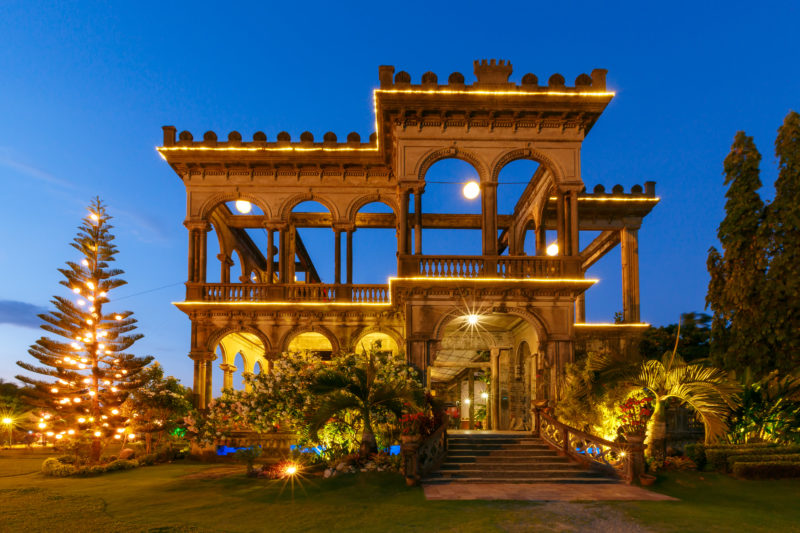 Going on a food trip in Bacolod can be one of the best things in your life, and no, this is not an exaggeration. This Negros Occidental capital boasts of a number of cathedrals with beautiful architecture, plazas where you can go for a stroll, and the famous historical landmark, The Ruins in Talisay.
Bacolod might not have serene white beaches or breathtaking dive spots but what it lacks in natural scenery, it makes up for in delighting your palate. They're known for abundant seafood dishes, the best cakes and pastries, and of course Bacolod Chicken Inasal! With Bacolod having the reputation as 'The City of Smiles,' it's not hard to guess why.
Cagayan de Oro
Cagayan de Oro or CDO is labelled as 'The City of Golden Friendship' and with all the exciting activities you can do in this part of the country, it makes sense that groups of friends love to visit! CDO is for the thrill seekers, a place that perfectly blends the city, nature, and adventure. You can go white water rafting, river tubing kayaking, or paragliding. Dahilayan Adventure Park and Macahambus Adventure Park is also located in Cagayan de Oro.
If you want something more laidback, you can visit Gardens of Malasag Eco-Tourism Village, Del Monte Pineapple Park in Bukidnon or Mapawa Nature Park.
Iligan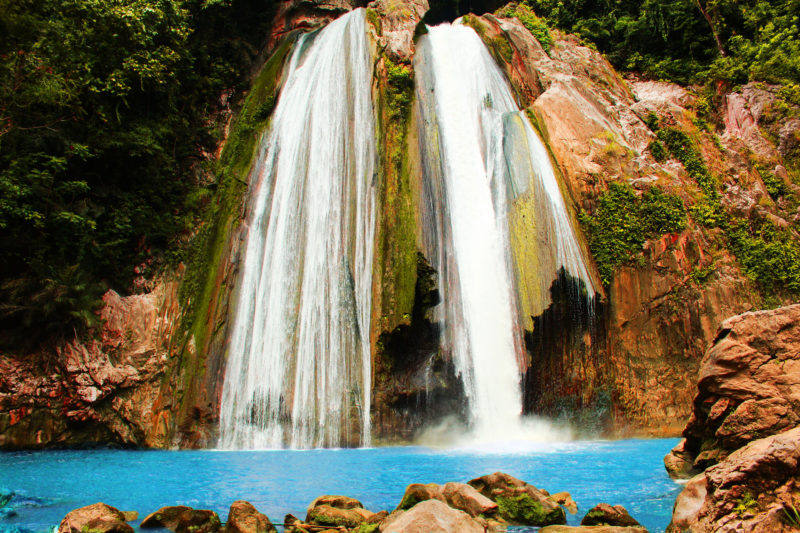 Hailed as the 'City of Majestic Waterfalls,' Iligan City in Lanao del Norte possesses a number of grand waterfalls and natural springs that are definitely worth a visit. It's home to the iconic Maria Christina Falls and Tinago Falls, two of the more than 20 waterfalls in Iligan. These natural attractions are just a few hours of driving, trekking, or hiking from the city proper.

There is nothing that refreshes the soul than traveling. Thankfully you can avail of 2GO Travel's: READY, SAIL, GO! All-in low rates and get yourself a great deal on some bucket-list worthy Philippine destinations! Book a trip from July 26 to August 1, 2018 and sail from August 1 to September 30, 2018!
Travel from the port of Manila to Iloilo, Bacolod, Dumaguete or Cebu for only P900!* Or travel from Batangas port to Caticlan, Roxas, or Romblon for only P700!*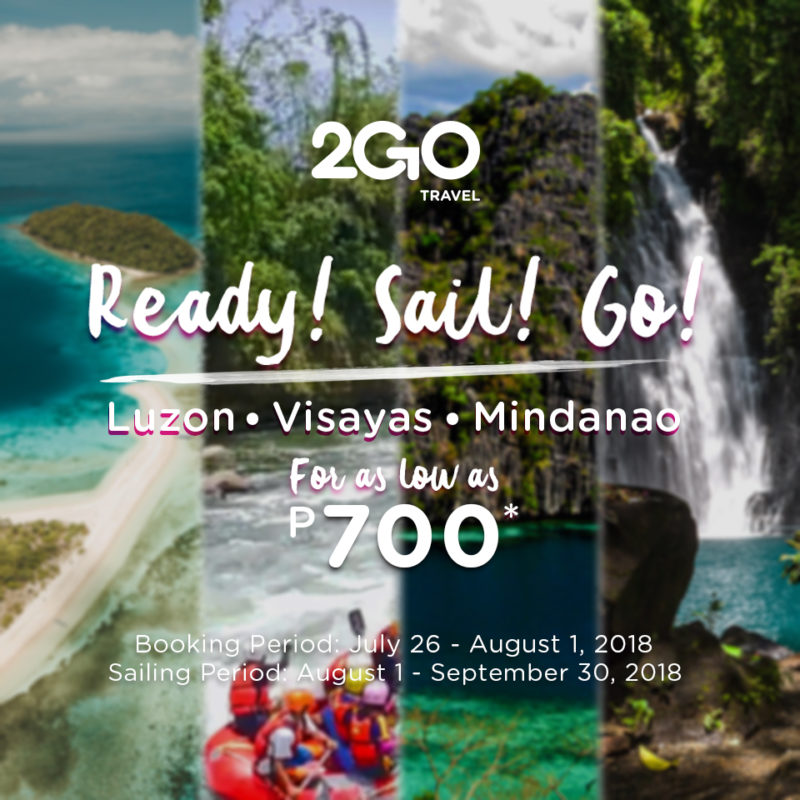 For more on 2GO Travel's READY, SAIL, GO!, visit their website: bit.ly/ready2go8list
You may also visit any 2GO outlets nationwide, or call the hotline at 02528-7000. Don't miss out on these amazing deals!
 *Exclusive of Service Fee. Applicable only to Super Value and Mega Value Accommodations. Rates are non-refundable but redeemable subject to applicable fees and fare difference.