8 Great Plays and Theater Performances to Watch in September
By Therese Aseoche

We're already on the last quarter of the year, but the holidays are still too far ahead for us to go on vacation mode. But in case you need to wind down and relax after full, tiring workweeks for the month, you can do so by treating yourself to a few of these staged plays.
8. Dirty Old Musical
September 1 to 10
Music Museum, Greenhills Shopping Center, San Juan
For tickets: Spotlight Artists Centre (+63) 919-911-4444; TicketWorld (02) 8919999; Music Museum (02) 7210635
Already insinuated by the show's name, the play revolves around middle-aged men (John Arcilla, Nonie Buencamino, Robert Seña, Michael Williams, and Ricky Davao) who have to deal with their mid-life crisis and all its telltale signs that prevent them from fully accepting the Tito life. Visit their Facebook Page for more info.
7. Ang Katatawanan ng Kalituhan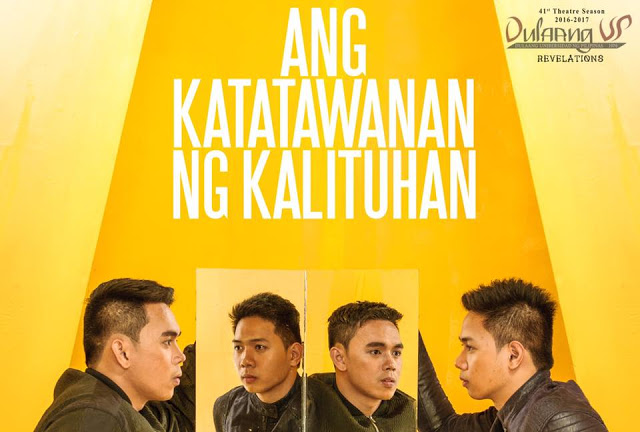 September 1, 2, 7, 8, 9 (7 p.m.), September 3, 4, 10, 11 (10 a.m. & 3 p.m.)
Wilfrido Ma. Guerrero Theater, 2/F Palma Hall, U.P. Diliman, Quezon City
For Tickets: Dulaang UP Office at (02) 9261349, (02) 4337840, (02) 9818500 local 2449
Or in English: The Comedy of Errors, William Shakespeare's shortest and most farcical comedy ever written. In a nutshell, it talks of long lost twins, mistaken identities, and the unfortunate yet humorous consequences that follow. Translated by Guelan Varela-Luarca, the play will be staged by Dulaang UP in commemoration of Shakespeare's 400th death anniversary. Visit their Facebook Page for more.
6. Ako si Josephine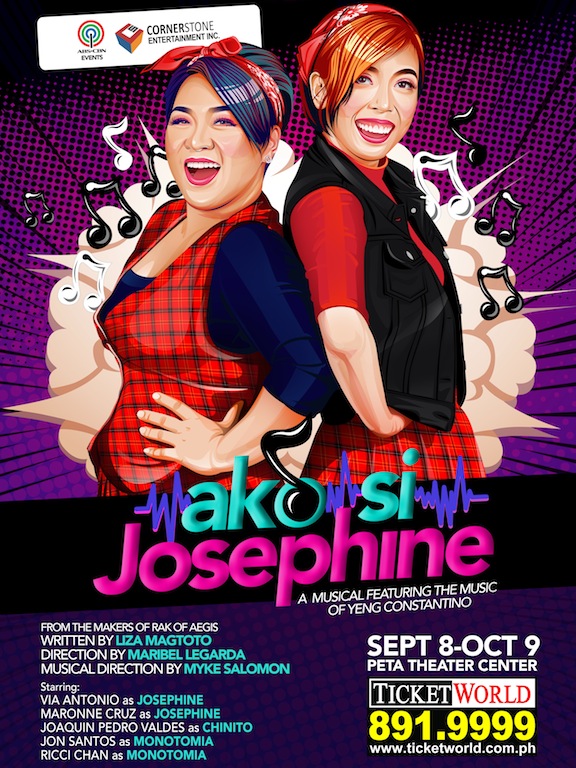 September 8 to October 9
PETA Theater, 5 Eymard Drive, New Manila, Quezon City
For tickets: TicketWorld (02) 891-9999
From the makers of hit theater play Rak of Aegis comes Ako si Josephine, a new original musical which will feature songs by Yeng Constantino in celebration of her 10th year anniversary in the local music industry. Get ready to sing along to hit singles like Hawak Kamay, Jeepney Love Story and Chinito. Visit its Facebook Page for more details.
5. Hercules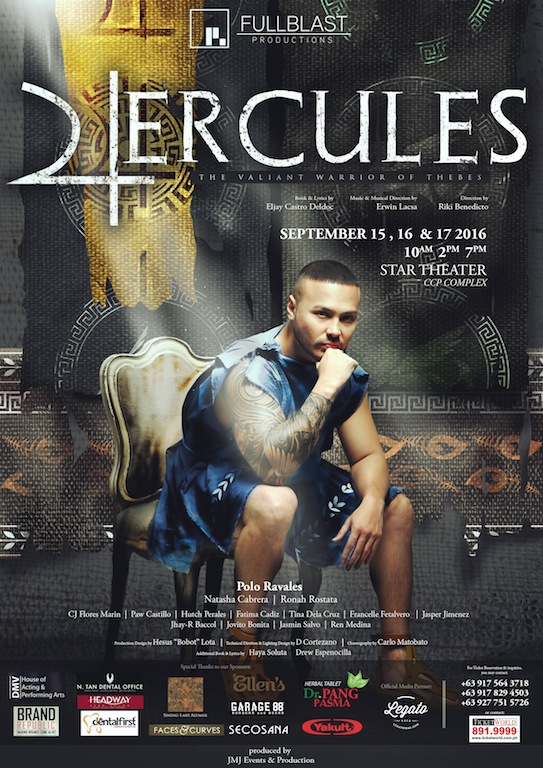 September 15 to 17
Star Theater, CCP Complex, Pasay City
For tickets: TicketWorld (02) 8919999
It's time people find out the true story of the Valiant Warrior of Thebes without rose-colored Disney glasses. This retelling of the popular Greek demigod in musical form is sure to ignite a renewed appreciation for literature in its audience.
4. Marikit Na!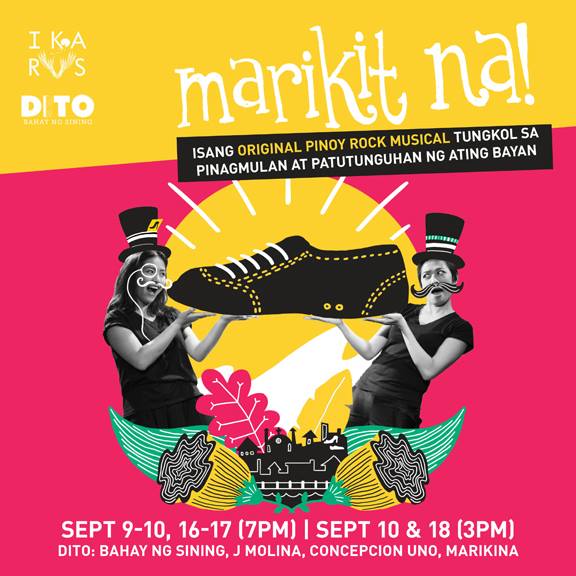 September 9 to 18
Bahay ng Sining, J Molina, Concepcion Uno, Marikina City
For tickets: Shine Villarta (+63) 920-958-4371
Created by a Marikeño for Marikeños, Marikit Na! is an original Pinoy rock musical that is meant to educate kids about the myths and history of Marikina in a fun and entertaining way. Visit their Facebook Page for more details.
3. Blue Man Group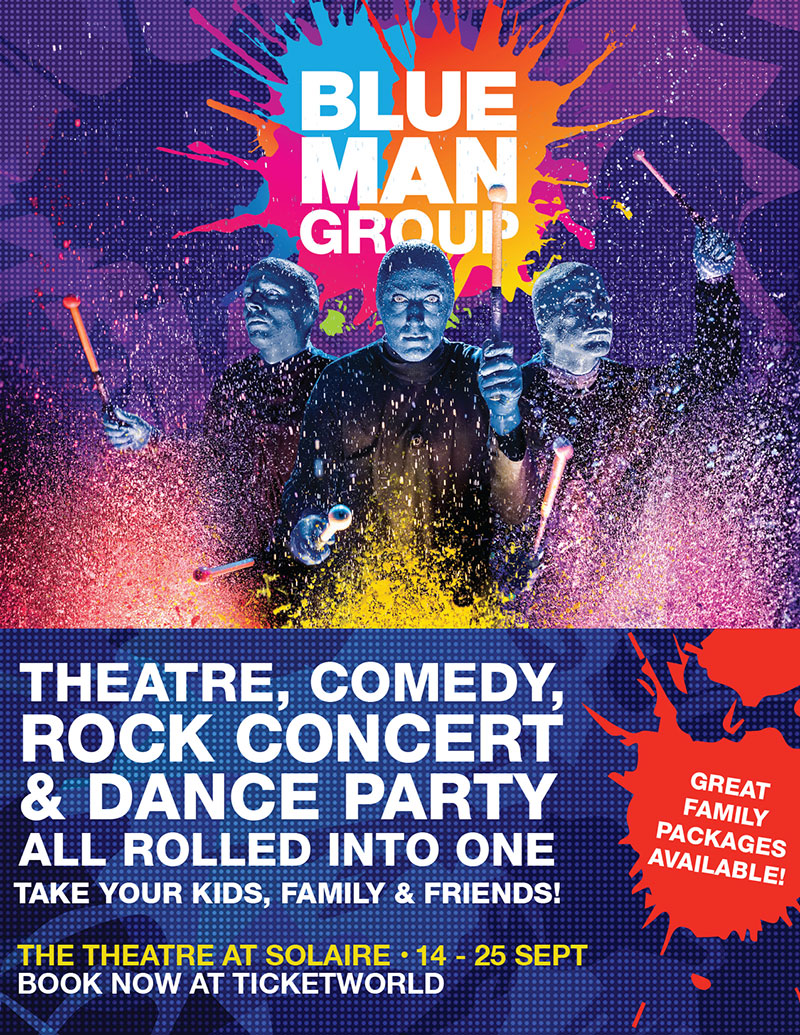 For an entirely different experience, you can watch the Blue Man Group as they defy norms and monotony with their artistic, high-energy musical performances. Visit their official website for more details.
2. Annie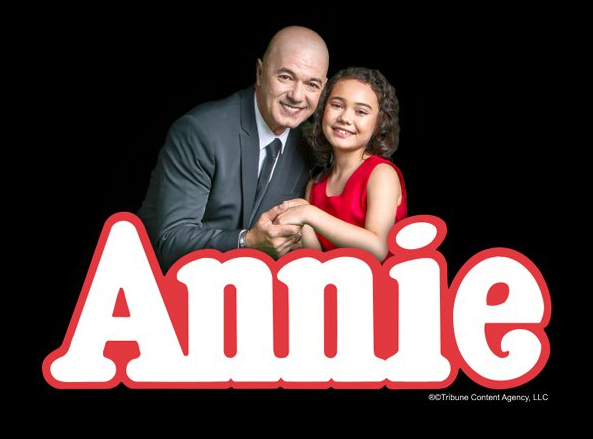 September 30 to December 4
Newport Performing Arts Theater, Newport Mall, Pasay City
For tickets: TicketWorld (02) 8919999
Relive one of the most iconic musicals in history with Resorts World Manila's staging of Annie. It will charm and delight generations old and new with its memorable songs, adorable child talents and Annie's infectious optimism that will surely put a smile on your face at the end of the show. Visit Resorts World Manila's Facebook Page for more details.
1. Jersey Boys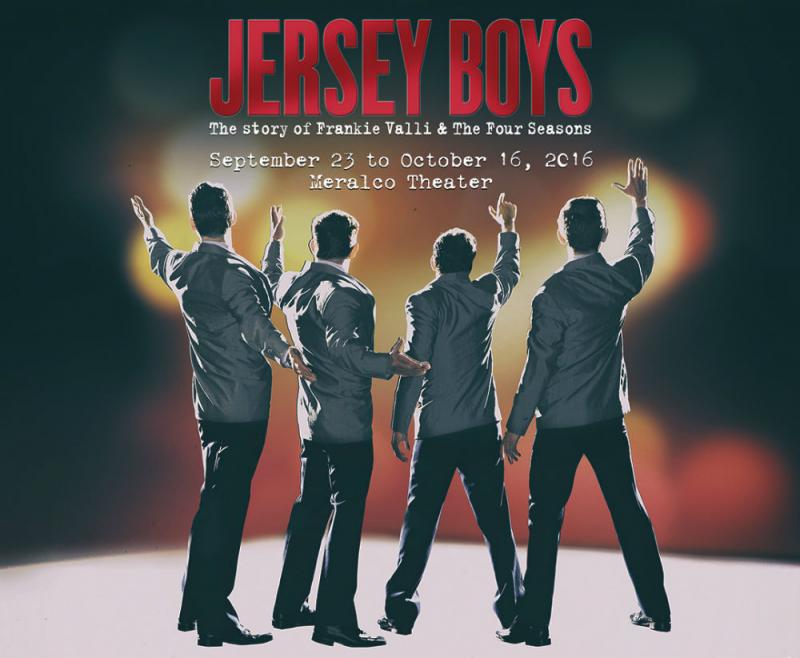 September 23 to October 16
Meralco Theater, Ortigas Avenue corner Meralco Avenue, Ortigas Center, Pasig City
For tickets: TicketWorld (02) 891-9999
Nyoy Volante and Christian Bautista are set to take on the role of lead vocalist Frankie Valli and keyboardist Bob Gaido of the famed American doo-wop group Frankie Valli and The Four Seasons in the local staging of Broadway musical hit Jersey Boys. The play will run for a limited time only, so grab this chance to reminisce on chart-toppers Sherry, Walk Like a Man, and Can't Take My Eyes Off You that defined the baby boomer generation. Visit its Facebook Page for more details.
Which plays are you excited to watch this month? Tell us in the comments below!