8 Reasons "Alyas Robin Hood" is Nothing Like "Arrow"
Sep 29, 2016 &nbsp • &nbsp Kel Fabie
4. The non-super villains
Aside from your typical supervillains, the politically charged storyline of Alyas Robin Hood lends itself to more grounded adversaries than your typical rogue's gallery. Except when it doesn't.
Where Arrow tries to humanize even its worst villains by giving them a multi-faceted, even sympathetic side to their character, Alyas Robin Hood still relies on caricatures and mustache-twirling villains who are evil for the sake of being evil, such as the Mayor of Tent City.
Not depicted: nuance.
3. The fight choreography
While both use cut-to-cut shots to make the action seem more fast-paced, it becomes pretty clear that Alyas Robin Hood took its fight scenes in a completely different direction when compared to Arrow's.
And is it just me, or does Chino the flamethrower dude look like he could be brothers with the camcording guy in the Derek MTRCB commercial? Villainy runs in the family!
Look: we get it. Not all fights can be as hard-hitting as Old Boy or Daredevil, but when I watch something as kitschy as Julio Valiente or any old FPJ film, I can see that we have always had pretty decent fight choreography for decades. So what the heck happened here?
2. The props
Let's give a pass for special effects, because even Arrow falls short of its own lofty standards from time to time. Let's talk about the props.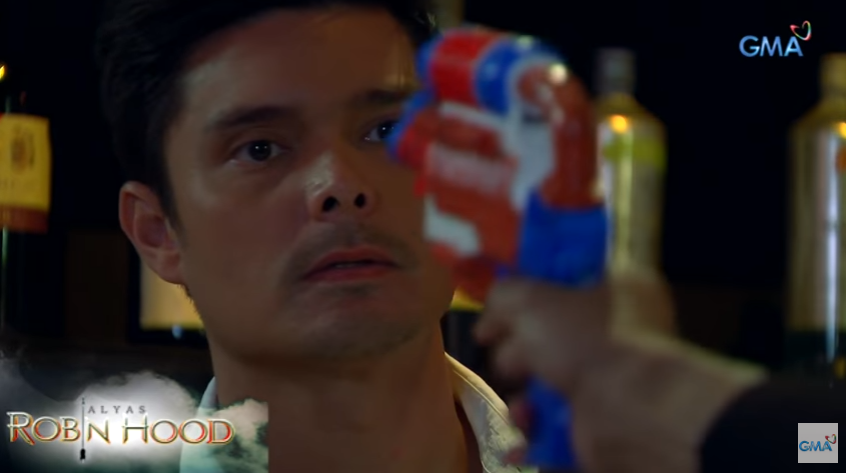 Yeah, that's terrifying, all right. It terrifies me how anyone thought they could get away with this.
The props are so bad that one of my co-writers here found 8 toy guns from his son's collection that could have looked even better. The props are so bad that Lydon Gregorio's joke on it makes you laugh and cry at the same time.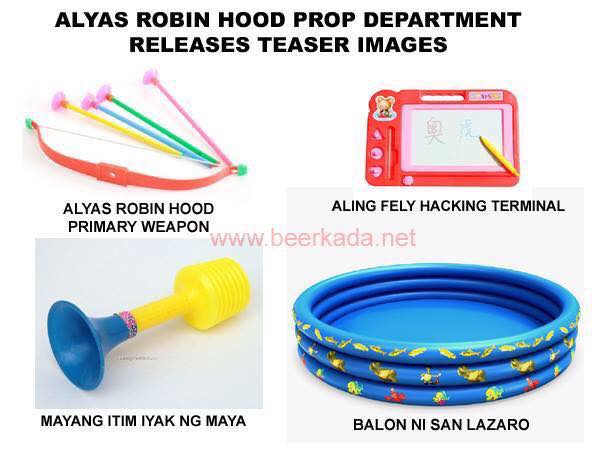 Dear Ms. Doctolero: we get it. These aren't official images. Your show still sucks.
1. The excuses
Real talk, guys: originality is hard to come by nowadays. In the realm of creative work, there are only so many ways to tell the tale of a Robin Hood analog, and I get it when the head writer decries people who dismiss her work for being derivative. Arrow, even for a fan such as myself, is far from perfect, which makes it all the more bewildering that someone would rip it off yet completely miss the things that makes Arrow really fun when it's on point.
And while we have come to expect a lack of originality and borrowing of elements, there no use in denying it when it is so plain to see. There is even less merit in ripping off certain ideas, yet still keeping the bad ones you've always been using, such as shoddy motivations, bad people discussing their evil plans in the middle of merienda, stereotypical fake Chinese accents, and killing off one of your best actors in the cast just for drama. You had all the great storylines to rip off, yet here you are, still relying on the very tropes, nay, cliche's any comedian can reliably poke fun at when it comes to Filipino television.
If you're going to rip off something, maybe you shouldn't rip off costumes or props. Maybe you should rip off better plots and storylines instead.
Did you catch the show this week? Let us know what you think about it below!