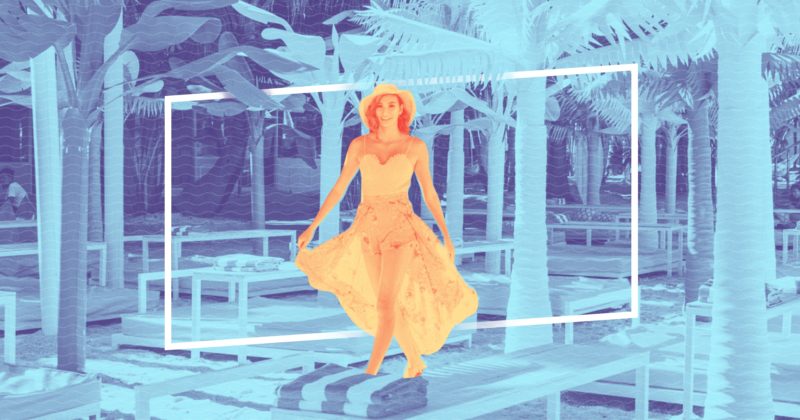 If you're looking for a reason to spend some time far down south, this newest resort in Mactan, Cebu is your answer. The Happy Beach Resort in Mactan is slated to open on December 15, 2018, just in time for you to plan and book your summer ahead; or better yet, for a get-together with the gang this Holiday Season! This resort has been the talk of the town for a while now and finally we can give you a sneak peek of what you'll find at the Happy Beach, why you should go, and more! Read on!
You get to hang out at a colorful beach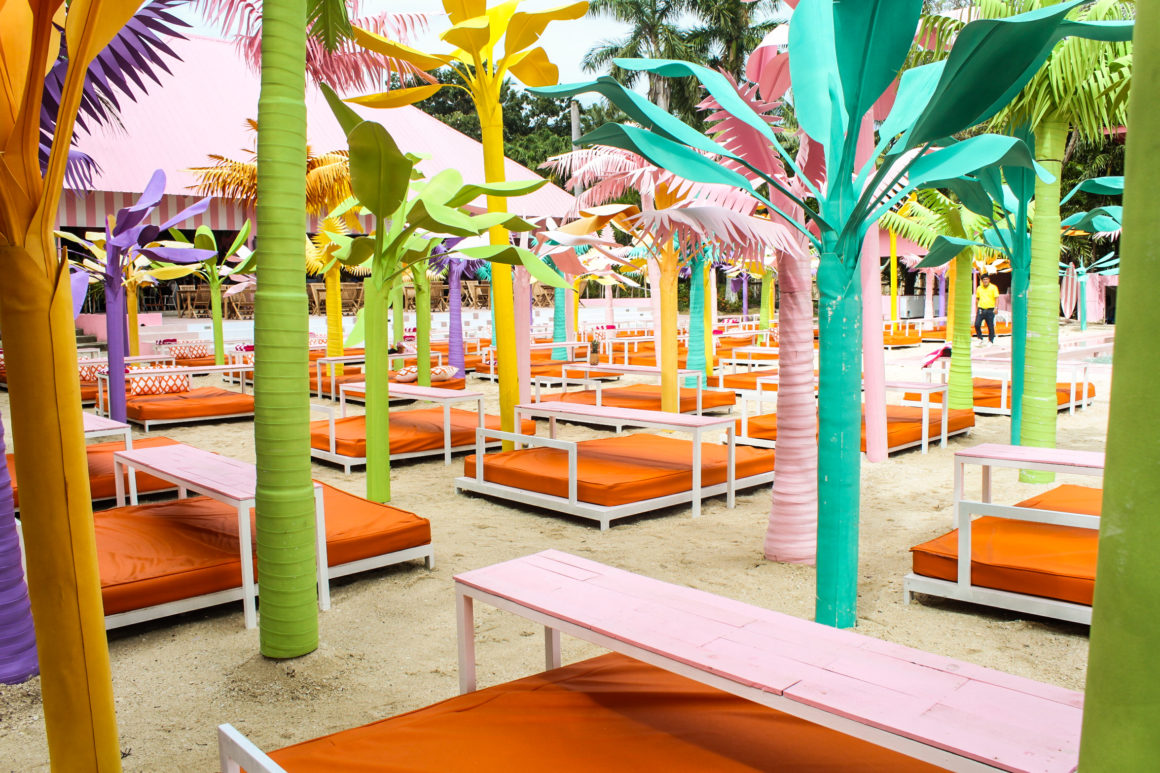 You'll get to the Happy Beach Resort from the airport via a 15-minute drive to Angasil Port where the Happy Boats await. From there, it's a 5-minute boat ride to the beach.
Approaching the beach by water gives you a beautiful view of the multicolored landscape that just screams fun even from afar. It's impossible to not get attracted to the vibrant elements dotted on the beach. The Pink Bali Lounge and its purple equivalent near the rooms welcome you with bean bags and parasols, beyond that is the Happy Jungle Lounge with orange daybeds and rainbow trees. There's also the picture perfect Pink Pool which has its own pink bar where DJs will set your beach trip mood with their beats.
It will be a happy addition to your Instagram feed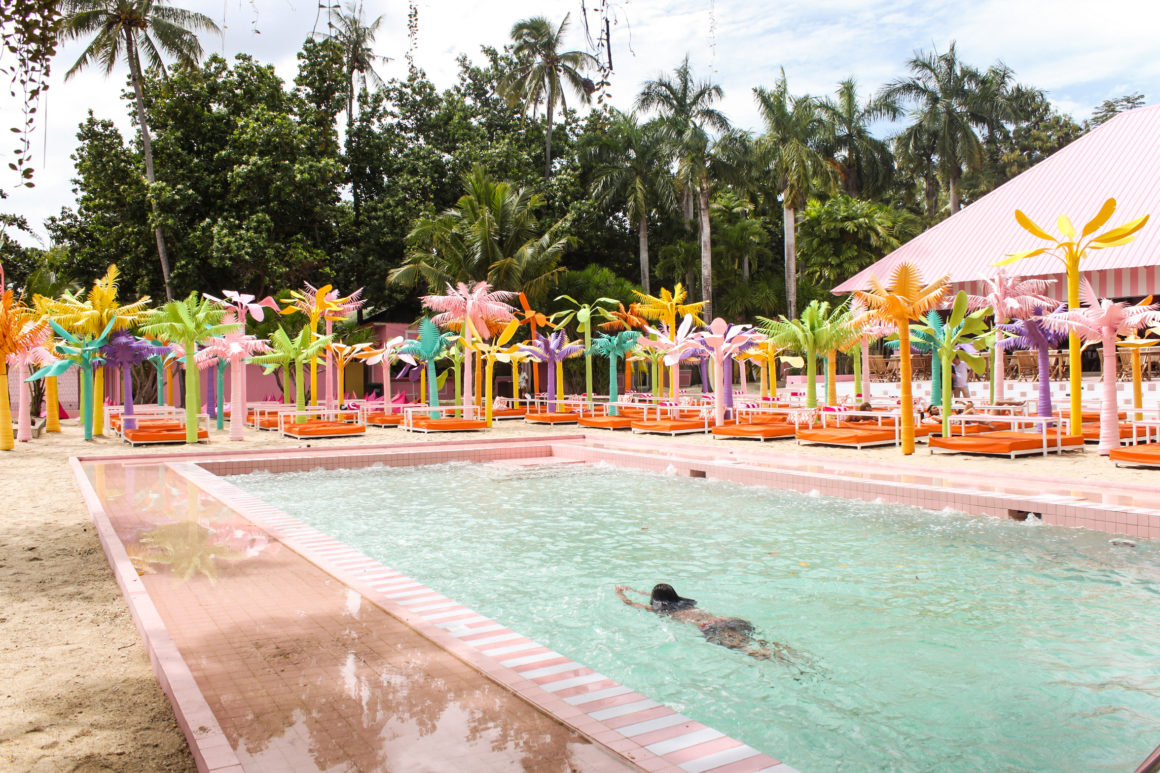 Everyone from kids to adults will absolutely love the colors of Happy Beach! They're pleasant to the eyes and just by looking at the beach bursting color you'll feel giddy and excited to spend the day playing.
Strike a pose at the daybeds or while dining beside the huge flamingos at the Mango Mama Café. Lounge at the bean bags scattered all over the place or invite your barkada for a picture at the Animal Cabanas which can accommodate up to 6 people. Whether your favorite color is pink, purple, yellow, blue, or other, Happy Beach has got your Instagram feeds covered!
Pro tip: you absolutely have to bring the best camera you own or even your drone so you'll be sure to take the best shot.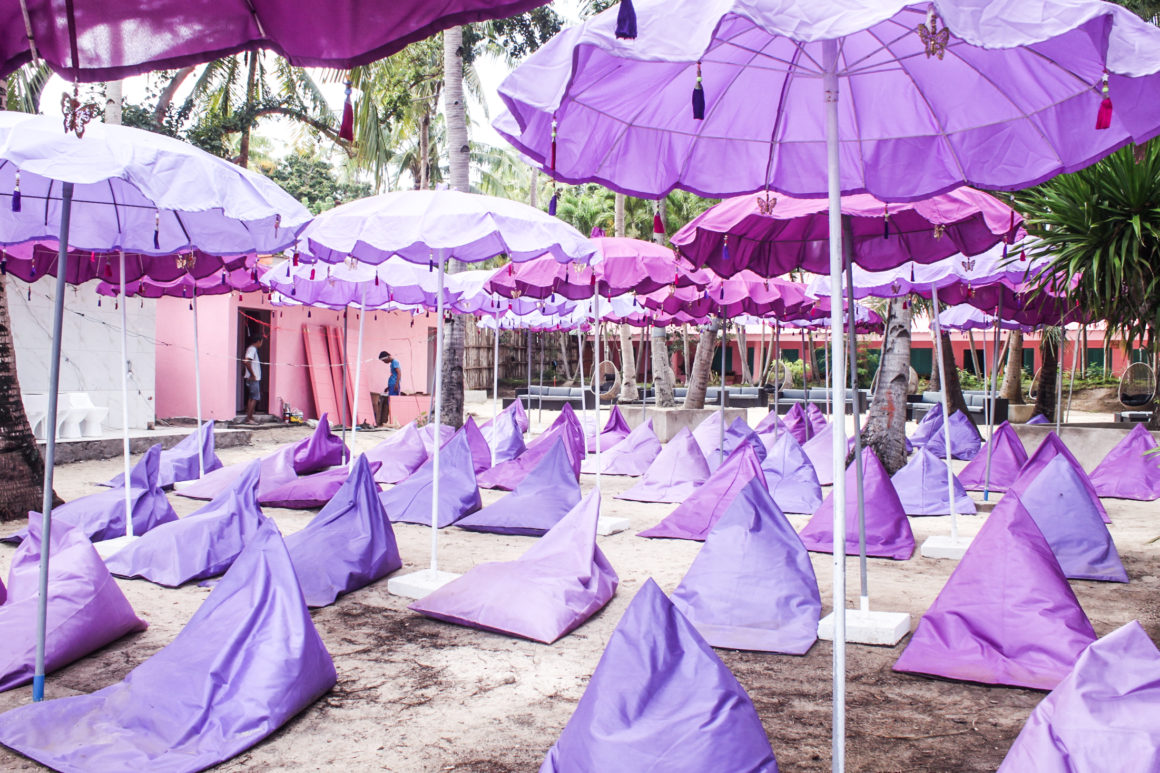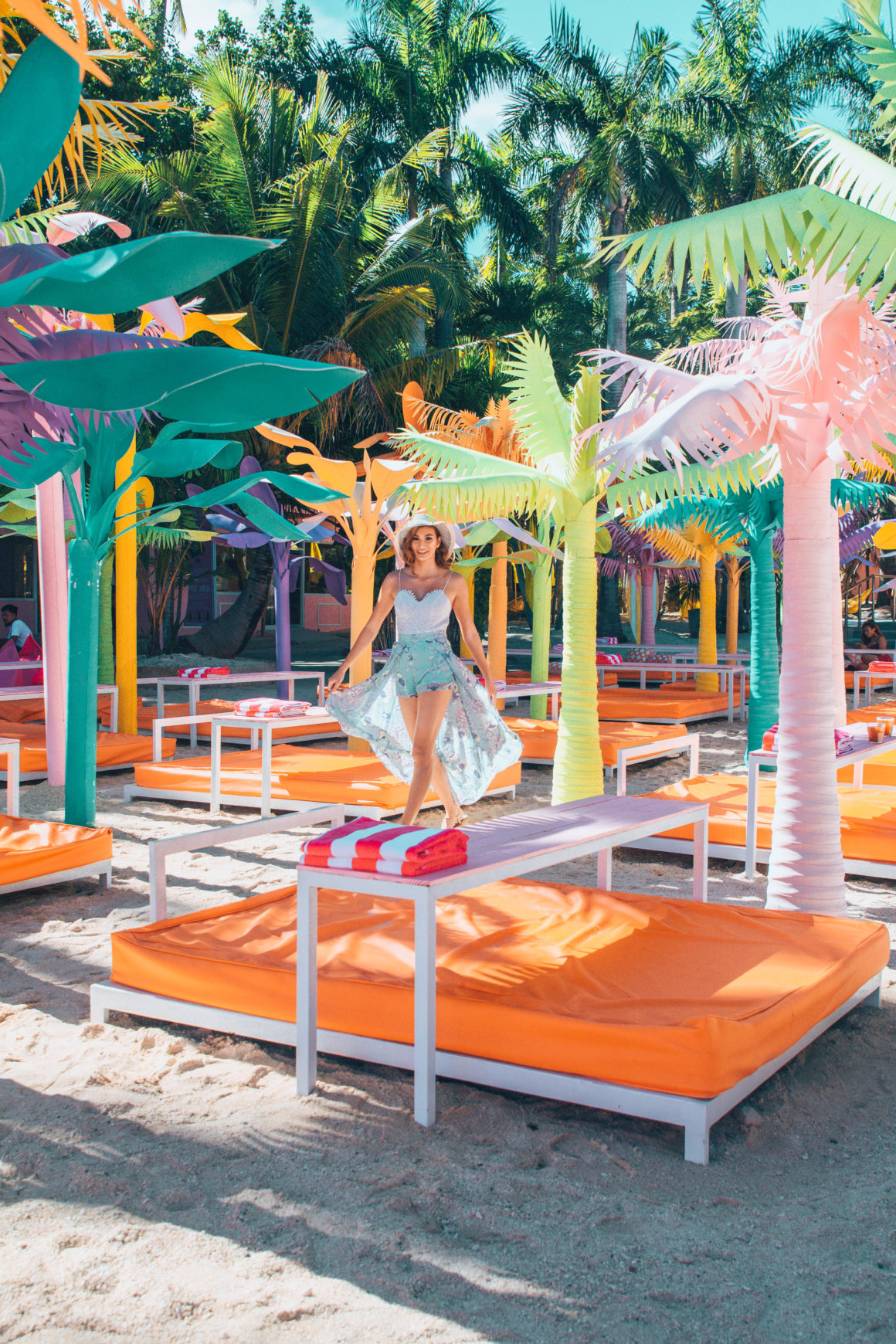 The different water activities
Happy Beach houses the happiest inflatable playground in the country. You can hop, skip, and slip while braving the obstacles and feet-high slides of their 4,500-sqm inflatable island. There's also a separate Unicorn Island for kids with its own set of mild obstacles.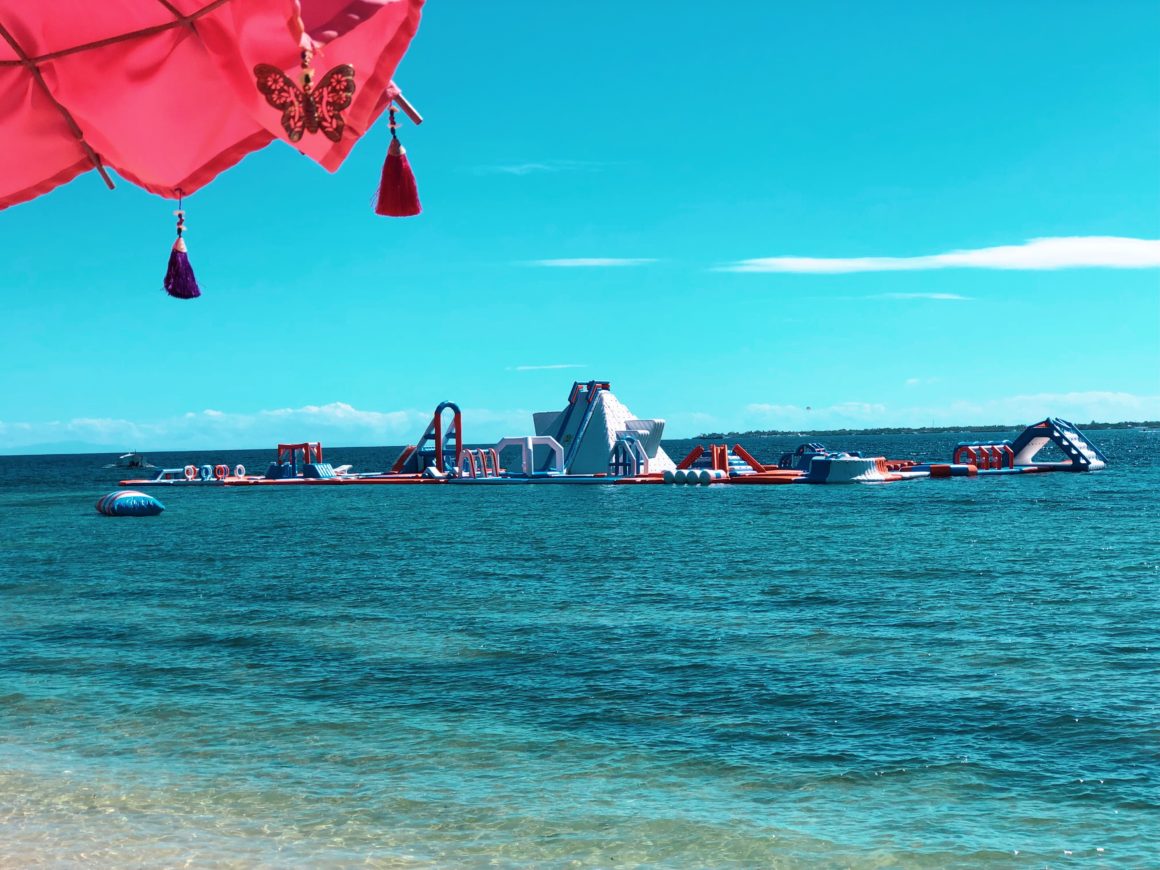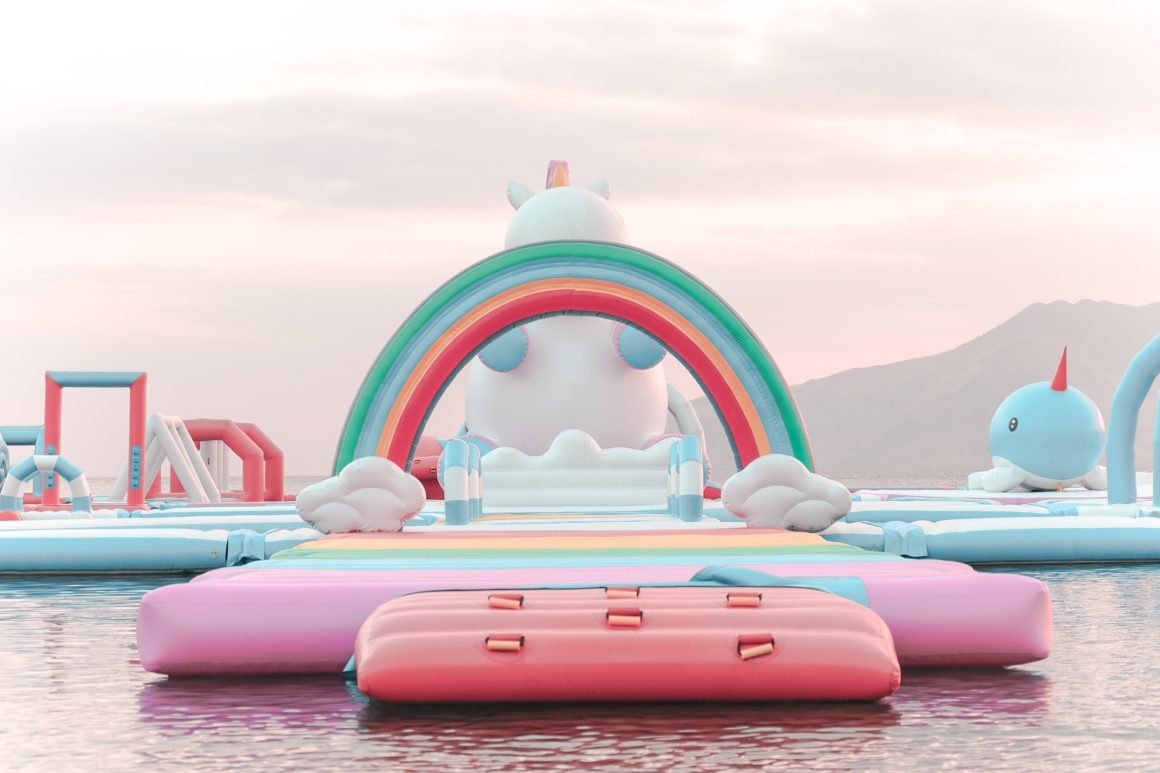 After you've conquered all the obstacles, you might want to drive your own Jet Ski out to open waters, speed up for a challenge and feel the breeze on your face! Banana boats are available for groups and parasailing for pairs.
Don't be afraid to try everything, there are life guards spread across the inflatables ready to help and assist you. Safety is Happy Beach's primary concern; there is a required orientation for guests and free life vests before you try any of the water activities.
When you've had enough of the ocean, you can lounge beside the Pink Pool at the resort or take a short swim in its 6-feet deep waters.
Mango Mama Café's delicious meals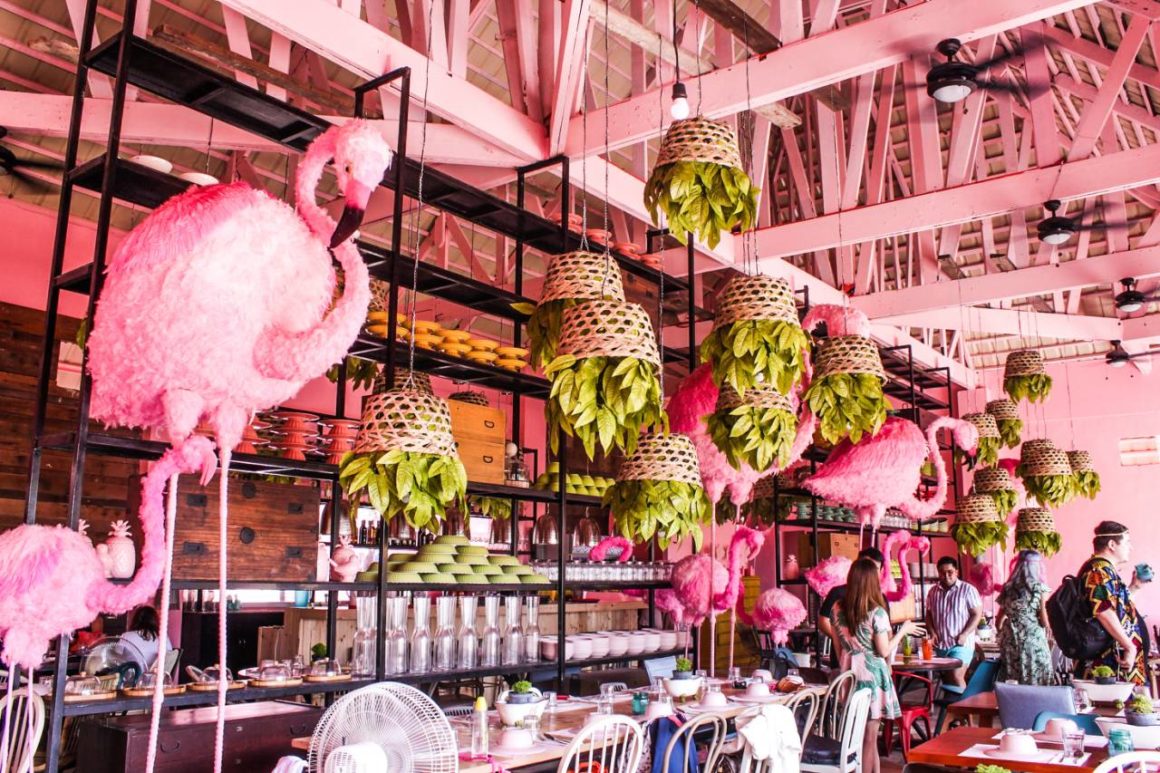 You don't need to spend your energy on cooking or hauling those grillers and huge coolers because aside from no outside food is allowed, Mango Mama Café has everything you need to fill your belly, from Pinoy classic favorites, seafood platters, and dishes with a twist, to delectable desserts and liquor. Their meals are available from breakfast to dinner. You don't need to worry about the portion sizes too, they're enough to feed 2-3 hungry people.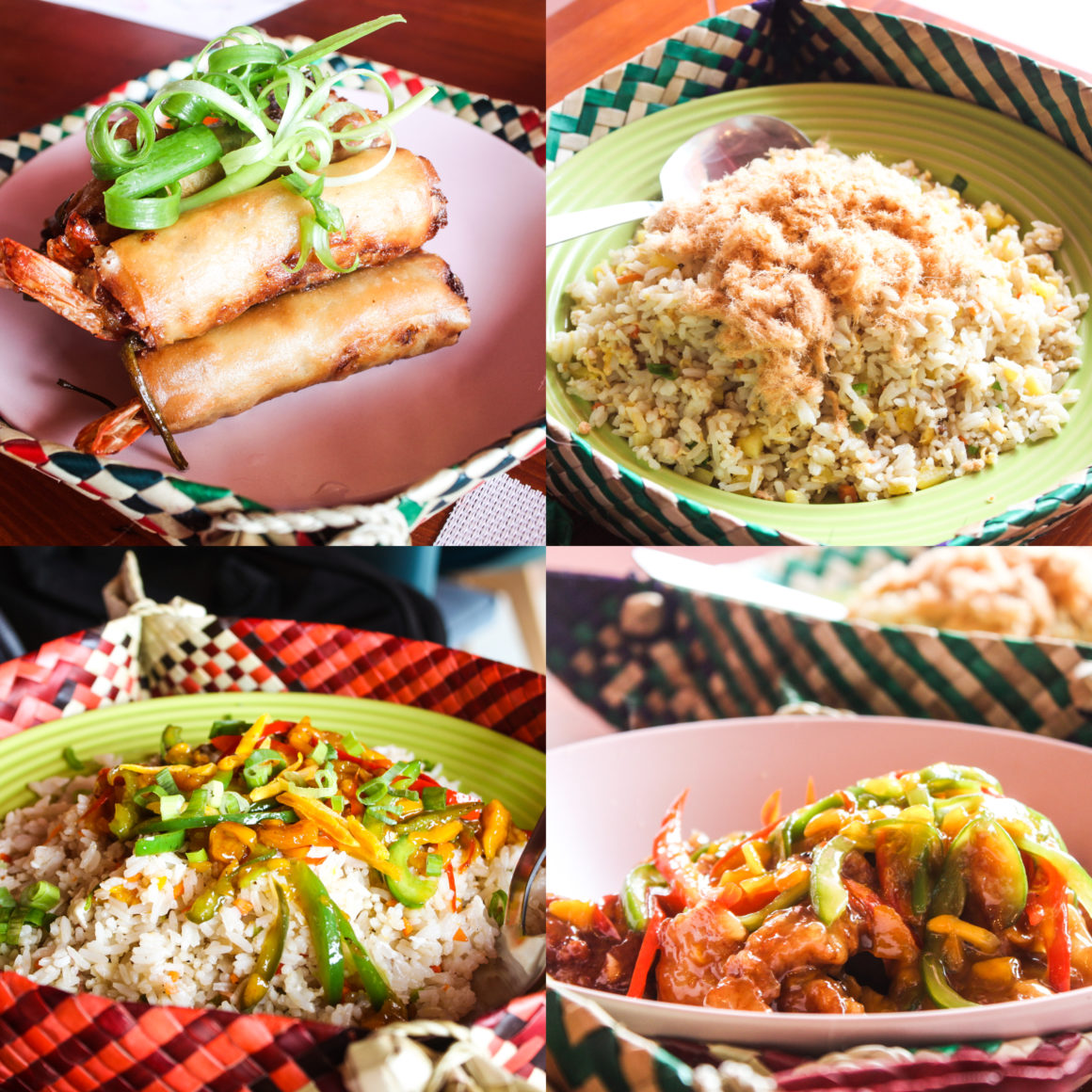 Did we mention that if you rent a day bed (good for 4 people), you get a complimentary tampipi feast? It's a Happy Beach Boat which includes iced tea, bacon sandwiches, fries, and kamote chips courtesy of Mango Mama Café. Now that's a deal!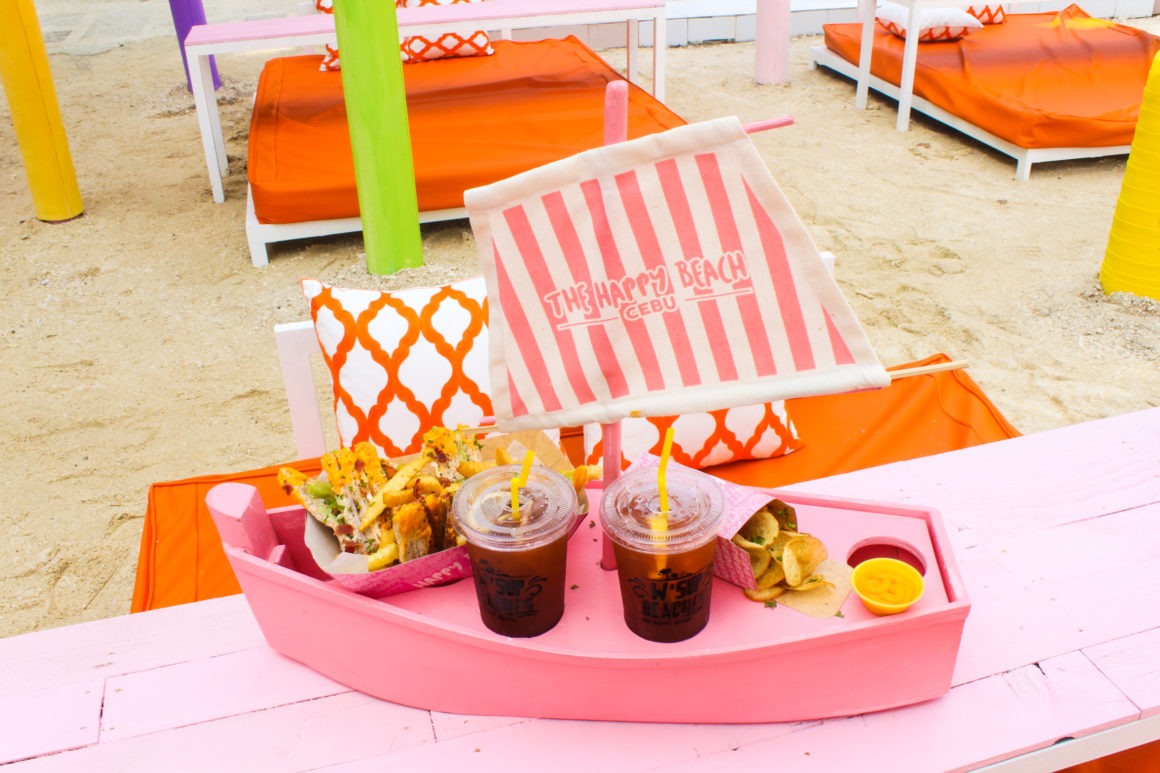 The many finds at the souvenir store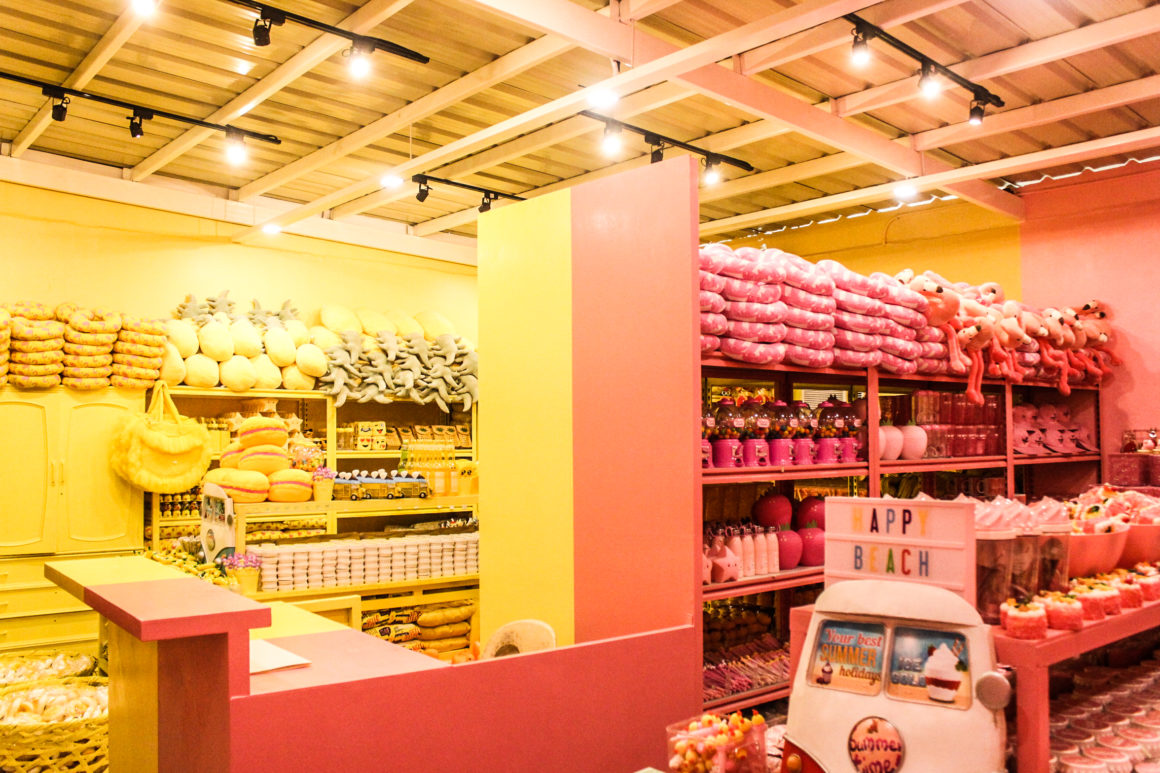 The souvenir store might just be everyone's next favorite after the beach activities. The unassuming building that's half painted yellow and half painted pink has treasures hidden inside, we're reminded by The Dessert Museum's Naughty or Nice candy cane forests!
Choose which door color you want to enter from and behold the loads of cute items you can buy for everyone in your family! There are neck pillows, pillows shaped like flamingoes and pineapples, cute coin purses, shirts, mugs, caps, bags, water bottles, pins and patches, lamps, and more! If you find an item you like in one color, it's most likely available in the opposite color.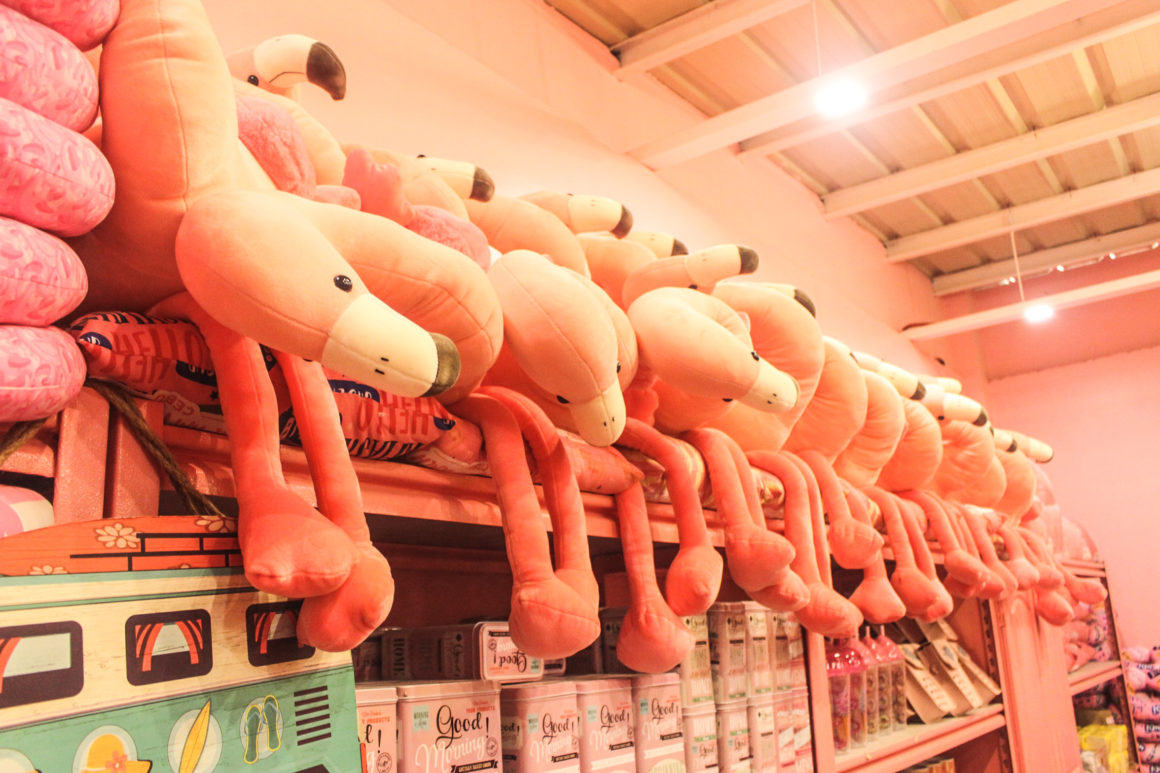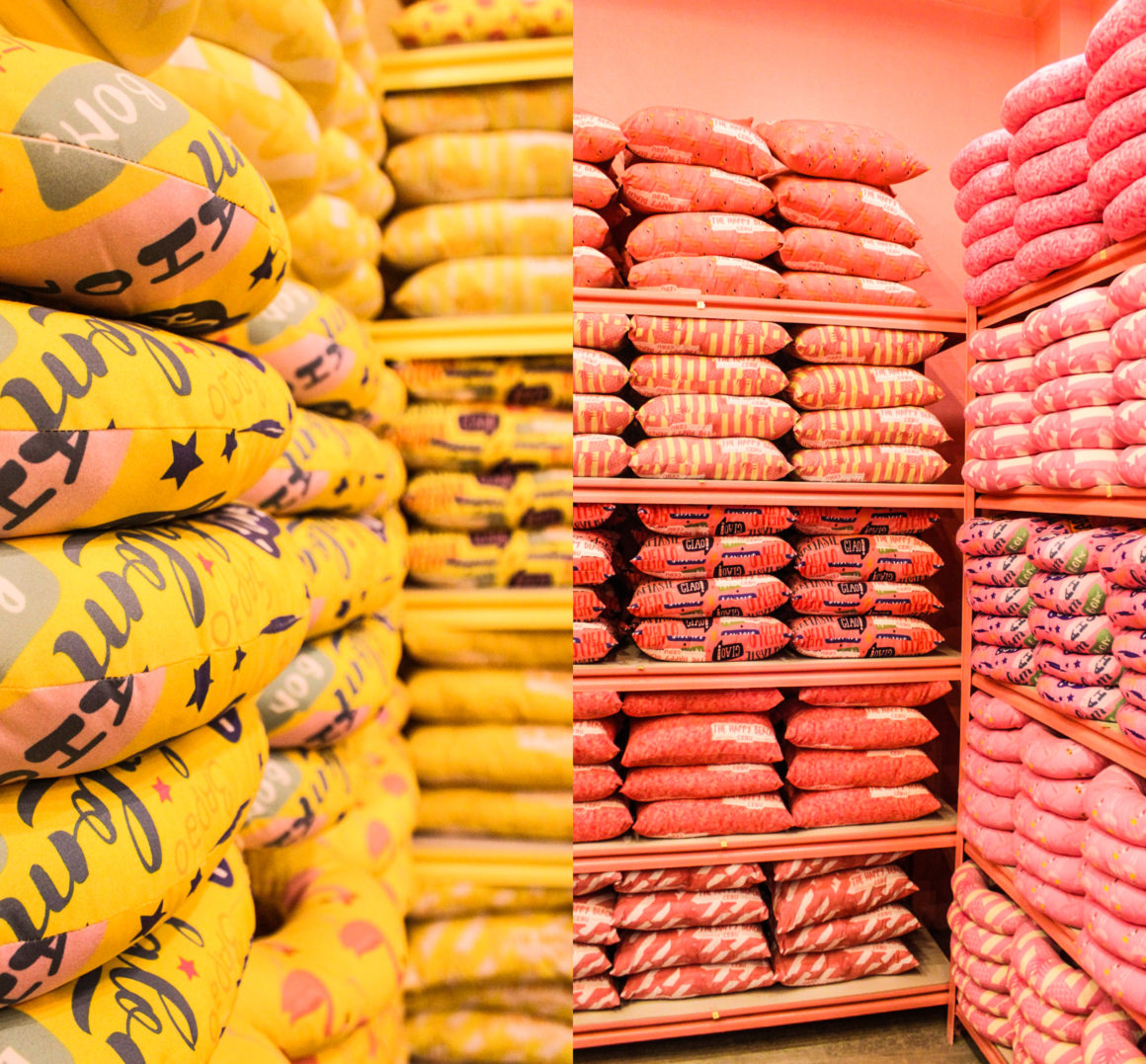 The rooms are spacious and perfect for groups of friends or families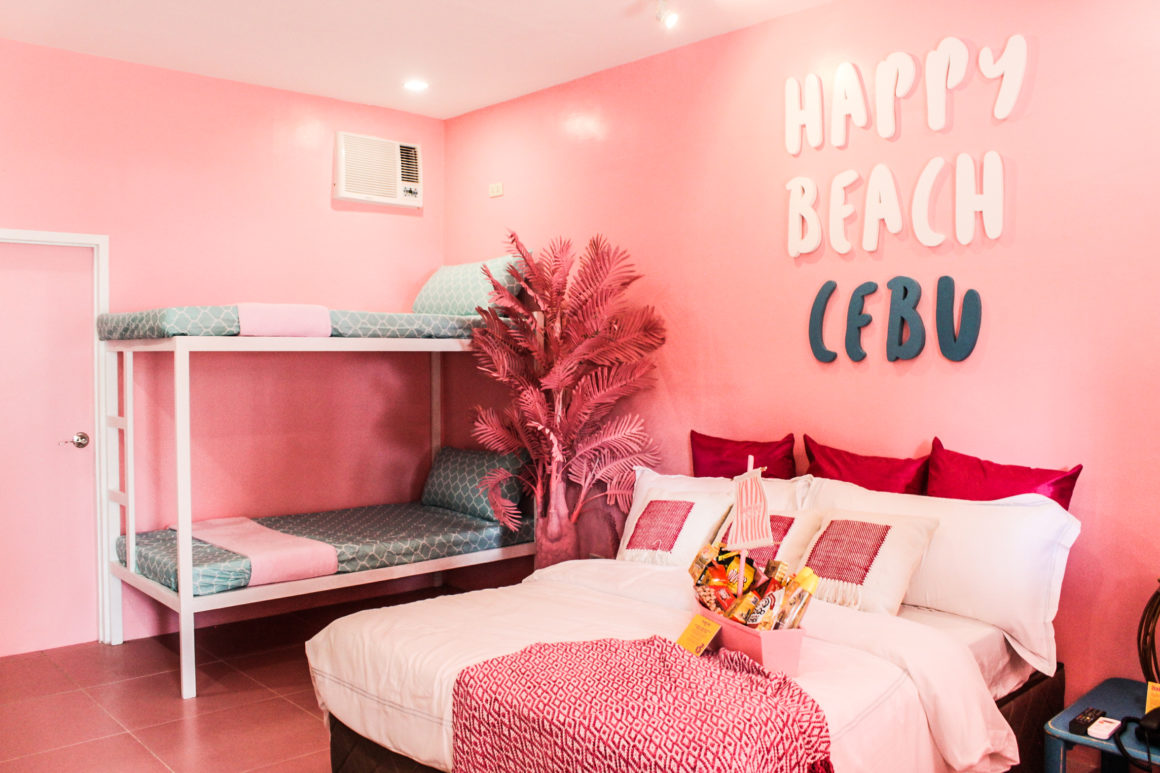 The Happy Beach proudly houses 16 air-conditioned boutique resort rooms unique to them. Each room has a queen size bed and a double deck bed which can fit 4-6 persons. If you're wondering, the private bathrooms are spacious and clean! You'll very much feel as if you're in a hotel room complete with TV, closet, and a small pack of toiletry essentials.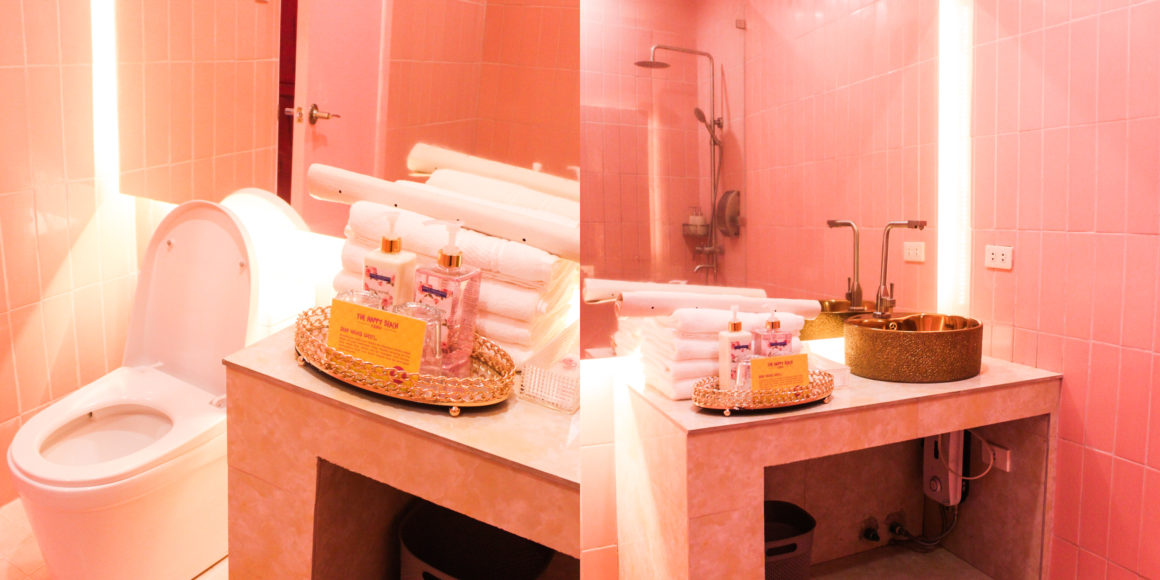 Staying at the hotel gives you free access to the beach attractions and the Pink Pool the moment you arrive and automatically discounts you on the Happy Jungle daybeds and Inflatable Island play passes.
You're well taken care of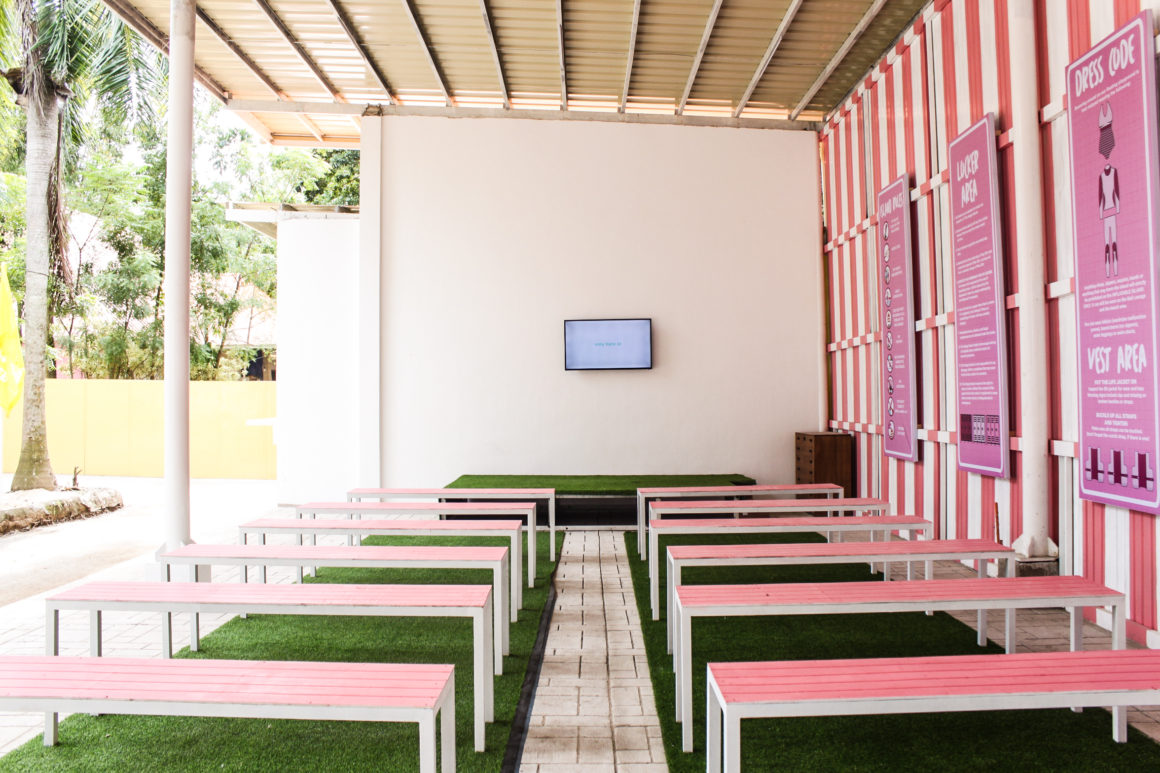 Orientation area
Aside from the awesome facilities, the Happy Beach Resort is commendable for their exemplary service. From the port, there will be staff members to greet you and give you cold water bottles to cool yourself down. They will guide you in getting on and off the huge pink and yellow Happy Boats and give you pink Bohemian headdresses once you dock.
Once you get on the beach, you will be greeted by a happy group of staff members who will offer you a glass of juice and give you cold towels. Everyone is attentive to their guests needs; they even heeded my request of non-seafood dishes because of my allergies!
Safety is one of Happy Beach Resort's primary concern and they ensure this by having their own clinic at the beach.
It's hitting two birds with one stone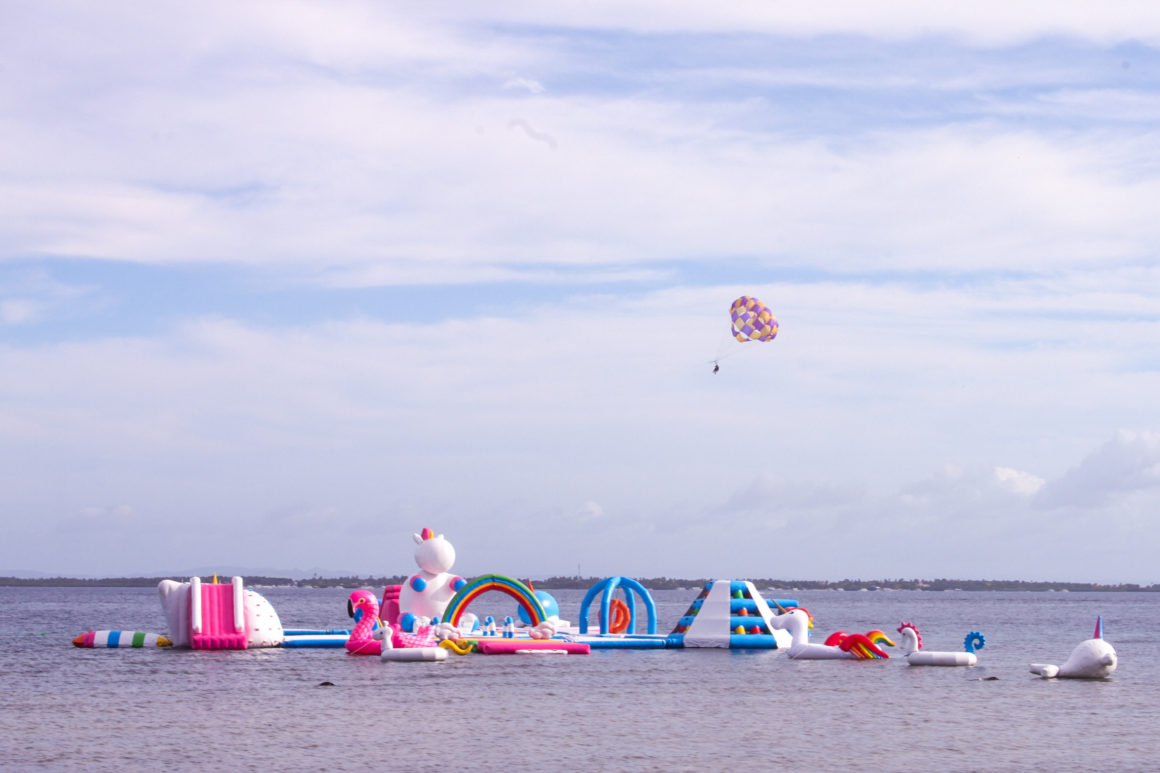 After spending a few days at the Happy Beach, because obviously one day isn't enough to enjoy all their amenities, why not set out and explore the beautiful city of Cebu or Mactan? A number of fun and thrilling activities could be found in the city, including delicious restaurants serving the best lechon you'll ever taste! And if you want to take the tourist route, you can visit their churches, shrines, and forts. Only then can you go back home fulfilled, well-rested, and energized.
The Happy Beach Resort opens to the public on December 15, 2018. You can find their rates below: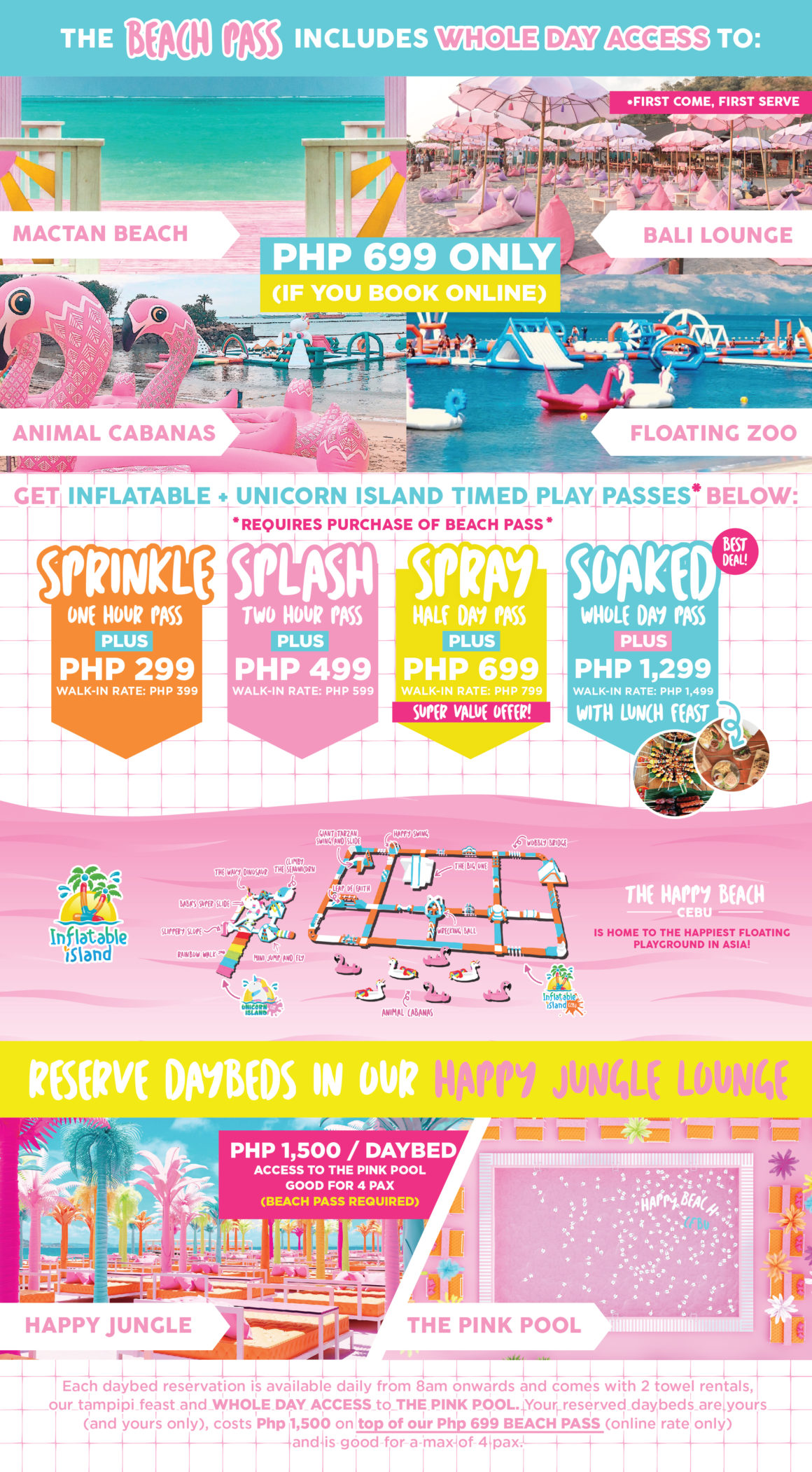 Visit their website and book your stay or you can shoot them an email at hello@happybeach.ph to inquire about events.
Find out more about the Happy Beach and follow their official Facebook page, Twitter, and Instagram. See you at the beach!
ALL IMAGES COURTESY OF THE AUTHOR AND THE HAPPY BEACH