February isn't complete without the much-awaited week-long local music celebration that is UP Fair. This year, Roots Music Festival will be happening on the 14th, which means it's your best choice for a memorable Valentine's date with bae. Why so? Just look at the lineup: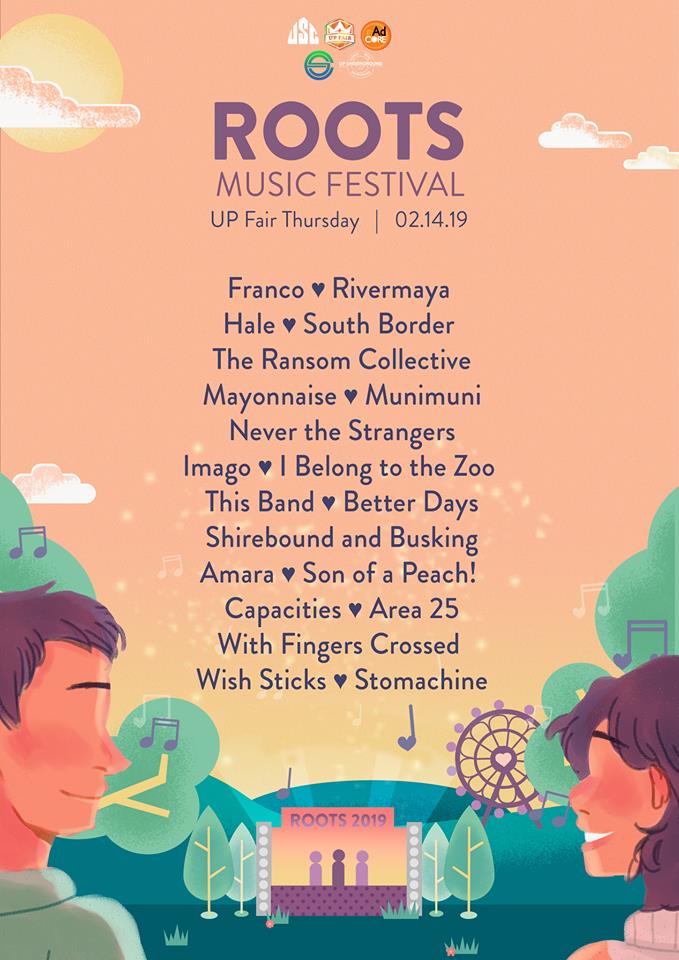 We know, we know. We can't wait to watch these bands, either! That is why we've made a playlist to excite you even more. Play these songs on loop as you countdown to UP Fair week:
214 by Rivermaya

A Rivermaya classic, this song just screams nostalgia the moment you hear it. It brings back good, old memories—unless it was your theme song with an ex-lover (oops). JM De Guzman recently covered it for the much-awaited LizQuen film, Alone/Together (which was shot in UP Diliman, btw), and no, we're definitely not crying.
Moving Closer by Never the Strangers
This song has become an earworm ever since it was featured in a commercial of a toothpaste brand. It's truly a feel-good song especially when bae is beside you as the vocalist go, "Inch by inch, we're moving closer." Kilig!
Here in My Heart by Mayonnaise
While Mayonnaise is more known for their rock hits (cue: "Jopaaaay! Kumusta ka naaa!"), this one proves that they can still be cheesy AF. Cue to cry: "I got you now here in my heart."
Tahanan by Munimuni
Owen Castro, one of Munimuni's vocalists, wrote this song to remind himself that there is always someone there for him throughout all his trials. Try not to cry when you hear the words, "Hanggang dito na lamang ang iyong mga luha. Tahan na."
Kahit Pa by Hale
Ah, one of the first songs on our iPod shuffle. Remember when you used to play this on guitar during lunch breaks? Classic.
A Million Little Things by Shirebound and Busking
"A Million Little Things" is a series of heartfelt confessions woven into lyrics that tug at the heartstrings, made even more romantic by Iego Tan's soothing voice. When words won't suffice, dedicate this song to that special someone.
Rainbow by Southborder
Now here's a high school fave (or grade school, if you're a few batches lower), that screams puppy love—although that's not really what the song is about. Whatever memory you have associated with this song, hearing this again a decade after will remind you how it feels like to be young and in love.
Akap by Imago
Nothing beats this classic OPM hit that stood the test of time. You can finally scream the words "Sasamahan ka sa tamis, sasamahan ka sa pait" not just during karaoke sessions, but out loud with the band on stage (and with bae beside you!).
UP Fair Roots Music Festival is brought to you by UP Economics Society and UP Underground Music Community. Walk-in tickets are limited on the day itself, so come early!
What song is the soundtrack of your love life? Share them with us in the comments section below!