8 Things You Need to Know About Hellboy
Apr 10, 2019 &nbsp • &nbsp Mikhail Lecaros
With superhero movies dominating global cinema over the last decade, not every film can get the attention lavished on the likes of, say, Batman or the Avengers. Back in 2004, however, one character that drew a decent amount of critical praise and fan love –considering the somewhat dark nature of its source material– was Guillermo Del Toro's (The Shape of Water) Hellboy. Based on the Dark Horse comic by Mike Mignola, Hellboy featured Ron Perlman (Pacific Rim, Blade II), as the titular demonic anti-hero, fighting the forces of darkness as a member of the Bureau for Paranormal Research and Defense (BPRD). Smart, snarky, and dark in all the right ways, Perlman's Hellboy was an impossibly perfect physical embodiment of character and attitude on par with Christopher Reeve as Superman.
With the new Hellboy set to open this week, here's all you need to know about the latest superhero reboot!
THIS ISN'T HELLBOY 3
Powered by the 2004 film's strong reviews and audience response, a sequel soon followed in the form of Hellboy II: The Golden Army (2008). Doubling down on the macabre visuals and mythology, the film garnered a positive reception, stirring talk of a third film. Given Del Toro's busy schedule, it seeed the earliest he could begin work on Hellboy 3 would be when he finished directing The Hobbit for producer Peter Jackson (The Lord of the Rings Trilogy). When Del Toro left that project following delays stemming from MGM's bankruptcy, he jumped straight into 2013's Pacific Rim.
Buoyed by Pacific Rim's success, interest once again rose for Hellboy 3, but with the decline of home video (both Hellboy movies made the bulk of their profits from DVD and Blu Ray sales), studios were wary of supporting a film that might only break even at the box office. Thus, financial support for Del Toro's Hellboy 3 became dependent on the success of his Pacific Rim: Uprising for Legendary Pictures. Once Del Toro left that project to another director, however, hopes for a third Hellboy film went with him, as Legendary lost interest.
Taking Del Toro's loaded slate of upcoming projects into consideration, as well as Perlman's advancing age, the holders of Hellboy's movie rights decided that a reboot was the way to go.
REBOOT A-GO-GO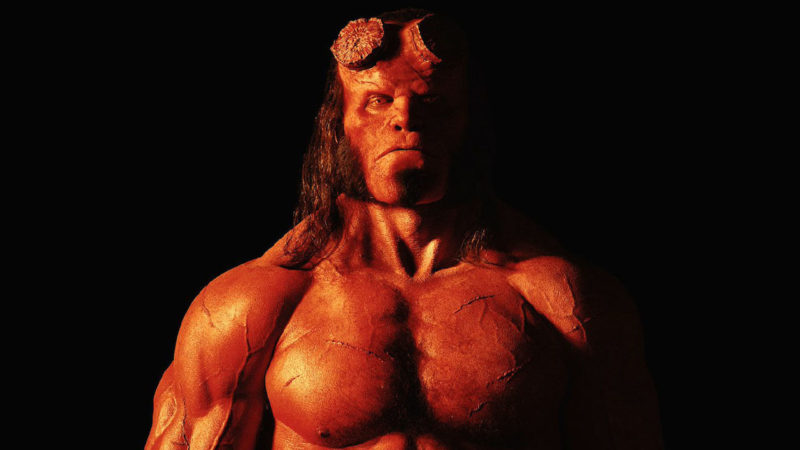 Emboldened by the likes of Logan and Deadpool's successful targeting of older audiences, the Hellboy reboot is the first in the franchise with an R rating, coupled with a promise of a more comics-accurate storyline than those in the Del Toro films. This time around, Stranger Things' Sheriff Hopper himself, David Harbour, stars in the title role. According to Harbour, his version of Hellboy, while appropriately cynical, is more emotionally volatile than Perlman's, being somewhat younger and unsure of his place in the world. Alongside Harbor is Ian McShane (John Wick, TV's Deadwood) as his adoptive father, Trevor Bruttenholm, while their nemesis is Nimue, an evil sorceress bent on destroying the world, played by Resident Evil's Milla Jovovich.
BORN IN FIRE

The son of a demon and witch, Anung Un Rama was summoned from the depths of Hell by Grigori Rasputin in a mystical ceremony with help from Nazi forces at the height of World War II. Appearing miles from the ceremony, Anung Un Rama was found and taken in by US forces, including future BPRD Director Trevor Bruttenholm. Dubbed "Hellboy", and raised by Bruttenholm as a paranormal investigator, the creature became a potent force against the forces of darkness. After years serving with the BPRD, Hellboy learns of his destiny to unleash the Apocalypse on the world of Man, a fate he rejects in favor of protecting the people of his adopted plane of existence.
HE WAS REJECTED BY DC COMICS
This was the first drawing of Hellboy. pic.twitter.com/Njto2eR1aX

— Mike Mignola (@artofmmignola) January 11, 2018
Back in the day, DC Comics was on the lookout for mature, offbeat characters to populate its Vertigo imprint, a label which would see success by deliberately veering away from traditional superhero fare. Mike Mignola made a pitch for his Hellboy character, which DC rejected, as they were uncomfortable with the idea of a hero with Hell-based origins (despite Vertigo being the home of controversial fare such as Sandman and Preacher). In any case, Mignola took his creation to Dark Horse, which has been Hellboy's publishing home since 1993. Funnily enough, the character would find his way into the DC Universe by way of a crossover with Batman in 1999, and an appearance in the Injustice 2 videogame as a playable character.
HE IS IMMORTAL(-ISH)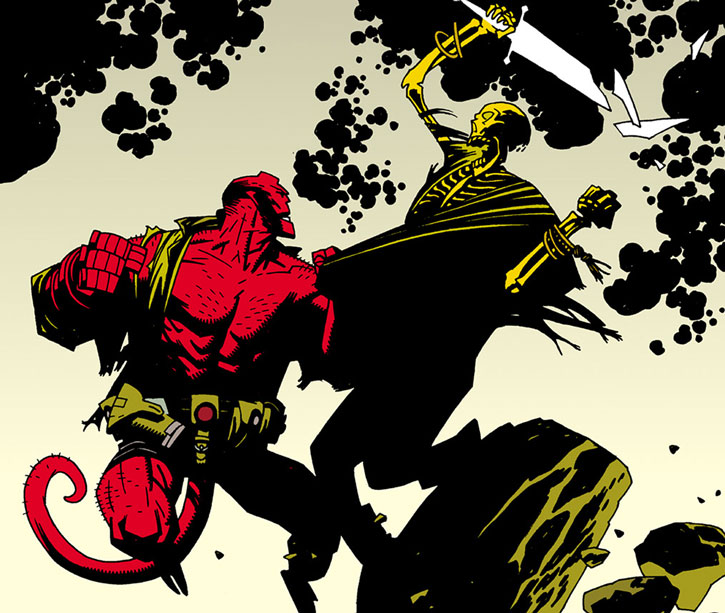 Possessed of superior strength and impervious to firearms, fire, and lightning, Hellboy has a healing factor that protects him from most major injuries and wounds. Furthermore, despite being discovered in 1944, Hellboy ages much slower than a human, having seemingly only aged into middle age in the present day. To date, he's been fighting the forces of darkness for over five decades, with no signs of slowing down anytime soon.
 HE'S BEEN ANIMATED
Between Hellboy 1 and 2, two animated films, Sword of Storms (2006) and Blood and Iron (2007), were produced with the participation of both Mike Mignola and Guillermo Del Toro. Released straight to DVD, the majority of the live action films' cast reprised their roles, including Perlman as Hellboy, John Hurt (Alien) as Bruttenholm, Selma Blair (Cruel Intentions) as Liz, and Doug Jones (The Shape of Water) as Abe Sapien. Sword of Storms was nominated for an Emmy, and the films themselves proved popular enough to have their "animated universe" be adapted into Dark Horse comic books.
 WITH GREAT POWER…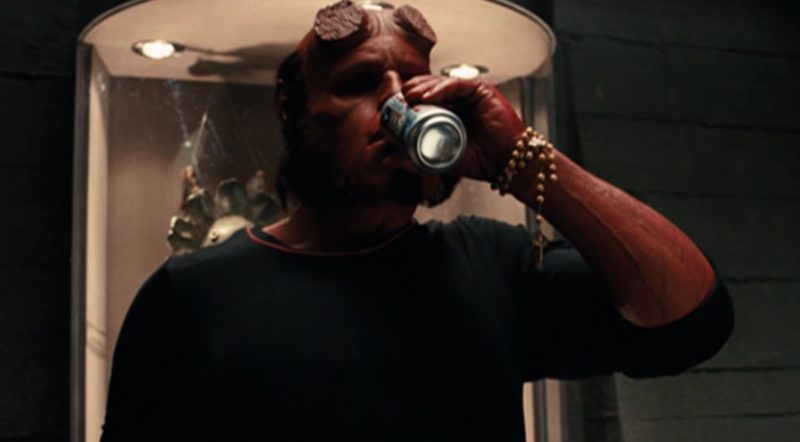 Aside from the fact that he's literally a demon from Hell, Hellboy is just a regular guy who would like nothing more than to relax on the couch, watching TV with a six-pack of beers. Of course, when duty calls, he's more than up to the challenge, having become an expert in the occult and supernatural, able to speak six languages, and more than able to hold his own in a fight. With a deep sense of responsibility instilled in him by his adoptive father, Hellboy is the first line of defense against the forces of darkness.
Speaking of beer…
YOU CAN DRINK LIKE HELLBOY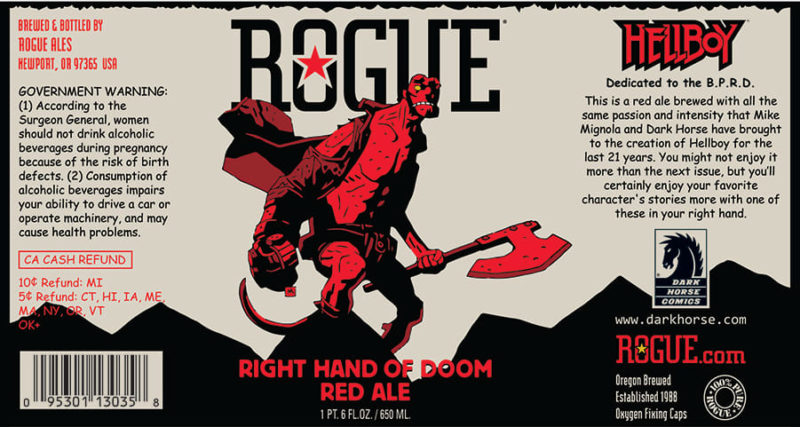 In 2015, just in time for the character's 21st birthday, Hellboy received his own beer, the Right Hand of Doom Ale, a limited-edition red ale courtesy of Rogue Ales. Fully sanctioned by Mignola and Dark Horse, the label even featured original art by the Hellboy creator. In 2017, XXX Distillery LLC and Prestige Imports LLC upped the ante with Hellboy Hellwater Cinnamon Whiskey, which boasted an alcohol proof of (what else?) 66.6. Not to be outdone, the Gigantic Brewing Company will be celebrating the 2019 reboot with six flavors of craft beers to be produced in a batch of (you guessed it) 666 cases.
Know of any more Hellboy trivia? Share them with us below!