8 Ways the Las Vegas Shooting United the World Amidst Dark Tragedy
Oct 9, 2017 &nbsp • &nbsp Kyzia Maramara
On the first night of October, a crime dubbed as the "deadliest mass shooting in modern US history" happened. A gunman identified as 64-year-­old Stephen Paddock, opened fire on a crowd gathered for a concert, killing 58 and injuring at least 600 others. Paddock was staying on the 32nd floor of the Mandalay Bay Resort and Casino where he fired rounds on the crowd hundreds of feet away. Unfortunately, he took his own life before the authorities even got to him.

Chilling footage from concert goers showed the calm during the concert and then the pandemonium that erupted when they realized they were being shot at. The aftermath of the shooting is devastating; spouses lost their husbands and wives, parents lost children, lost friends, classmates, loved ones, it's the most tragic thing that has happened in recent months.

With tragic events left and right and across the globe, the world is seemingly thrown in chaos. Why does sad news suddenly take up 90% of news around the world? Why are there senseless killings every day and tragedies like this Las Vegas shooting still happening? There are for sure a lot of negativities but there's one thing in all this madness that made us feel warmth if possible, it's that you can always have faith in humanity during times of calamities and tragedies.

So, let's do away with the bad stuff for a while and focus on the good. Here are 8 reactions to the Las Vegas shooting that highlighted us as a united human race.

[/whole] [/row]
1. Donations in all forms, shapes, and sizes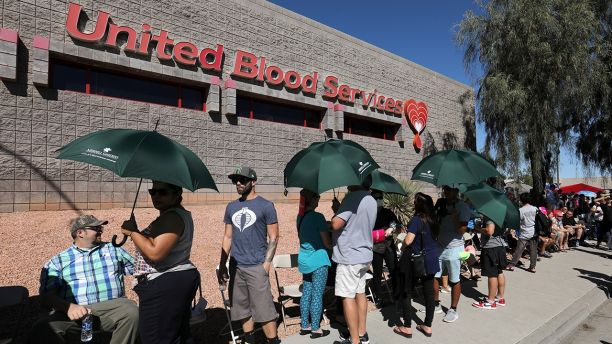 The day after the incident, hundreds of blood donors lined up at Las Vegas blood banks operated by United Blood Services. Lines stretched for blocks and some of the donors were even there from 2AM patiently waiting until centers open at 7AM. Currently they now have enough blood to meet the immediate needs of those injured and being treated in the aftermath.
Supplies such as bottled water, food, and blankets for comfort were also dropped off at the Thomas & Mack Center in the University of Nevada campus. There were even donations of coffee and doughnuts for the victims who stayed in the vicinity overnight.
The Clark County Commission Chair from Las Vegas started a GoFundMe to raise money to provide relief and financial support to the victims of the shooting. As of writing, it has reached up to $9 Million.
2. Speedy police response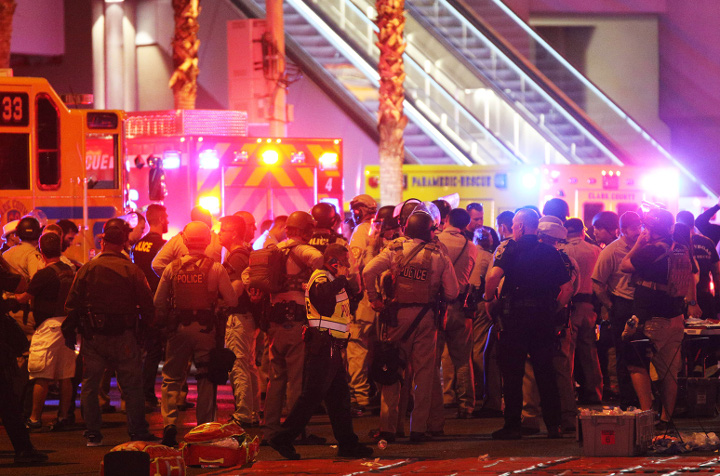 The Las Vegas Metropolitan Police Department didn't spare a second the minute a report was made at 10:08PM. It was because of their rapid response time that no more deaths were added. The officers at the concert quickly acted the moment shots were fired and were instructing people to get down. To the people who could escape, officers were helping them get out of the vicinity.
The New York Times released a transcript of recorded police communication captured by Broadcastify.com. It shows the police frantically and even frustratingly searching for the gun man and when he was pinpointed at the Mandalay Bay, they worked quickly to find the room and called the SWAT team. But they arrived with the gunman already dead by suicide.
The mayhem ended at 10:25PM.
3. Television Show Hosts acknowledging the shooting
If you have the platform where you can speak about an issue and be heard worldwide, you'd take it right? This is what these American show hosts did as they started their late night shows the day after the shooting.
Jimmy Kimmel, a Las Vegas native, took the time to address the unfortunate event and gave his two cents with it. In a speech where he's seen choking back tears, he says that he sympathizes with those who have lost their loved ones. "All of these devastated families who now have to live with this pain forever because one person with a violent and insane voice in his head managed to stockpile a collection of high-powered rifles and use them to shoot people."
Kimmel also questioned and challenged America's gun laws saying "Or, maybe a better question, why do we continue to allow this to happen? I think now is the time for a political debate."
Other late-night show hosts such as Stephen Colbert, Jimmy Fallon, Seth Meyers, James Corden, and Daily Show host Trevor Noah all acknowledged the shooting and all gave a plea that the nation unite to prevent further gun violence and to help those in need. People like these who can make an impact in the world represent all the other people who can't and for that we are all very thankful.
4. Heroes rose to the occasion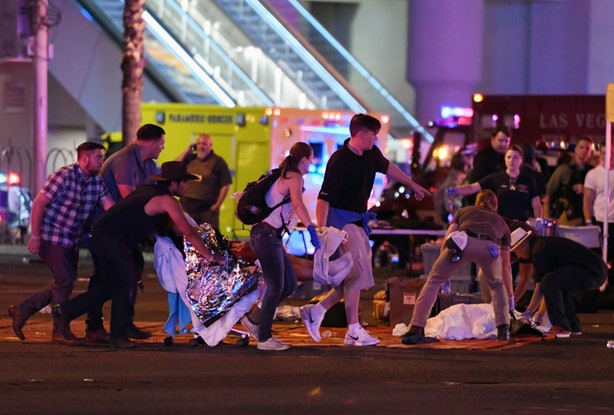 The moment humans feel danger, admit it, the first instinct is to flee and leave everybody behind. We're selfish that way. But at the height of the Las Vegas shooting, accounts of survivors will leave you with goosebumps and with your faith in humanity restored.
Policemen were using their shields to cover from the bullets the people on the ground, military were "plugging their finger on bullet holes" of victims to stem blood flow, and at the aftermath, injured people were being transported to ambulances and cars via barricades as makeshift stretchers. But perhaps the bravest of all were the people lying on top of their loved ones and even strangers to shield them from the bullets.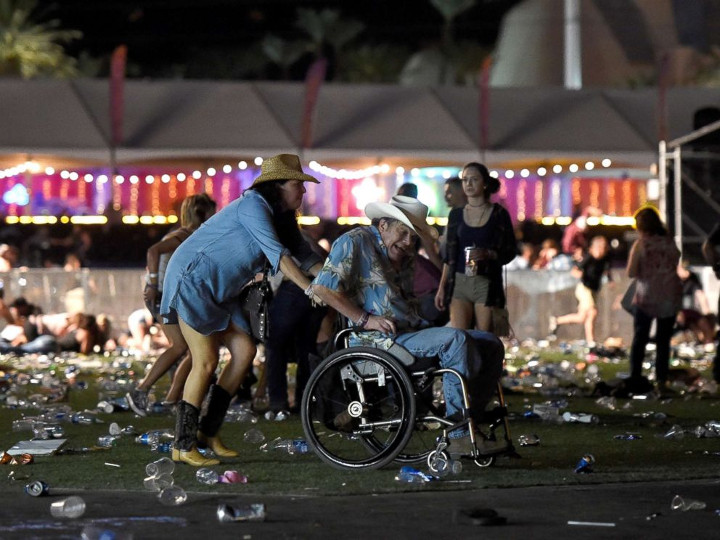 Mike McGarry said when he heard the shots he laid on top the younger kids saying in an interview that "They're 20. I'm 53. I lived a good life." He had footprints on the back of his shirt from all the people that trampled him. Carly Krygier was at the concert with her 4-year-old daughter and she put her on the ground and got on top of her.
Sacrificing your life for the life of another person is the ultimate sign of love and selflessness, and the action shone at the height of a man selfishly shooting people to death.
5. Everybody helped in any way they can
It isn't just the people using their bodies as human shields to protect others from bullets; it's also doing something to help after. Many uninjured people went back to help others escape and to help carry the injured ones. Those with cars also converted their vehicles to makeshift ambulances carrying the injured and helping others flee.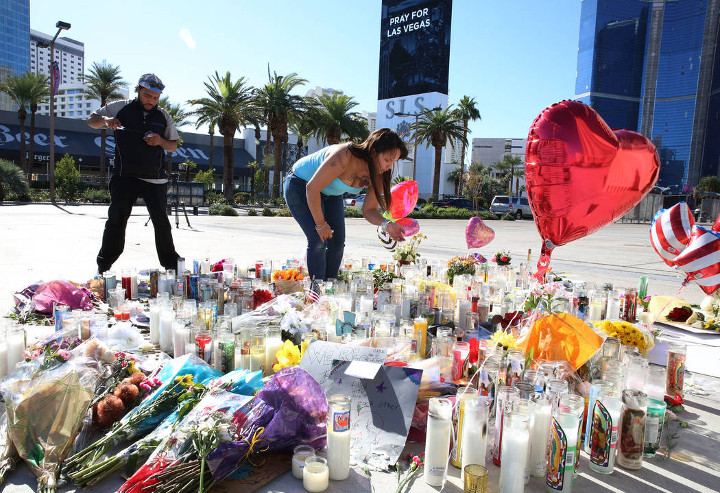 On social media, people were posting about praying for the city and helping those people who got separated with their companions. It's not just all about themselves, it's helping one another.
6. Celebrities and personalities come together
My heart is breaking for Las Vegas. We need love, unity, peace, gun control & for people to look at this & call this what it is = terrorism.

— Ariana Grande (@ArianaGrande) October 2, 2017
This isn't the first time that a tragedy happened at a concert where everybody is supposed to be just having fun and celebrating. The recent bombing that happened at Ariana Grande's concert also brought the world together to show their love for everybody albeit through social media. This time, celebrities and personalities expressed their sympathy and anger at what's happened.
Michelle & I are praying for the victims in Las Vegas. Our thoughts are with their families & everyone enduring another senseless tragedy.

— Barack Obama (@BarackObama) October 2, 2017
Woke up to the heartbreaking news from Las Vegas, my thoughts are with everyone and their families. Love. H

— Harry Styles. (@Harry_Styles) October 2, 2017
My heart breaks…biggest mass shooting in US history. Praying for Las Vegas.

— Kourtney Kardashian (@kourtneykardash) October 2, 2017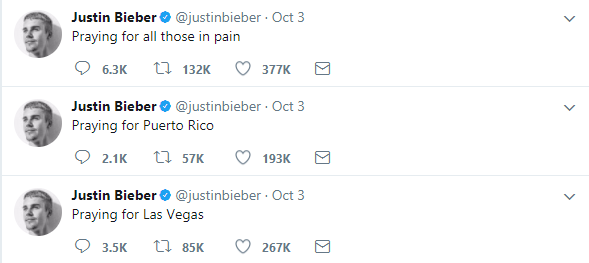 7. The Reaction of the Government
President Trump acknowledged the shooting by saying that it was an "act of pure evil" done by "a sick man, a demented man." On Monday, the President and his wife led a moment of silence at the White House South Lawn for the victims of the shooting.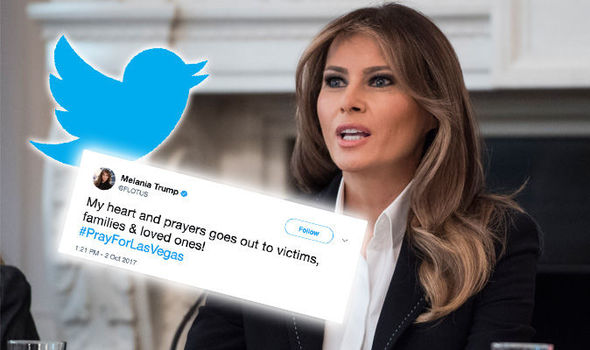 Amidst all the calls for the government to ban guns in the country, President Trump stays quiet about it only saying that he will "look at gun laws as time goes by." Time really passed by the 58 innocent people at the shooting, isn't that enough of a prompt to look at gun laws?
8. #PrayForVegas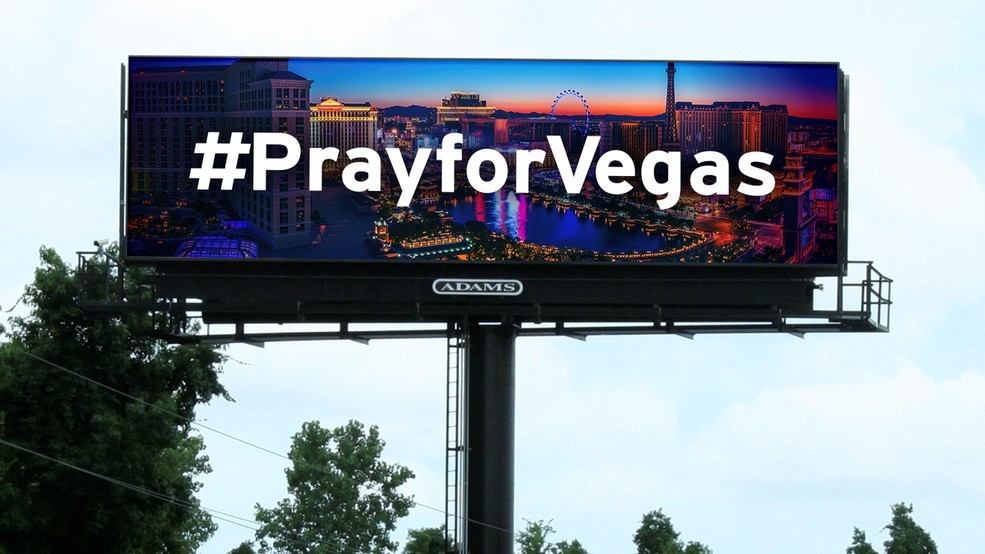 As a city we must come together and recover. #VegasStrong #PrayforVegas pic.twitter.com/yzPF2i9IH2

— leyvx (@CarlosLeyvaLV) October 4, 2017
Netizens worldwide were mortified, paralyzed, and tweeting support as the gruesome events unfolded. All they could do was wait for the news and pray for the victims and the survivors. The hashtag #PrayForVegas trended worldwide as more and more people expressed their grief and sympathized with Las Vegas for the senseless act it has suffered.
In a few weeks time, this will all be forgotten and people will move on the next thing that entertains them or, heaven forbid, the next ghastly event that will occur. But we should never let the negative side of this shooting pin us down in hopelessness that this world will forever be dark. Unite in condemning these barbaric acts and plead for better laws to protect humans then maybe, just maybe, we stand a chance at a brighter future.
Do you have anything else to add? Share it with us!