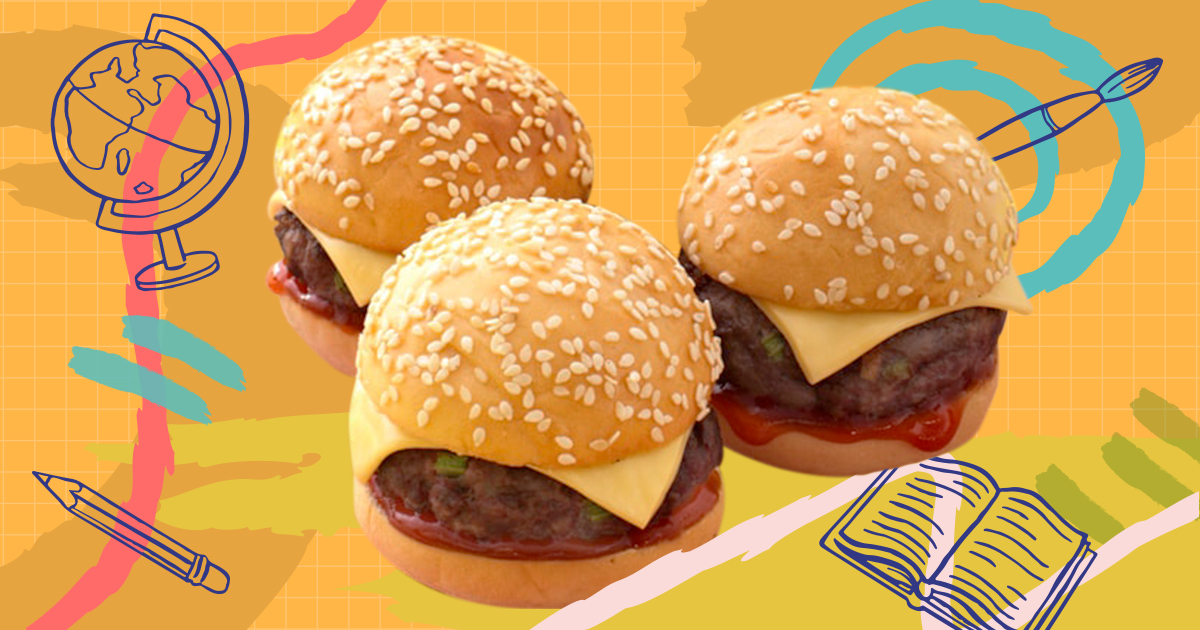 8 Ways to Level Up
Your Kids' Baon
By 8List

Preparing our  kids' baon is something we, as parents, love doing.   Slice up some apples, or prepare the same  sandwich with the same exact palaman every day.  But once in a while we find ourselves wanting to give them more. After all, we're talking about our munchkins, our babies, our rays of sunshine!
Thankfully, leveling up your kids' baon is as easy as adding just one or two ingredients. Some of them may even be in your cupboard already. Check out these 8 easy recipes you can prepare for your little balls of energy. They're so easy, you can even involve them in making these:
Oystar Fried Chicken
Of course, fried chicken is a must-have for kids. We usually batter, deep-fry, then serve them with either gravy or catsup on the side. This time, just add a dash of oyster sauce to kick these goodies up a notch. You won't have chicken any other way after making this. Get the recipe here.
Pork Steak in Mushroom Sauce

Pork steaks are delicious and have slightly more flavor dimensions than fried chicken. All you have to do to make your steaks more flavorful is to rub them with pork seasoning granules before cooking. And the best way to complement this dish's savory goodness and texture is to pair this with mushroom sauce. Don't worry; it's quite easy to make! Get the recipe here.
Chicken Nuggets
Whoever came up with the idea of turning fried chicken into bite-sized goodies should be given a medal. Talk about leveling up! But, like all good things, we can turn this into something even greater. Try this super-easy recipe to ensure that these little nuggets are bursting with flavor!
Mini Burgers
A sure-fire way to get kids excited is to serve them burgers. While it's easy to make them, seasoning the meat can either be a hit or miss. The easy hack here is to use pork seasoning granules to boost the meaty taste of the patty. This easy recipe can be found here.
Ham and Cheese Omelette
Eggs are excellent source of protein for kids, and making omelette is a great way to make eggs more exciting. Sure, ham and cheese omelette is easy to make. But to give them that extra kick in flavor, just sprinkle in some magic. Here's how you do it.
Egg Salad
Yet another exciting way to serve eggs that kids will surely love is through this delicious, classic palaman. Try this egg salad recipe, and resist the temptation to consume the whole thing!
Sweet and Sour Bola-Bola
This classic Pinoy staple is certain to make anyone's mouth water, but to truly bring out the flavor of the meatballs, you have got to try seasoning them with magic. It's a foolproof recipe, with only one secret (yet magical) ingredient added.
Kalabasang Ukoy
A  great way to make kids enjoy their vegetables is through this recipe for Ukoy.  It has shrimps, squash, and sprinkle of magic. Quick and easy, this Ukoy is a healthy snack your kids will surely enjoy!
Is your kid hungry for more of these recipes? Nurture his or her love for food and cooking by trying a new twist to your everyday dishes! Check this page for more easy Pinoy ulam recipes with Maggi's range of products, which includes MAGGI Magic Sarap, MAGGI Magic Chicken, MAGGI Magic Pork, MAGGI Oyster Sauce, and MAGGI Soy Cooking and Seasoning  Sauce  that lets you add more flavor and excitement to everyday dishes!