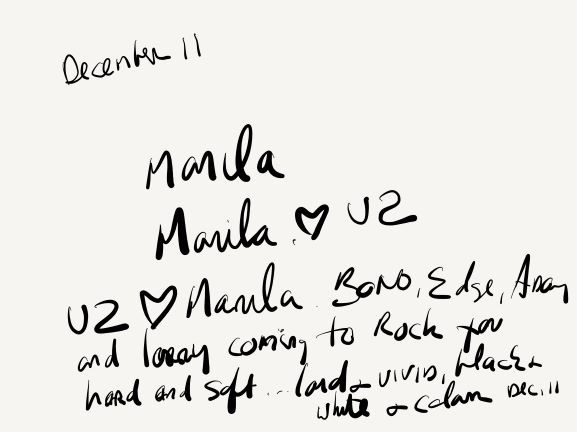 It's just been announced that U2 will be gracing us with their presence at the end of this year, and there's no better way to prepare yourself than to backtrack on the humble beginnings of the most Grammy-awarded band in history. And of course, we'll come to revisit their obra maestro, "The Joshua Tree".
It all started in Larry's kitchen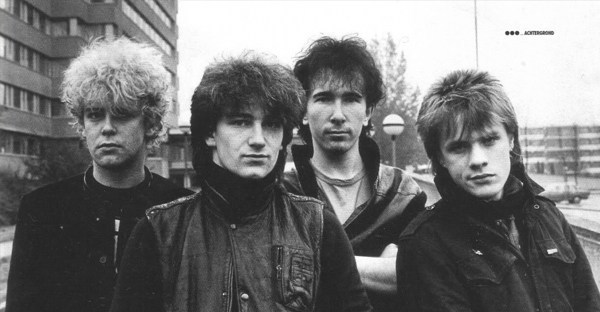 The big rock band we know today actually started out with a bunch of 14-year-olds in a kitchen in Dublin. While attending Mount Temple Comprehensive School, Larry Mullen Jr. wanted to start a band and had their very first practice in his parents' kitchen.
Their favorite anecdote about that day was how it was Larry's band just for a good 15 minutes, until Bono walked into the room.
Stars on the rise, even if it's for nine people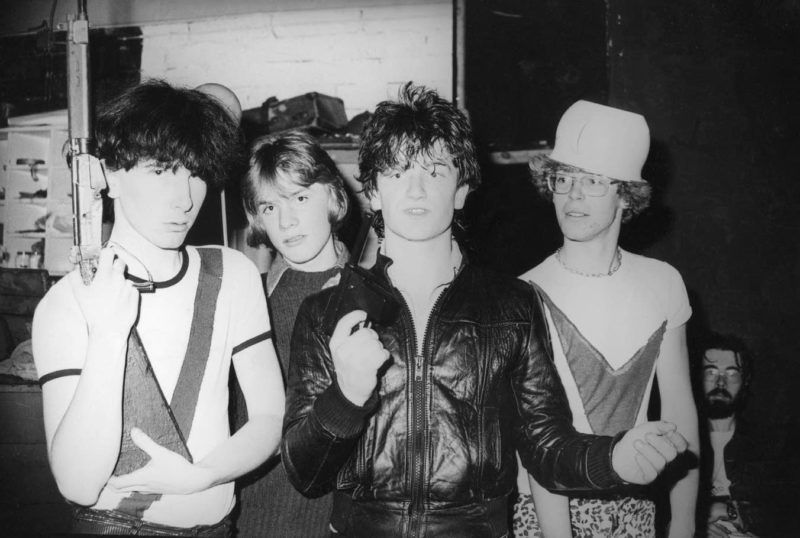 While they're known to break records in attendance now, they started out with small pub gigs like any other punk band. Despite creating noise back in Dublin, they quite hadn't found their big break, having only nine people at their London gig.
There was critical acclaim amongst music connoisseurs in Ireland, specifically Hot Press, who would eventually introduce them to Paul McGuinness, who would become their manager for the next 35 years.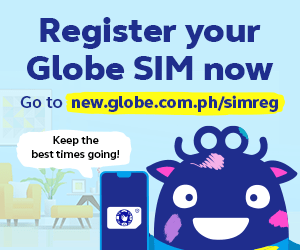 Joining Island Records and Making Their Creative Mark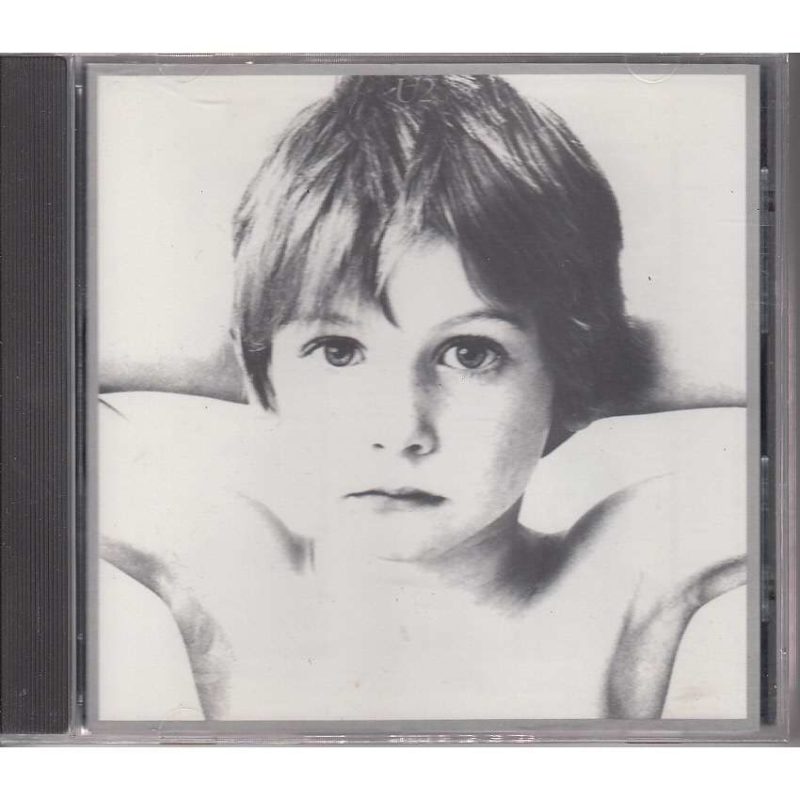 All this was to change as their capacity for empathy and celebration of the spirit of rebellion caught the attention of international label Island Records.
Here, they met Steve Lillywhite, their producer for "Boy", "October", and "War". He knew that U2 wasn't the type to be following the norms and wanted to do something new with producing their songs. The solution: using a bicycle wheel as percussion, among other unconventional things. This became a pillar in U2's discography, having been known to redefine rock with their seriously experimental musical masterpieces.
Post-"War"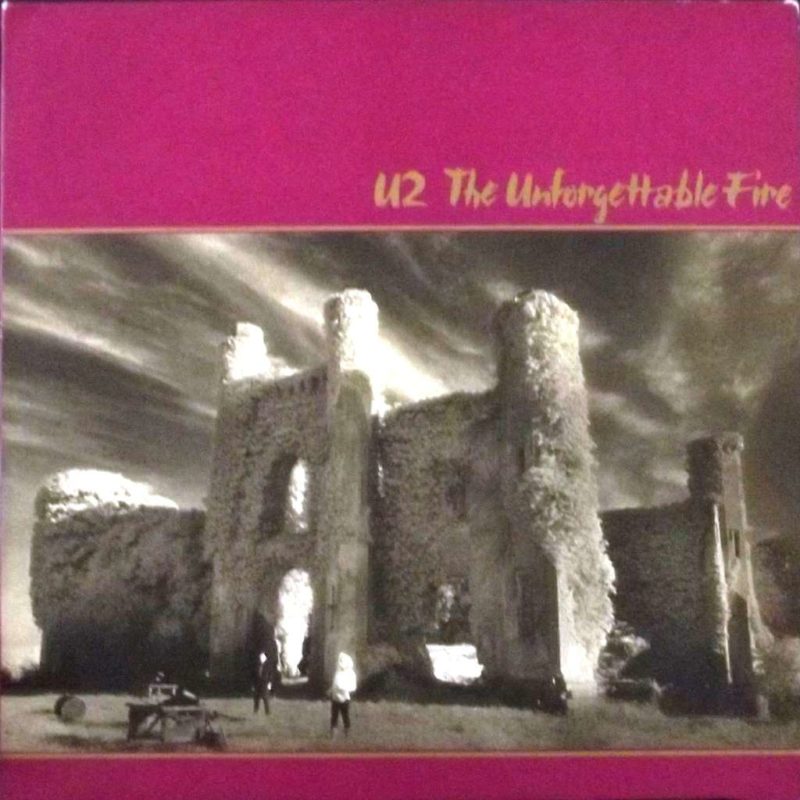 In 1984, they released "The Unforgettable Fire", which was U2's full-throttle foray into the weird. It featured the abstract in an orchestrated setting, with Brian Eno and Daniel Lanois at the control room both metaphorically and literally.
The band had just finished touring their first commercially-successful record, "War", and feared that their music started to become footnotes to the Who and Led Zeppelin. Front man Bono notes, "We felt we had more dimension than just the next big anything, we had something unique to offer."
They took to a castle, deconstructed what was U2, and created a panoramic experience of the sonic kind.
The Birth of "The Joshua Tree" at the Danesmoate House

Following the critical success of "The Unforgettable Fire", the band collaborated once more with Eno and Lanois to produce one of the greatest rock albums of all time.
A major influence was where they recorded the album itself, a Georgian house in the foothills of the Wicklow Mountains. The Danesmoate House proved to be the perfect location for their lodestar of a record. The 200-year-old house was described to have "the low mid-range" of a particular room, where they recorded most of the tracks.
"It has this large living room/drawing room, whatever you want to call it — a big rectangular room with a tall ceiling and wooden floors. It was loud, but it was really good loud, real dense, very musical," Lanois said.
A Love Letter to Mythical America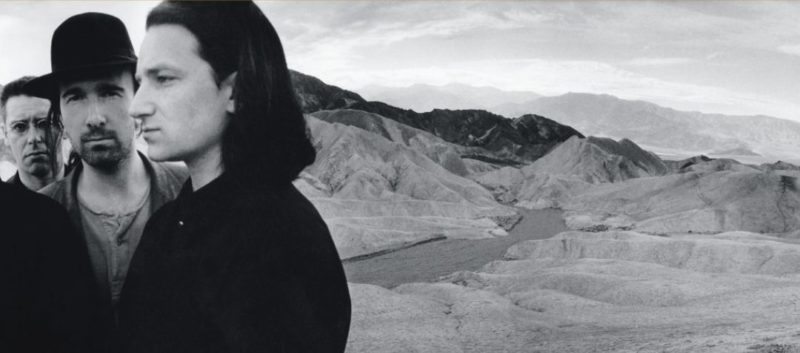 It's often said that "The Joshua Tree" was born out of the band's great romance with America—what it was and what it stood for, its spaces, and its music.
The album explores the band's anger and criticism of the US government, while expressing a fascination with the ideals of "mythical America". There was a strong sense of cinematic quality in its lyrics, even rooting itself in the literature of America.
Out of it came a medley of the spiritual and the sociopolitical, which would later on become one of the world's best-selling albums.
The Primary Colors of Rock Music
The album proved to be yet another shift in the band's musical direction, and it was one that focused on the "primary colors" of rock: guitar, bass, and drums. They had sought out a fusion of American and Irish roots music, while keeping within the essence of rock. In contrast with "The Unforgettable Fire", this new album proved to break aesthetic boundaries while keeping within its limits of conventional songs.
Upon its release, they knew that the world as they knew it was about to change. It dominated US and UK charts, with legendary hits like "With or Without You", "I Still Haven't Found What I'm Looking For", and "Where the Street Have No Name."
Needless to say, its power has and will endure time.
And now you can experience it all live in U2: The Joshua Tree Tour concert in Manila, produced by Live Nation Global Touring and is promoted locally by MMI Live and Prestige Worldwide in association with Smart!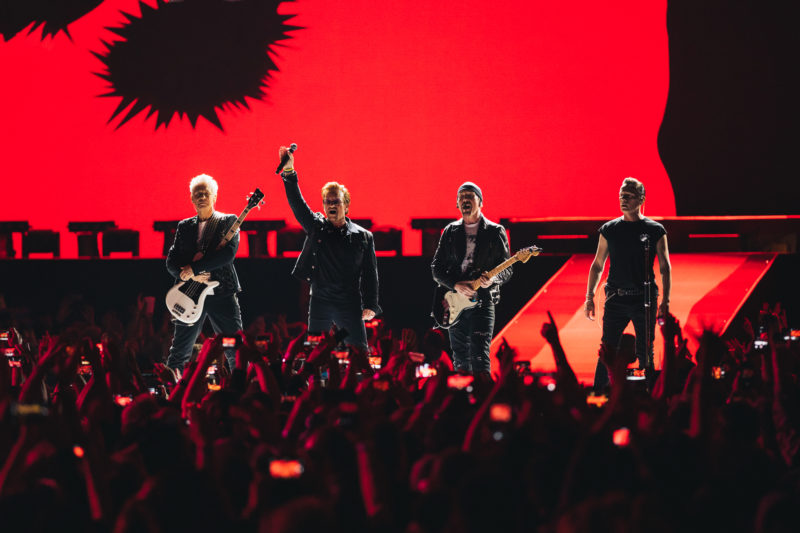 Bono said, "It's only taken me 30 years to learn how to sing these songs and it's great to be able to say that I've finally caught up with the band. Our audience has given the Joshua Tree a whole new life on this tour. Doing these shows has been very special for us, a lot of emotion… From the despair of how relevant some of the dark songs still are, to the joy, pure fun of the staging… it's quite a ride. Manila is a first… and that has everyone on their toes…. this has to be one of the great ones!"
"We really wanted to bring The Joshua Tree Tour to Asia." added The Edge. "We'd always hoped that it would include a show in the Philippines and now we can finally say that we will see you in December… We are very excited".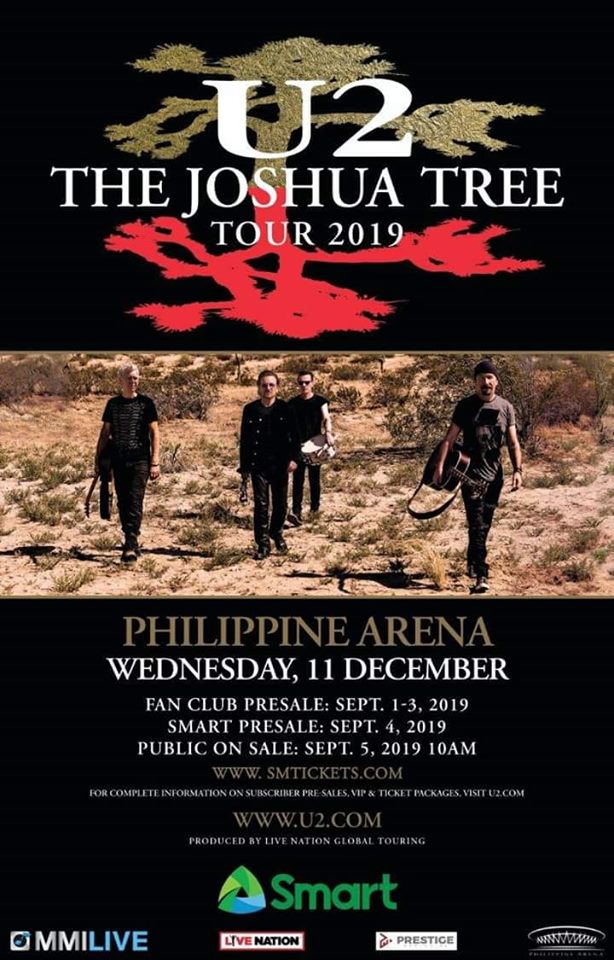 Presale for U2.com subscribers (see www.U2.com for details) will begin on Sunday, September 1st (10am) through Tuesday, September 3 (5pm). Smart subscribers will also receive a 1 day presale Wednesday, September 4 (10am – 11:59pm). General on sale will begin Thursday, September 5 (10am) via SMTICKETS.COM. There will be a 4 ticket limit for subscribers and an 8 ticket limit for public sales. Tickets start at 2,499 PHP with General Admission tickets at 5,250 PHP (plus applicable service fees).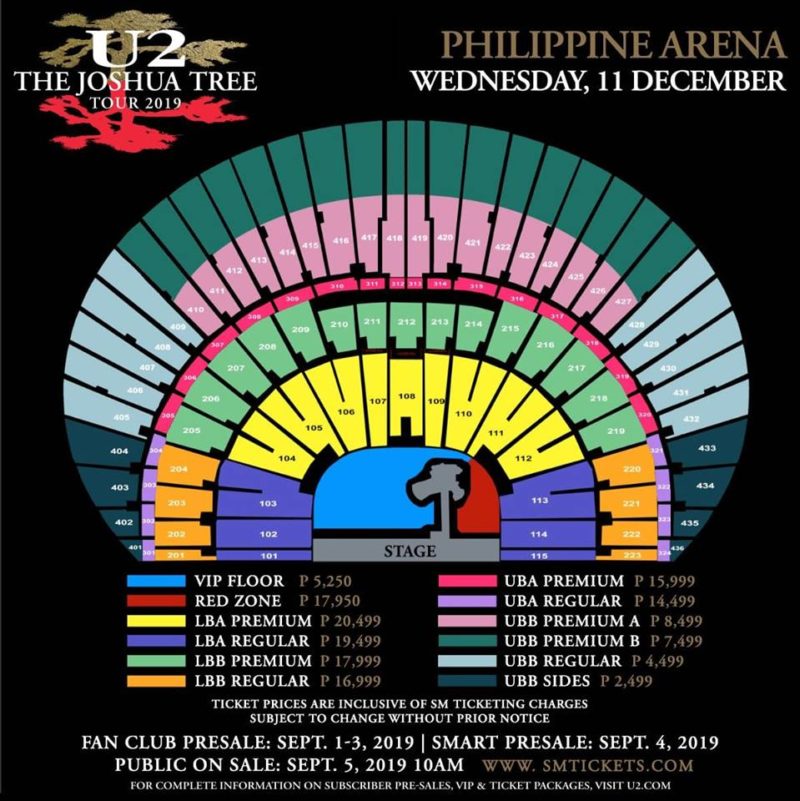 What U2 song changed your life? Share it with us below!