The Age of Artificial Intelligence is Here: Be Nice to Your Computer
Mar 18, 2016 &nbsp • &nbsp Jaime Gonzalo
The Age of Artificial
Intelligence is Here:
Be Nice to Your Computer

We are starting to experience another big rise in technology. Artificial Intelligence is now really being built into machines. Forget watching movies on TV, you can now immerse in the action. Some devices can even replace doctors. Will machines soon become self-aware? May be cool for some but a source of panic for others. Make up your own mind only after seeing the list below.
8. UO Smart Beam
When people are in the market for a projector the desired attributes are: High-Resolution, reasonable brightness, and compactness. So far, nothing has offered the perfect balance. One or two features have to be compromised – usually. Enter the UO Smart Beam. It's the world's smallest HD LCOS Laser Projector. Laser diodes ensure a screen that is bright enough and sharp enough even against daylight glare. Is it portable? Have palm, will travel. Look at the photo again. That's not photoshopped.
7. Microsoft HoloLens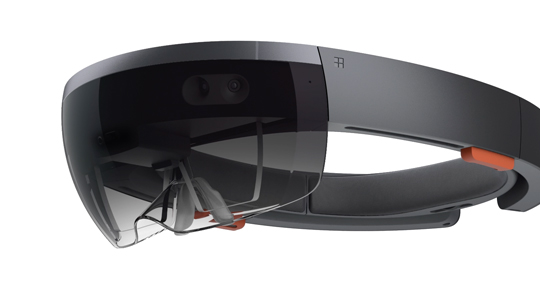 Via microsoft.com
The Microsoft HoloLens is hands-down the best virtual reality device on the market today. It is the first fully untethered, holographic computer that allows you to interact with high-definition holograms. Just imagine the windows of opportunity this device offers. Just make sure you don't get sucked out of the real world.
6. ThinCharge
The bane of the mobile life is the bulky battery case. That clamor has finally been heard. ThinCharge is here, the world's thinnest and lightest battery case – at only 12mm in size and less than 3 ounces in weight. It is exclusive to the Iphone. It's a sleek case that provides your phone with an extra 2600mAh. What's next? A portable wireless charger? Now that's an idea.
5. Sleep Shepherd
For the first time ever, there is a device that actually HELPS a person sleep. The Sleep Shepherd uses binaural beats and brainwaves sensors in a biofeedback loop – helping to improve sleep quality. Basically it tracks the way you sleep – taking note the times of the night when you are in the deepest state of slumber. It helps by sending binaural beats that help calm the brain down in preparation for sleep. It's as simple as wearing the cap on your head, and turning the power on. The developers claim that users have been able to stop using their prescribed sleep medications after gaining access to this device.
4. FishBit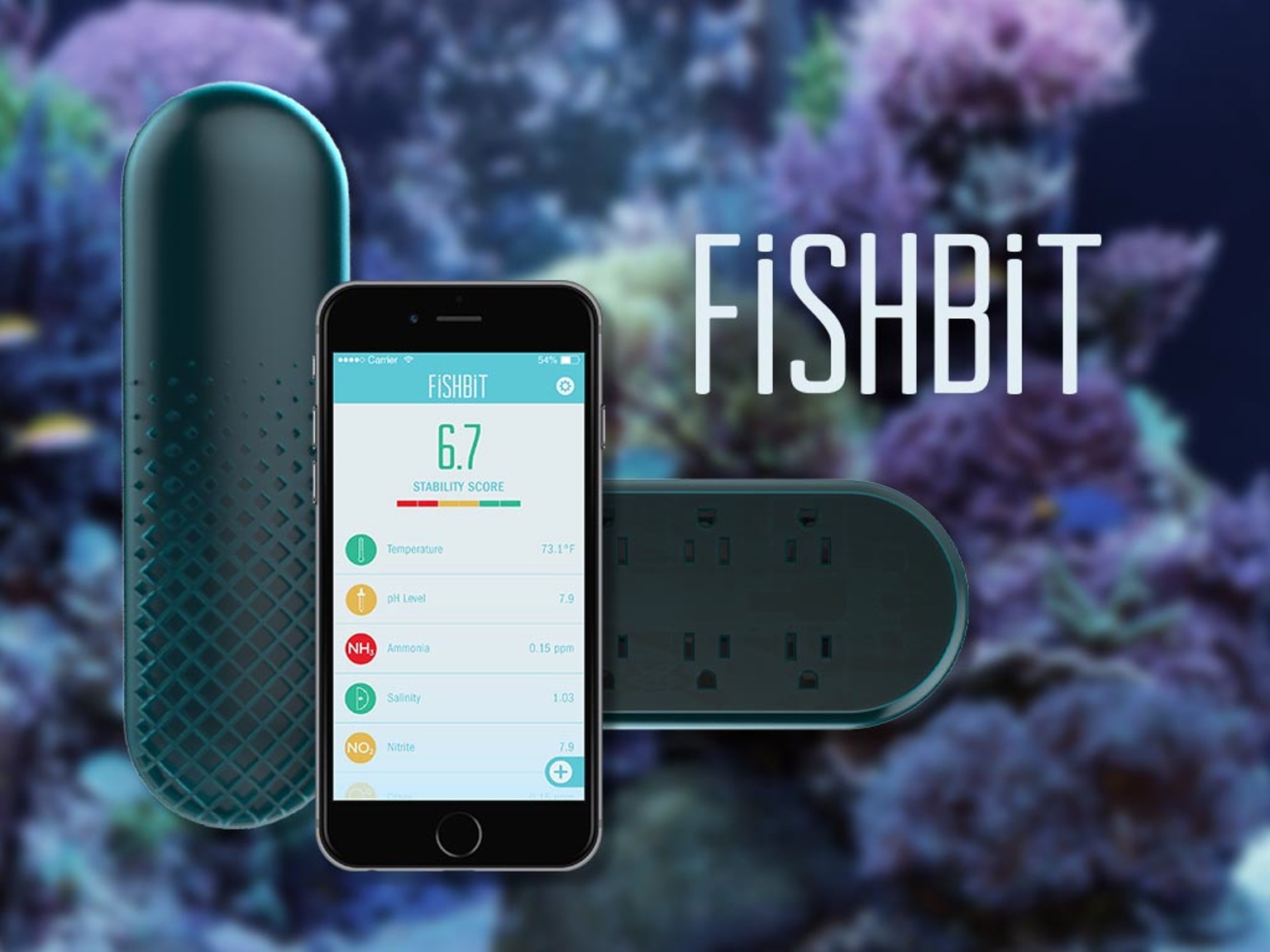 Via kickstarter.com
For all the fish-lovers out there, this device is for you. Fishbit is the world's simplest aquarium monitor and controller. Using real-time measurement of the water and intelligent control of the aquariums devices – making your fish and corals thrive whether you're in front of your tank, or anywhere in the world – as long as you're connected to the internet. You can control the temperature, salinity, lights and the PH level. Basically how it works is – you drop the monitor in the tank, download the app, and control the monitor from your pocket. Crazy genius!
3. Touchjet Wave
The Touchjet Wave is the only device capable of turning your flat screen TV or monitor into a giant tablet. It also has a front-facing camera and dual microphones – allowing videoconferencing, as well as Skype Calls. All you have to do is clip the Touchjet Wave on top of TV and it will project to the screen accordingly. The Wave makes your TV truly smart and interactive.
2. Branto Orb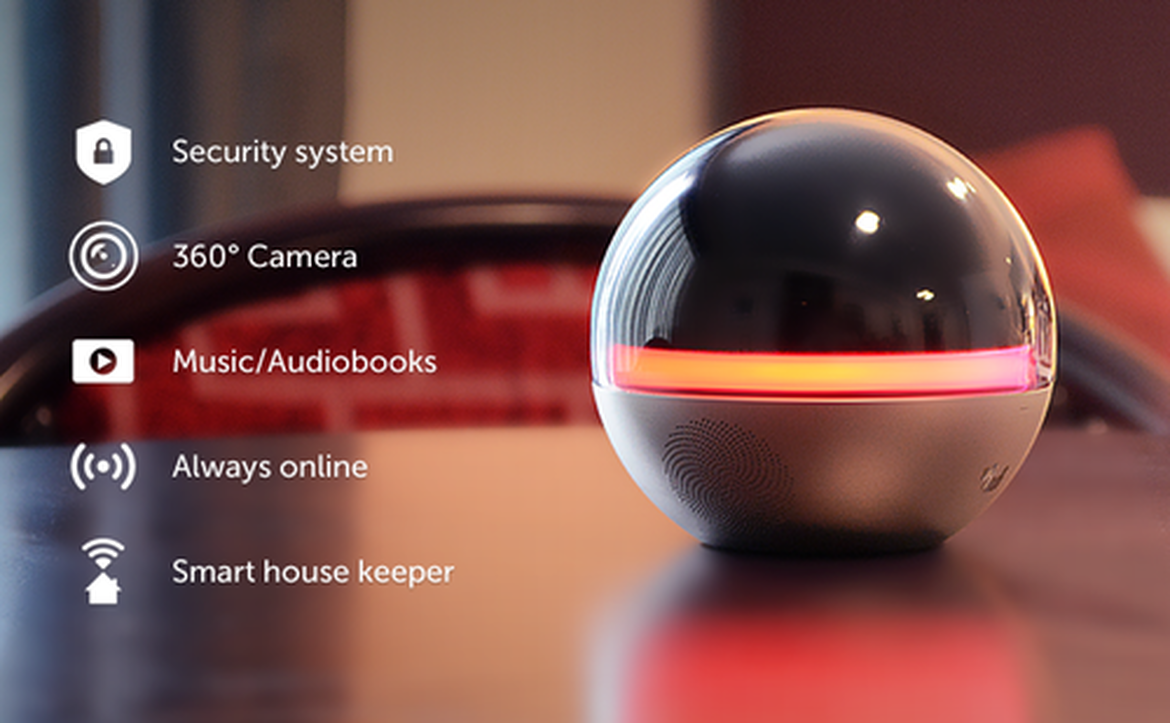 Via zdnet.com
The Branto Orb is an all-in-one security device/360 camera/audio streaming device/remote-control smart device – a midget R2D2 on steroids. You could be building a tower in Abu Dhabi or working an oil rig in the North Sea or anywhere on earth where there's internet/mobile signal, and still spend your coffee break while video-chatting with your family at home. You can remotely control (pan/zoom) the camera for a real-time security walk-through of the house. "Who left the oven on?" It will also alert you to unengaged locks on gates, doors or windows. Everything electronic in the house will respond to Branto Orb. While you're outside, you can prank the TV watchers at home but no, you can't raid the fridge that still requires hands-on. Sorry, Tony Stark, we got our own Jarvis now.
1. Google AlphaGo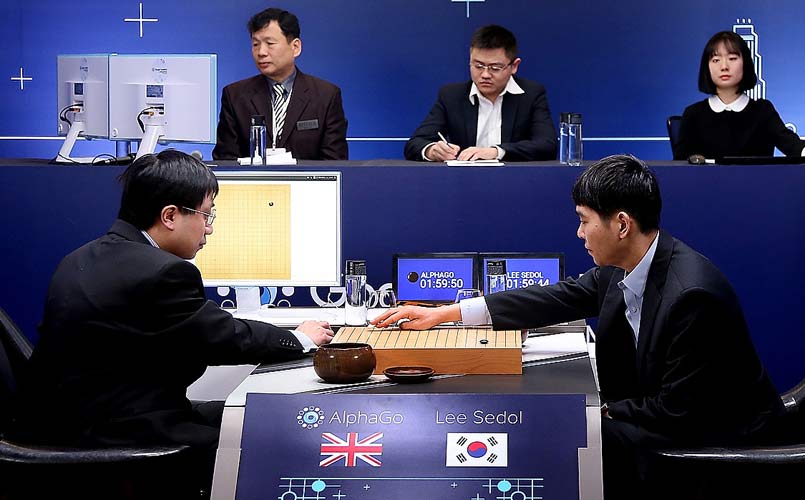 Via bgr.in
AlphaGo is a computer program designed by Google Deepmind to play the board game Go. This is the reason why this list was made. A machine has recently beaten a professional human Go player, 4 games to 1, without handicaps. Go is a game with supposedly too many outcomes for any computer to process thus making the playing field equal – apparently, a meaningless factoid for AlphaGo. Stop and think. A binary configuration has outsmarted a carbon-based life form! Is this the birth a new species, machina sapiensis? Or Tyrannus Algorithmus? Paging Sarah Connor…