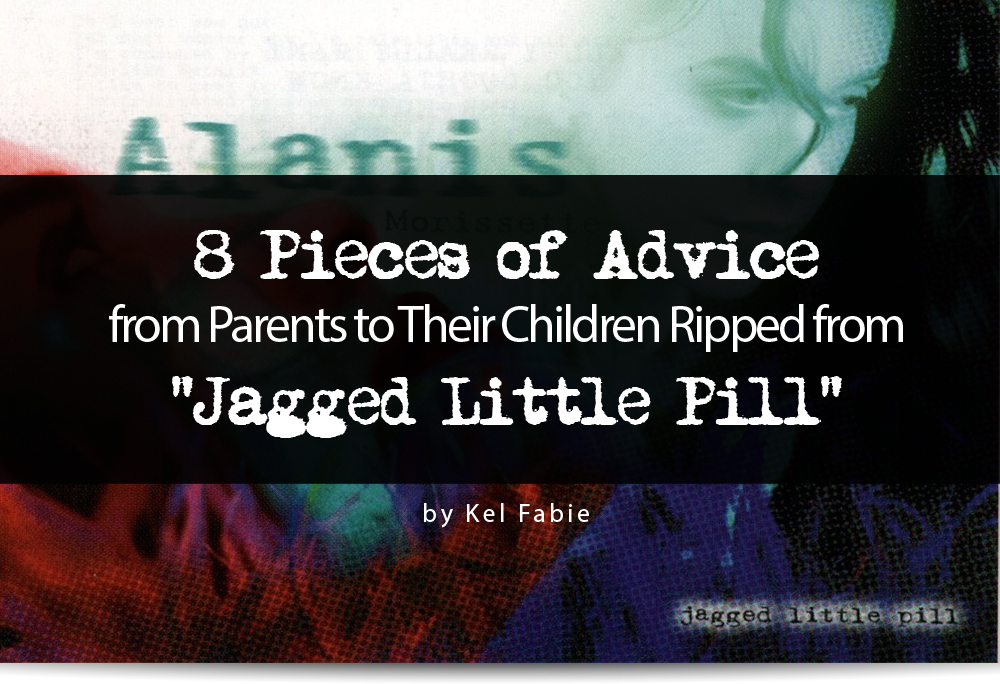 You may have missed the memo, but this year, Alanis Morissette's debut international album, "Jagged Little Pill," officially turned 20. This means that some teenager who was listening to this album way back in 1995 could very well now be raising kids in 2015, and is subconsciously taking parenting tips from Alanis herself, a possibility which is both effective and horrifying.
But what kind of parenting advice do we actually hope to dispense from an album that has earned Alanis Morissette a whopping nine Grammys, including Album of the Year, which made her, at 21, the youngest artist to win that honor until Taylor Swift came along?
Oh, you would be very much surprised (or not, if you still listen to the album every now and then).
8. Grades aren't everything
The Song: Ironic
The Lyric: It's like rain on your wedding day / It's a free ride when you've already paid / It's the good advice that you just didn't take…
The Advice: "Grammar and figures of speech? That's not important at all, son! Look at Alanis Morrissette; She never had the faintest idea what 'irony' was, but she did pretty well for herself!"
7. Karma is a B-word
The Song: You Oughta Know
The Lyric: Did you forget about me, Mr. Duplicity? / I hate to bug you in the middle of dinner /  It was a slap in the face, how quickly I was replaced / And are you thinking of me when you f*ck her?
The Advice: "Son, never stick it in crazy. Never."
6. Prove them wrong (so you can rub it in their face)
The Song: Right Through You
The Lyric: Wait a minute man / You mispronounced my name / You didn't wait for all my information / Before you turned me away…
The Advice: "Son, some people will dismiss you without so much as reading your resume when it ends up on their desk. Make them regret it."
5.The stricter you are, the more rebellious they will get
The Song: Forgiven
The Lyric: I never forgot it, confusing as it was / No fun without guilt feeling…
The Advice: "Son, alam ko: masarap ang bawal. Kaya bihirang-bihira lang ako magbawal sa iyo ng basta-basta."
4. All you need is positive thinking
The Song: Hand In My Pocket
The Lyric: I'm broke, but I'm happy / I'm poor, but I'm kind / I'm short, but I'm healthy, yeah!
The Advice: "Son, I know you have to stop schooling, but look on the bright side – you have light years of a headstart on all your friends in this rat race!"
3. Be better for yourself
The Song: Mary Jane
The Lyric: I hear you're losing weight again, Mary Jane / Do you ever wonder who you're losing it for?
The Advice: "Son, hindi ka niya babalikan porke't may abs ka na." #araykobeh
2. A lesson on biting off more than you can chew
The Song: Your House
The Lyric: I noticed a letter that sat on your desk / It said: Hello love, I love you so, love / Meet me at midnight / And no, it wasn't my writing / I'd better go soon / It wasn't my writing…
The Advice: "Son, don't ask questions you don't really want to know the answers to."
1. The conditions for unconditional love and finding immortality in your progeny
The Song: Perfect (Again)
The Lyric: I'll live through you, I'll make you what I never was / If you're the best, then maybe so am I / Compared to him, compared to her / I'm doing this for your own damned good, you'll make up for what I blew… We'll love you just the way you are / If you're perfect
The Advice: "Son, you're free to choose your destiny! You can be any kind of doctor you want to be."
Did you grow up listening to Alanis in the 90's? Have you gotten any lessons on parenting from the music of that era? Sound off and tell us about it in the comments!