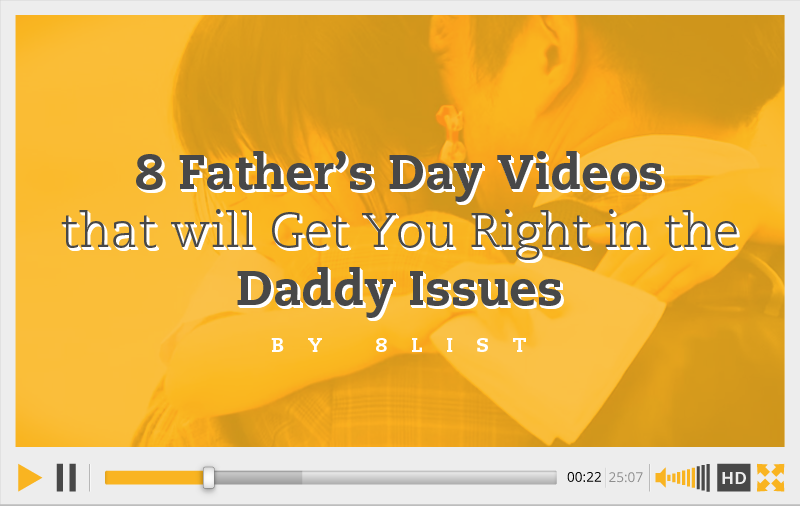 When it comes to having daddy issues, there are more of us in the world than we realize. Whether the 'issue' was absence, an over-the-top presence, or odds and ends in between the spectrum, Father's Day can sometimes become a difficult holiday.
But because we're suckers for punishment, we've compiled some Father's Day videos that will get you right in the feels (even if daddy did love you enough):

We love that the reunion overshadowed the presence of Mr. Yami himself. Look at those faces!


This one goes from "I might actually get through this one without crying!" to "Aww, look at his widdle doppleganger!" before crashing you into choked sobs.

We'll bet you money that you can't get through this Toyota ad without either crying your loving eyes out or picking up the phone to tell your dad you love him.


This one starts off steady enough, mostly like every other teleserye out there, but just when you think daddy bear is going to lay down the law, he does something completely unexpected. Excuse us while we curl up into the fetal position and sob.


In collaboration with Cancer Warriors Foundation, Vikings have invited 5 Dads and their families for a feast they truly deserve. The kids prepared a special Father's Day message as a surprise, what happens next brought everyone to tears.

Posted by Vikings: Luxury-Buffet Restaurant on Friday, 12 June 2015
Excuse us while we head to the nearest Vikings and EAT OUR FEELINGS.


Para sa mahal at pinakamatapang kong tatayNgayong darating na June 21, i-celebrate nating lahat ang pinakamatapang na lalaki sa buhay natin kasama ang Jollibee. Dahil this coming Father's Day, #BeedaSiTatay! :)We're also on Twitter & Instagram: @jollibee

Posted by Jollibee on Tuesday, 16 June 2015
Great, now we have all these feelings and we want some Chickenjoy.


Not everyone comes from a traditional family. That said, not every non-traditional family is broken. Happy Father's Day to the moms who took on both roles with courage and strength!

Daaaaaddyyyy whhyyyyyyy!
And if you aren't crying buckets yet:
What  Father's Day videos have you seen that have gotten you right in the feels? Link us to your daddy issues in the comments section below!