8 AlDub Nation Moments na Dumating sa Tamang Panahon
Oct 24, 2015 &nbsp • &nbsp 8List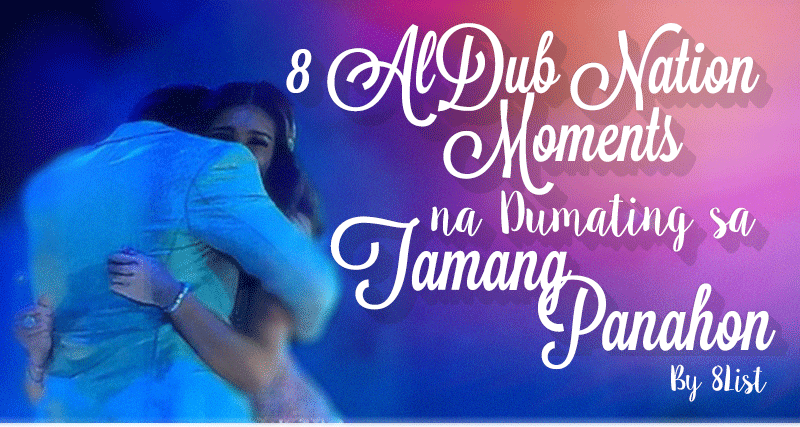 Believers, skeptics and the apathetic alike can all agree on two things: That AlDub is a worldwide phenomenon, and that it's here to stay. Breaking viewership records, creating millions-strong hashtags that trend worldwide with every new event, and pretty much shutting down businesses so that people can watch each episode is just a regular day at work for this cast and crew.
Whatever your opinion of Eat Bulaga's game changing Kalyeserye, one thing that can't be denied is the talent of the actors behind it. With the line between who they really are and the characters they play blurred, it's easy to relate to one or the other, and it's even easier to share the same hopes, dreams and values that they do.
In case you missed it, here are 8 of the moments you missed from Tamang Panahon.
Because only badass b*tches go from helicopter to golfcart to van to flashmob with, might we add, matching cheerleaders doing stunts!

At over 55 thousand attendees (100 times the crowd of Broadway), over 20M tweets and P15.3M raised, Eat Bulaga's Aldub Sa Tamang Panahon event donates 100% of the event proceeds towards building, restoring and creating libraries for public schools across the country.

Some highlights from today's EP (Alden & Maine: Part Two) @mainedcm @aldenrichards02 #ALDubEBTamangPanahon pic.twitter.com/jtYcfSbkLJ

— ALDUB Vines HD (@aldubvines) October 24, 2015
Lola Nidora finally gave her blessing for Alden and Maine to be together, following a number of challenges that she had put the pair through. She cited the Tamang Panahon event to serve as the introduction of AlDub to the public as a couple. To the collective kilig of fans and Dabarkads, she said that this would only be Level 1 for them. No more split screens, no more communicating through DubSmash, no more barriers and no more rules—this would be the beginning of their love story.
Viewers were treated to flashbacks of the Lolas when they were younger, with hilarious matching photographs for their childhood and lives growing up, tied in with a great dance number.
Alden who? Baste, u da real Prince Charming!

My Bebe Love Teaser

Posted by Lola Nidora on Friday, October 23, 2015
The Lola's also introduced "My Bebe Love" to fans today, showing the trailer for the full-length AlDub film that will be released on December 25th this year!

This was a very emotional & very symbolic moment. #ALDubEBTamangPanahon pic.twitter.com/00ctGXRhut

— POCHOY BALLESTEROS (@impochoy) October 24, 2015
"Masmasarap ang mga bagay na pinaghihirapan," said Lola Nidora, tearfully holding the hands of Yaya Dub and Alden. "Ang mga bagay na hinihintay hanggang sa tamang panahon."
The couple finally gets Lola Nidora's blessing, but before they even hold each other's hand they chase after Lola to give her their thanks. The three embrace, giving fans one of the most heartfelt and genuine moments of the Kalyeserye so far.

Some highlights from today's EP (Alden & Maine: Part Nine) @mainedcm @aldenrichards02 #ALDubEBTamangPanahon pic.twitter.com/QRbghbZMvP

— ALDUB Vines HD (@aldubvines) October 24, 2015
"Ang dami nang nagbago sa buhay natin," Maine tells Alden in her real voice. "Pero isang bagay ang hindi magbabago, at yun ay ikaw at ako."
Now that the two can finally be together, fans have so much more to look forward to in the progression of their love story. For every happy tear shed that the couple can finally be together, the AlDub Nation is guaranteed the corresponding number of kilig moments in the future.
What are your favorite moments from the AlDub Tamang Panahon event? Leave a comment and share the kilig!