It's that time of the year once again to celebrate Japanese culture through film. Eigasai Japanese Film Festival 2018 will be treating us to a varied roster of Japanese feature films that touch on drama, romance, and comedy, with a couple of documentaries and an animated film as well.
From July 4 to August 18, you can catch these handpicked masterpieces at specific areas around Metro Manila: Greenbelt 1 Cinema 2, the CSR and Escalar Hall of Ateneo de Manila University, the Cultural Center of the Philippines, Cinematheque Center Manila, and the UP Film Institute at UP Diliman.
Here's what you should know to be fully prepared for the festival:
You should reserve tickets for Greenbelt 1 screenings

Just like the previous years' screenings at EDSA Shangri-la Mall, the film screenings at Greenbelt 1 Cinema 2 will cost PHP 100 per movie. You can reserve tickets online at www.sureseats.com, or at the Greenbelt 1 cinema booth starting June 27, 2018.
It's a first come first serve basis for other venues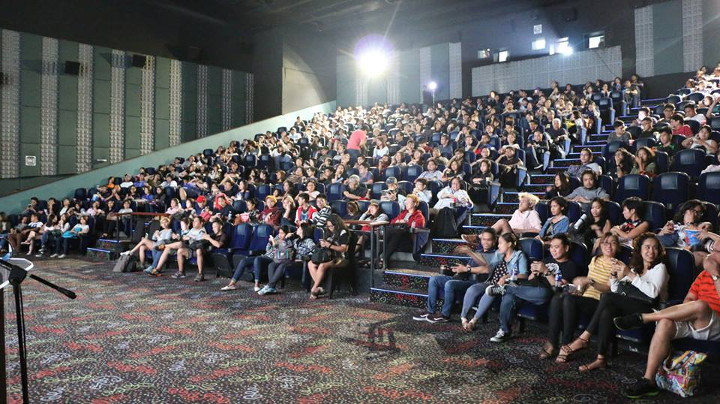 Don't worry; Eigasai 2018 is free for all other venues, including those outside of Metro Manila! But remember that all film screenings are on a first come first serve basis, so line up and get your tickets early if you want to get good seats!
There are three chances for you to catch Chihayafuru Parts 1 to 3
Every year, Eigasai shows an opening feature film to kick off the entire event, and this year, there will be three! Three parts, that is. Chihayafuru, a manga-to-film adaptation about Ayase Chihaya and her childhood friends who are bound by their common love for competitive karuta (Japanese traditional playing cards) and form a club to train and compete in the national championship. Eigasai 2018 will be launching Part 3 of the film series on July 4 at Greenbelt 1 Cinema 2 to an audience of invited guests, but here are the three other opportunities for you to watch all three parts:

There are three special screenings with talks and Q&As you can attend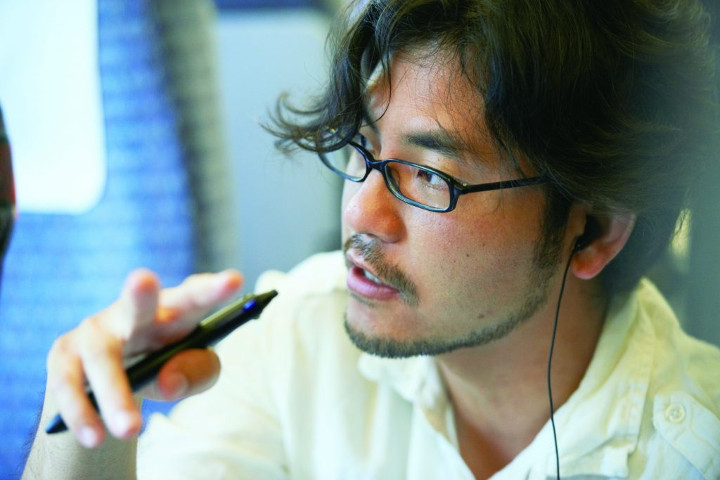 There will also be special talks this year by Directors Koizumi Nori of Chihayafuru and Toda Hikaru of Of Love and Law, and by the original author of When The Curtain Rises, Hirata Oriza. You can attend the talk of Director Koizumi Nori on July 6 at Escalar Hall, ADMU and July 7 at Greenbelt 1; Director Toda Hikaru on August 4 at CCP and August 5 at Cinematheque Center Manila; and Director Hirata Oriza on August 17 at CCP.
Eigasai 2018 will also be coming to Cebu, Davao, Bacolod, and Naga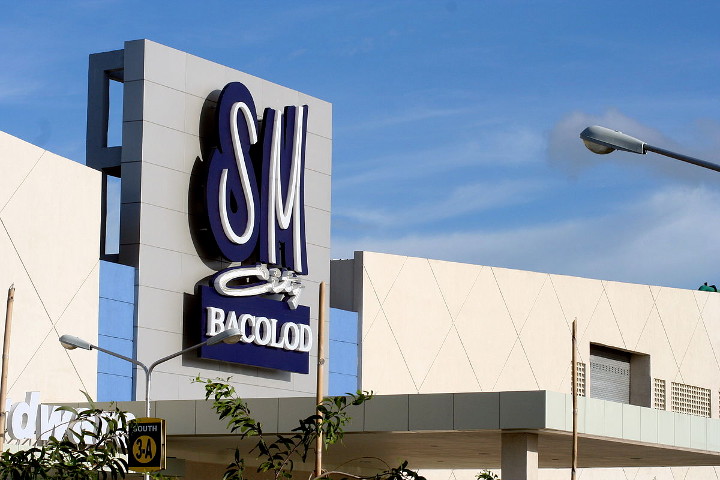 Eigasai 2018 won't just be screening Japanese films at Metro Manila; it will also be catering to audiences outside of Manila to save them a plane ticket! Catch these films at Ayala Center Cebu City from August 23 to 26, at SM Cinema Davao City from July 12 to 15, SM Cinema Bacolod City from August 9 to 12, and at Ateneo de Naga University and SM Cinema Naga City from Juky 26 to 29.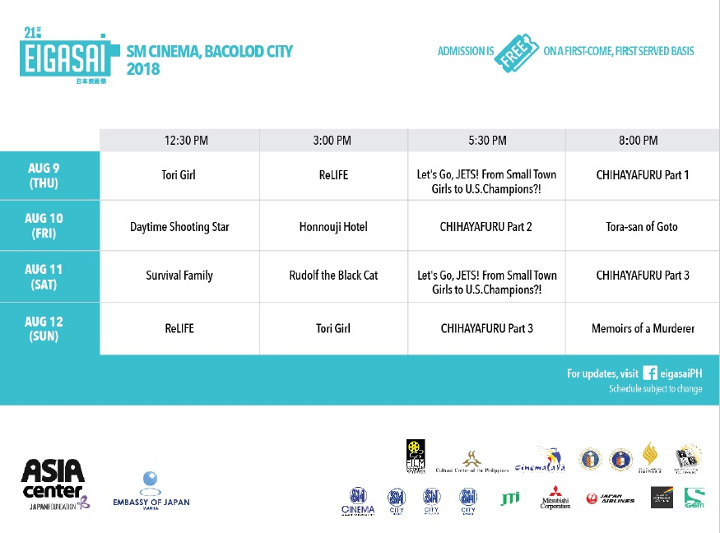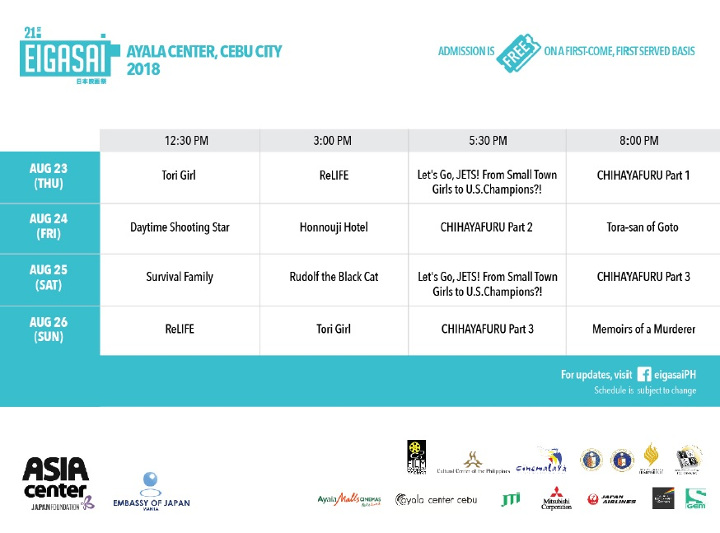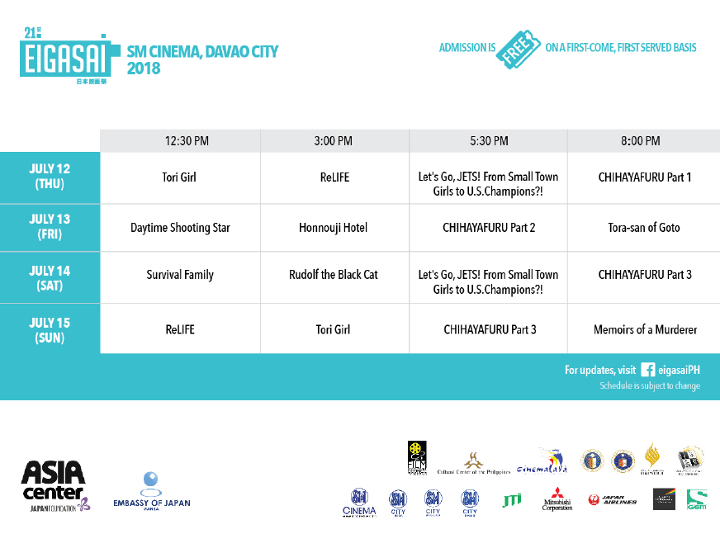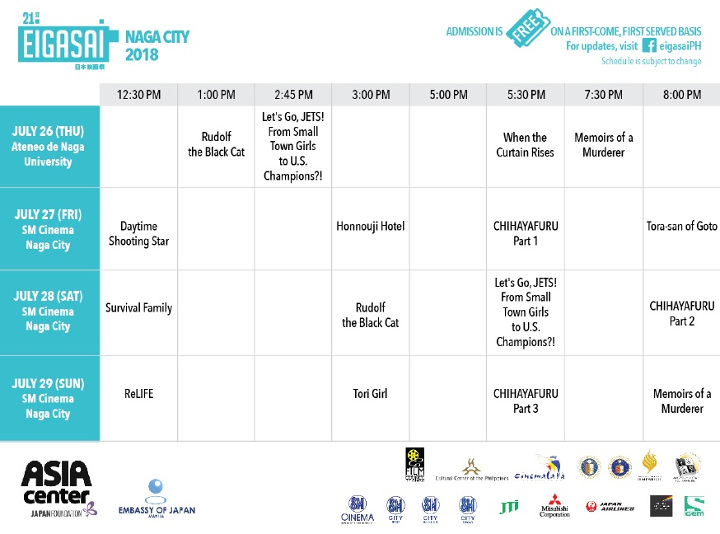 Don't miss the documentary Of Love & Law for #Pride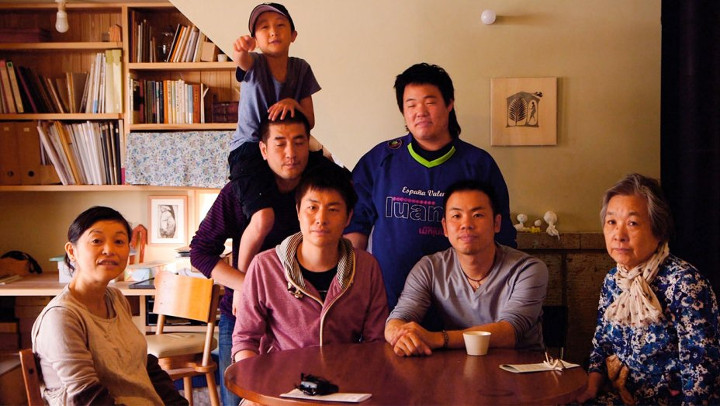 In celebration of Pride, Eigasai is also bringing a 94-minute documentary by Toda Hikaru that discusses the lives of Japanese locals who are silenced and shunned by society and its laws. Of Love & Law follows an openly gay couple who run a law firm together and work hard to defend the rights of their clients who suffer being outsiders in their own country.
You will also be able to catch this film at this year's Cinemalaya.
If you want a mystery thriller film, catch Memoirs of a Murderer
There will be one sole mystery thriller film this year, and it is Hanabusa Tsutomu's Memoirs of a Murderer, a remake of 2012 Korean film Confession of a Murderer. After five mysterious murders that were left unsolved in 1995, a man claiming to be the culprit goes public after 22 years to launch the book he wrote confessing all his crimes. It's a film that will bring you closer to the edge of your seat with every twist that arises.
Here are all the other films you might want to catch this season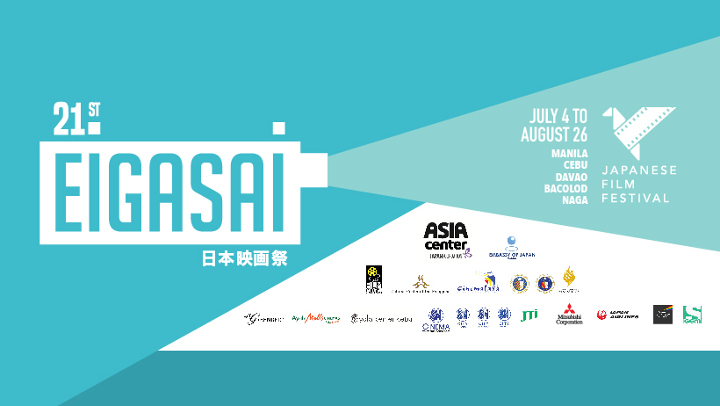 Here are all the other titles featured this Eigasai 2018:
When the Curtain Rises (dir. Motohiro Katsuyuki) — a story of high school students who aim to bring their lowly drama club to the national championship.
Daytime Shooting Star (dir. Shinjo Takehiko) — a story that depicts the love triangle between Suzume, her classmate, and her homeroom teacher.
Seven Samurai (dir. Kurosawa Akira) — a 1954 film about a mountain village who hires a band of samurais to fight against bandits.
Let's Go, Jets! (dir. Kawai Hayato) — a film based on a true story of the Fukui Commercial High School cheerleading team's victory at the US championship.
Rudolf the Black Cat (dir. Yuyama Kunihiko and Sakakibara Motonori) — an animated film about two cats.
Survival Family (dir. Yaguchi Shinobu) — a drama that follows a family's efforts to survive a world without any electrical power.
Honnouji Hotel (dir. Suzuki Masayuki) — a story about a directionless woman who checks into Honnouji Hotel and travels back in time to 1582 to meet warlord Oda Nobunaga.
Tora-san of Goto (dir. Oura Masaru) — a documentary made in over 22 years chronicling the life of a large family of udon makers in Goto, Nagasaki.
Tori Girl (dir. Hanabusa Tsutomu) — a film which tells of the Human Powered Flight club and the preparations they make for the summer contest.
ReLIFE (dir. Furusawa Takeshi)—a live-action film adaptation of a popular anime which follows the life of Kaizaki Arata who participates in an experiment which makes him look 10 years younger so he could live for one year as a high school student.
What are you most excited for this Eigasai 2018? Sound off below!