Ambrose Bierce aptly described a ghost as the "outward and visible sign of an inward fear" in his satirical and supernatural compendium The Devil's Dictionary.
The second season of the anthologized horror series The Terror, dives deep into the parallel hauntings of near-forgotten history and distant folklore that both become eerily relevant as the US currently writhes in the throes of a sweeping immigrant policy with similar detention camps.
This time, these 10 episodes follow a group of Japanese immigrant families in America during WW2, when they were rounded up by US military forces into internment camps as part of a security policy in the wake of the attack on Pearl Harbor. As this is happening, a malevolent supernatural force has surfaced and exacted a haunting that's both terrifying and murderous, seeking some kind of enigmatic revenge on the protagonist Chester Nakayama (Derek Mio) and his family—including his pregnant Latina girlfriend.
Here's a quick primer on the new series executive produced by Ridley Scott, about how Japanese ghosts can impact and inform one of the darkest, most shameful times of American history. Oh, and George Takei stars in it.
INTRODUCING THE YUREI
https://www.youtube.com/watch?v=NR5F3pSLnSU
Folklorist Lafcadio Hearn wrote that in Japan, "…the hand of the dead was heavy, it is heavy on the living even today."
In the opening scene of the first episode, a Japanese-American woman (Yuki Morita) caparisioned in full traditional kimono and slippers, is seen stumbling and stutteringly moving on a dock on the fishing village of Terminal Island and ends her own life by stabbing her brain through the ear with a chopstick she pulls from her coiffed hair.
An excellent image that establishes the body grotesque obsession of most J-horror and, as the episodes progress, we are taken into a deep dive of how, as Hearn wrote, the Japanese feel "The Rule of the Dead" on their hearts and lives quite keenly since the yurei, the ghosts that need appeasing, are legion, and they all want different things so they can move on—from a simple need to thank someone to the massacre of a whole clan.
THE NAKAYAMAS AND THE WAR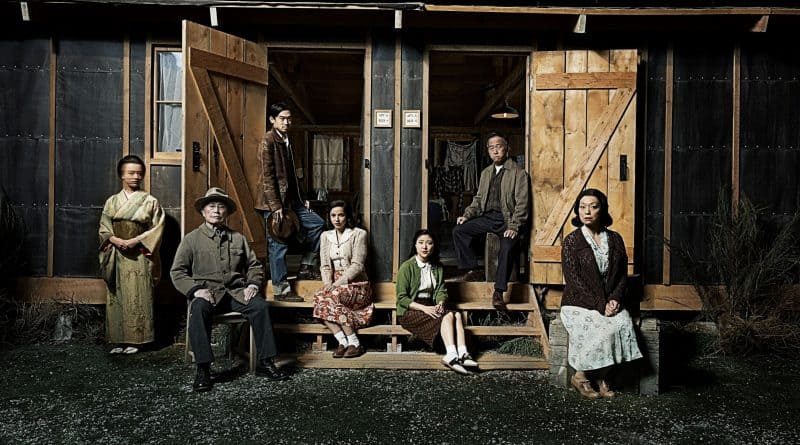 Our ensemble cast focuses on the family drama of the Nakayamas of Terminal Island, a small fishing village off the coast of California of mostly Japanese immigrants. Our hero is Chester, the second generation son of fisherman Henry (Shingo Usami) and Asako (Naoko Mori), but he wants more out of life than simply bargaining with WASP fish packers and mending nets.
He's studying at university and doing photography as a serious hobby. He's also been dating beautiful Spanish-American girl Luz Ojeda (Cristina Rodlo), even as their relationship hits a few rocky spots and their lives get entangled pretty badly when Pearl Harbor is attacked on December 7 1941 and President Franklin Roosevelt signs Executive Order 9066.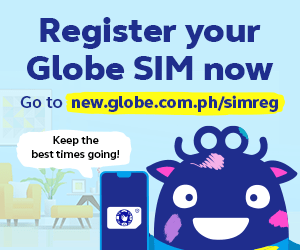 THE JAPANESE CONCENTRATION CAMPS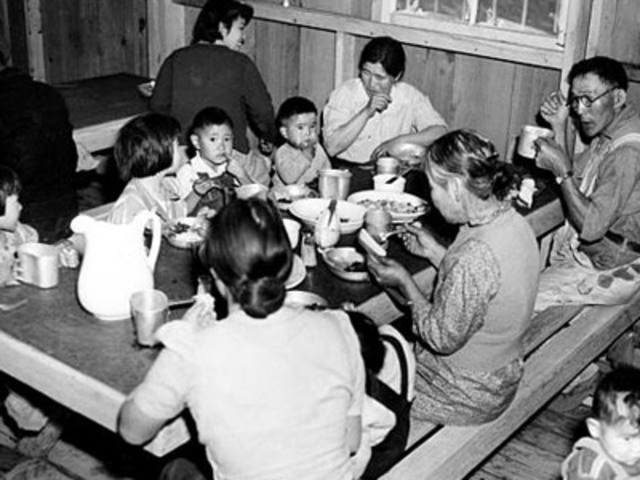 From 1942 to 1945 Roosevelt's policy that all people of Japanese descent needed to be herded to isolated camps was carried out through Executive Order 9066, to prevent espionage on American shores in light of the attack by Japan and the Axis powers.
All in all, there were 10 permanent housing camps called Relocation Centers in Montana, New Mexico, and North Dakota, with approximately 15,000 Japanese Americans living in them. Anyone who had at least 1/16th Japanese blood or ancestry in them needed to be separated from the rest of the American populace.
In the series, we see the citizens of Terminal Island (including Chester and his family), around 1,300 of them, herded into buses and later setup at a relocation camp where they lived in horse stalls,  livestock pavilions, and cow sheds.
OH, MY. GEORGE TAKEI LIVED THROUGH IT
https://www.facebook.com/brutamerica/videos/1734051723405267/
Co-created by Alexander Woo and Max Borenstein, these guys made sure to that the experience of living and being imprisoned in a Japanese internment camp during World War II was accurate by enlisting the help of the famous George Takei.
Takei, who's most iconic role was as Sulu of Star Trek the Original Series, lived through the being at one of the camps as a child with his parents. He not only stars as the hoary-headed wise old man Nobuhiro Yamato, but also serves as a consultant for authenticity of historical events.
BAKEMONO: THE FURIOUS YUREI
While a yurei is the ghost of a person, it also falls under the larger set of supernatural creatures known as bakemono, the traditional monsters of Japanese folklore which means "changing things."
In the series we can't tell at the onset what Yuko Tanabe (Kiki Sukezane) is, if she's simply a yurei with a grudge or a powerful bakemono elemental. Simply that she wants revenge.
In Japanese folklore the yurei can never be destroyed, only appeased, and so finding out their purpose and trying to help them fulfil their mission or performing the proper rituals to abjure or contain them are key. Since ancient times in Japan, calamities and disasters were said to be the work of yurei, even forest fires, typhoons, and earthquakes. Angry ghosts abound and their fury has no equal.
LUZ, A MINORITY AMONG MINORITIES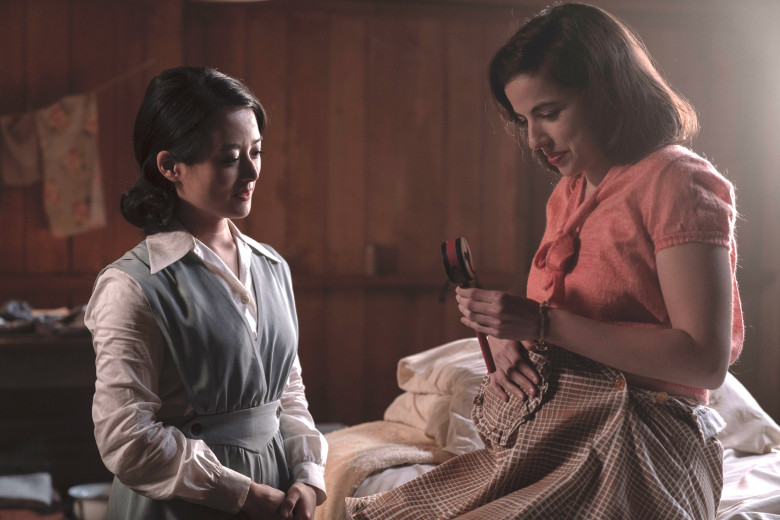 The role of Cristina Rodlo as Luz Ojeda, Chester Nakayama's girlfriend is an interesting one that bears watching as it plays on the dimensions and experience of the outsider among outsiders.
A Latin woman among Asians, she has a unique perspective on racism. As she and Chester try to take their relationship into more intimate waters, their romance isn't just hindered by the war or the concentration camps, but also the prejudice of the Japanese. As a second generation South American immigrant she could possibly have simply opted out of the whole fiasco, but chose to stay with Chester. She is branded as a whore and a slut by Terminal Island's Japanese girls. And even Chester's family sees her as a corrupting force that has led a promising Japanese-American man astray with her seductive Latina ways.
A case of minorities discriminating against other minorities? You betcha.
BAKEMONO: THE MARAUDING OBAKE

One of the most interesting aspects of Japanese folklore and hauntings is how ghosts seep into almost all aspects of daily life.
Since Japan has a deep and rich history of ancestral worship, there's even a name for their ghost religion: Goryo Shinko, like a detailed and highly elaborate resource on how to live, deal with, and appease the dead. Like folklorist Lafcadio Hearn said "In Japan, the hand of the dead was heavy" and the transmittal of such esoteric and archaic information, their oral and written history about the supernatural is called kaidan.
These histories state that, if a person dies violently, by being murdered or committing dishonorable suicide, or if the proper burial rites are not performed, the person's spirit is kept from a peaceful afterlife and thus become yurei or obake.
Yuko in the series is depicted as a powerful and marauding kind of bakemono or obake, the shape-shifting monster she has become because of the atrocity inflicted upon her before death, imbuing her with the powers she needs to extract the kind of revenge she desires.
Yuko's face appears blurred in photographs and we see her in the first episode walking in a disjointed and jerky manner, her hands and feet, dangle limp and lifeless from her wrists, as depicted in classic Japanese art, her elbows held near the body. In some artists' rendering obake lack legs and feet, preferring to simply move by floating.
HISTORY AS TRUE GROTESQUE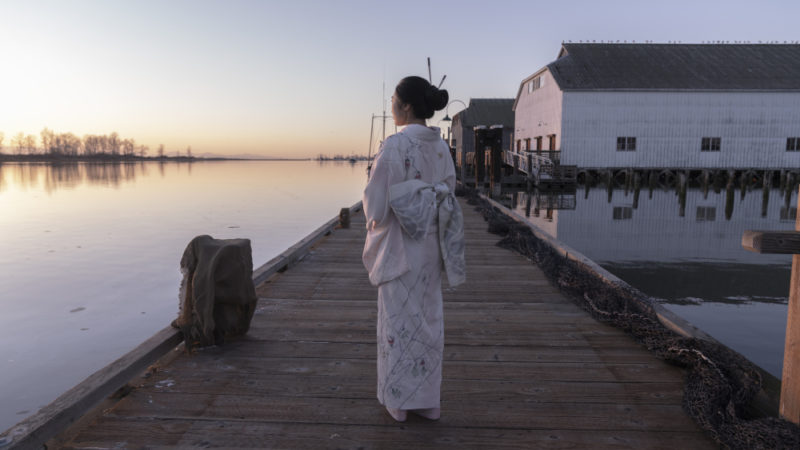 While the rampaging Yuko and her mysterious quest for revenge on the citizens of Terminal Island already imbues a horrific aura of the Grand Guignol to season 2, it really does pale in comparison to the eerie chord the 1940s concentration camps evoke in current events.
As history reprises itself through intolerance along racial lines, reports of babies and children forcible separated from their families, and immigrant detention camps functioning more like Guantanamo Bay, the concurrency of Infamy's inquiry into what makes for xenophobia and a haunting of the crimes that spans generations can't helped but be held to the light.
Is there a difference in purpose and method between the herding of Japanese–Americans into concentration camps back in WW2, and the detention of Latinos and Muslims at the US border in 2019? George Takei sees none. Simply a sweeping and indiscriminate policy of prejudice.
This repetition is the true haunting, the visible, outward sign of an inward fear writ grand. Something that will eventually birth more yurei.
"The Terror: Infamy" is currently showing on AMC.