8 Ways Manila is Preparing for the APEC Summit
Nov 12, 2015 &nbsp • &nbsp 8List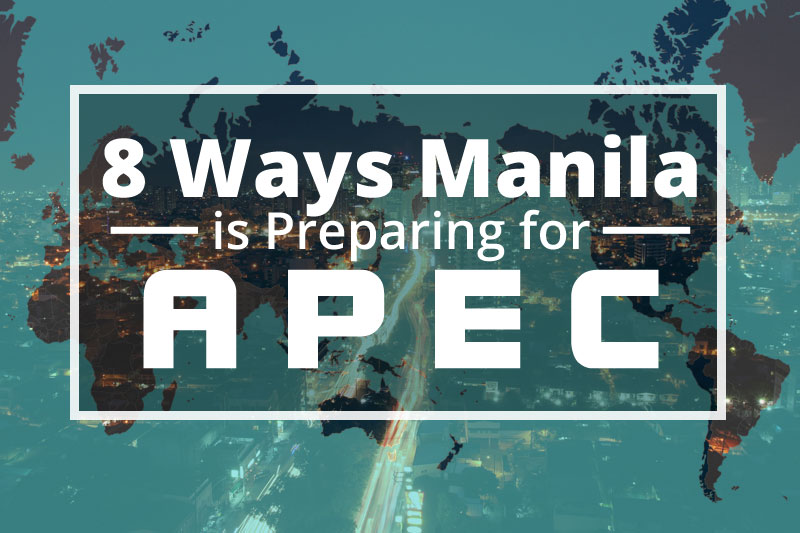 News about Manila's turn to host the Asia-Pacific Economic Cooperation (APEC)  is everywhere. The whole metro is buzzing about the coming APEC Leaders' Meeting (AELM) on November 16 to 20, and its foreseen effects on business and the capital's daily activities. Suspension of classes and work, cancellation of flights and road closures are just some examples of the major changes the metro will be experiencing next week.
These changes may be viewed as a hassle, but preparations must absolutely be made. After all, it's not every day (or every year) that 21 world leaders, along with thousands of APEC delegates, are in Philippine soil. It's only natural that the government, the organizers and inhabitants of the metro are kind of freaking out about it. With great honor and responsibility, here are 8 ways Manila is being prepared to host the APEC Summit from Monday to Friday next week.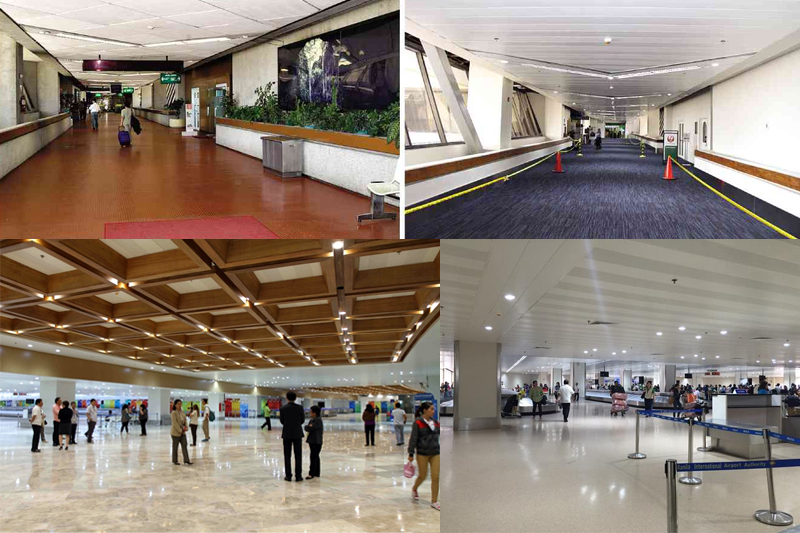 After being plagued with several pronouncements that NAIA is one of the world's worst airports, NAIA is finally out of infamy in time for APEC. NAIA's Terminal 1 has been renovated, which includes a presidential lounge for the heads of state, better sewage system, structural retrofitting and improved facilities for security. The country has spent a total of P1.3 billion for the renovations.
The Department of Transportation and Communication has requested foreign airlines to move to NAIA 3 with the hopes of decongesting NAIA 1.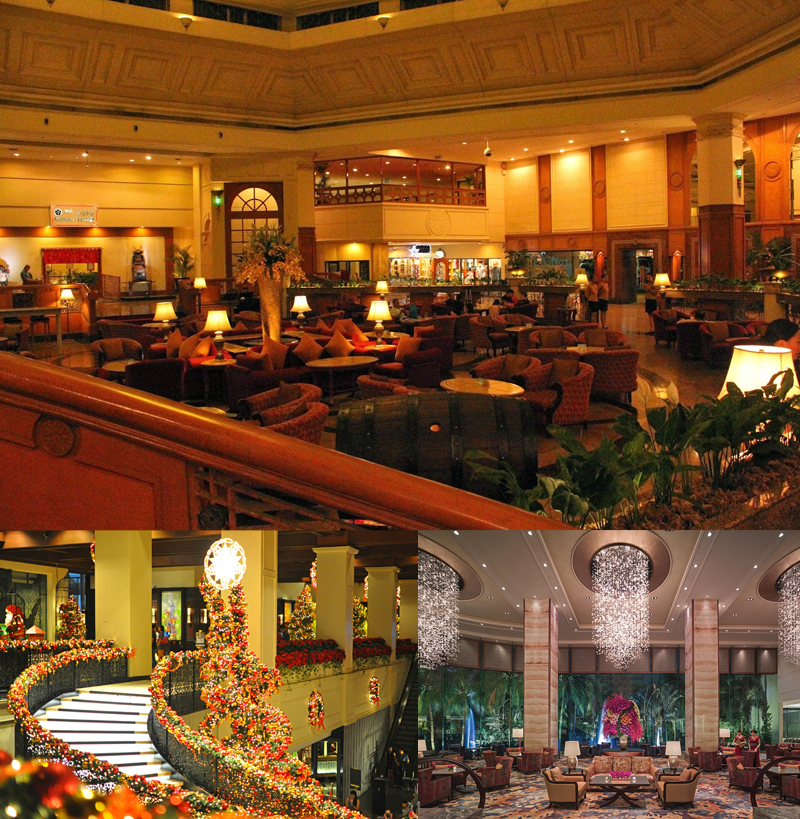 The metro's top hotels will be busy entertaining economic leaders and APEC delegates next week.
Sofitel Philippine Plaza will be hosting US President Barack Obama for the second time. Renegade, or Obama's secret service, prefers Sofitel for its secure location, rooftop helipad and proximity to the US Embassy and the sea. Chinese President Xi Jinping will be staying in Lucio Tan's Century Park Hotel while Edsa Shangri-La Hotel will be the Russian President Vladimir Putin's temporary home during his stay in Manila.
Solaire Resort and all the five-star hotels in Makati (except for the already busy Makati Shangri-La) have also been tapped to welcome other heads of states.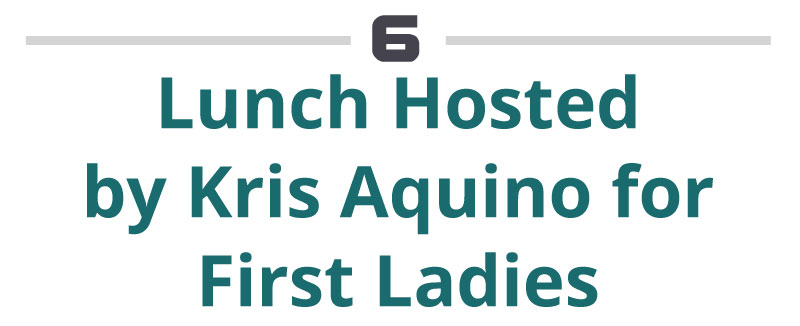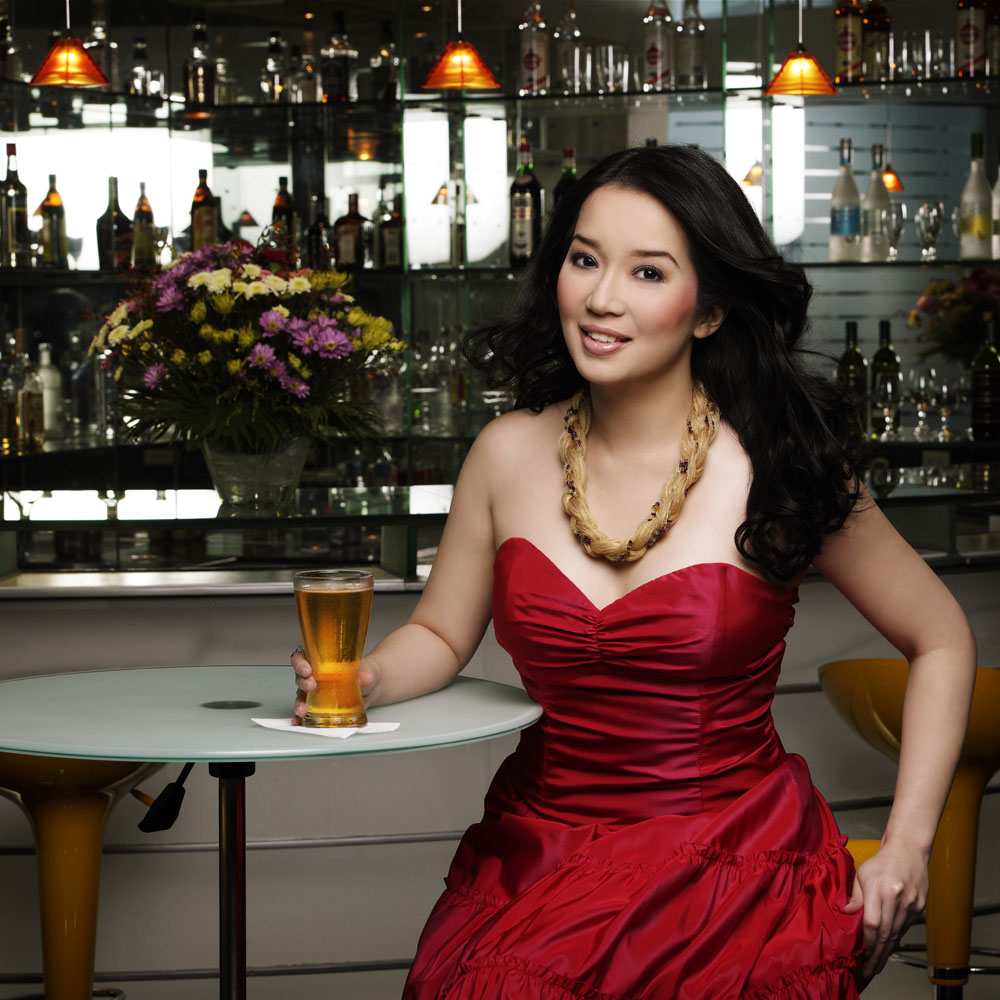 some of the venues chosen for the various events happening in the APEC Economic Leaders' Meeting Week. Advance teams from the attending economies have already done their final inspections of these venues last month.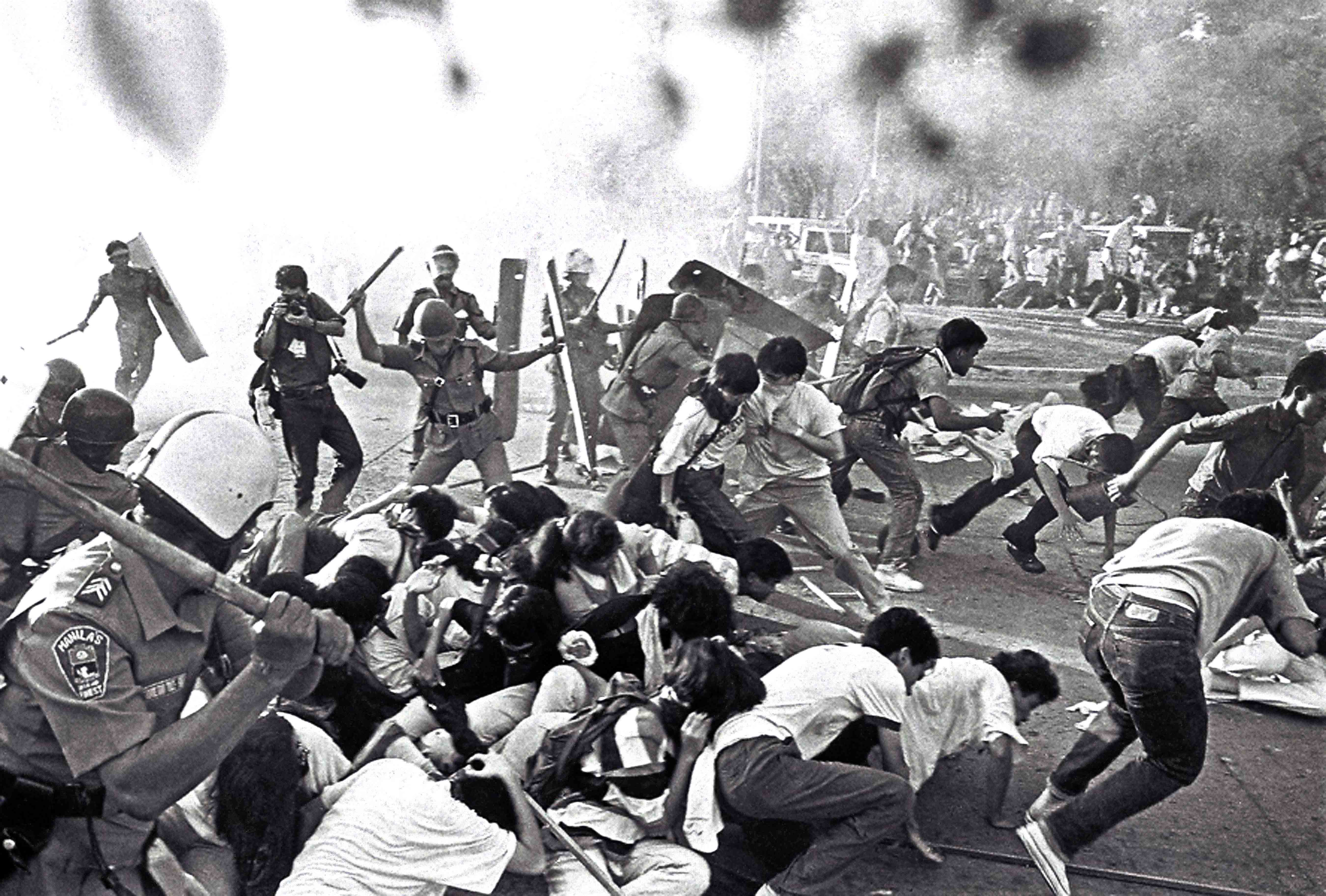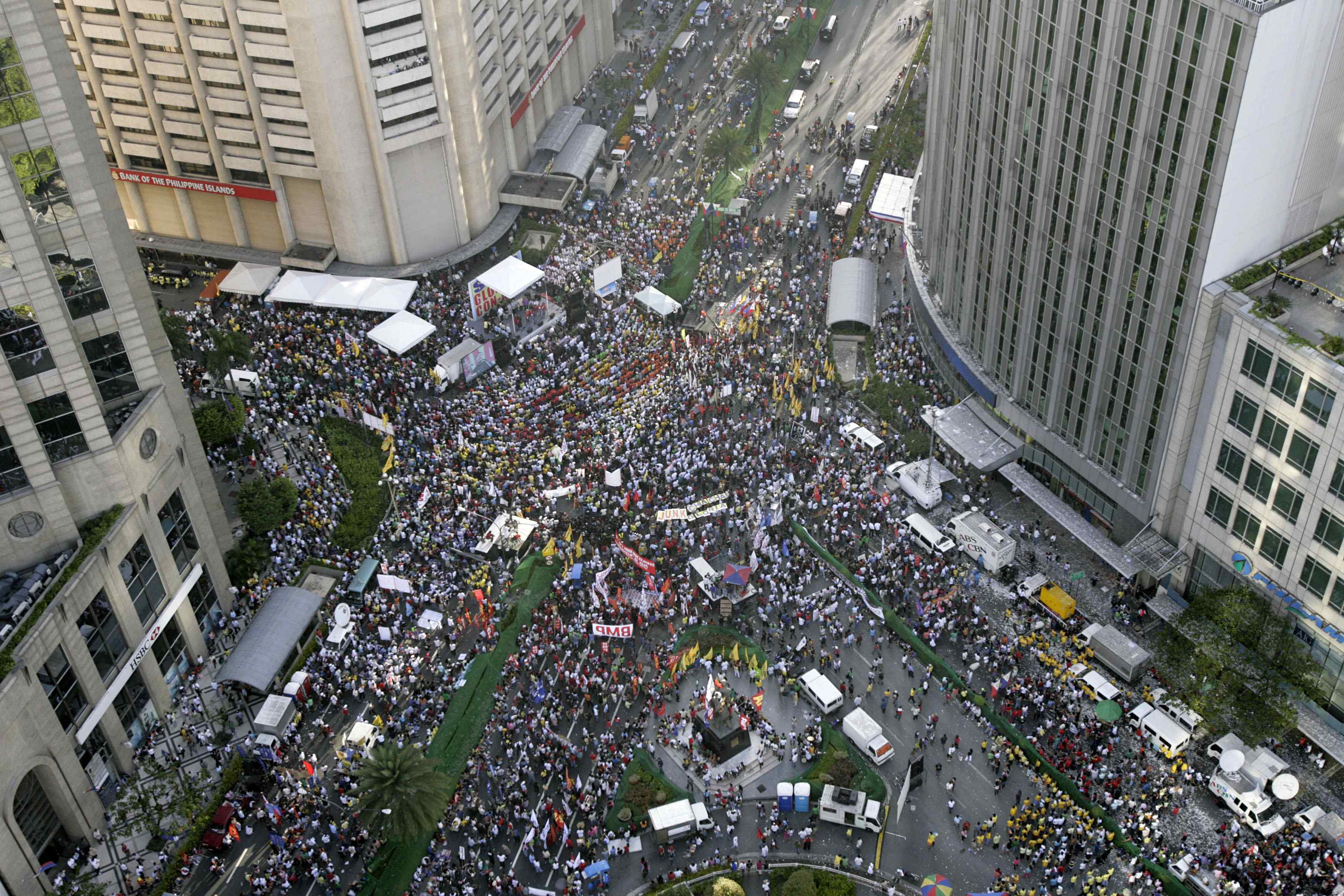 First, no rally can be executed without a permit. Rallies that are found to be possible inconveniences and dangers for the public will be denied a permit. Only rallies done in freedom parks, private properties as well as government owned and operated educational institutions will be allowed without a written permit.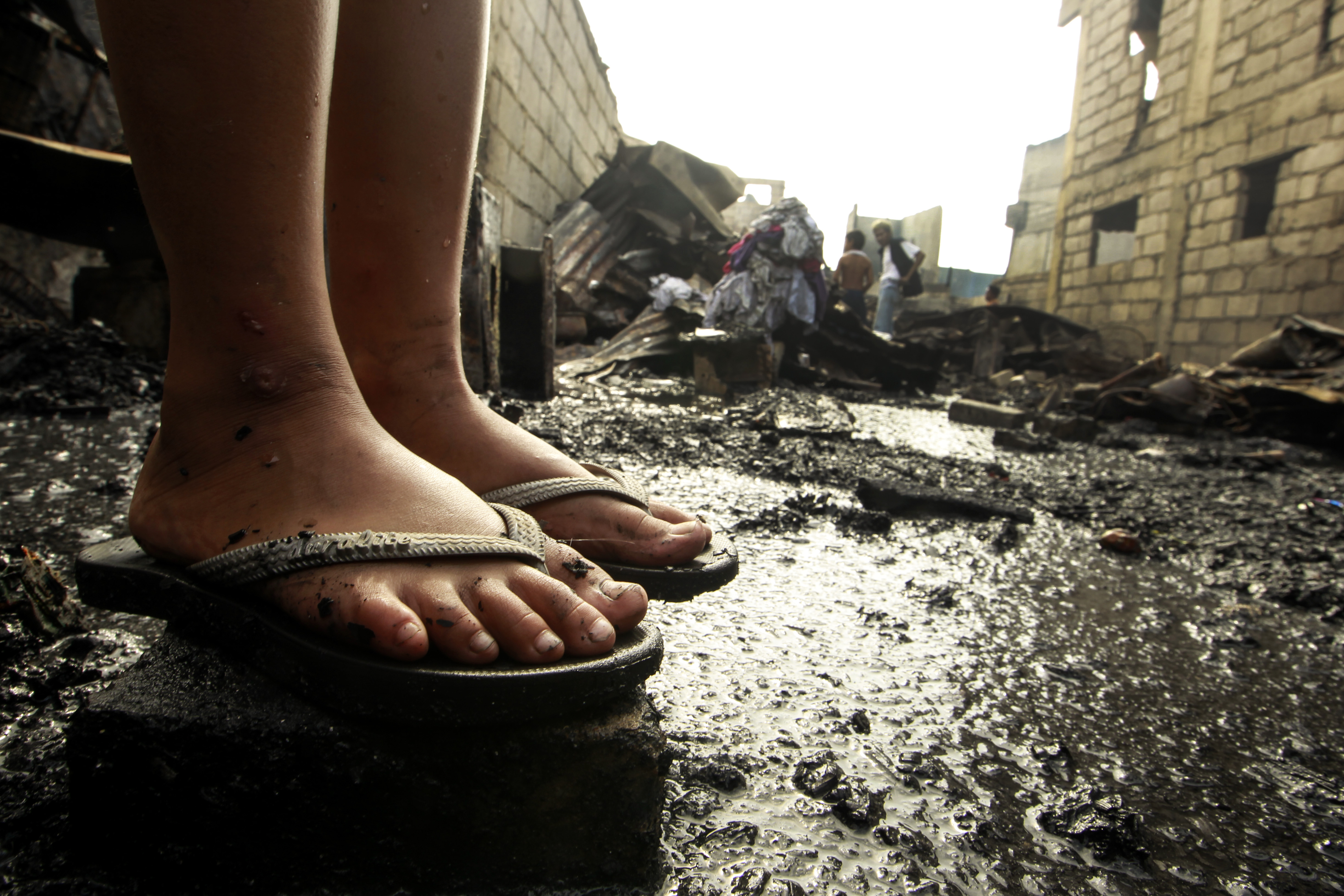 If the mentioned choices aren't applicable, DSWD's Arnel Bautista has said that they would rather have the homeless families stay in uninhabited buildings.



Paul Cabral is making each Barong Tagalog unique for every leader. He will be incorporating elements of the leader's country of origin in the Barong to make it distinctly his or hers. For example, the Malaysian Prime Minister's Barong is based on Sarawak shield designs while the formal wear of Brunei's Sultan is inspired by golden-domed mosques.
Of course, the first ladies of the participating economies will also be given distinctly Filipino formal attires that are hand-embroidered on special piña fabric.

It is of crucial importance that you take note of the following road closures. Starting from P. Burgos to MIA Road, Roxas Boulevard's northbound and southbound lanes will be closed from November 16 to 20. A lot of roads around Mall of Asia (MOA) will be closed on November 18; refer to this infographic for the specific roads you need to avoid. Several roads around the CCP Complex will be closed from November 16 to 20 as well; see this infographic for the closed roads. Also, take note that only APEC vehicles will be allowed on EDSA's innermost lanes from November 16 to 20.
Don't freak out. APEC's organizers have mapped out alternate routes for Roxas Boulevard and the MOA area. See their suggested traffic plans below: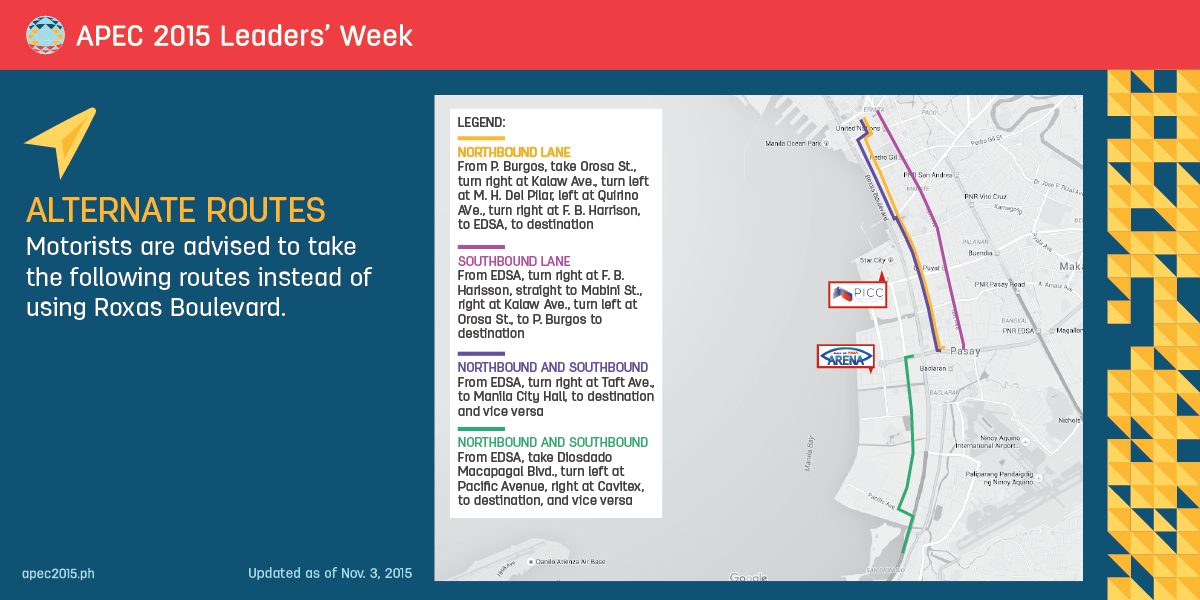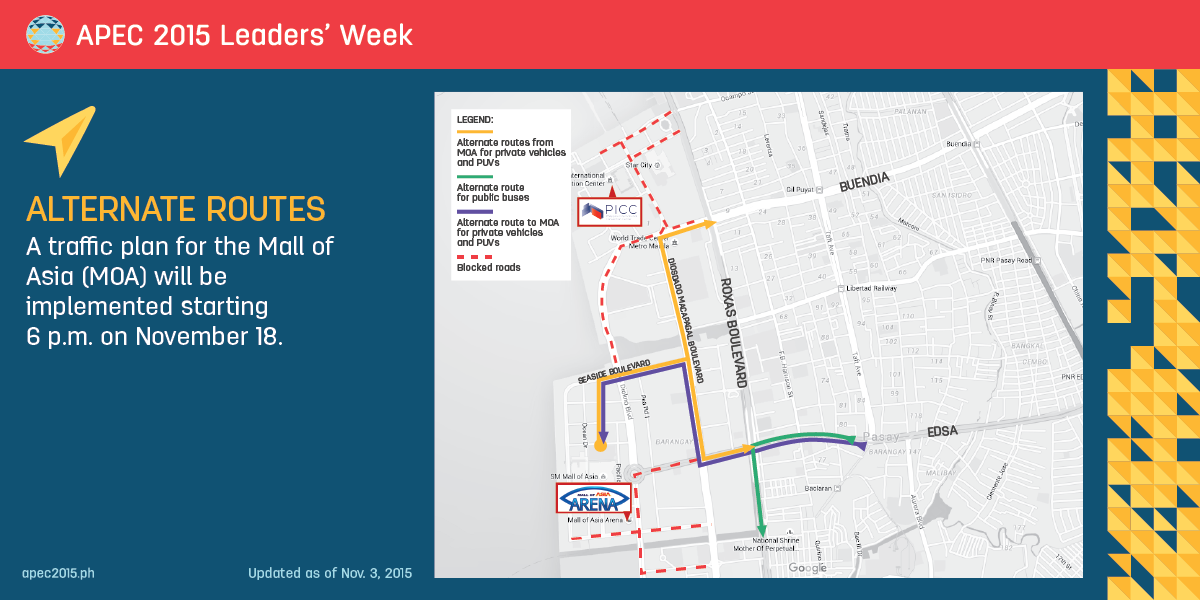 How are YOU preparing for the APEC week coming up? Share your plans below!