Name a more iconic Pinoy love team than John Lloyd and Bea. We'll wait.
Last night, John Lloyd Cruz and Bea Alonzo went live on Instagram to catch up, exchange famous lines from their films, and talk about everything in between. Although there was probably an entire nation watching them, they talked to each other with a sense of ease borne of 18 years of friendship. It was like watching a movie.
These two have known each other since they were teenagers who starred on the 2000s teleserye Kay Tagal Kitang Hinintay. Later on, they gave us Popoy and Basha, equally iconic fictional characters that remain as the source of "hugot" for all couples out there. They gave us plenty more other films as love teams back then but more than that they gave us a genuine friendship that transcended movie screens and lives as showbiz personalities. This is why last night's IG live was the sweetest thing we've ever watched since the lockdown started!
It was all platonic but it made us gush anyway
Bea's reaction when JLC appeared.

PUCHA NAMAN KINIKILIG NA AGAD AKO. pic.twitter.com/Fd1L2lUxKn

— iskiya dot (@kemmebebe) April 27, 2020
John Lloyd himself said it: he and Bea have been friends for more than 18 years that's why they can be this comfortable with each other. Want to know the power of a successful love team? It's the way they can make everyone kilig even if it's been years since they've had a movie together.
The IG live was full of teasing each other
She loved me at my worst,
You had me at my best,
I just a made a choice
And you chose to break my heart

Popoy Basha!!! Jusko kinikilig ako hahahahaha Kayo na lang pls Bea at John lloyd hahaha pic.twitter.com/DW1KEBJtXo

— Sheena (@sheena_ava) April 27, 2020

They brought back their iconic lines, discussed their favorite movies they've created with each other, and they even had a mini-challenge where Bea wanted to prove she was indeed a close friend of John Lloyd (Favorite color? Favorite ulam?).
You Can Watch These Cinema One Original Movies On YouTube For Free
You Can Watch These Cinema One Original Movies On YouTube For Free
Bianca Katipunan | Apr 25, 2020
The discussion wasn't all throwback, it got real too
John Lloyd talking about depression, ejk and covid with Bea alonzo in IG live pic.twitter.com/gXO2xBrBw2

— (@annyeongburrito) April 27, 2020
Towards the middle of their conversation, things got a little serious. They talked about what the present situation is like with the pandemic and about being lucky people who get to help other people out. John Lloyd opened up about his struggles with depression and being lonely and Bea was there to listen.
They didn't shy away from expressing their gratitude towards each other
JOHN LLOYD CRUZ TO BEA ALONZO EVERYONEEEEEE!!!!! MY HEAAAAART! ❤️❤️❤️ pic.twitter.com/RcyAvIR95A

— (@msValliry) April 27, 2020
They've had their fair share of trials in life. Bea's heart got broken in public and John Lloyd took an indefinite leave from showbiz. He went on to father a child with actress Ellen Adarna but his relationship with her didn't work out either. During the IG live, John Lloyd asked Bea if she knew when he was happiest and she said it's when he spends time with his son, Elias. This answer made John Lloyd smile and we know for sure that it's the truth.
Feeling Down in the Dumps? Here are 8 Feel-Good Pinoy Movies You Can Stream Right Now
Feeling Down in the Dumps? Here are 8 Feel-Good Pinoy Movies You Can Stream Right Now
Kyzia Maramara | Mar 19, 2020
They've proven that not all love teams need to end up in relationships
john lloyd had to say goodbye because he needs to put his son to bed. bea was left on the frame, smiling pic.twitter.com/UUtIptrNhk

— Pam (@pamcanedox) April 27, 2020
They're rare gems in the showbiz industry, a love team that didn't end up as a real couple. Everyone knows how insane their chemistry was back then (and even now), but they chose to be friends instead and look at where they are now — content and happy. At the end of the day, John Lloyd has to go back to his son and Bea to her own responsibilities, but we rest easy knowing that they remain good friends.
"See you when I see you."
"See you when I see you."

See you when we see you, our John Lloyd and Bea. pic.twitter.com/FeihHSnTiD

— iskiya dot (@kemmebebe) April 27, 2020

John Lloyd even played a song for Bea and they sang in a cute and relaxed duet. Don't deny you're smiling from this clip! We all are! They ended with John Lloyd saying he has to put Elias to bed and Bea staring fondly at the screen after he was gone.
Earlier this week, John Lloyd also commented on Bea's past IG posts
Before they hosted this IG live, they playfully bickered in the comments section a few weeks ago and made our hearts flutter.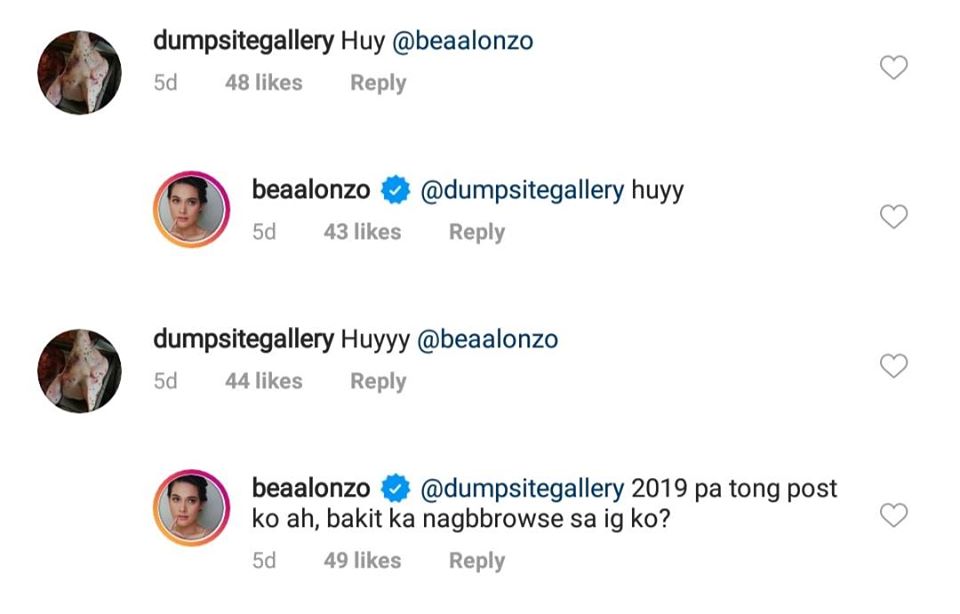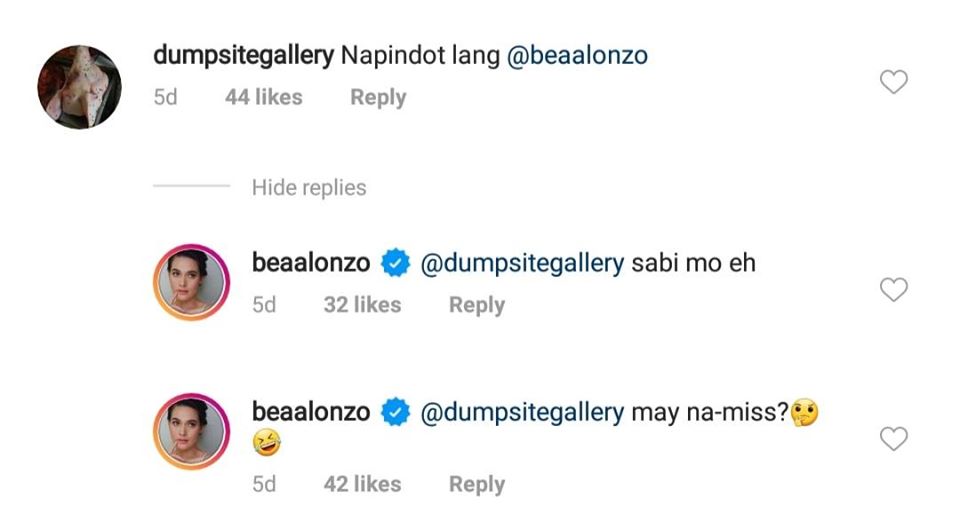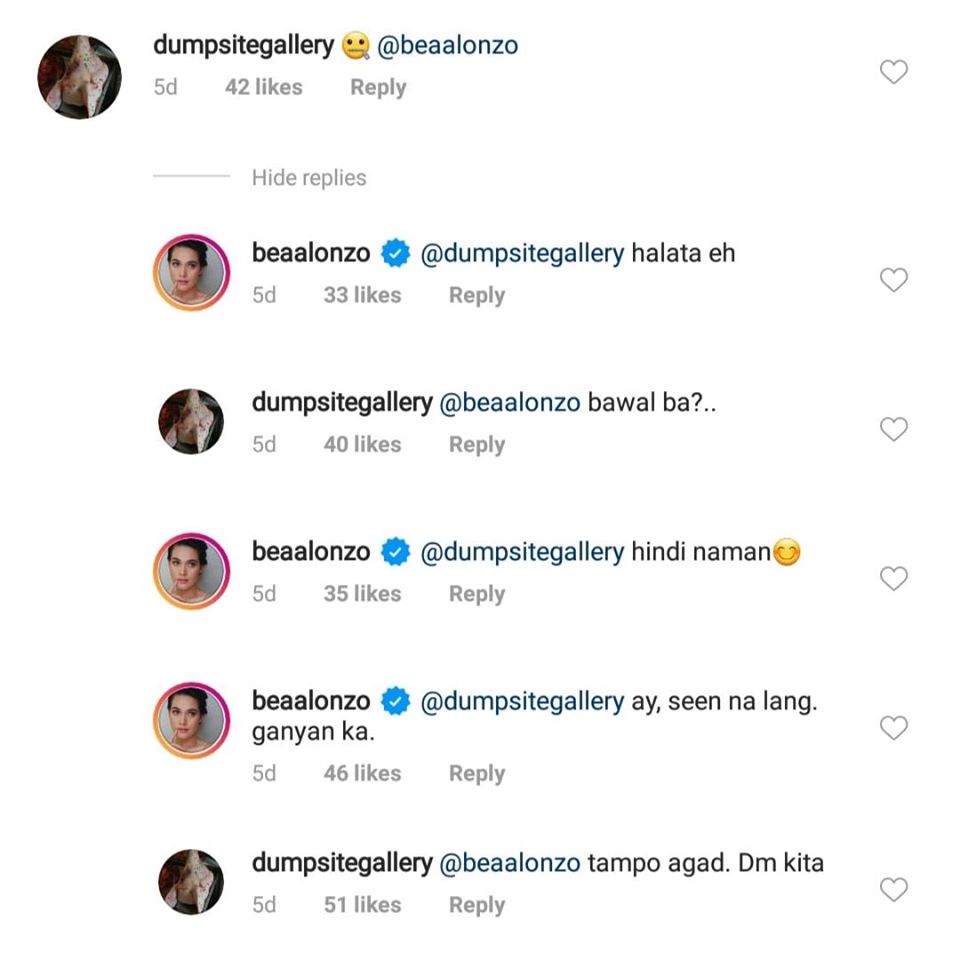 A part of "unconfined cinema"?
View this post on Instagram
If you think that everything is a little too "pa-kilig," maybe it is. On April 11, Bea posted on her Instagram that she's going to "perform a work of fiction on Instagram" and tagged John Lloyd and Director Antoinette Jadaone in the caption. But regardless if all their interaction is intentional and scripted, everything still felt genuine and we're convinced that these two still reign as the best Pinoy love team.
Now how about giving the fans what they want? A movie, perhaps?
Kinilig ka ba? O kinilig ka?