Zark's, a fairly popular burger place, recently celebrated its 8 years with a simple promo: for the first 80 in-store diners (don't forget that part), they can avail of a burger for a mere 8 Pesos. Considering that Zark's burgers are pretty good, you could imagine that a lot of people would want to avail of this promo last Monday, especially since it was a holiday.
But what you wouldn't have expected was this:

"Train to Busan", eat your heart out.
This fiasco probably took Zark's by surprise, but should have been something they anticipated. With that in mind, and the realization that no serious injuries were reported from what was probably the safest stampede in recent memories, here are 8 things to consider before someone ever decides to sell an 8-Peso burger ever again, unless that burger is from Angel's.
Your fine print should be more blatant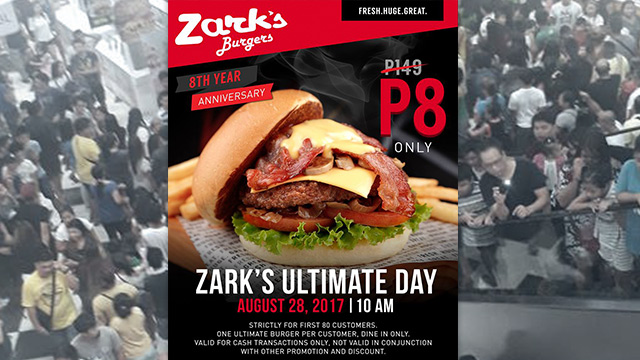 Turns out, in the hopes of "baka sakali pagbigyan," most people who lined up well after the 80-person limit was reached in certain branches of Zark's either blissfully ignored the fine print that there was an 80-person limit, or hoped against hope that Zark's would find it in the kindness of their hearts to offer more burgers beyond the first 80 diners. Well, with that kind of hopefulness, you can imagine what was bound to happen.
You need a good number system, and to immediately turn away anyone who only wants to avail of the promo but didn't make the cut.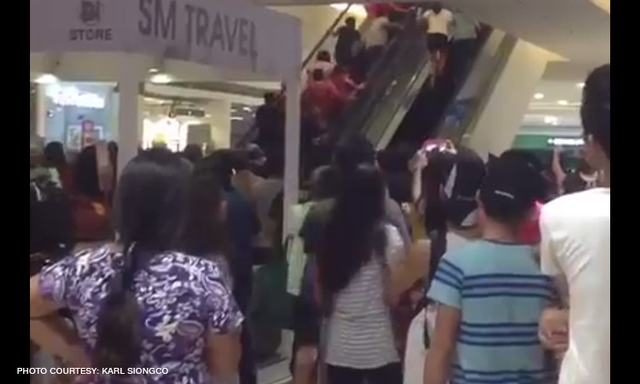 We know how bad Filipinos are with falling in line, but a lot of the needless stress last Monday's fiasco generated could have been avoided with an advance party properly herding the people availing of the promo, then gently sending away those who didn't make it. Give these people numbers from 1 to 80, but emphasize that this isn't a reservation game, so they need to stay in line, or else their number will simply be invalid by the time they are called and they no-show.
Have a secondary offer on-hand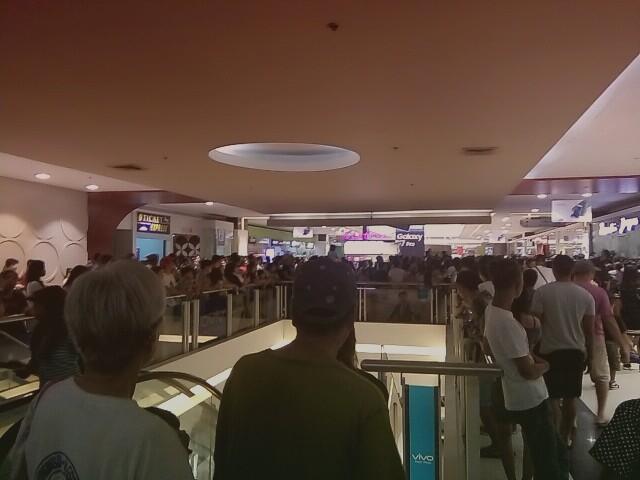 Assuming you don't want to turn away customer #81 and on, a secondary offer would go a long way to appeasing the people who didn't make the cut. Otherwise, well, you're going to get these people the whole time.
Consider when you're doing your promo
Maybe doing it on a holiday when the maximum possible number of people available could go and avail of your very limited offer was not the best day to launch a promotion like this? How about launching it on one of your slowest days instead? Unless you just wanted the viral potential of the feeding frenzy you'd inevitably cause, it should be in your best interests to reschedule.
Pre-raffle off your burgers
Jusko… 1st 80 para maka-avail ng Php8.00 Zark's Burger. Parang may Zombie Apocalypse!!! 😱

© Sacen Sacay's FB post pic.twitter.com/c3ryhFbH7A

— Titan (@_CEREALKILL3R) August 28, 2017
Another way to avoid the feeding frenzy is to pre-raffle the burgers (they do look yummy) you're selling at a huge discount. Couple that with your secondary offers, and you'd still pack your place to the rafters. It's not that hard. Seriously.
Make it a loyalty card thing.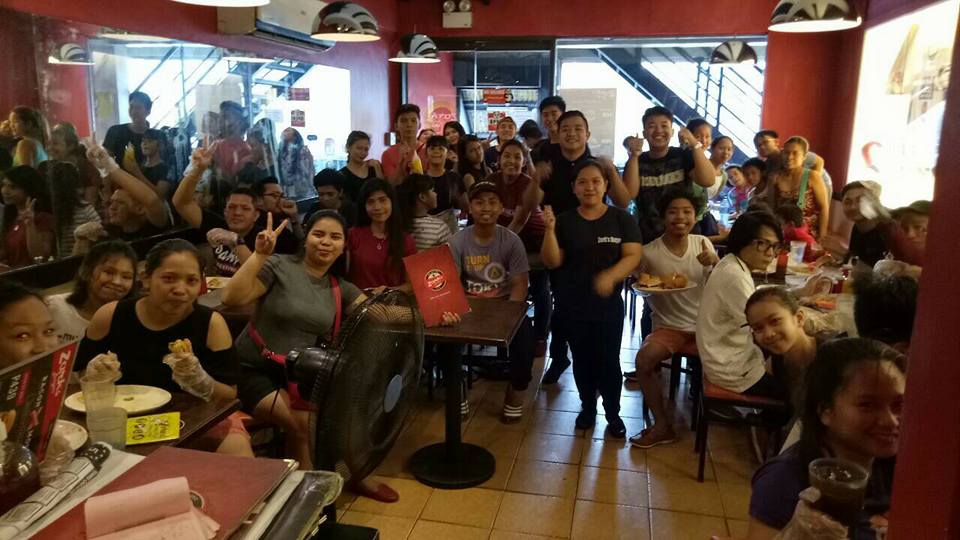 Get a card, buy five burgers, the sixth one is at 8 Pesos. Starbucks causes a feeding frenzy with their own loyalty card for planners on an annual basis. This would, too, minus the dangerous stampeding.
Train your staff to handle disgruntled customers well
While it feels great to show up entitled customers for the pains in the neck that they are, it's probably a good idea to train your staff to have the restraint not to indulge.
Don't judge them over it
"Patay-gutom!"
"Mga ganid!"
"Parang walang pinag-aralan!"
As people ridiculed these brave souls who ventured for an 8-Peso burger, these privileged people who could well afford a burger at 150 Pesos on a daily basis simply sneered at those who are less fortunate than they are. Can you blame them, really, when an offer that's too good to be true looks them in the eye like that? Hardly. Any of us have our own price, and while some of us would never stampede for an 8-Peso burger, what about a 500-Peso Playstation 4? Or a 5,000-Peso Louis Vitton bag?
Every one of us has a price. It's really not in our best interests to judge.
What's your take on the incident? Tell us your thoughts below!