The Hopeless N00b's Guide
to Game of Thrones


From April to the end of June, you're pretty much guaranteed that your feed will be composed of the following: travel photos, posts about the NBA and complaints about the insane summer heat—all sandwiched between memes and spoilers about a little show called Game of Thrones.
Never heard of it? Liar. The pop culture sensation and HBO primetime powerhouse has taken the world by storm, and unless you've been living under a rock, chances are you've encountered it. Already in its sixth season and showing no signs of stopping, the goings on in the fantasy world of Westeros is all that pretty much anyone can talk about.
And yet you're still sitting there wondering what the hell The Mountain is and if there really is as much sex and gratuitous violence as everyone claims. Clicking on this article is your first step to jumping on the bandwagon—just in time for the end of season six. Buckle up, kids. We're going for a ride.
8. Who is George RR Martin?
GRRM, as he's often referred to, wrote a series of epic fantasy novels called A Song of Ice and Fire that's so convoluted with characters and different story arcs that it would put Tolkien to shame. Basically, he likes killing people off and writing about politics in detail. And yes, to answer your unspoken question, people die. All the time. Sometimes more than once.
The showrunners of the TV series, D. B. Weiss and David Benioff, take this to a whole other level, killing off your favorites at the pinnacle of your fandom. The lesson? Don't get attached. To anyone.
Don't say we didn't warn you.
7. What the hell is it about?
So basically the king of Westeros (Robert Baratheon) dies and everyone gets their panties in a twist to take his place on an uncomfortable looking chair called the Iron Throne. A lot of major players die in the earlier seasons, bringing a lot of minor characters out of the woodwork with their own schemes to rise to power.
Westeros, which is all about politics and killing people, is also called the Seven Kingdoms. Here's a map to help you out:
Zombies, wargs (people who can possess animals), wildlings, giants and Children of the Forest live north of the Wall (which is exactly what is sounds like: a giant wall), while across the Narrow Sea there are pillaging barbarians, sorcerers, slavers and dragons. While everyone in Westeros and across the narrow sea are worrying about who gets to sit on the Iron Throne, the zombies (aka White Walkers and their army of the undead called wights) are being led by the Night King to take over the world—just in time for winter.
6. The heroes
This is where things get a little complicated, and a couple of people might argue on the point of heroes and villains as a lot of the characters fall into a bit of a grey area. Let's stick to the ones who are still alive.
Jon Snow

This ab-tastic specimen is Jon Snow, the bastard son of Ned Stark, former King of the North. There's a theory floating around that he's actually a descendant of house Targaryen, the former ruling dynasty, with Ned's sister Lyanna. He's all sorts of morose and broody, making him the perfect dude to lead the Night's Watch—a brotherhood that literally watches the Wall to make sure Wildlings don't get into the North.
Long story short, he gets stabbed to death then is brought back by a witch.
Sansa Stark

This fiery redhead is Jon's half-sister, Sansa. Since the first season, she's transformed from a prissy little princess to a badass b*tch with no qualms about manipulating people to further her intentions.
Arya Stark

The youngest girl of the Stark clan, Arya is a force to be reckoned with. She escapes King's Landing and crosses the Narrow Sea to train to be an assassin, and keeps a list of all the people she wants to kill someday. Don't worry, we've got a major crush on her, too.
Bran Stark

As the last living Stark male, he stands as heir to Winterfell—that is, if people knew that he's alive. Bran can't walk, but he makes up for it in other ways, like training with a dude who lives in a tree to possess animals (warging), see the past and the future and possibly even alter them. His powers put him in an unsavory position between the Night King and the rest of the world.
Daenerys Targaryen

Presumably the last in her line, Dany was sold as a wife to the delectable (though now deceased) Khal Drogo. Her dead husband's horde of barbarians tried to kill her until she survived a fire and became the mother of dragons (she has three). She got herself an army and took over a bunch of cities, freeing slaves as she went, trying to find her way back to Westeros and what she thinks is her rightful place on the Iron Throne despite never having set foot in the Seven Kingdoms since she was born.
Tyrion Lannister

Hands down, this is the dude with the best lines in the whole series. He's brilliant, cunning, manipulative and loves his drink. He's also got a lot of emotional baggage, owing to his asshole father and being a dwarf. He's gone from King's Landing to Mereen to help Dany claim her birthright.
5. Everyone Else
Cersei Lannister

This MILF on a mission to keep her family in power is the ex-wife of former-king Robert Baratheon. Her youngest son Tommen is currently sitting on the throne because both of his older siblings were murdered. The thing is, though, that she and her kids don't really have a claim because Robert wasn't their father. The title of Daddy Dearest goes to her twin brother, Jaime, who she's in a tumultuous, incestuous relationship with. Go on, you can throw up now.
Jaime Lannister

This handsome specimen is Jaime, Cersei's better half. He lost his hand a couple of seasons back, and pretty much had to crawl his way back to his family in King's Landing. Despite doing everything his sister tells him to do, Jaime's a pretty righteous dude—so much so that people keep hoping he'll turn into a hero soon.
The High Sparrow

He's pretty much got King's Landing in his pocket with his army of religious fanatics, proving to be the very bane of Cersei's existence. He's a great villain, and gives the Lannister's a run for their money.
Littlefinger

This guy manipulated his way up the ranks, dealing in secrets and blackmail to amass a considerable amount of power. It isn't clear what he wants yet—only that he's hellbent on getting it. Also, he's the guy who sold Sansa to her (now deceased) rapist and husband, Ramsey Bolton, in a ploy to gain power in the North.
The Greyjoys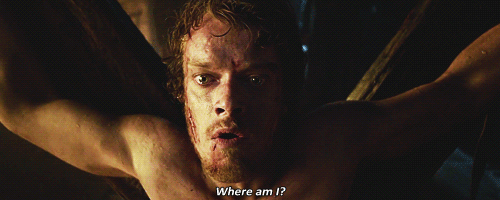 The Greyjoys live on the Iron Isles, a seafaring community that's part of the Seven Kingdoms, and have been hungry for the Iron Throne for generations. Yara is a badass who's into girls, while Theon used to be the ward of the Starks. Recently reunited after Theon was taken prisoner and tortured by Ramsay Bolton, they lost their bid for power on the Isles—so they joined forces with Dany instead.
The Sandsnakes

These boss ladies are the bastard daughters of former prince of Dorne, Oberyn Martell, who died at the hand of Cercei's bodyguard during trial by combat on his quest for justice. The Sandsnakes rose up and murdered the current prince, Oberyn's brother Doran, and now hold control over Dorne. They've been quiet, but knowing them they'll make a move against the Lannisters soon.