Best Cafes to Get Stranded in on a Rainy Day
Oct 30, 2015 &nbsp • &nbsp Shen Mascariñas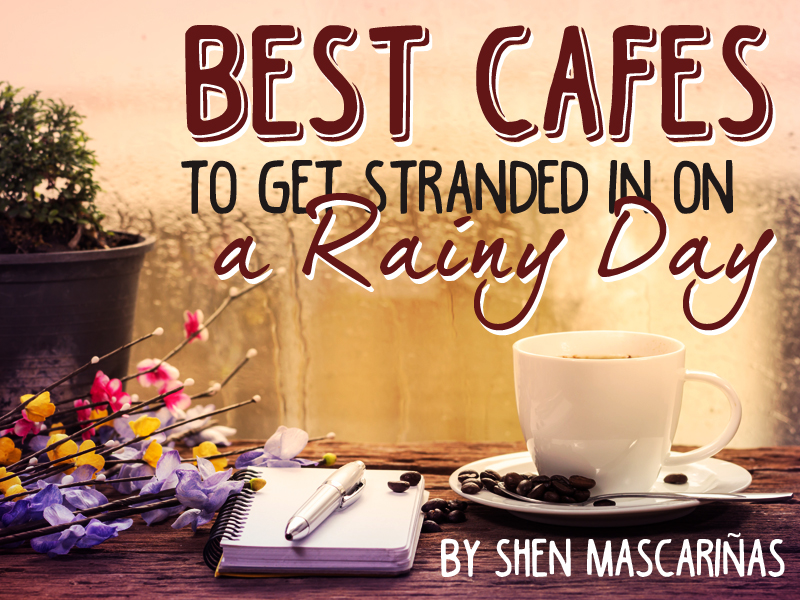 When the sky gets darker, the breeze cooler and the roads tighter, our first instinct is to find the nearest ride and fastest route home. How many times did you regret that decision as you braved the rain while hungry and cranky? Sometimes it's best to stay put and relax someplace cozy until the weather is calmer.
There are some cafes that are made even better with the rain. The hot drinks are more soothing, furniture more cushy and quirks like books, board games and other unexpected features more useful.
Hope that you're near one of these cafes on the next rainy day. You'll have the perfect excuse to stay longer than you should and to take advantage of all their rainy-day perks.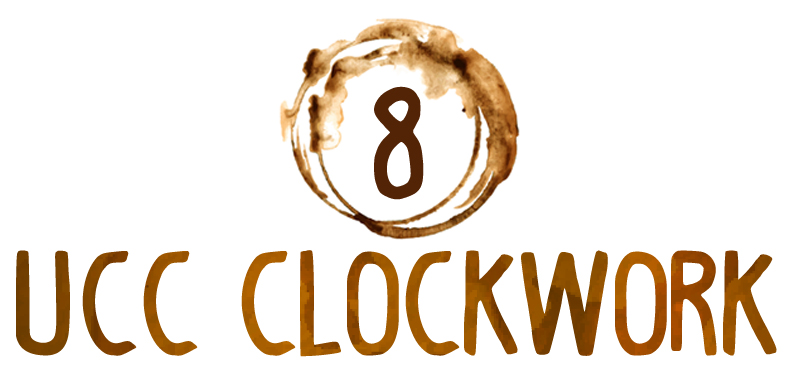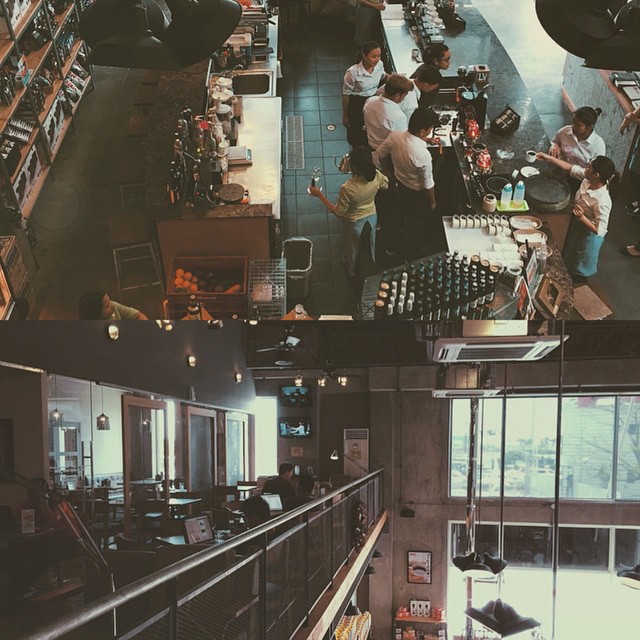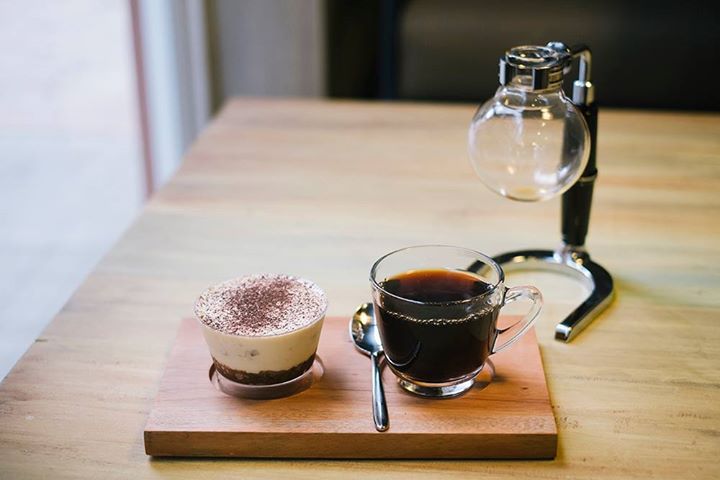 Blue Bay Walk, Macapagal Avenue Corner EDSA, Libertad, Pasay City | (02) 8434383, 09278141846
Ground Floor, Estancia Mall, Capitol Commons, Oranbo, Pasig City | (02) 9422142
Facebook Page
This cafe is UCC's take on the third-wave coffee trend. With its rustic-retro interiors and more extensive menu consisting of various coffee variants, premium dishes and even alcoholic drinks, it makes sense that UCC Clockwork is dubbed by many as the upgraded version of UCC.
Caffeine junkies will have plenty of choices. There are cups of joe with Philippine origins, international sources and different kinds of blends. If the rain has gotten you emotional calling for stronger company, there are also spiked coffee concoctions. Foodies won't be disappointed either. Crowd-pleasers are the Black and White Truffle Fries as well as the Crabby Fatty Omurice, but the exciting menu is filled with other savory and sweet dishes.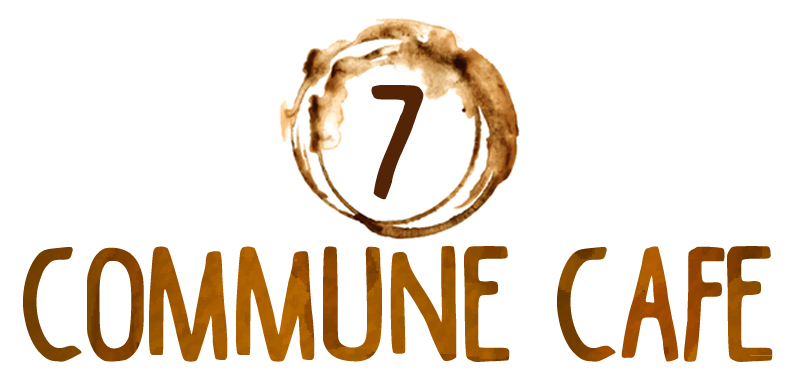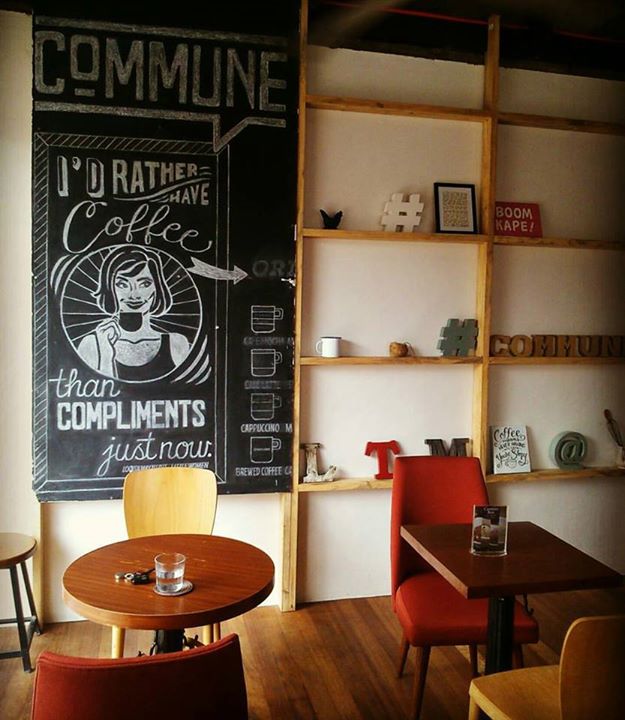 36 Polaris Street, Poblacion, Makati | 09337200241 | Facebook Page | Website
Although famous for their adorable 3D latte art, Commune Café is much more than that. The old branch in Salcedo was a favorite hangout among Makati yuccies for their welcoming ambiance, great Pinoy coffee and tasty Filipino dishes. Recently relocated in Poblacion, Commune Café's new and bigger space is getting even more positive feedback.
This place is so inviting that it makes customers feel like they're spending some down time in a proudly-Pinoy home, which coincidentally serves satisfying things for your belly. Don't leave without getting the cookie shot with Carmen's Best ice cream for dessert!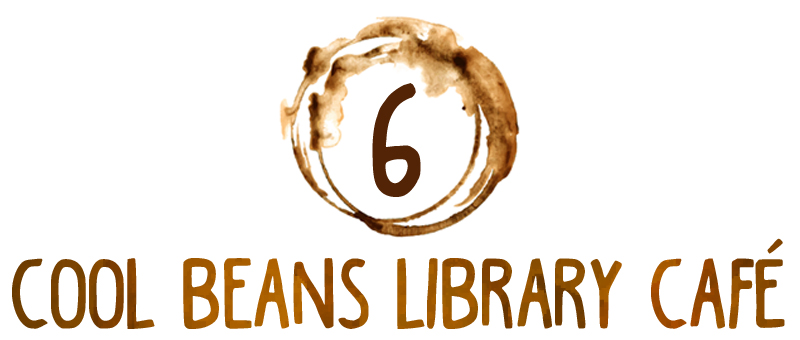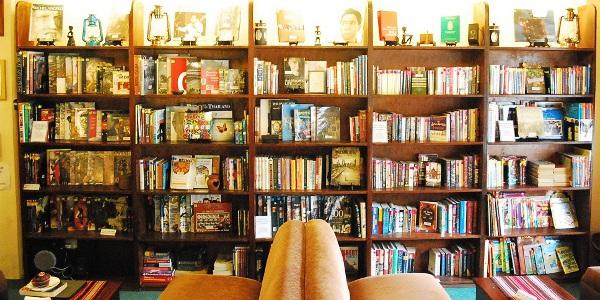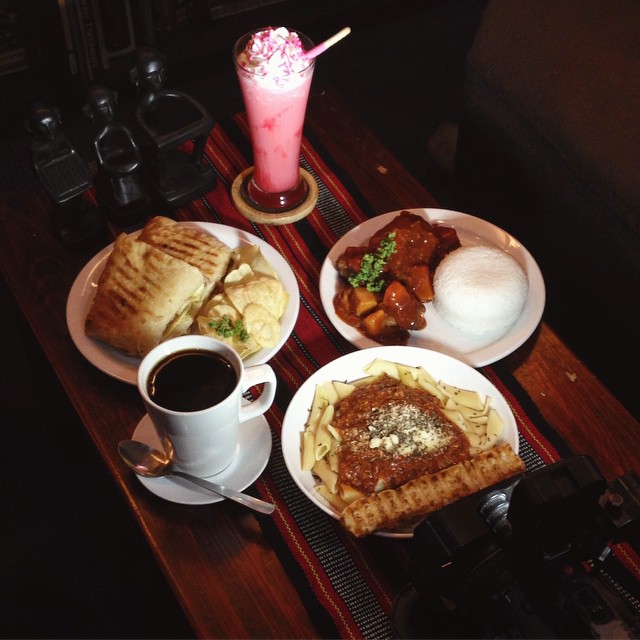 67-A Maginhawa Street, UP Teacher's Village, Quezon City | 09177064711 | Facebook Page
A favorite study spot in Maginhawa, Cool Beans is a very cozy place where you can eat, warm up with a cup of coffee and select company from their wealthy collection of books. If what you're reading inspires you to write poems and love notes, you'll enjoy Cool Beans' nook selling journals, greeting cards, stationeries and scrapbook supplies.
Cool Beans is also the first library café to serve highland coffee. Enjoy the distinct tastes of Sagada, Benguet and Kalinga roasts. They also have a wide selection of frost blends from Chestnut Latte to Red Velvet. For the hungry, choose from paninis, pastas, soups, salads, rice meals and pastries.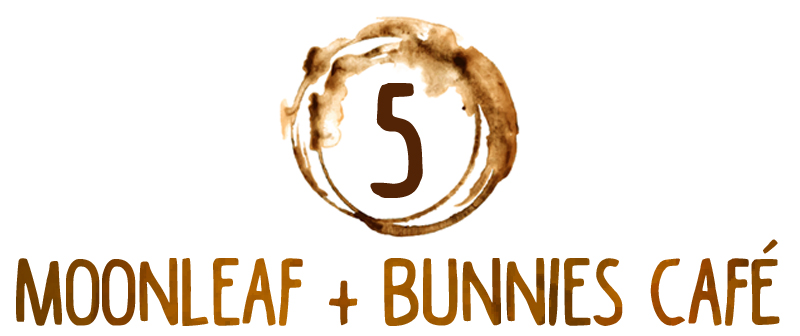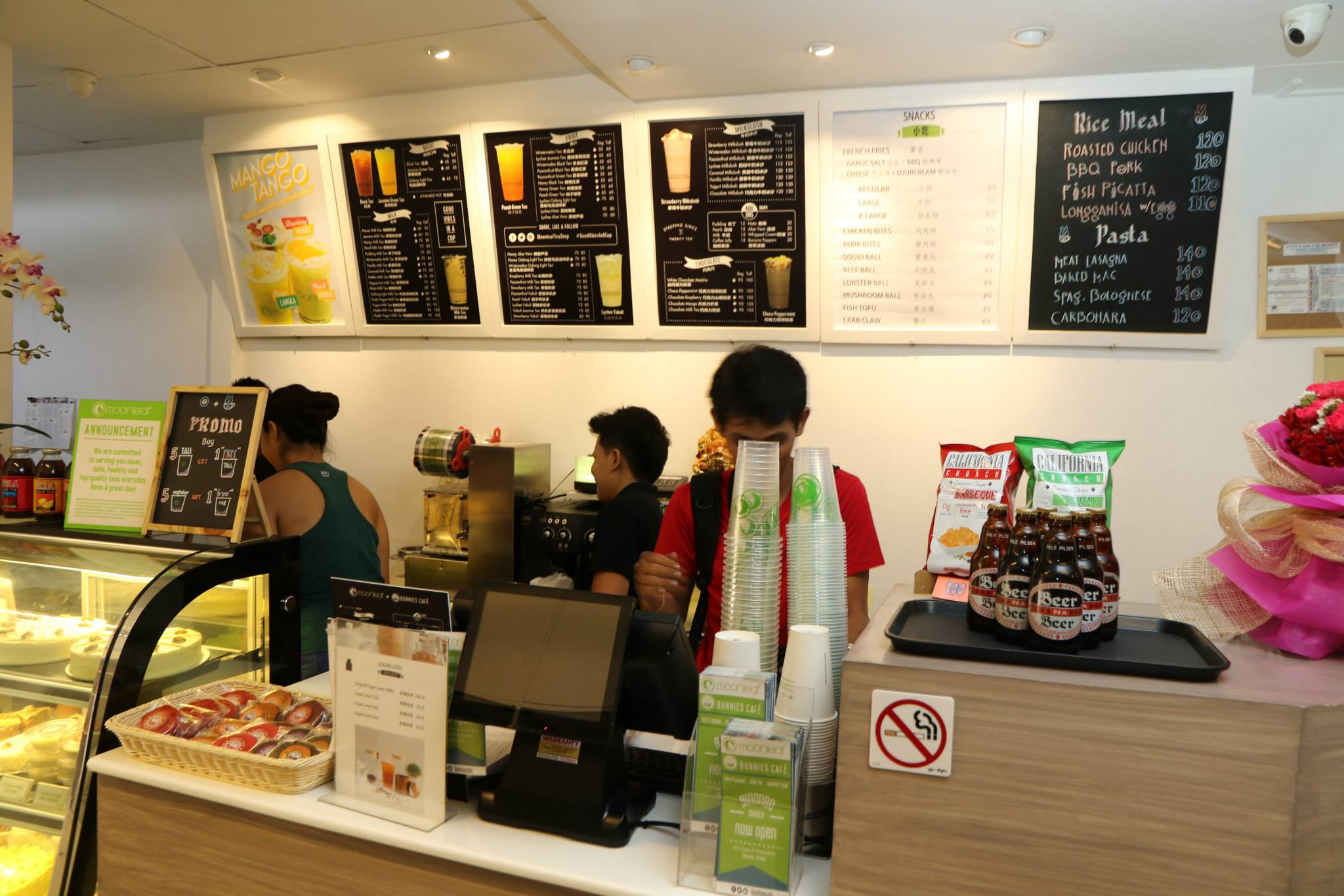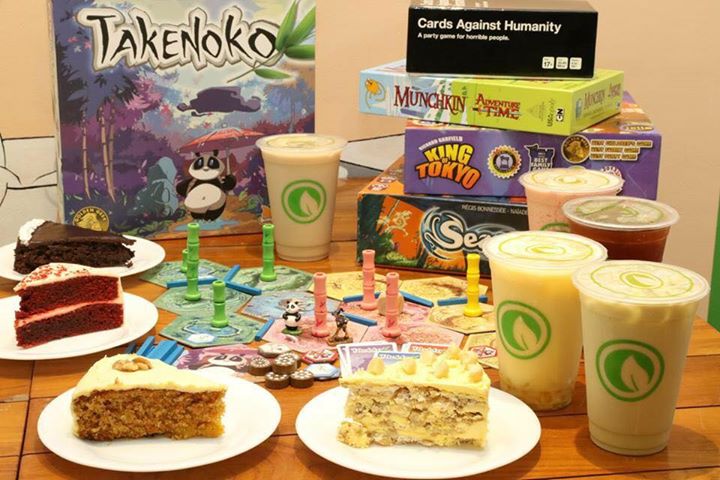 611 V. Tytana Street, Plaza Lorenzo, Binondo, Manila | (02) 7144911, 09226522888 | Facebook Page
If you're more of a milk tea person than coffee, then getting stranded in Moonleaf + Bunnies Café might actually turn out as a delightful time. Moonleaf's bestselling drinks are available here, of course, but now accompanied with different kinds of board games like Cards Against Humanity, Takenoko and Munchkin Adventure Time.
As you play your favorite game and sip on your favorite drink, you're bound to get hungry. It's a good thing Moonleaf + Bunnies Café offers fries in exciting flavors, Taiwanese-inspired chicken and pork bites, as well as other types of pica-pica. You can opt for heavier dishes like their Meat Lasagna and Breakfast rice meals if you're very hungry not only to win, but for food as well.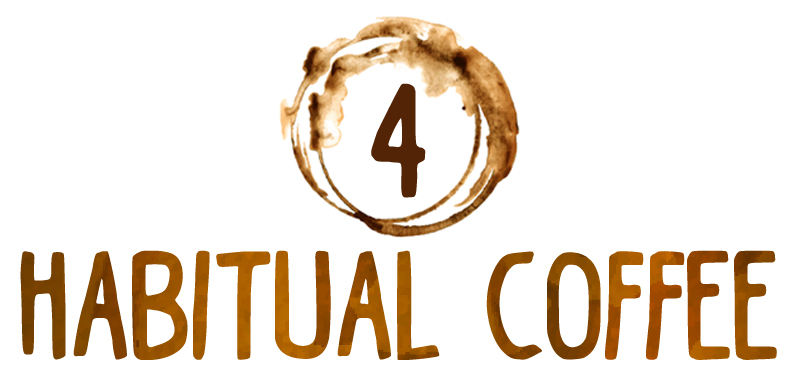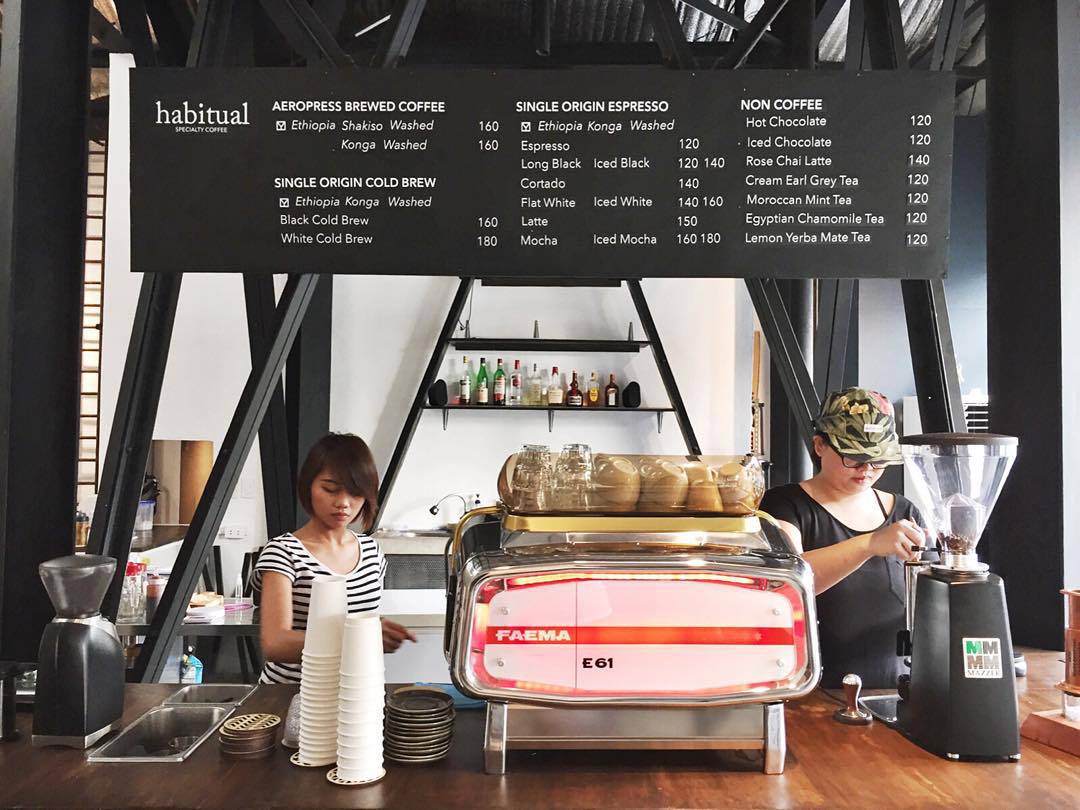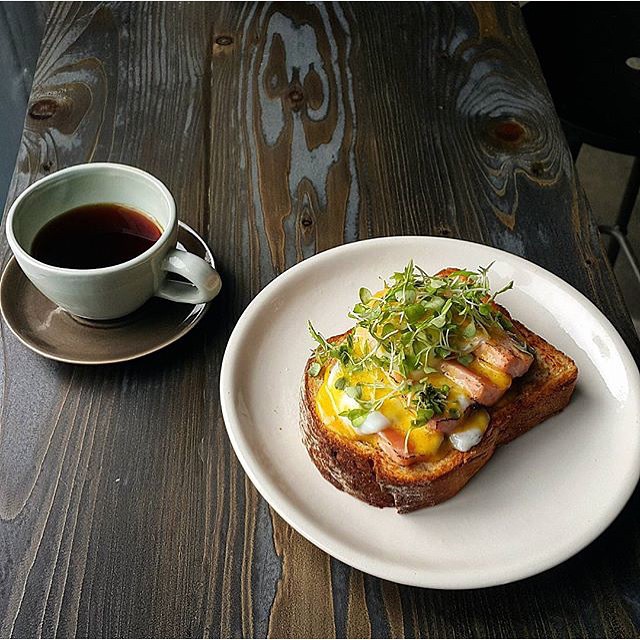 2135 Chino Roces Avenue, Legaspi Village, Makati City | 09175741119, 09178255293 | Facebook Page
Habitual Coffee is known to serve excellent hand-made coffee. Their short yet well-curated menu proves that quality is definitely better than quantity. To go with your drink, they also have exciting sandwiches like the Sesame Shrimp Roll, Brisket Sanger and Andouille Seattle Dog. Aside from these, you'll definitely come back for their Berry Nut Ricotta Waffle that's almost too pretty to eat.
With its industrial yet comfortable interiors and great offerings, letting the rain pass in Habitual Coffee is already a treat in itself. How about making your down time more productive, though? This café is conveniently located beside a workout gym. Grab your energy boost in liquid form then beast it out in a workout.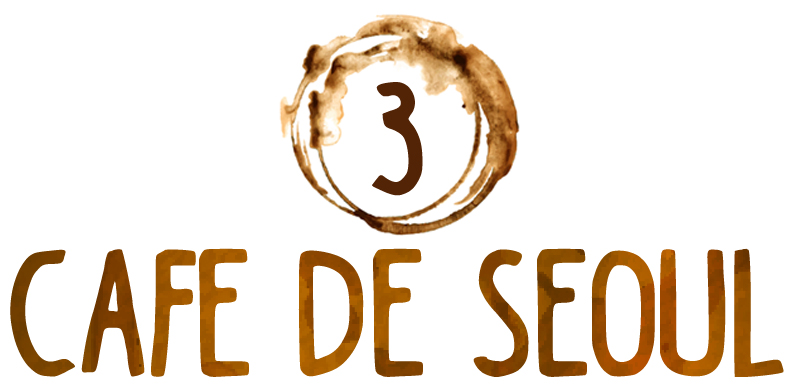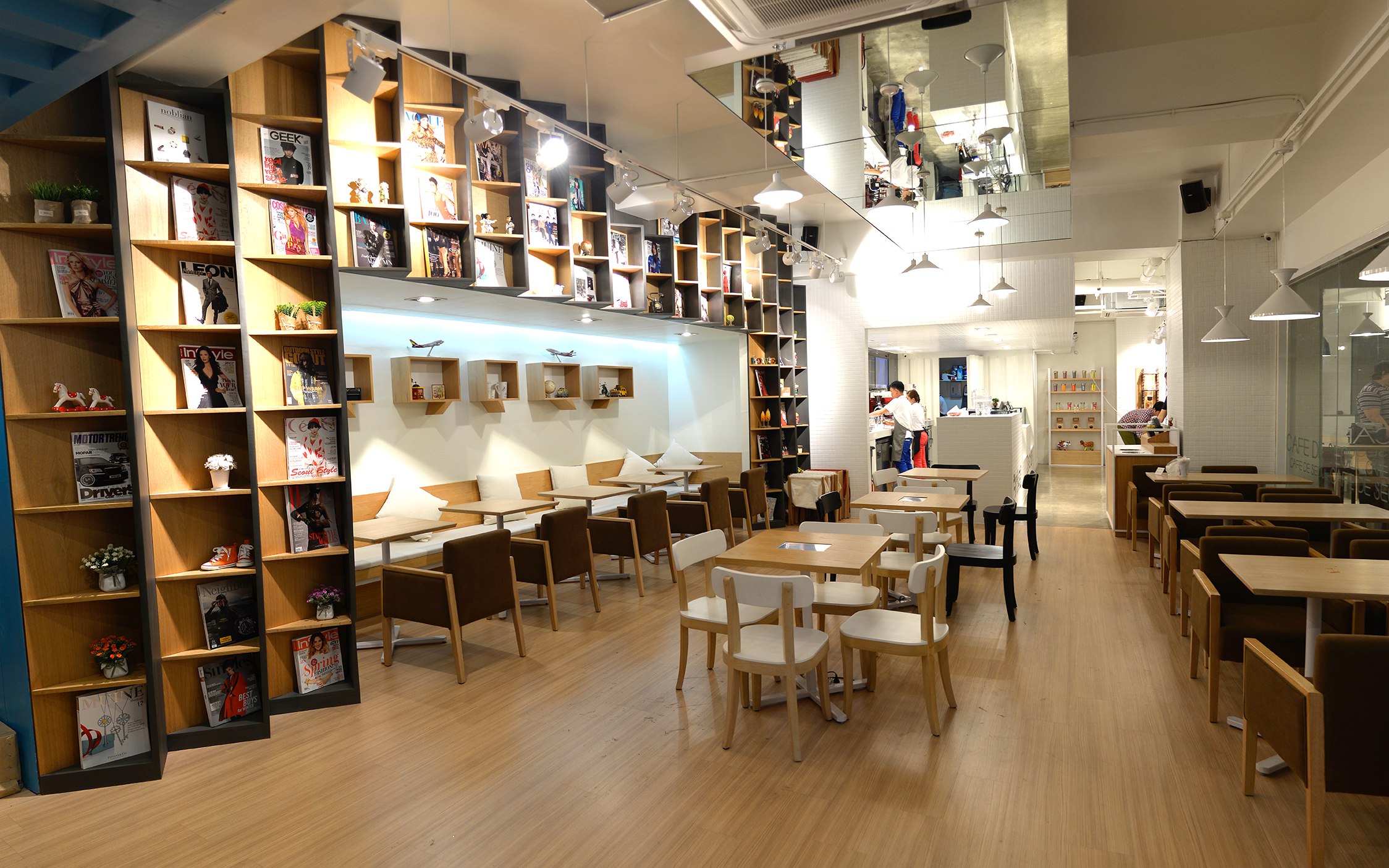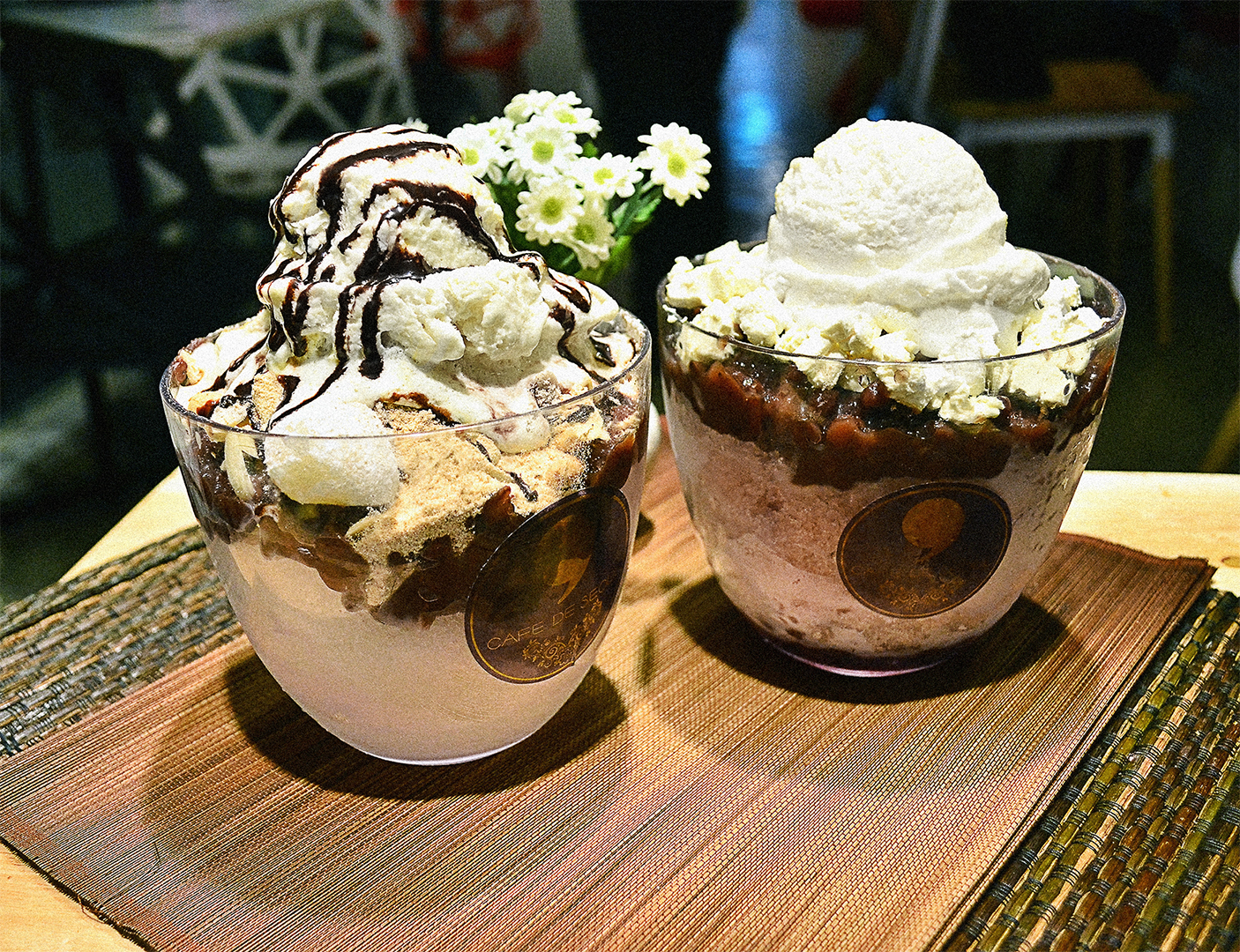 Second Floor, One Archers Place, Taft Avenue, Malate, Manila | Facebook Page
Taft Avenue may be prone to flooding, but the option of lingering in Café De Seoul sure makes the situation a lot better. Travel-inspired, minimalist and modern, just the interiors of this café is already a treat. Combine that with traditional coffee and dessert offerings, Korean beverages, desserts and hot meals as well as friendly service, and you've got an awesome haven.
As the ultimate cherry on top, Café De Seoul's numerous tech resources will make you beam. How does Wi-Fi, Samsung Galaxy Tabs, printing services and charging stations on a rainy day sound? They have tons of reading materials, too.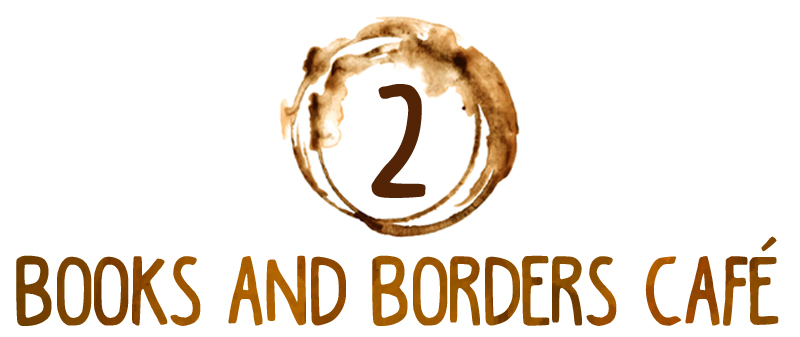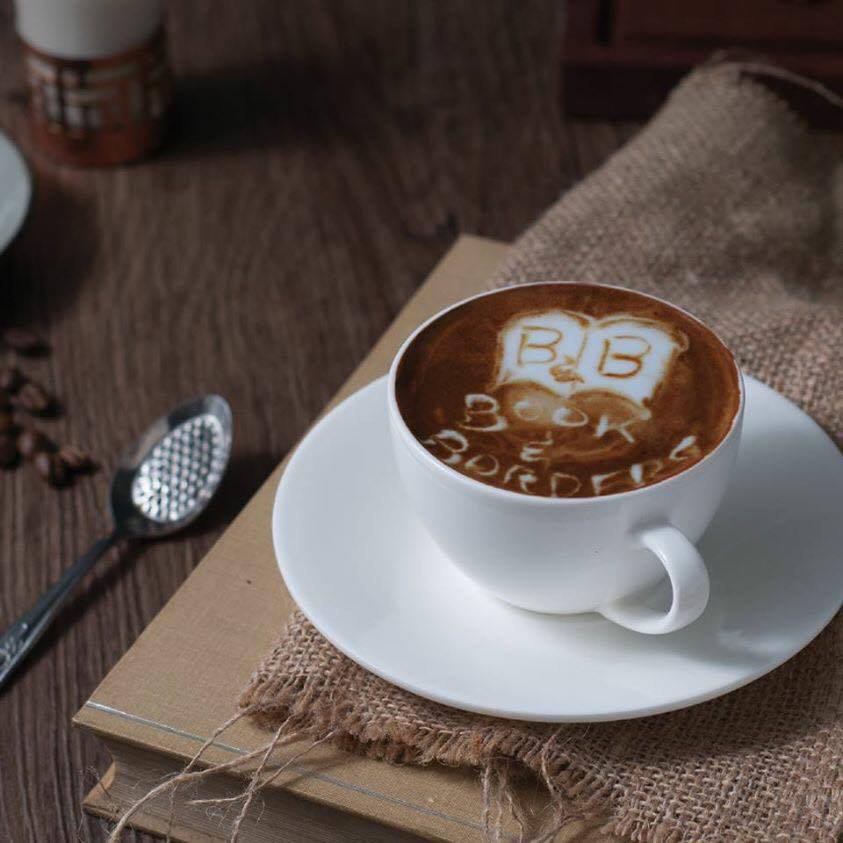 281 Tomas Morato Street, Diliman, Quezon City | (02) 3751213 | Facebook Page
Just the sight of this café's neon couches and plethora of reads will lighten your rained-on-mood. Enter, get comfortable and decide what to have with your book because this place is just going to get better as you spend more time in it.
Mimicking the library experience, you'll have to surrender an ID to be able to borrow a book. This makes the library feel more authentic, but making it so much better with the option (and permission) to satisfy your belly's cravings. Pick from their affordable breakfast meals, pastas, sandwiches, salads, pastries and impressive collection of desserts. Caffeine junkies can get their fix here, too.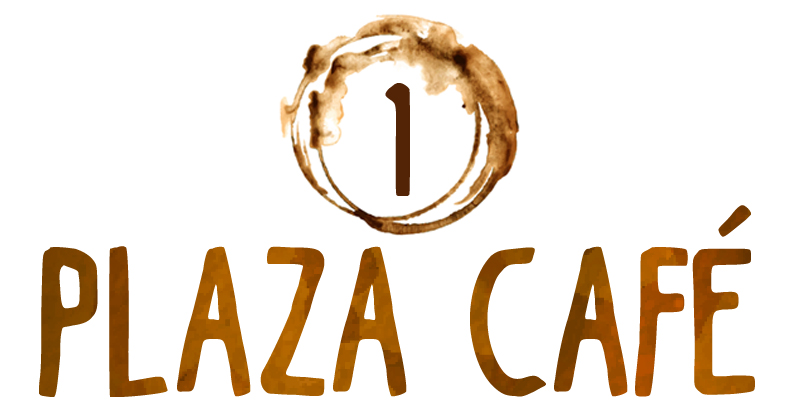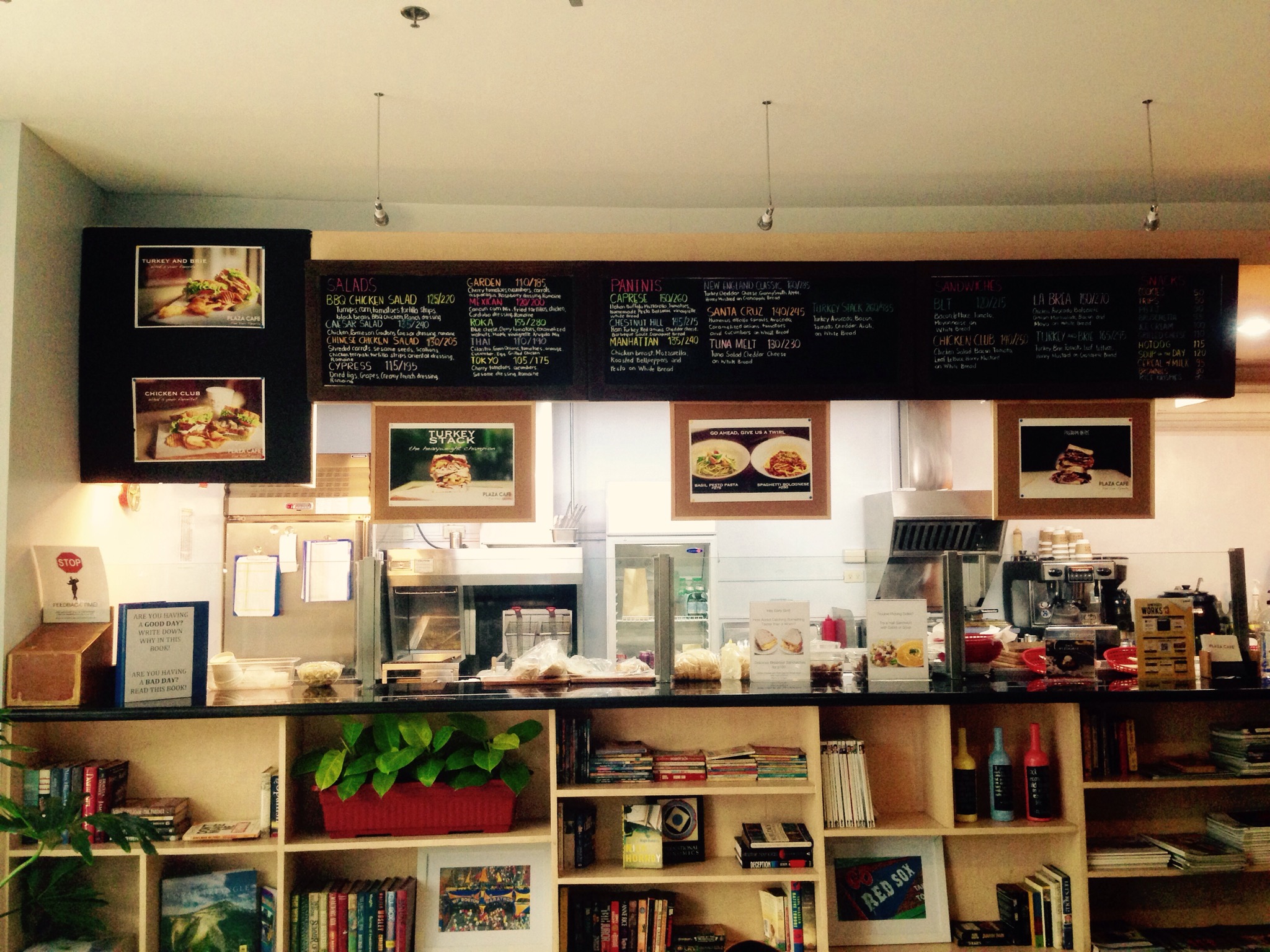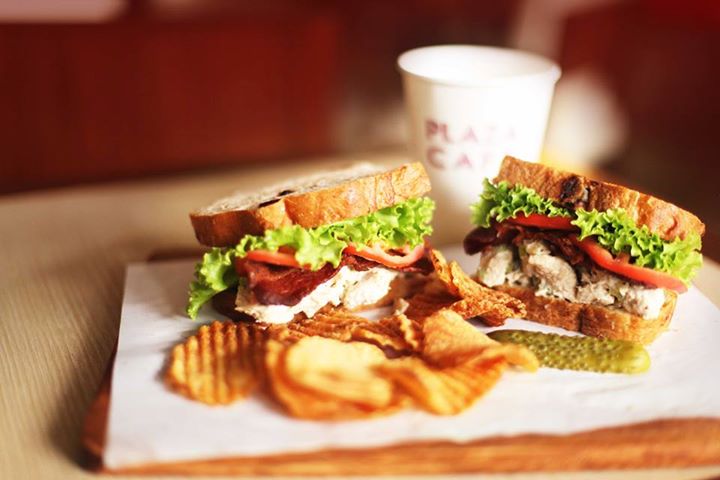 Corinthian Plaza, 121 Paseo De Roxas, Legaspi Village, Makati City | (02) 6250305 | Facebook Page
Plaza Café is a bright and inviting place specializing in sandwiches. Their concoctions are complex without being too complicated, pricey but generous in quality ingredients and familiar but made so much better. Try one, and you'll never settle for boring, life-less and unthoughtful sandwiches that saturate the market. Complement your sandwich with their salad, pasta, soup and dessert options. You can get your caffeine fix here, too.
While enjoying your meal and waiting for the rain to subside, you can play their board games, read their books and use their Wi-Fi. Those are pleasant ways to pass your time, but Plaza Cafe also offers a more exciting option. Look for the semi-hidden door in Plaza Café that will lead you to a completely different (and boozy) world. Exit Speakeasy Bar, anyone?
Any other cozy and quirky cafes you really wouldn't mind getting stranded in? Share them below!