8 Places to Get Your Japanese Curry Fix in Manila
Jul 30, 2015 &nbsp • &nbsp Koko Campiglio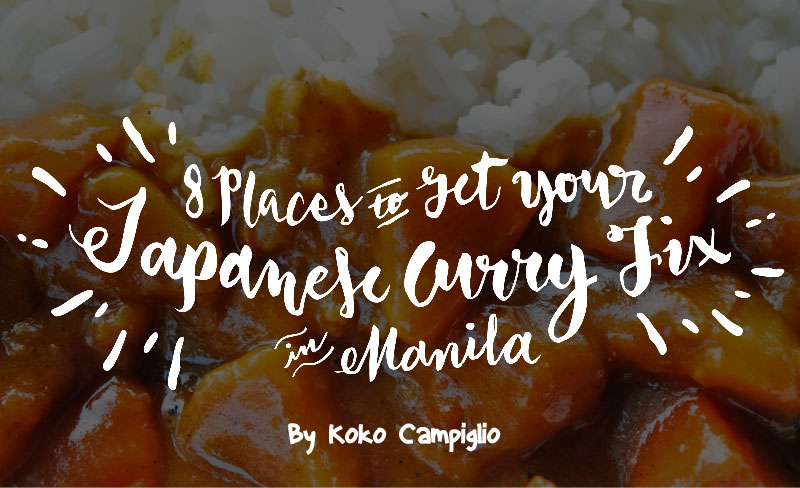 You can say a lot of things about Filipinos, but nothing rings truer than our love for food. Because we have adventurous palettes and are willing to try cuisines of all origins, we are prone to food crazes/trends. A taste for litson manok evolved into an obsession with shawarma, then came pearl shakes and cronuts. After that, ramen, buffets, and health shakes. We move from craze to another.
What are Filipinos currently craving for? Japanese curry bowls. This dish rose to popularity in Japan during the mid 1800's Meiji era thanks to its thicker consistency, sweeter flavors and milder heat compared to other Asian countries. So, what are 8 Japanese restaurants that serve the best curry bowls? In no particular order:

The best way to describe it is that they serve customizable curry.You can choose how much rice you want, then decide how spicy you want your curry sauce to be before deciding what you want to go with the curry. They have a wide assortment of pork, beef, chicken, seafood and vegetables available for diners. The best part is you can add as many toppings as you want to create your own personal curry bowl.
Price Range: ~P1000 for two people and ~P100 for a pint of beer
Location: Estancia Mall at Capitol Commons, Shaw Blvd., Mandaluyong City


Izumi's was the first Japanese curry bowl to be served in the Philippines and there's a reason they're still around after all these years. They claim that they slow cook their special curry sauce for several hours along with a variety of spices and vegetables. The result is a curry sauce with a rich, unforgettable flavor that people watching you eat start salivating themselves. It's that amazing.
Price Range: ~P900 for two
Location: 5th Floor, The Podium, Mandaluyong City


Ryu Ramen's curry offerings are above average in price but are well worth every centavo. Their curry sauce is held in high regard by most curry-lovers. The level of spice is adjustable, and they prepare it according to your specifications. Everyone gets the level of heat they want, and everyone walks away happy.
Price Range: ~P900 for two, P80 for a pint of beer
Location: 220 MJB Bldg., Tomas Morato Avenue cor. Dr. Lazcano Street, Quezon City


Price Range: ~P1300 for two
Location: SM Megamall, Aura, and Glorietta 5, with numerous branches around the Metro

Ganeza is well-known for having several variants of curry based on a menu that offers both Indian and Japanese styles. Their japanese curry is delicious and goes well with Naan. Also, super affordable!
Price Range: P500 for two
Location: 3rd Floor, Fisher Mall, Quezon Avenue, West Triangle, Quezon City

Located in Little Tokyo, where everything is guaranteed to be good. Sekitori is well known for having huge portions for their dishes. Their curry is above average, enough to satisfy your craving. One thing to note is that you can order beer here, which, you know, goes well with everything.
Price Range: P850 for two, P75 for a pint of beer.
Location: 2277 Chino Roces Avenue, Makati City


Eri Currys claim to fame is that it has a sweeter and more Filipinized flavor. It's a great way to introduce people to the joys of eating Japanese Curry. Servings are normally good for two people.
Price Range: ~P1000 for two
Location: 3rd Floor, SM Megamall Atrium, Mandaluyong City

Curry Bee, once you get pasts its name, has a menu that is fully entered on curry. Their curry sauce is just right. While their dishes are bit on the pricey side, this is a good place for big groups, so that works to it's advantage.
Price Range: P700 for two, P80 for a pint of beer
Location: Bluebay Walk, Metropolitan Avenue Bay Area, Pasay City
Where do you go to satisfy your Japanese curry cravings? Share your favorite spots with us and leave a comment below!