Kris Aquino may have called 2017 as "The Year of Closed Doors" but she definitely made headlines for her social media presence consistently throughout the year. Here are just 8 of her best moments!
When she became part of the "Crazy Rich Asians" cast
Kris can't really claim this year to be one of "closed doors" after bagging a mystery role in the upcoming film adaptation of Kevin Kwan's "Crazy Rich Asians."
When she had a mini photoshoot at the pool
Thank you, Kris, for giving us an outfit peg for swimming parties when crush is watching.
When she publicizes her son's report card
No momma prouder than Kris!
When she didn't know who Xander Ford was
Burn level: Nagasaki.
When she clapped back at a hater
Who could ever forget her most memorable line this year — a reply to a hateful comment on her Instagram photo with Bimby eating Chowking Siopao in bed?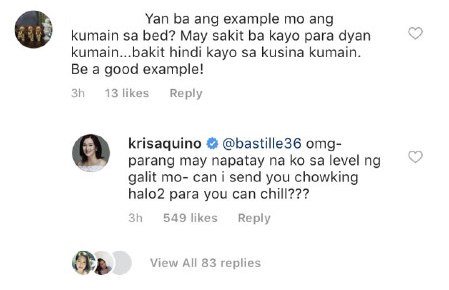 Of course, Kris being Kris, went the extra mile to chastise the basher by visiting him at his own house to deliver Chowking halo-halo.
#ParaYouCanChill Chowking Halo-halo Delivery (Full)

I was taught by my Mom to make sure to never get jaded- in other words everything is temporary, the success and wealth, as well as the heartaches and criticisms. She said that if I couldn't take the good with the bad, then being famous wasn't the life for me… i think alam nyo na, bihira akong "pumitik" pero pag medyo walang sense talaga, i'll treat the incident with as much humorous wisdom as i can muster…

I thank God that despite being away from network tv for a year and a half, we've managed to find a new avenue for me to connect with viewers and followers. I'm super happy with how 10/10/2017 turned out because i looked good (take a bow RB CHANCO & JONATHAN VELASCO), and i styled myself using a top we saw from a shoot i did, being produced & sold in the Philippines by an independent seller @unif0rm in IG (the o is a zero), thanks Alvin Gagui for explaining to them our style requirements- on camera oversized doesn't work because #hapitisLife.

Most of all, Thank You to my KCAP (that's Kris Cojuangco Aquino Productions) Team because we now totally have gotten our groove and we're able to give you entertaining videos that really focus on AUTHENTIC POSITIVITY.

HAPPY VIEWING and let's continue spreading the #lovelovelove. ❤

❤Kris

#ParaYouCanChill

Posted by Kris Aquino on Friday, October 13, 2017
If there's anything to learn from this, it's that Kris Aquino never backs down from a fight.
When she spilled tea about her favorite ex
HERBERT IS SHOOKT hahahahahahahahahahahah pota ka Kris pic.twitter.com/R8JqPkIc0e

— Joshua Ababa (@estebanababa) December 16, 2017
Even we're shookt by the cleverness of this woman.
When she grammar-checked a fake quote
One mustn't underestimate Kris's degree in English Literature from the Ateneo de Manila University.
When she became a BTS fan
Am i too old to join the @bts_official #btsarmy? I was late in discovering them, honestly i got interested after their AMA awards performance because of their GUCCI outfits. Then i watched them in Ellen & Jimmy Kimmel on @youtube and i bought their album on iTunes. pic.twitter.com/uHo1XfkNpX

— Kris Aquino (@krisaquino214) December 2, 2017
Who would have guessed that Kris Aquino would eventually become part of the BTS ARMY? It all started with the boys' luxurious fashion style, when she spotted the sparkly Gucci jacket she's wanted for a while on member Park Jimin during the 2017 AMAs.
She even went as far as to thoroughly research the band — their songs, their guest appearances, and their advocacies.
Welcome to the ARMY, Kris!
What were your favorite Krissy moments? Tell us all about them below!