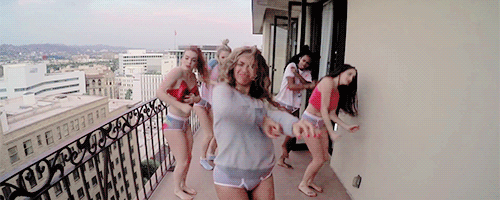 Beyoncé Power Songs To Start Your Morning Right

We're all hashtag-blessed to be alive in the age of Beyoncé, and there's nothing quite like starting your morning right with power songs from the Queen herself.
Admittedly, Beyoncé's earlier tracks fall under the slower brand of R&B and would be something we'd listen to while getting ready for a night out, but her expansive solo discography—which spans longer than a decade and pushes her voice, style and sound to new heights with every addition—more than delivers for every grown woman's morning soundtrack.
Crazy in Love, 2003
Let's begin with a track that started it all. Crazy in Love undoubtedly catapulted Beyoncé's solo career to golden status in 2003, heralding her rise as a pop deity and featuring beats and horns you simply can't not dance to. Among her first collaborations with Jay-Z, the track belongs to Dangerously in Love, Beyoncé's first studio album after leaving Destiny's Child in 2001.
End of Time, 2011
The thundering, spitfire drums that open End of Time, a 2011 track from the Queen's fourth studio album, signal the beginning of a larger-than-life upbeat R&B / dance / funk track that is guaranteed to energize your morning. The military drums also help you get ready for your day, with the love-struck lyrics inspiring even those of us who're flying solo.
Single Ladies (Put a Ring on It), 2008
Speaking of being single, Beyoncé's 2008 smash hit from her third studio album I am… Sasha Fierce celebrates exactly that—a woman relishing her freedom and demanding the respect she deserves in a relationship. This song is perhaps one of her most iconic, as the anthem for all bachelorettes who a deserve a man that delivers them "to infinity and beyond." It's giddy and instantly addictive, a track that will make your morning whether or not you have a ring on it.
***Flawless ft. Chimamanda Ngozi Adichie, 2013
You wake up, flawless. Post up, flawless. This track from Beyoncé's self-titled 2013 album is the ultimate song for knowing your beauty and claiming it. The trap influence, coupled with samples from Adichie's powerful TED Talk, "We Should All Be Feminists," ensures an aggressive, empowering song so that you start your morning with ample swag.
Countdown, 2011
This 2011 track from Beyoncé's fourth studio album mixes hip-hop, reggae, dance, world music and even a Boyz II Men sample in one extraordinary love song. Let's face it—only Beyoncé can make lyrics like "Me and my boof, and my boof boof riding" sound like high poetry while trapping us in an irresistible beat to open a good day.
Green Light, 2006
Green Light is one of the lesser known songs in Beyoncé's second studio album, B'Day. Even if the song is about giving a lover your permission to leave, its chorus just urges you to go, go, go have a good morning ahead, with or without your man.
Hold Up, 2016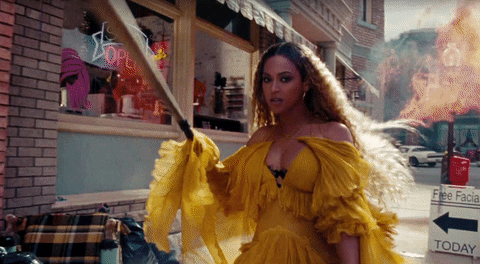 Preview the track here.

Hold Up is glorious, sad and mad all at once, complete with a music video of the queen skipping down the street, baseball in hand, ready to smash car windows, fire hydrants and god-knows-what-else against a backdrop of random explosions. Coming off the release of Lemonade just last weekend, this is a song you listen to in the face of an immensely difficult day ahead. Sometimes, all you need in the morning is to get your swag on, don't care about looking crazy and, if you're Beyoncé, destroy some vehicles in slow motion.
Love on Top, 2011
Love On Top remains to be one of the Queen's most energetic, euphoric, and ambitious songs to date, definitely deserving the top spot on your morning playlist. A standout from her 2011 album 4, Love on Top is an 80s throwback love song that is elevated quite literally by key changes that only Beyoncé can work. The song feels like nothing short of a triumph and should be more than capable of automatically brightening up the gloomiest of mornings.
What do you listen to start your morning off right? Share away in the Comments Section!