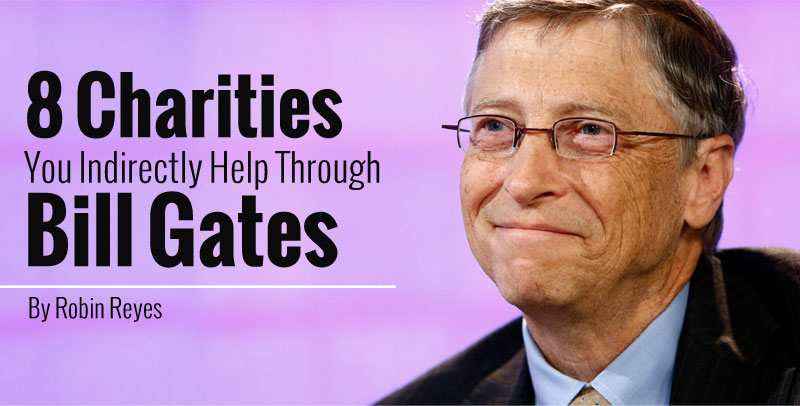 Guys, guys, Bill Gates vacationed in Palawan recently!
Younger readers may not really know who Bill Gates is, given that Steve Jobs has had more media presence in the past few years.
However, it behooves us to know the person who created the Microsoft Windows operating system that runs, oh, about almost all of the computers in the world lang naman. Maybe it's because Microsoft (and its different services like Internet Explorer, Office, Hotmail, etc.) has become so ubiquitous in our lives that no one really thinks of who created it.
What's a nerd to do with all that money from our pockets when we buy computers that run on Windows? Well, he and his wife set up the Bill & Melinda Gates Foundation in 2000 and it's considered as the largest private foundation in the world.
With an endowment of US$42.3 billion as of last year (with Gates donating up to US$28 billion to the foundation as of 2013), it can do a lot of good.
Here are some of the charities and efforts it is involved in.

Gates also reportedly visited the International Rice Research Institute during his trip to the Philippines. Maybe he's planning on making Microsoft Rice in the future? LOLz, joke only. His foundation is one of the institute's donors. We wonder if he had a chance to try out 8 rice-based delicacies of the Philippines?

After Typhoon Haiyan hit the Philippines in 2013, killing more than 6,000 people, the foundation made grants to Mercy Corps, Lutheran World Relief, and Save the Children. The funding helped provide families with immediate shelter, food, water, sanitation, medical care and supplies, and options such as cash-for-work assistance.

The foundation aims to enable "women to make informed decisions about whether and when to have children" in order to "reduce unintended pregnancies as well as maternal and newborn deaths" and also to "increase educational and economic opportunities for women" that will lead to "healthier families and communities."

"Every day, about 800 women die from preventable causes related to pregnancy and childbirth." That's like almost everyone on your Facebook friends' list! Get interested and click the link if you want to know more info.

The foundation aims to increase poor people's "capacity to weather financial shocks and capture income-generating opportunities" as well as "reducing the amount of time and money that poor people must spend to conduct financial transactions."

Many children who live in poverty don't get enough or the right kind of food and 35% of deaths of children under 5 years old are due to nutrition-related causes.

Because you don't just feed stomachs, you also need to feed the mind.

Because, why not?! (And if you have a library, you need a place to read those books, amirite?) The foundation aims to fund research that will develop a toilet that: removes germs from human waste and can run without connections to water, sewer, or electrical lines. Don't laugh. It's easy for those of us who have internet connection to forget that there are still many people who live in places without electricity and/or running water.
What do you think of the foundation's efforts? Share in the Comments Section.