8 Celebrities React to That Blue/Black, White/Gold Dress
Feb 27, 2015 &nbsp • &nbsp 8List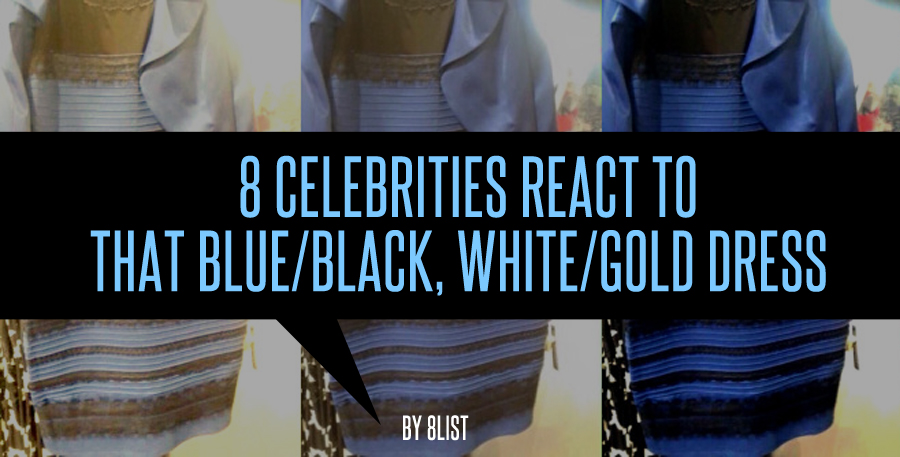 World, earlier today we witnessed a planet-wide debate around a single photo of a dress:
The story goes like this.
One Tumblr user uploaded the said image with this very important question:
guys please help me – is this dress white and gold, or blue and black? Me and my friends can't agree and we are freaking the f*ck out
She explains her problem further here.
It did not take long for the world to weigh in on the matter. In less than 24 hours, millions of people shared on social media what they saw: Blue/Black or White/Gold (some even suggested Periwinkle/Green, Lavender/Brown, Blue/Gray, etc.)
If you haven't given your two centavos yet, better get on it now. And here are 8 Hollywood celebrities who could guide you through your decision-making process.

8. James Franco
Dress controversy… VIOLET and BLACK! Obvs. https://t.co/uQLbu9km5G

— James Franco (@JamesFrancoTV) February 27, 2015
Mr Franco keeps it simple. 
7. Jaden Smith
I'm Seeing Blue And Black, As Of Now

— Jaden Smith (@officialjaden) February 27, 2015
The Son of Will Smith and Jada Pinkett-Smith goes all existential.
6. Rashida Jones
What genius pulled off this elaborate metaphor just to teach us the importance of tolerating other perspectives?#blueandblack #whiteandgold

— Rashida Jones (@iamrashidajones) February 27, 2015
Parks and Recreations' Rashida Jones lauds the user's efforts in making the world a better place. 
5. Jimmy Fallon
. @questlove it's clearly #goldandwhite #TheDress

— jimmy fallon (@jimmyfallon) February 27, 2015
Jimmy Fallon challenges The Greatest Afro of All Time.
4. Ariana Grande
Ariana Grande cannot seem to make up her mind.
3. Miley Cyrus
Hipster Miley Cyrus is hipster. 
2. Kim Kardashian
What color is that dress? I see white & gold. Kanye sees black & blue, who is color blind?

— Kim Kardashian West (@KimKardashian) February 27, 2015
Kim challenges husband.
1. Taylor Swift
I don't understand this odd dress debate and I feel like it's a trick somehow. I'm confused and scared. PS it's OBVIOUSLY BLUE AND BLACK

— Taylor Swift (@taylorswift13) February 27, 2015
Maybe Taylor Swift can write a song entitled "Black Space." Y/N?!
What do you think? Black/Blue or White/Gold? Share them in the comments below!