Brightburn: Son of Evil has a simple enough premise: what if Superman, or a reasonable facsimile of the invulnerable alien foundling raised by a God-fearing Midwest couple, grew up to discover his powers and decided to use them for how own selfish, harmful reasons?
Here's why it works as a horror movie but not as a superhero story. Without spoilers, of course.
MY CHILD, THE ALIEN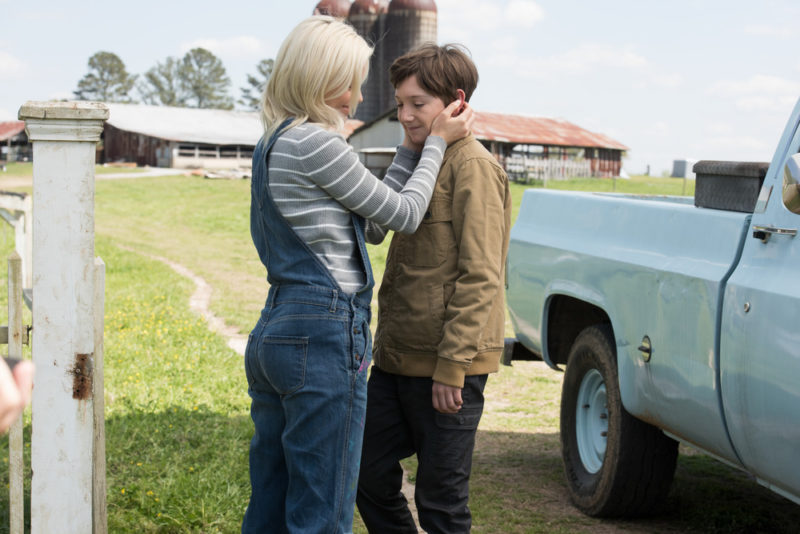 Tori (Elizabeth Banks) and Kyle Breyer (David Denman) are a couple in a happy marriage living in the small town of Brightburn, Kansas. Tori has a passion for art while Kyle lives for billiards and—that most redneck of passions—hunting.
For years they've been trying to conceive but have had fertility issues. Still, they both agree that the one thing that would complete their life is a child. Tori has nearly given up hope but one night, an alien craft crash lands in the woods near their home. Inside is, you guessed it, a baby from the stars. Mazel tov, Breyers, it's an alien boy!
Human to all appearances, Tori and Kyle decide not to look the extraterrestrial gift-horse in the mouth but instead agree that this was a gift from God and that they are now #blessed with the infant son that they've always wanted.
Fast forward to 12 years later and Brandon (Jackson A. Dunn) is almost a teen on the brink of puberty. A signal from the ship that the Breyers have been keeping under their barn suddenly comes alive, making Brandon sleepwalk, find it and at the same time awakening a deep, vicious darkness within him.
As he discovers his powers along with a primal urge to hurt and maim and eventually murder, Brandon is conflicted by his love for his family and the values he grew up with but wants to give in to these new, delicious, and twisted urges.
How will Brandon cope with these new emotions and abilities, especially once this miracle child decides to unleash his powers on the sleepy town of Brightburn.
CHOOSING MR BRANDON BREYER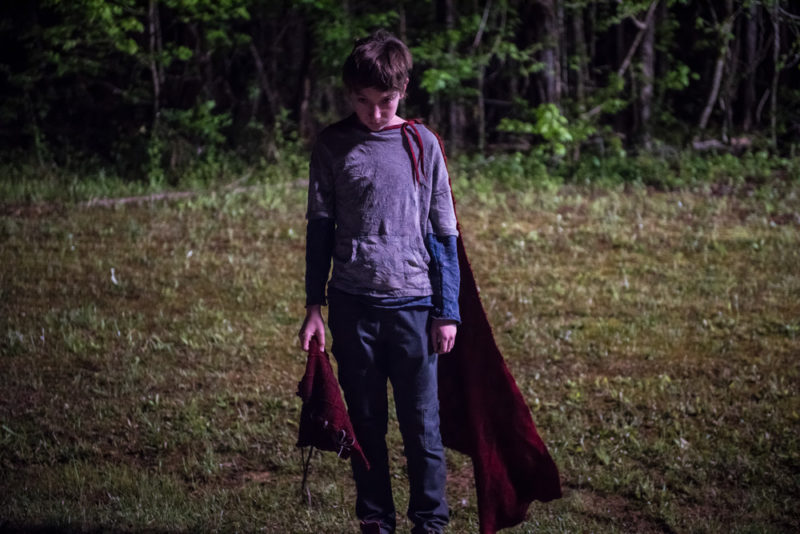 Acting-wise Jackson Dunn knocks this one out of the park as the sweet Kansas boy who transforms into the Son of Evil. At first he's the kind of harmless, pencil-necked nerd that comic book bullies flocked to and lined up for so they could beat him up. Dunn's most recent outing was as the 12 year old version of Ant-Man Scott Lang in Avengers: Endgame.
Barely a teenager when he landed the role, Dunn has certainly projected the necessary range for the increasingly disturbed Brandon and was excited by the challenges at playing a teen who realizes he possesses superpowers. His looks of outrage and malicious delight light up his eyes as the Son of Evil becomes increasingly confident in his powers.
GOOD VALUES, AWFUL PARENTING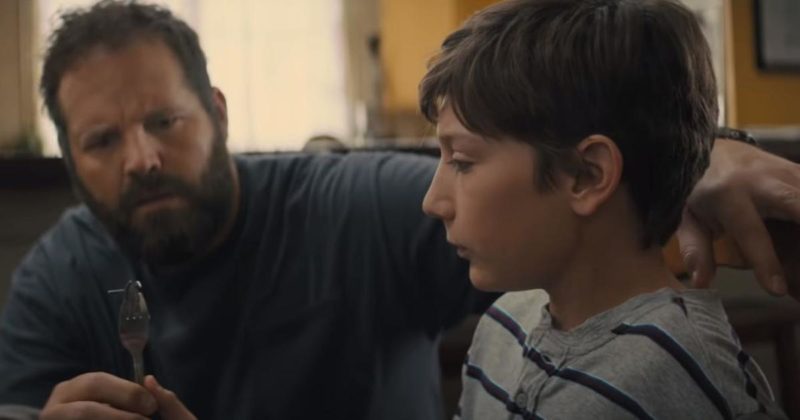 Both Elizabeth Banks and Kyle Brenner breathe pretty good life into the roles of what are supposed to be tailor-designed caricature parents, younger versions of the classic Kent family whose lives are mostly bucolic and typical country.
When Brandon starts to break bad, they first chalk it up to the changes that come with puberty. Banks, who has two Emmys to her name, utilizes enough thespian zest to inject charm and pathos to Tori when she suspects that there's something else, something menacing that is taking hold of Brandon. Even if she sees it becoming worse she decides to withhold telling her husband about these incidents, fighting her maternal instincts and refusing to believe the signs.
It's such a plausible, motherly response to wait-and-see, believing that the sweet Brandon from space will ultimately find the right path if she just showers him with love and affection while alternately giving him space to grow and mature.
Big mistake on mommy's part, of course, but we viewers will tend to give her slack because, hey, it's not like there's a manual for bringing up a superhero who's sliding to the dark side.
GIMME GRAND GUIGNOL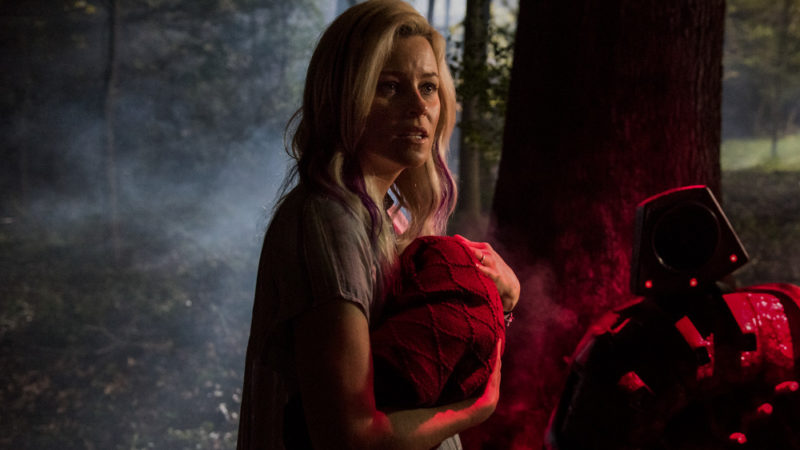 Tori witnesses Bradon's unnerving behavior but opts to remain quiet on the matter. Yet producer James Gunn (of Guardians of the Galaxy Vols 1 and 2) is also quick to point out that like Tori we're holding out and rooting for Brandon because we feel a connection to his pubescent woes, and he is still recognizable as the boy-next-door gone wrong.
In the trailer, you'll have noticed that Brandon attacks an unsuspecting waitress at the local diner. Apparently this is the mother of a girl from school he was interested in. For reasons we can't reveal (because spoilers) Brandon felt the need to take revenge on said waitress by busting down all the windows and overhead lights, one of the glass shards embedding itself in the woman's eye.
This and other bloody set pieces are all great uses of gore throughout the movie, recognizable tropes of horror cinema combined with classic superhero imagery, like Brandon's red cape briefly flickering into view. The sinister use of it is superb (even the sound that Brandon's cape makes as he stalks his prey is a great use of horror elements) since we all know that when a superhero wants to go all Grand Guignol there's no stopping your impending doom. And by the time Brandon leaves the diner, the restaurant is demolished and covered in terrible carnage.
Throughout the course of the production, the filmmakers sought to use Brandon's unnatural physicality to help create a sense of apprehension and dread. It begs the question: if you suddenly woke up with superpowers as a frightened pre-teen wouldn't it be easy to use them for something that satisfies the darkest corner of our nature rather than making the world a better place?
BREAKING SUPER BAD?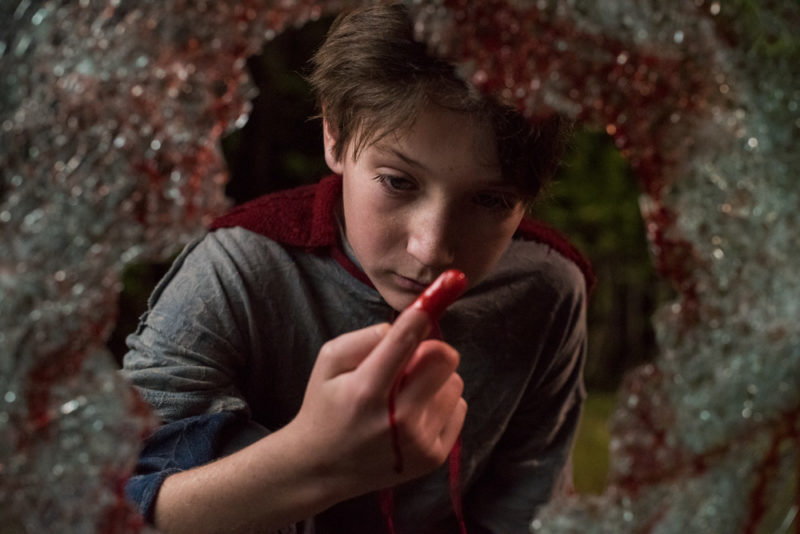 Here's where it gets sticky. Everything that Brightburn does in scenes and set pieces makes it an excellent B-horror movie. However it seems like those very same elements conflict with making it a plausible origin story of a superhero that breaks bad.
Written by The Gunn Cousins Brian Gunn & Mark Gunn, and directed by David Yarovesky (of 2014's The Hive cult fame and TVC and music videos for Korn, Red Bull, and Steve Aoki, plus "GotG: Inferno" a bonus feature on the Blu-ray), everything in this superhero gone wrong story seems to happen without much setup or context.
Except for the writers and director banking on viewers' previously knowledge of the Superman mythos and origin template, there's never any reason given for why the ship that Brandon came in on suddenly turns itself on, imbues him with extranormal powers, or pushes him to the deep end of his nature that explicitly goes against all the nurture and TLC that his Midwest upbringing has lavished on him.
HAND ME MY DEATH RAY STORY VACUUM!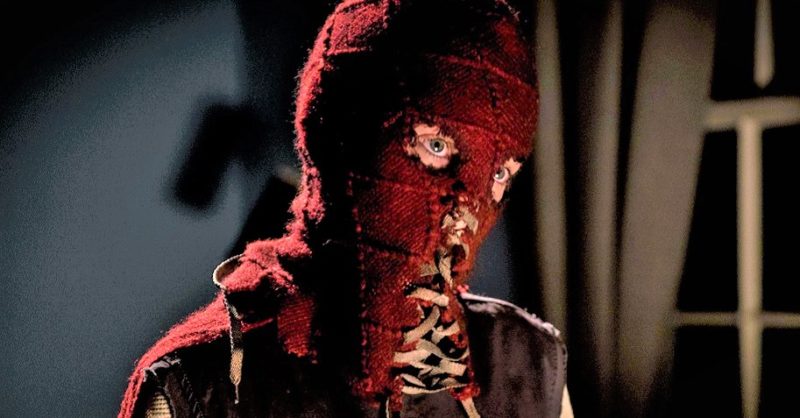 In fact other than again the Superman story we've all come to know, his template powers of flight, super speed, heat vision, and superior strength seem to again function in a vacuum—why those powers and not others like lightning bolts or fireballs or freeze breath?
Sure his ability to move in super celerity can be truly frightening but who cares if there's no context for its use or we can't track its limits or range?
In the same vein we saw no reason how Brandon suddenly came across the inspiration for his red costume or how he made them other than that he was scribbling his logo slash signature of Bs (for Brandon Breyer, duh) facing against each other along with images of his cape and mask. Did he suddenly know how to sew through YouTube tutorials? It's a damn scary mask, though.
These all seem to be convenient oversights and come across as story filigrees rather than the narrative Maypole where all of Brandon's character development should focus and turn.
MY PROBLEM WITH AN EVIL SUPERHERO…

For that matter, there's never any passing backgrounder or even mention given to why he crash landed on Earth in the first place. But the movie does suggest it was not coincidental, rather an attempt at an extraterrestrial invasion. If this is so, it's a piss poor invasion plan when the natives of the planet you're planning to conquer need to take care of the first alien scout. I guess they were banking on childless couples on Earth being won over by all the cuteness?
But on a larger scale, my problem with this attempt at the "evil superhero" or the ubermensch who breaks bad is that there must be someone heroic first for the villain to arise.
Call it being a slave to tropes but I did agree with Elijah Glass in Unbreakable when he explained to Security Man David Dunn about the parameters of the comic book world as it applies to our lives: "For every extreme in human nature, there is an opposite that rises." For Mr. Glass's extreme frail state, he committed terrorist acts to find his opposite: the unbreakable David Dunn.
Brandon never acts heroically at all and instead simply switches from sweet child to murderous godlike being, the evil within him arising like he had always been born bad, as I he was someone like The Omen's Damien, foretold of his coming and the suffering of humanity by his hands.
After all, Superman is really just an alien foundling who took to the nurture of the Kents and imbibed their down home American values. So much so that when his fellow Kryptonians arrived he found very little kinship to his own race and decided to eschew their conqueror's philosophy for the humanity that mummy and daddy had gifted him with.
MOTHER, MAY I?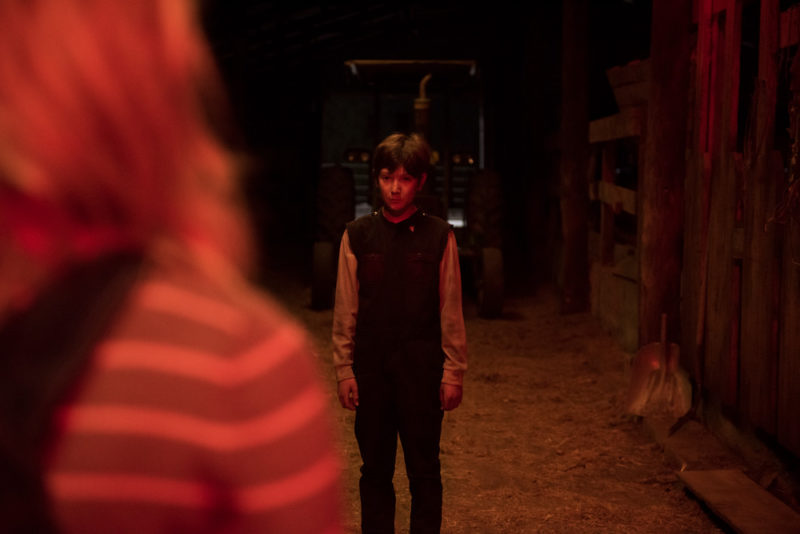 Brandon's story is shall we say not quite organic in its development. Though at its heart it is one about how a boy's last vestiges of being brought back to the harbor of light and love was anchored to his mother.
There's great chemistry between Banks and Dunn portraying Tori and Brandon luckily and we can see how the young man tries his best to struggle between what his mother wants (be good) and what his alien ship and super nature want him to do (conquer the world). And sadly, yeah the two must be mutually exclusive.
The moody, rude, disrespectful, Brandon seemed to fit Dunn better and gives this horror movie the kind of ballast it needs to be propelled forward with blood in the wake of its super speed. If you can watch it under the lens of B-movie horror and not any of the superhero films then you'll enjoy this one more.
"Brightburn: Son of Evil" screens in Philippine theaters on May 29.
What do you think of this movie? Tell us below!