Due to the COVID-19 pandemic and the need for social distancing, most of the world has shifted to contactless transactions. From credit/debit cards and wire transfers to e-wallets and QR codes, there are a variety of digital modes of payment that everyone has quickly adapted, removing the need for cold hard cash. However, while the Philippines has likewise started to shift to digital transactions, cash remains a primary mode of payment in the country. And for foreigners in transit, cash-only transactions are a real pain.
Foreigner vs lack of card payment options
In a now viral Tiktok video, Dutch content creator @traveltomtom aired out his frustrations on the glaringly limited card payment options in Terminal 2 of Ninoy Aquino International Airport (NAIA), the Philippines' main airport.
@traveltomtomThink twice before transfering through #manila in the #philippines on a #philippineairlines flight! No cash = no food: I am officially HANGRY! 😬 #airportlife #philippinestiktok #tiktokphilippines
He went around several food establishments looking for food, but most of them only accepted cash payments. "We're hungry so we want to get something to eat but 'cash only.'" In his video, he found little to no establishments that accept card payments, with only a liquor store having a card terminal.
According to the content creator, he just arrived from Papua New Guinea and was only transferring flights in the Manila airport. This was why he probably did not prepare some cash in Philippine pesos. When he tried looking for an ATM to withdraw cash, the one he found was out of order.
The video has since gained over a million views, 7,000 comments, and 42,000 comments.
Divided opinions
In the comment section of the Tiktok video, users are divided on where the fault lies. Should the airport have taken action? Or should the traveler have brought cash with him?
Some netizens pointed out that he was only there for a transit flight, so it's understandable why he didn't prepare cash. But others claimed it's a cardinal rule in traveling to have some cash on your person for emergencies. One netizen said that he has a point, but claimed that he shouldn't have delivered his complaints so sarcastically. Another said the Philippines should upgrade its airports when it's considered an international airport.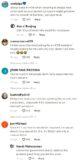 While the Philippines have digital wallets like GCash and Maya, we can't expect foreigners don't have these apps unless they frequently travel to the Philippines. Card payment terminals are also limited depending on where you are. And in a world that has shifted to cashless transactions, the Philippines' limited digital modes of payments are a pain to deal with and might even discourage tourists from visiting the country.
Second viral case
Earlier this year, a similar case made rounds on the internet after SEVENTEEN member Joshua Hong shared his personal experience with the lack of card payment options in the country. Since he didn't have cash on him, he tried to withdraw money via ATM, but it didn't work. He had to ask his hotel to overcharge his card instead just to have some cash on hand.
View this post on Instagram
"I'm not saying that Manila is a bad place to travel. I'm just sharing my own experience, and that is what sort of thing that could happen to you if you go on a trip without making any plans in advance," the K-pop star said. "Always make plans first! Make sure to take cash with you, especially when you're traveling to a South East Asian country as well."
The BGC Boy: Filipino CARATs Were Beyond Excited to See SEVENTEEN's Joshua Here in the PH
The BGC Boy: Filipino CARATs Were Beyond Excited to See SEVENTEEN's Joshua Here in the PH
Edgardo Toledo | Sep 15, 2022
3rd most stressful airport
Likewise, data gathered by travel blog Hawaiian Islands ranked NAIA as the 3rd most stressful airport in the Asia and Oceania region.
Data showed that nearly 58% of passengers that pass through NAIA experience stress, making it the third most stressful airport in the Asia and Oceania regions. https://t.co/NDBabO6vVg pic.twitter.com/IxV4Vkhv2S

— The Philippine Star (@PhilippineStar) November 26, 2022
In response, Secretary Jaime Bautista said that the Department of Transportation sees this ranking as "a challenge."
"We welcome comments, suggestions, recommendations, and even criticisms because this is the way for us to be able to know what the passengers are feeling and what they need so that we can address these," the transportation secretary added.
Follow us on Facebook, Twitter, Instagram, Tiktok, and Youtube for the l8est entertaining, useful, and informative lists!