A chocolate cake is perfect for any occasion in life. Got promoted? Celebrate with a fancy cake. It's a loved one's birthday? A cake with a witty dedication should be front and center. You can even buy a whole cake just because you need a pick-me-up on a dreary afternoon. But the question is which store can fully satisfy your chocolate cake craving with the finest slice of cake? And will they ever fit your budget? It's a good thing you don't have to splurge a lot to get yourself one of the best chocolate cakes in Manila. Here are a few options:
Becky's Kitchen Chocolate Fudge Cake – P600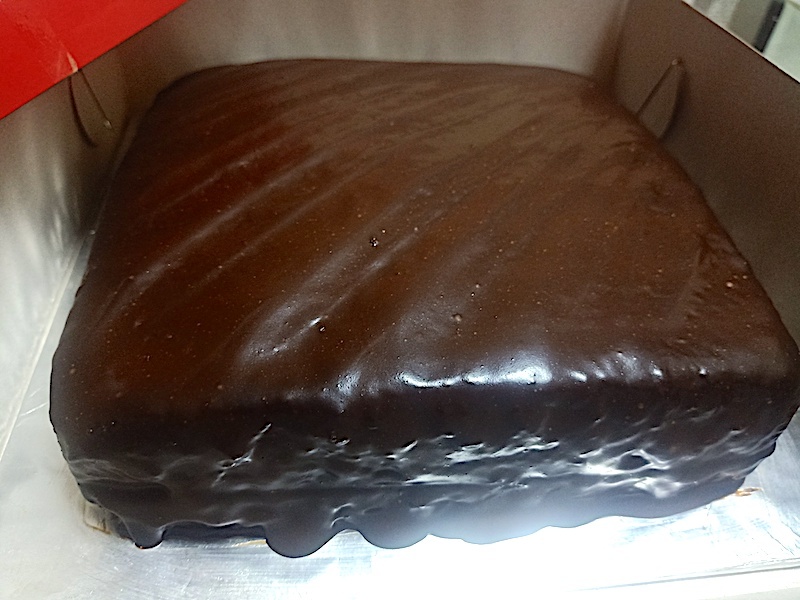 You can't go wrong ordering anything from Becky's Kitchen, especially if you get their famous Chocolate Fudge Cake. It's simple — a chocolatey slab of cake inside a box — but it's just what you need to celebrate any occasion. Plus, the fact that it's bare and simple as can be leaves you room to decorate with candles, toppers, and candies. Fair warning, when it comes to this cake, one slice simply isn't enough.
Visit Becky's Kitchen branches in Singalong, Manila, and in Suha Street, Valle Verde 1, Ugong, Pasig City.
Lola Cafe's Auro Tsokolate Cake – P850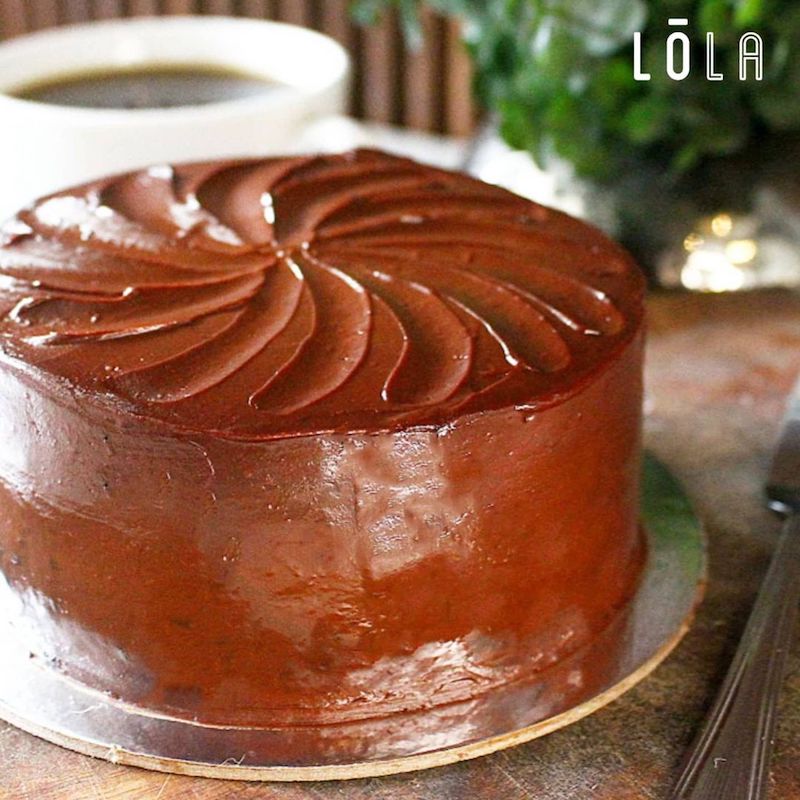 Aside from their extensive menu of savory eats that reflect modern Filipino dining, Lola Cafe also has a dessert menu you shouldn't miss. Their Auro Tsokolate Cake is one of the best whole chocolate cakes for a number of reasons starting with the chocolate ganache. It's not just any ganache, it's made from local, internationally awarded bean-to-bar chocolate brand Auro. Auro ingredients are sourced from local farmers and if they taste so good in chocolate bar form, you bet they're going to taste as good on a cake. Slice into it and you get a slice of dense chocolate cake with caramel and cookie crunch filling for a little bit of texture into that bite. Needless to say, it's a proper chocolate cake and it won't burn a hole in your pocket.
You can visit Lola Cafe branches in Quezon City, Ortigas, and Pasay. You can also find them on GrabFood.
Here's Where to Get Those Aesthetic Korean Minimalist Cakes That's All Over Your Instagram Feed
Here's Where to Get Those Aesthetic Korean Minimalist Cakes That's All Over Your Instagram Feed
Kyzia Maramara | Jul 16, 2020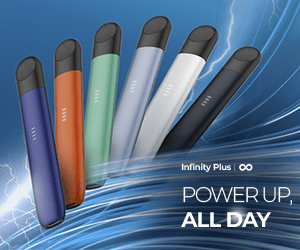 Chocolat's Death By Tablea – P875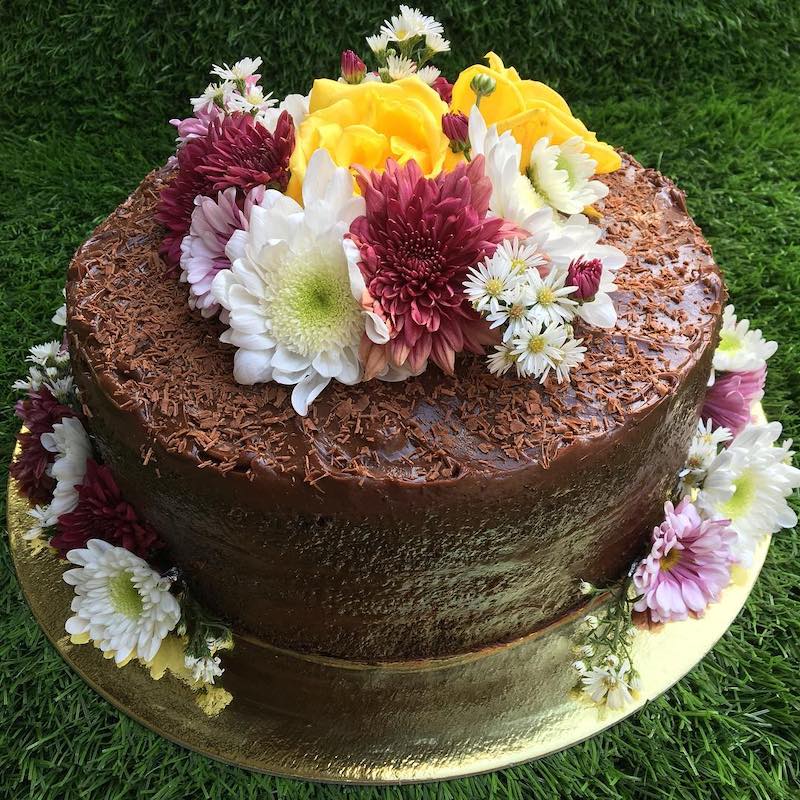 Nothing beats the superior taste of home-baked chocolate cake. Each baked creation from Chocolat Deep Dark Choco Cakes is made fresh and from scratch so you know your order gets the attention it deserves. Their obvious bestseller is Death by Tablea, a chocolate cake finished with bittersweet icing made of Mindanao-grown cacao and condensed milk. It's usually bought plain but Chocolat can dress your cake up with flower decor, write a dedication on it, or fill it with beautiful toppers.
You can find them on GrabFood and food panda or you can send them a DM on Instagram to have your cake customized.
Purple Oven Chocolate Campfire – P940
View this post on Instagram
Miss camping and roasting s'mores? You don't have to start your own bonfire in the woods to get a taste of the treat. You can just place an order for Purple Oven's crowd favorite Chocolate Campfire. The dense layers of chocolate cake and fudge are covered in thick marshmallow fluff, torched to perfection. Each slice gives you a sweet mouthful that's never enough for one slice, really. While you're at it, you should go ahead and order other Purple Oven best sellers like their Lemon Bars (P410/16 pcs) and Blueberry Cheesecake (P1,250).
For orders, send Purple Oven a DM on Instagram or contact them through the following number: 0917 710 3227, 0919 857 6504, and 8 631 4221.
Where to Get the Prettiest Cakes Decorated with Edible Flowers
Where to Get the Prettiest Cakes Decorated with Edible Flowers
Kyzia Maramara | Apr 15, 2021
Big Al's Cookie Jar Decadent Chocolate Cake Junior – P600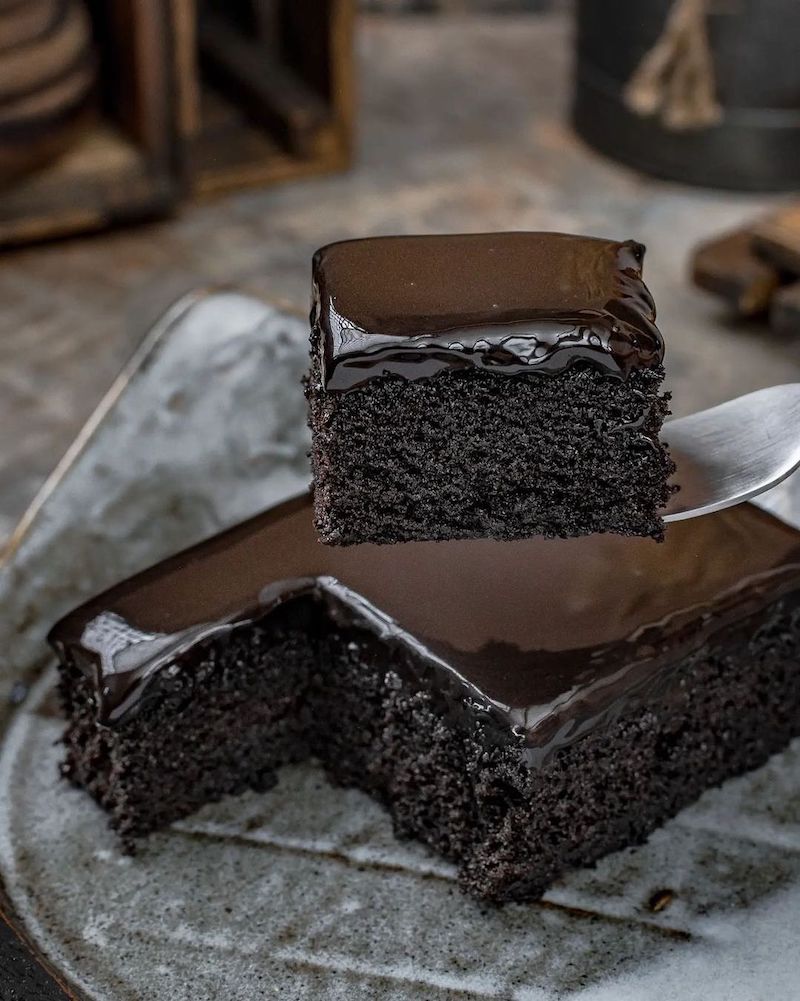 Big Al's is synonymous with "best chocolate cake ever." There's a reason why they remain on top even after nearly two decades since they opened their kitchen in 2004. Get yourself an 8 x 8 tub of their famous Decadent Chocolate Cake — moist chocolate cake poured over with rich, smooth icing. Every spoonful (because TBH, you'll be tempted to eat this with spoons and not slices) straight from the pan is perfection. You'll be tempted to have this for dessert, mid-afternoon snacks, and even for breakfast — we won't judge.
Big Al's Decadent Chocolate Cake is also available in Loaf (P350/8×4), Birthday (P1,100/9×12), and Party (P1,650/10×12). Drop by their stores in Antipolo, Quezon City, Makati, and Paranaque. You can also place an order directly from their website or find them on GrabFood.
Xocolat To Live For Xoco Cake – P995
Chocoholics will love Xocolat's decadent cake offers — it's simply one of the best chocolate cakes in Manila. Their
Xoco Cake
is insanely dark and moist, topped with gooey Belgian chocolate sauce so good and sweet it'll bump your energy for the day. Pair this simple, no-frills cake with a cup of coffee or tea and you've got yourself the ultimate snack. Oh, and by the way, Xocolat also has a dark caramel version of this cake and another that's infused with liquor. You can get the Xocolat To Live For Xoco Cake Boozy 8 x 8 for P795 and Dark Caramel 8 x 8 for P695.
For orders, send them a DM on Instagram or contact them through 0917 848 0929 (Viber).
Mudcakes by V Classic Chocolate Mudcake – P900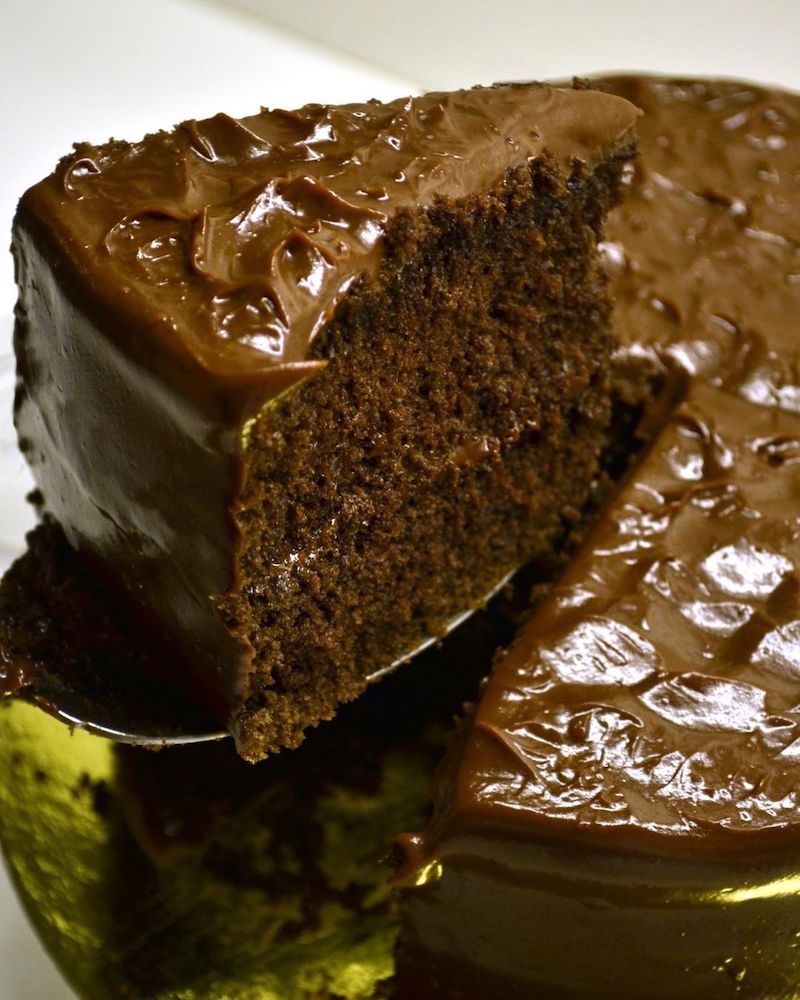 They might be called mudcakes but they're one of the best tasting chocolate cakes in the metro. The heavenly moist chocolate cake has a layer of smooth icing in the middle making every forkful almost melt in your mouth. Taste the rich, cocoa goodness that is enough to be the motivation to your afternoon slump. And if you're craving for these mudcakes, you can always get their mini cupcake versions (P300/dozen).
Send Mudcakes by V a DM on Instagram for orders.
Sugarbee's Salted Caramel Chocolate Cake – P750 (one layer)
Aren't you glad you don't have to shell out a ton of cash just to get a great chocolate cake? Sugarbee's bestselling Salted Caramel Chocolate Cake will only set you back P750 and yet it's one of the best you'll ever taste. You'll never truly go wrong with a chocolate and salted caramel pairing. It elevates a dessert's flavor and makes it even more enjoyable. Sugarbee finishes off their cake with a thick ganache, a smooth complement to every moist cake forkful.
You can visit their branches in SM Megamall, BGC Stopover, Venice Grand Canal, and Paseo Center. You can also place your orders via GrabFood and foodpanda or send them a DM on Instagram for inquiries.
Did we miss your favorites? Share your best chocolate cakes in Manila in the comments section below!
Check us out on Facebook, Instagram, Twitter, and YouTube, and be the first to know about the latest news and coolest trends!