Things are looking up. We started 2021 huddled in our homes, plans thrown out the window courtesy of the pandemic. But now that more of the population is vaccinated and restrictions are easing up, we're starting to make plans with friends and travel around again. With all the adventures you're bound to have next year, you need a handy planner to help organize your makalat life. If you haven't found your match from our initial list of 2022 planners, maybe your planner soulmate is right here. Check out these awesome 2022 planners:
Muji Planners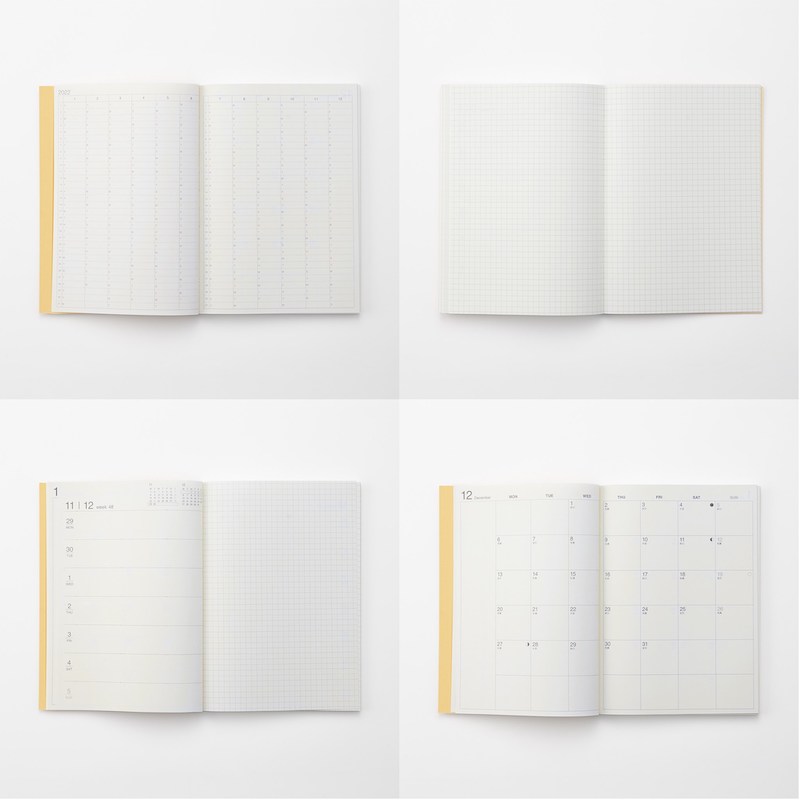 2022 Craft Cover Monthly/Weekly Planner, P325
Muji has built a great rep in the minimalist community by now. Journal lovers know that the simplest planners can be found on their shelves. Their 2022 collection is no exception. Choose from monthly/weekly planners, monthly/weekly vertical planners, monthly planners, and desk planners. Depending on which one you choose, you'll get an overview of the month to track your schedule as well as weekly spreads so you can write more details. It also includes grid sections for your notes. Browse online here.
Starbucks Traditions Planner Collection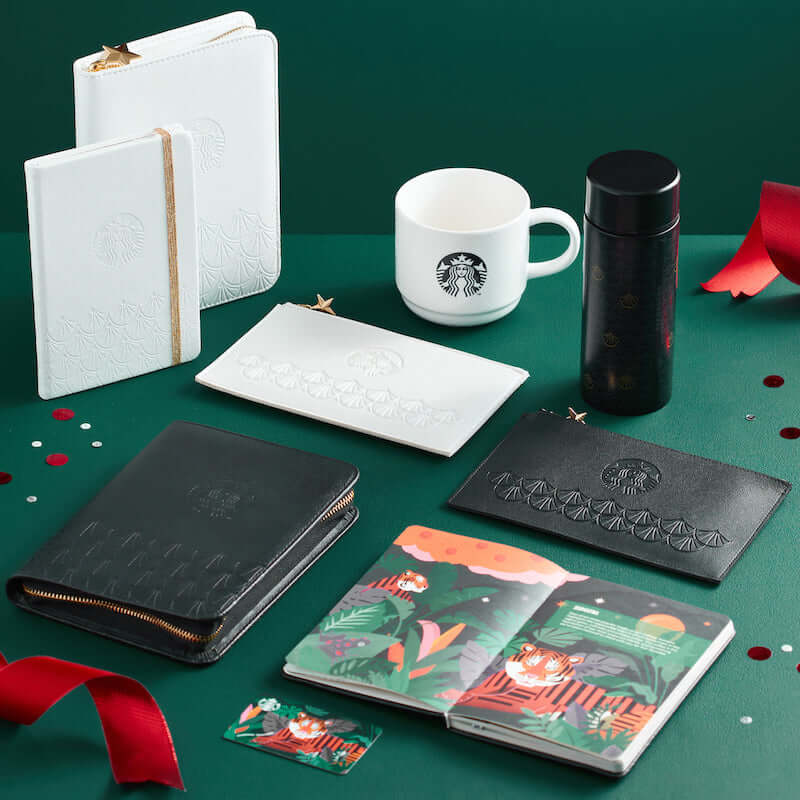 The Starbucks planner is probably everyone's most anticipated one every year. It just gets better and better! The 2022 Starbucks Traditions Collection includes planners, organizers, pouches, a mug, and a tumbler in black and white versions. The planners come with 35 dotted pages plus a weekly and monthly calendar for each month. It's conveniently zipped inside an organizer where you can also store your cards, passports, and other essentials. You know the drill: Claim these planners after you've collected 18 Starbucks stickers by purchasing drinks from November 2 to January 3.
As for the cute pouches, they come with small blank notebooks you can take with you anywhere. The white pouches are paired with a ceramic mug and the black pouch gets you a classy metal tumbler. You can only claim either a planner and organizer or a pouch and mug/tumbler set once you complete the 18 stickers.
Young Adult Planner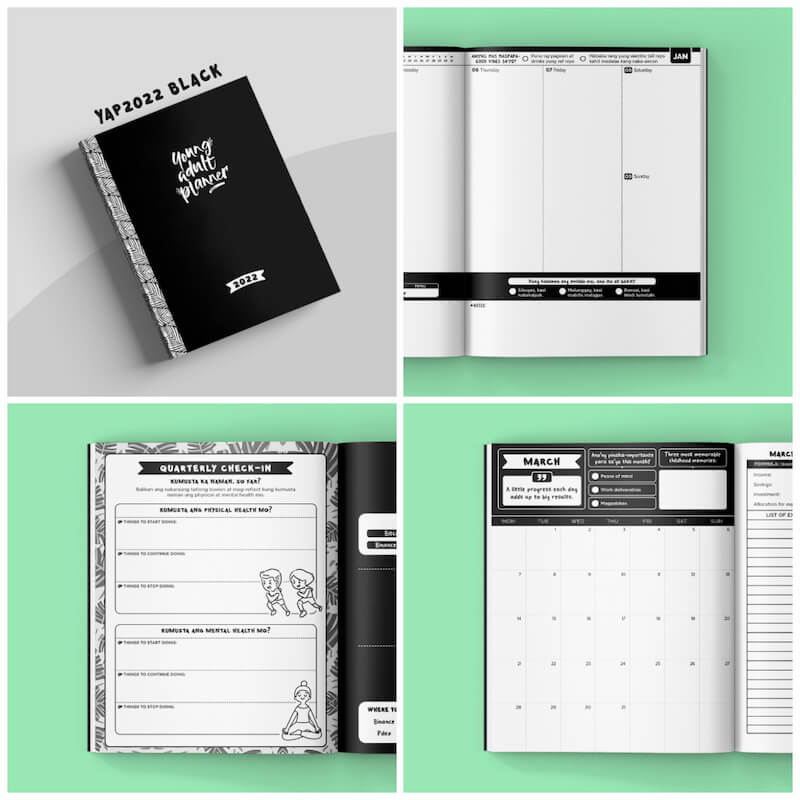 Young Adult Planner 2022 (Black), P310
Hip, stylish, and humorous, the Young Adult Planner is perfect for every, well, young adult. For 2022, it's loaded with features to help get you organized and then some. It has weekly spreads with a notes section and a savings tracker. The monthly pages feature a budget tracker plus discount coupons. There's also a quarterly check-in so you can write about how you're doing in life so far mentally and physically. The Young Adult Planner is littered with funny jokes and fun trivia (Cryptocurrency 101, anyone?) you'll love. Get yours black or pink colorways from Shopee, Lazada, or same-day delivery by messaging their official Facebook page.
Beam Projects Agenda Neue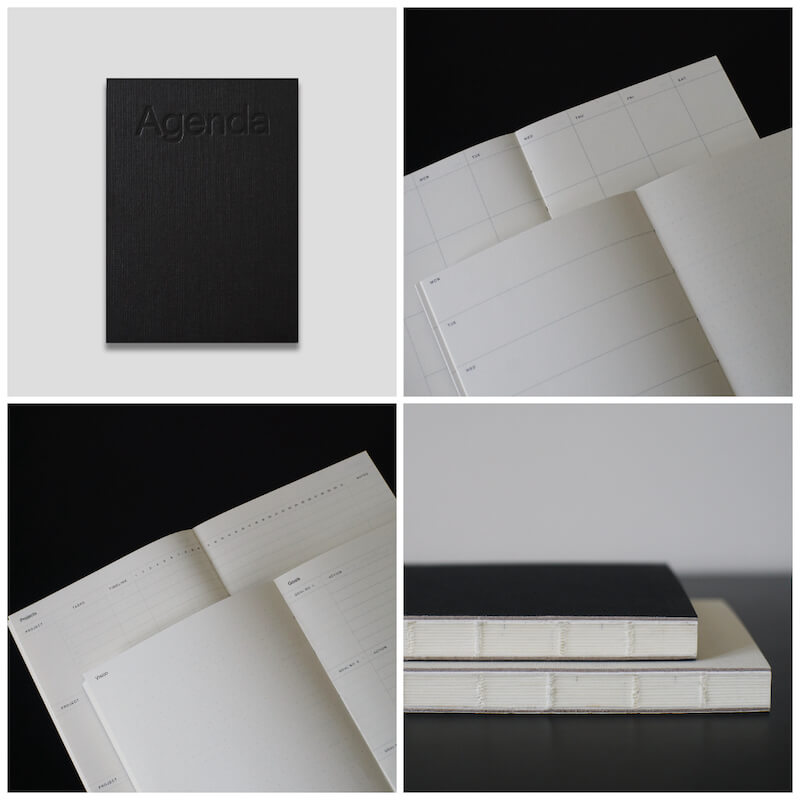 Agenda Neue, P1,550
Here's another minimalist planner you'll love. Local brand Beam Projects has date-less Agenda Neue planners you'll absolutely want sitting on your desk next year. They come in Charcoal and Cloud versions and can be bought in a bundle with a 2022 card calendar. The cover design is simple — plain with the word "Agenda" embossed — and it comes Smythe sewn with a revealing spine so it lies flat on your desk when you write on it. Inside, you get weekly, monthly, and yearly plans plus dotted pages for notes. There's also a dedicated space for your yearly vision and goals, project timeline, and gratitude list. Get yours here.
The Purple Press Everyday Planner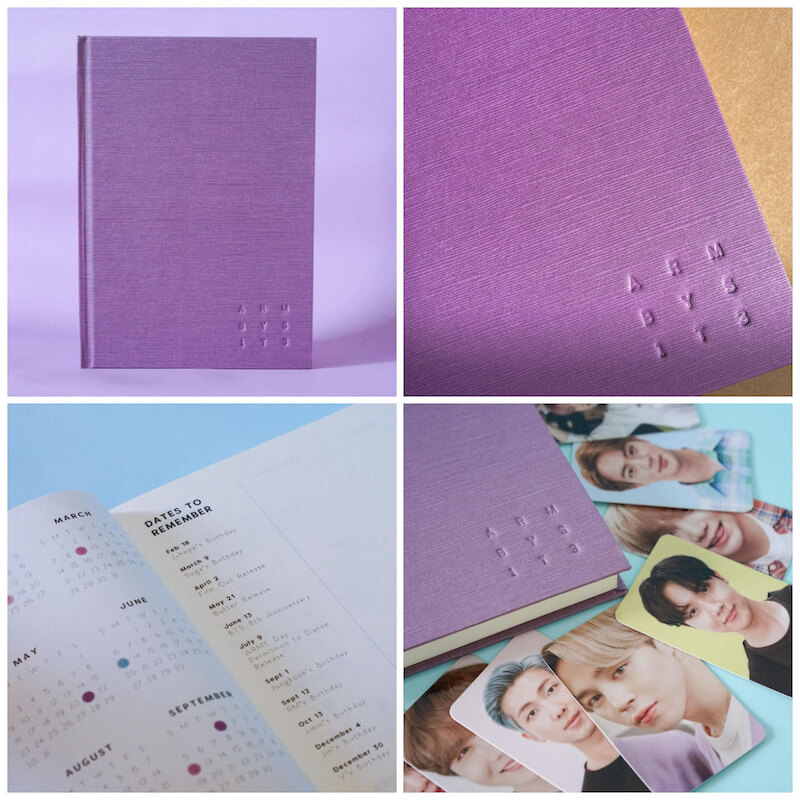 Calling all ARMY, here's a planner you wouldn't want to miss. The Purple Press recently unveiled their Everyday Planner a.k.a. the cutest planner curated for the fandom. It has a hardbound, textured cover with a debossed "ARMY BTS 13" at the bottom right corner. Inside you'll find an ARMY profile, 14-month dated calendar, monthly budget, free dotted pages for your notes, and fun activities. It even has a "Dates to Remember" section with all the boys' birthdays and BTS and ARMY anniversaries listed. Every order comes with a random photocard and a sticker sheet. Send The Purple Press a DM on Instagram ASAP to get yours!
Milk Press' The Good Intentions Journal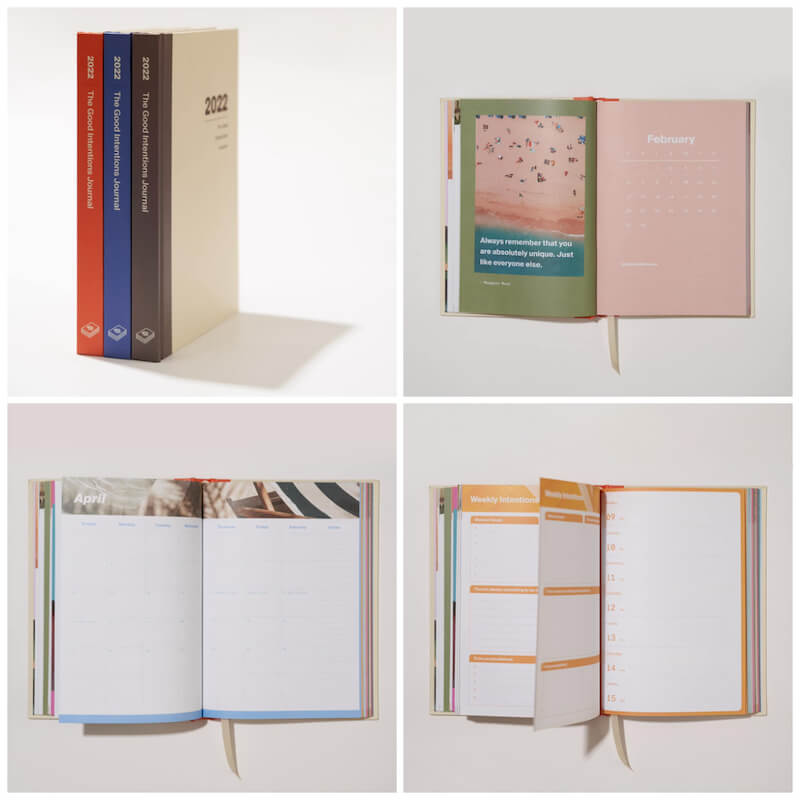 The Good Intentions Journal, P950
Organize your life with the help of Milk Press' Good Intentions Journal. They come in cream hardbound covers with three different colorways for the spine: orange, blue, and taupe. It has colorful weekly and monthly pages as well as weekly intentions, habit trackers, and spaces for notes. Each journal comes with two sticker sheets of mood trackers. And if you want yours personalized, you can get your name stamped in gold on the cover for an additional P150. Get your Good Intentions Journal here.
Sunnies Agenda 2022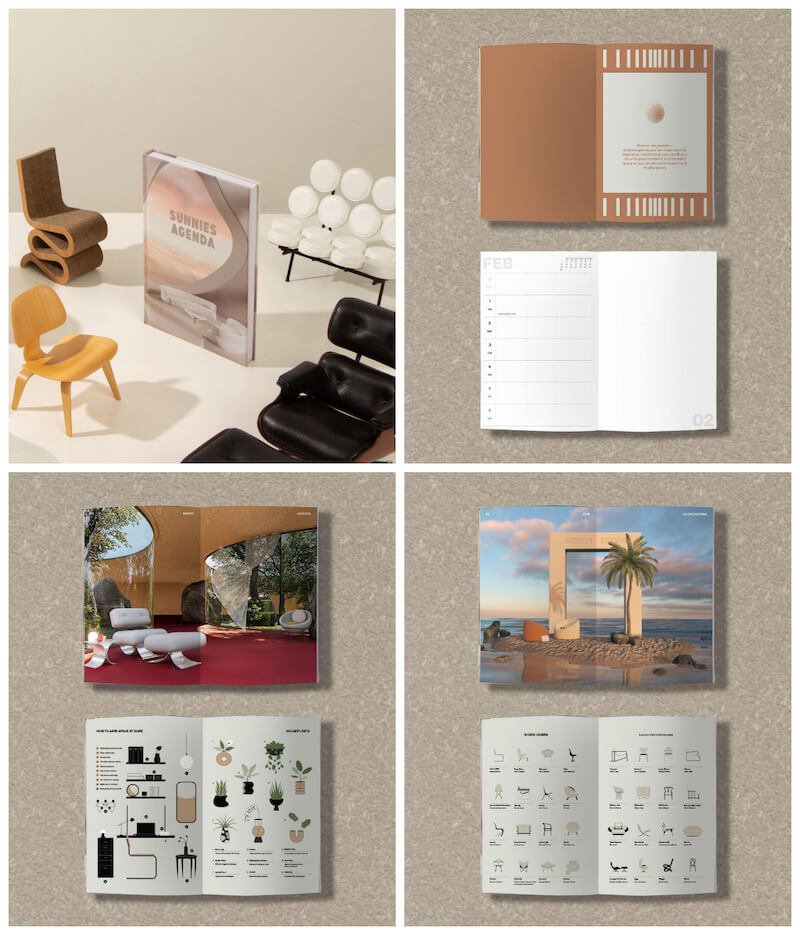 Sunnies Agenda 2022, P599
Bask in dreamy images and furniture inspo with the Sunnies Agenda 2022: Dreamscapes. The pages give you a weekly layout, monthly calendars, iconic chairs and architectural structures, ideas for building your personal space, and even a spread about different plants to wake your inner plantita/plantito. You can get yours from the Sunnies official website with a P400 discount if you purchase a pair of glasses or two sunglasses.
Seven Stars 2022 Lunar Planner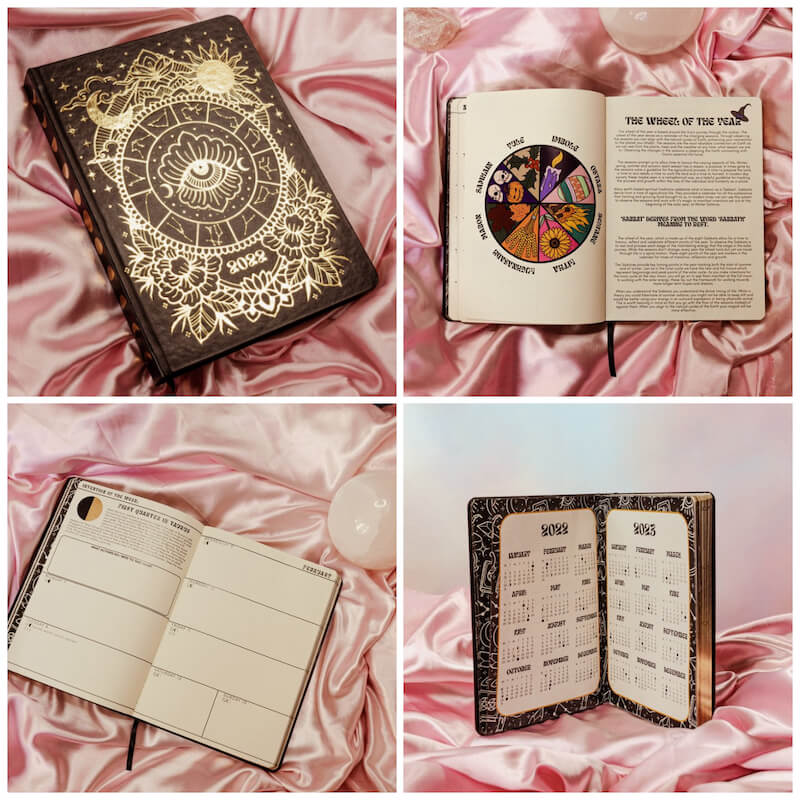 Seven Stars 2022 Lunar Planner, £35.00 (P2,381.08)
If you're all about astrology and magic, then the Seven Stars' 2022 Lunar Planner is the perfect match for you. Described as the "essential tool for the modern witch," the Lunar Planner goes beyond tracking your weeks and months. It gives you an Astrological Overview for 2022, moon phases, transits and aspects, a 'Magickal Directory' which helps create your birth chart and decipher tarot cards, rituals for with bottles, crystal healing, runes, and so much more! The chunky planner is bound in vegan leather hardback with a golden illustrative cover. It ships from Bristol, UK to our shores for £14.20 (P966.03) minus taxes. Get yours here.
Check us out on Facebook, Instagram, Twitter, and YouTube, and be the first to know about the latest news and coolest trends!