Toymaker Cubao Customs has zero chill. First they make an awesome toy that's the only one of its kind in the world — a custom Funko Pop-style figurine of Vice President Leni Robredo — and then they had the energy to rebuff all negative comments from her critics in the comments section. You might want to wear shades from the bright burn from Cubao Customs' comments.
A custom VP Leni vinyl figurine
Last March 21, Cubao Customs proudly posted photos of their newest creation — a one-of-a-kind customized figurine of VP Leni inspired by her CNN Philippines Presidential Debate outfit. 'The best man for the job is a WOMAN," the post was captioned. The vinyl figure was dressed in a pink dress complete with pink heels. The shop even put it in a customized box that completed the whole Funko Pop vibe.
On Tiktok, they shared clips of the process which took the toymaker hours to make. They also showed how they brought it to the Pasig City People's Rally for Leni-Kiko campaign last March 20.
They even posted a photo of VP Leni receiving the toy:
View this post on Instagram
And now people are requesting Cubao Customs make one for other candidates
Supporters of other candidates left comments on Cubao Customs' Facebook page, wanting to see customized toys for their bets too. On TikTok, they answered someone's request for a Ka Leody version with "Why not!" Some were also clamoring for an Isko Moreno version and even a Miriam Defensor-Santiago one.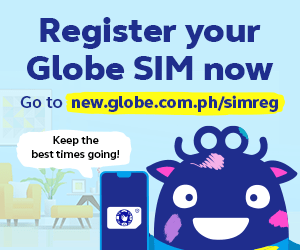 Cubao Customs left savage replies at some comments
While there are a lot of VP Leni supporters who applauded Cubao Customs for their work, there were others in the comments section who weren't pleased. But Cubao Customs wasn't having any of the negativity. They took the time to make savage responses in return.
"Magsasara na tong shop after BBM [wins] the election," commented one Facebook user. "Update ka namin after May elections," Cubao Customs breezily shot back.

Another commented, "Meron po ba ung May hawak na lugaw tapos madaming langaw sa paligid nya? Legendary rare." It was in reference to the "Leni Lugaw" moniker critics liked to call the Vice President.
"That will be inaccurate. Kasi yung lugaw na nakita ko lately may kasamang 140,000+ na sibuyas," replied Cubao Customs to the Facebook user. It referenced the false claim spreading on social media that drone shots of VP Leni's sorties are just onions from afar edited to look like it's a crowd.

"Wala po ba si babyM?" yet another online user commented. "Absent as usual," the toymaker simply replied, referring to Ferdinand "Bongbong" Marcos Jr.'s absences during presidential debates.
That quick exchange was followed by the same user commenting "Pass sa lutang sa inyo na yan." The toymaker was quick to rebuff it with a savage "Pass sa duwag, inyong-inyo na siya."
Cubao Customs was dishing out savage comments even on TikTok.
"Can you do BBM?" commented a TikTok user. "We can but we don't want to," was the toymaker's simple reply.
— Ana B (@Anatan28) March 22, 2022
Netizens were having a field day
I nominate Cubao Customs for Bardagulan 2022! 🤣🤣🤣#NuevaEcijaIsPink #NuevaEcijaForLeni #PasigLaban @lenirobredo #FunkoPop pic.twitter.com/pqxvUHgIew

— 🌸Kuya London🌸 Gameboys S2 05.22.22 S2 (@lazaro_london) March 22, 2022
It's safe to say Cubao Customs won the hearts of many VP Leni supporters, not only for the toy they made but also for how they stood their ground in the comments section.
They also dealt with offensive comments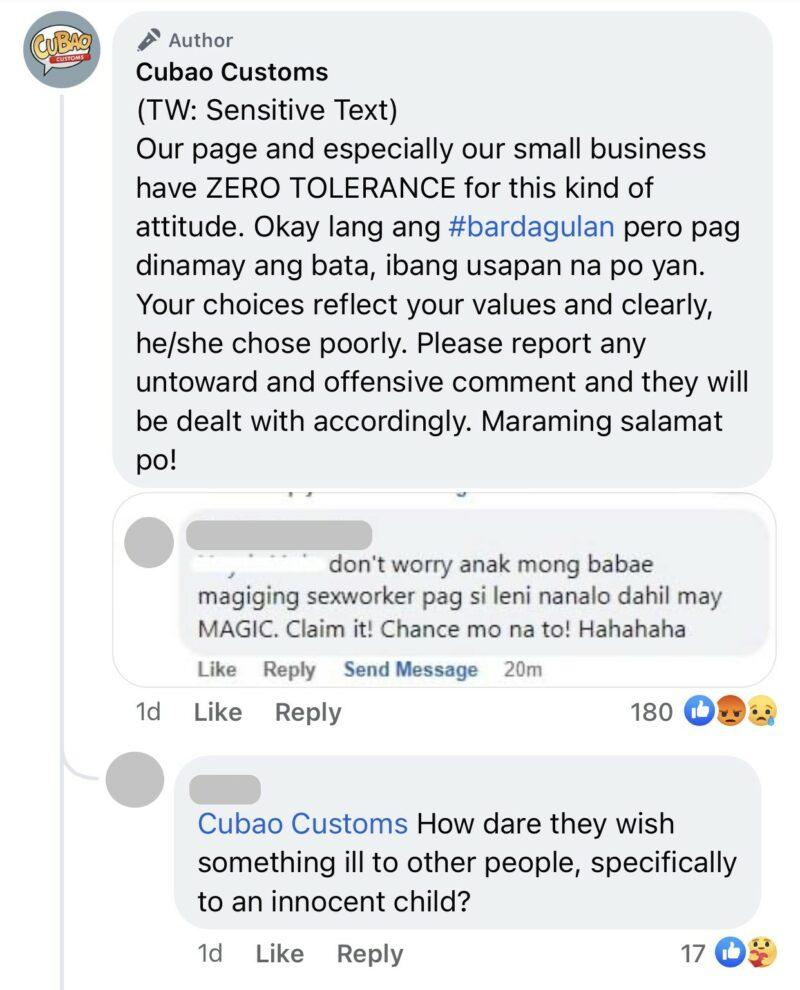 Bardagulan is normal under any post that's remotely political but some take it too far. Case in point, they toymaker took a screenshot of a comment that wished ill on someone's daughter. "Our page and especially our small business have ZERO TOLERANCE for this kind of attitude," commented Cubao Customs. "Please report any untoward and offensive comment and they will be dealt with accordingly."
Even retired commissioner Rowena Guanzon wants one
"Can you do RVG?" captioned retired COMELEC commissioner (and now 'bardagulan queen') Rowena Guanzon when she shared a compilation of Cubao Customs' savage replies on social media. "For you, Tita Bing, we can do anything," Cubao Customs' official Facebook page replied, after which Guanzon left her email. It looks like we're going to see a Guanzon customized Funko Pop soon!
'Bardagulan Queen'? Retired Comm. Rowena Guanzon Has No Chill When Dealing With Haters
'Bardagulan Queen'? Retired Comm. Rowena Guanzon Has No Chill When Dealing With Haters
Alex Alvarez | Mar 15, 2022
How can you buy the VP Leni vinyl figurine from Cubao Customs?

Unfortunately, the VP Leni toy isn't for sale (sorry, collectors). The shop made it clear that they only made that one to give it to the Vice President herself and not to sell it. However, supporters in the comments section are asking the shop if they could produce more to sell at rallies. Based on the 1.3k Facebook comments on the original post, it looks like there's an actual demand for more VP Leni vinyl figures. Kakampinks can only hope Cubao Customs heed their requests! They did say they "might release something more affordable" if VP Leni wins the elections.

Cubao Customs accepts other customized orders..
But they're fully booked for 2022. So if you're planning on getting a customized toy gift, you might have to wait until next year to get a slot. You can also check out other toy makers who can do customized toys if you're in a rush. Either way, reach out to Cubao Customs on Facebook to check out their schedule and ask for recommended toymakers.
Check us out on Facebook, Instagram, Twitter, TikTok and YouTube, to be the first to know about the latest news and coolest trends!