Retired commissioner Rowena Guanzon may be out of office, but it doesn't mean she's out of the game. In fact, since she stepped down from her position in the Commission of Elections, she has been more outspoken than ever. Netizens find her posts, comments, and rebuttals against trolls so hilarious that they can't help but share and make them go viral everytime.
Here are some of the most hilarious moments online of retired commissioner Rowena Guanzon, or the patron saint of online bardagulan, as netizens like to call her:
'Boba'?
Trolls often tag personalities like the retired commissioner in posts that only aim to insult the tagged personality. Most public figures ignore such negative comments, but unfortunately for this particular netizen, Guanzon is retired and has all the time in the world to answer their post.
Let's not use below-the-belt insults, especially when it's unfounded.

Hello, where are you? Pagalawin ang baso kung may maisasagot po kayo.
Caught twice
Under Guanzon's posts about her travels around the country, one particular netizen felt the urgent need to tell the retired commissioner that if she runs for a national position like a senator, this netizen wouldn't be voting for her. Guanzon's response is only "di ka kawalan," because nobody asked anyway.

Someone tell Mildred to put the phone down please.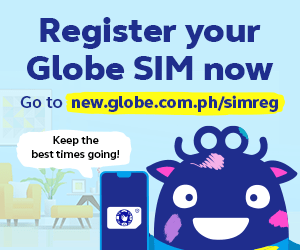 Trolls unprovoked under posts
Trolls always seem to find their way under posts of prominent personalities of the opposition. Case in point: under this photo of Guanzon posing with her car, a troll just had to accuse Guanzon of being "gaya-gaya" and state that their vote is for another set of candidates. Well, it seems Guanzon doesn't care.
Again, nobody asked…
KSP?
Under Guanzon's photo after her speech at her alma mater, another netizen found their way to in the comment section only to accuse Guanzon of being "kulang sa pansin." But really, that's her personal Facebook page, so she's free to do as she pleases there. And nobody asked Gema or other netizens to visit her page. So what's up with the unprovoked comment?


Tulog, what's that?
Like most youth voters, Guanzon doesn't really adhere to a strict schedule of posting and commenting on her social media. If she wants to post at 6 AM, 5 PM, or even 3 AM, she will. One concerned netizen asked her to sleep, but she only said:
HAHAHAHA PINAPATULOG SI COMM GUANZON MAMAYA NA LANG DAW HAHAHAHAHAHAHHAHAAHHA pic.twitter.com/qXyYpp0Zi1

— Endru Morningstar | LeniKiko2022 (@awesome_drew) March 13, 2022
There's no rest for bardagulan.
Para sa lahat kahit yung mga troll
Even if she's always at odds with trolls and the opposition's opposition, Guanzon likes to remind people that the election is an important moment for the country, because it involves every citizen and resident of the Philippines, including yes, those who would vote for different candidates or even those who work as online trolls.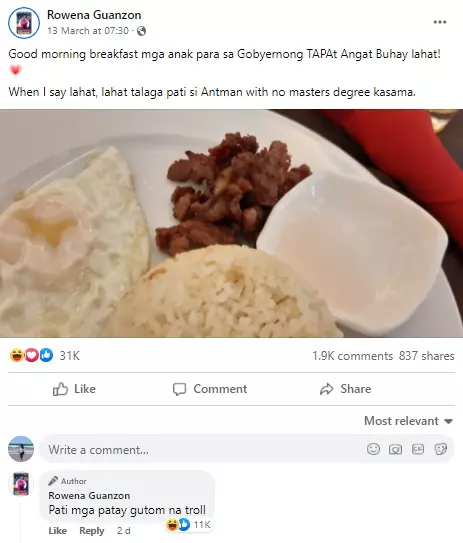 Lahat means lahat, as in everyone in the country.
'Why is she posting and commenting so much?'

After leaving her post at COMELEC, Guanzon is now a private citizen, so the rules she had to adhere to as a commissioner are no longer restricting her. So she can post whatever she wants, publicly declare who she supports, and apparently, commit to "everyday bardagulan."
'St. Rowena of Bardagulan'
🤣😂😆🤣😂😆 pic.twitter.com/Er1uVjGNVi

— Renz | #LENIKIKO2022 🌸🌱🎀 (@akosirenzoy) March 14, 2022
Netizens have dubbed thee, Rowena of Bardagulan. And her only response is: "oks."
What do you think of the retired commissioner's recent posts? Any that made you angry? Made you laugh? Share them with us.