We're all familiar with school confession pages. Its popularity peaked between 2013 and 2016 where it was mostly used to spread gossip or confess anonymously to a campus crush. But it wasn't just the Philippines that had these Facebook pages. One Indian campus confessions page suddenly became active again, for all the wrong reasons.
Facebook page 'DDS Confessions' was by a small group of alumni from Daisy Dales Senior Secondary School in New Delhi, India. But recently, it found itself in the middle of a crossfire between Filipino anti- and pro-administration supporters. What happened next and how the administrators handled the situation with poise and humor is one of the most entertaining things we've seen all week.
The page gets revived after 3 years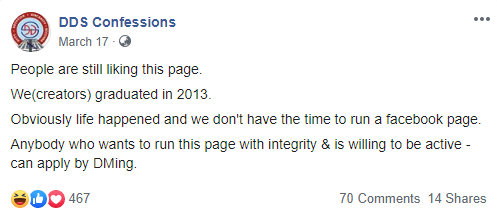 The last post before this one was dated June 12, 2016 which clearly meant that the admins abandoned ship a long time ago. Since March, they were brought back from social media death when they got notifications that their innocent page was being reported. You see, the confession page shares an infamous acronym with supporters of President Rodrigo Duterte called the DDS or 'Diehard Duterte Supporters.'
It turns out pro-Duterte supporters and trolls mistook their Facebook page for another one of the same name. The twin 'DDS Confessions' (page now unavailable) was run by anti-Duterte supporters.
Two months later, the admin has had ENOUGH

This outburst immediately put the page under a spotlight and despite the admins clarifying that it wasn't a political page, it was destined to become one due to its name. And it couldn't escape its fate.
"For the love of whatever you guys worship – Please stop," posted the dude behind the account (we're assuming it's a guy). It only gets funnier from here.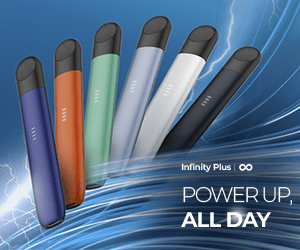 Might not be a good idea


The people behind DDS Confessions then decided it would be good to interact with its newfound fans which are both pro- and anti-Duterte. Comments flooded the posts mostly from Filipinos apologizing for getting the page caught between a social media war.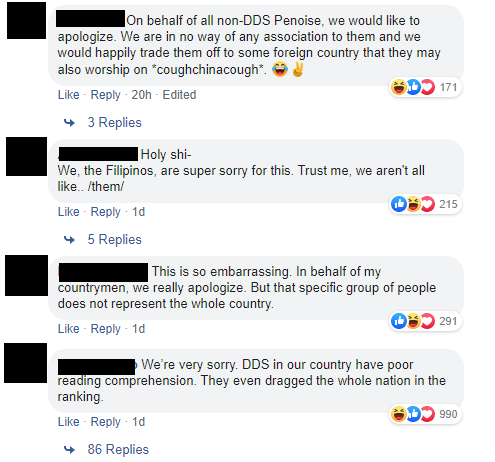 India branch???


Props to the guy for doing the research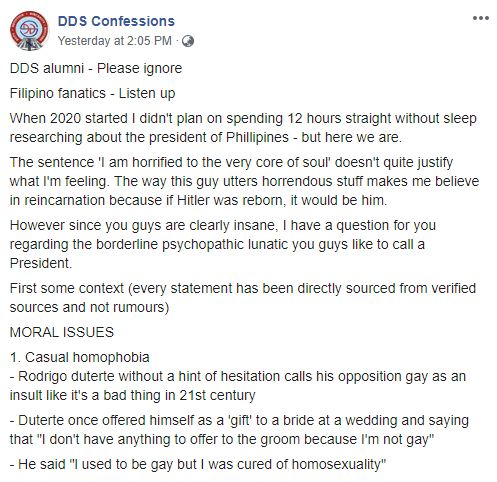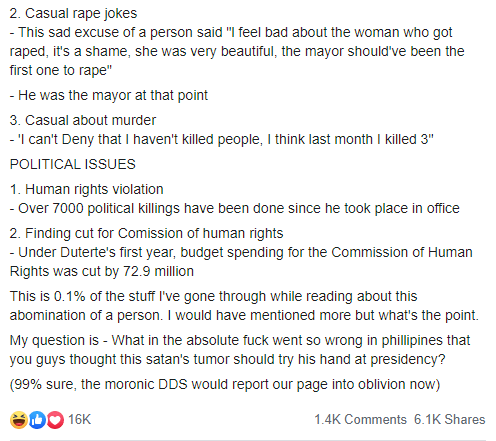 Despite saying early on that the page isn't a political one, the admin went ahead and researched about the famed Philippine president he kept hearing about. His research has led him to gruesome facts and convinced him of one thing: he has to use his growing platform as a voice. Of course, we'd like to think that's at least what went through his head.
Some people are not convinced. Like Vin Perez here:

Clearly, one long post wasn't enough, here's another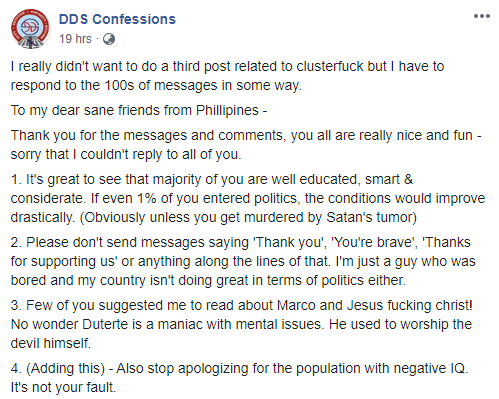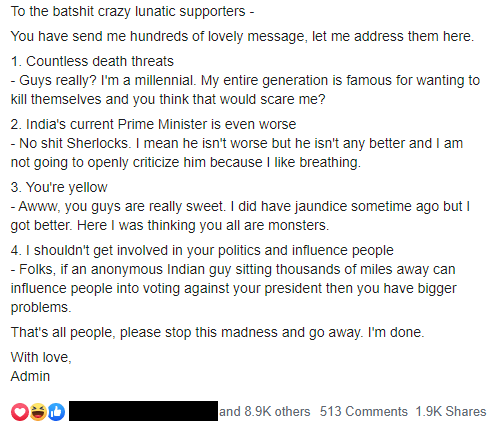 And here we have a famous quote that will stick with us for a while: "If an anonymous Indian guy sitting thousands of miles away can influence people into voting against your president then you have bigger problems."
Of course, if you have opinions these days, you pay the price of harassment, in this case trolls not only reported the page but also sent the administrators death threats.
Alumni are doubting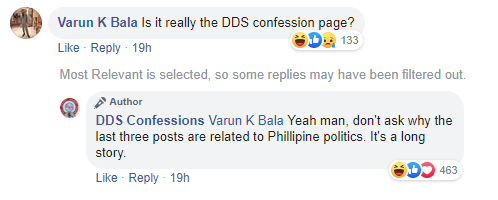 Real DDS supporters (DDS meaning the Indian school) are just as confused as their Facebook page.
But it looks like the roller coaster ride has come to an end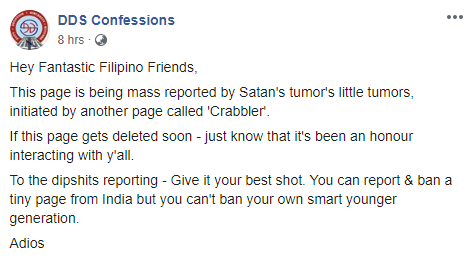 What's your favorite part about this mess?